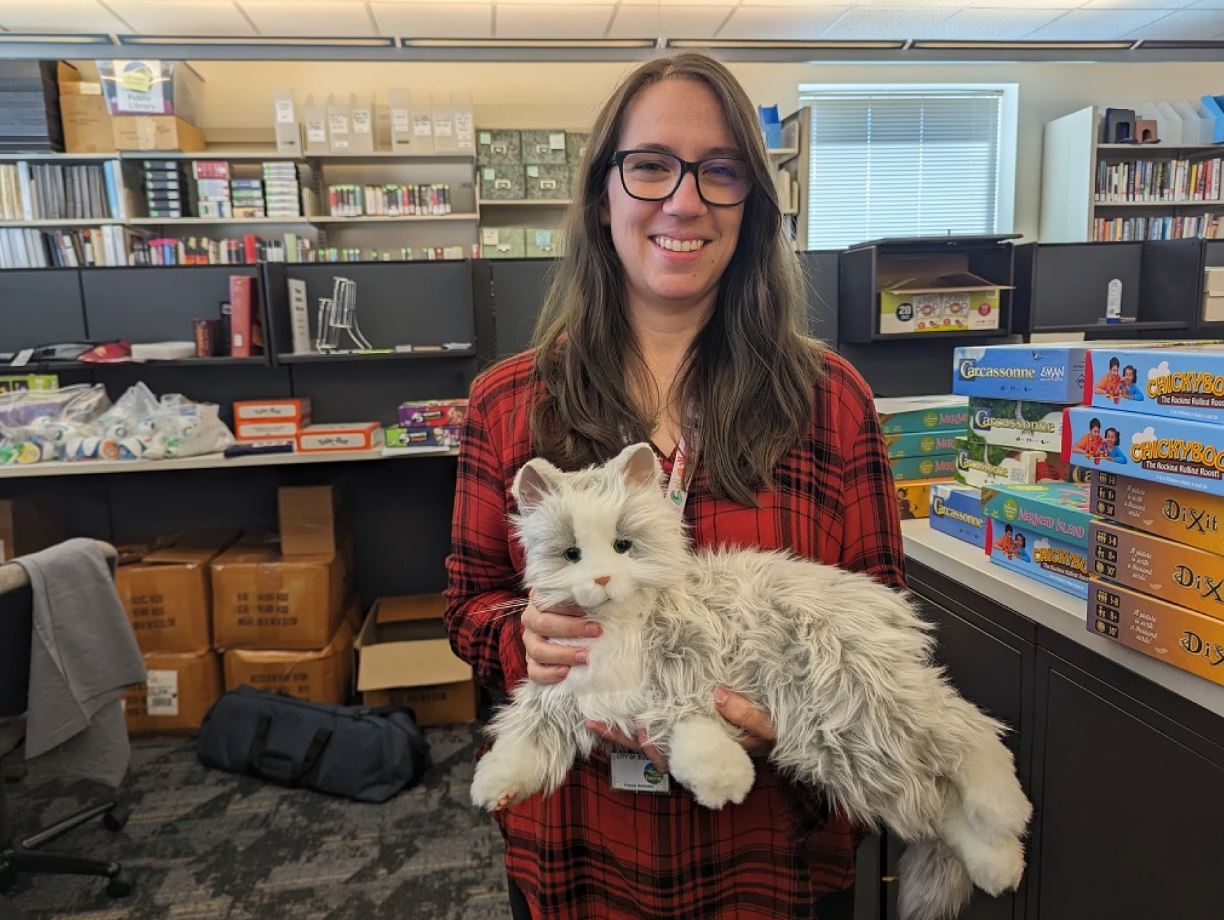 Eugene Public Library's Furry Friends: Robot Cats for a Cuddly Connection
Libraries have always been places of discovery, offering an array of items to check out, from books to board games, sewing machines, and now, a unique addition to the Eugene Public Library: robot cats. These fluffy feline companions are more than just adorable; they are designed to provide comfort, companionship, and a sense of connection, especially to those who may be experiencing memory loss or loneliness.
"We have three that circulate," explained librarian Berry, holding one of the fuzzy robot kitties. "We have one in each branch. They all look the same, but they do have particular names to them. If you're curious, they're Bandit, Mr. Pickles, and Percival. Those names were chosen by the staff."
These robot cats are designed to mimic real cats, with black and white fur and striking green eyes. However, they offer a unique feature – they purr, meow, and respond to interaction, making them a delightful and therapeutic addition to the library's collection.
While the primary audience for these robotic companions is individuals facing memory loss or those living alone who may be experiencing loneliness, they are available for anyone to check out. The soothing presence of these robot cats can be especially comforting.
"They're typically for folks who maybe are suffering memory loss or maybe just are living alone and kind of lonely," Berry shared. "But really anyone can check them out. They purr. They meow. They're really fun to have."
Research has shown that the purring of cats can have therapeutic effects, reducing stress and promoting a sense of calm. To make the experience even more relaxing, the library has set up a quiet room where one of the robot cats is stationed, available for anyone to enjoy when they need a moment of solace or comfort.
"The goal is for them to be able to brush it, have it sit on their lap, talk to it as if it were a real cat," Berry said, highlighting the intention behind these robot cats – to create a lifelike, interactive experience for library patrons.
The introduction of these robotic companions shows the evolving role of libraries as spaces that cater to diverse needs. In Eugene Public Library, the addition of robot cats brings an innovative, soothing dimension to the community, offering both solace and a delightful furry friend to share moments with.
Cornwall Family's Dog Leads Rescue Team to Missing Cat Mowgli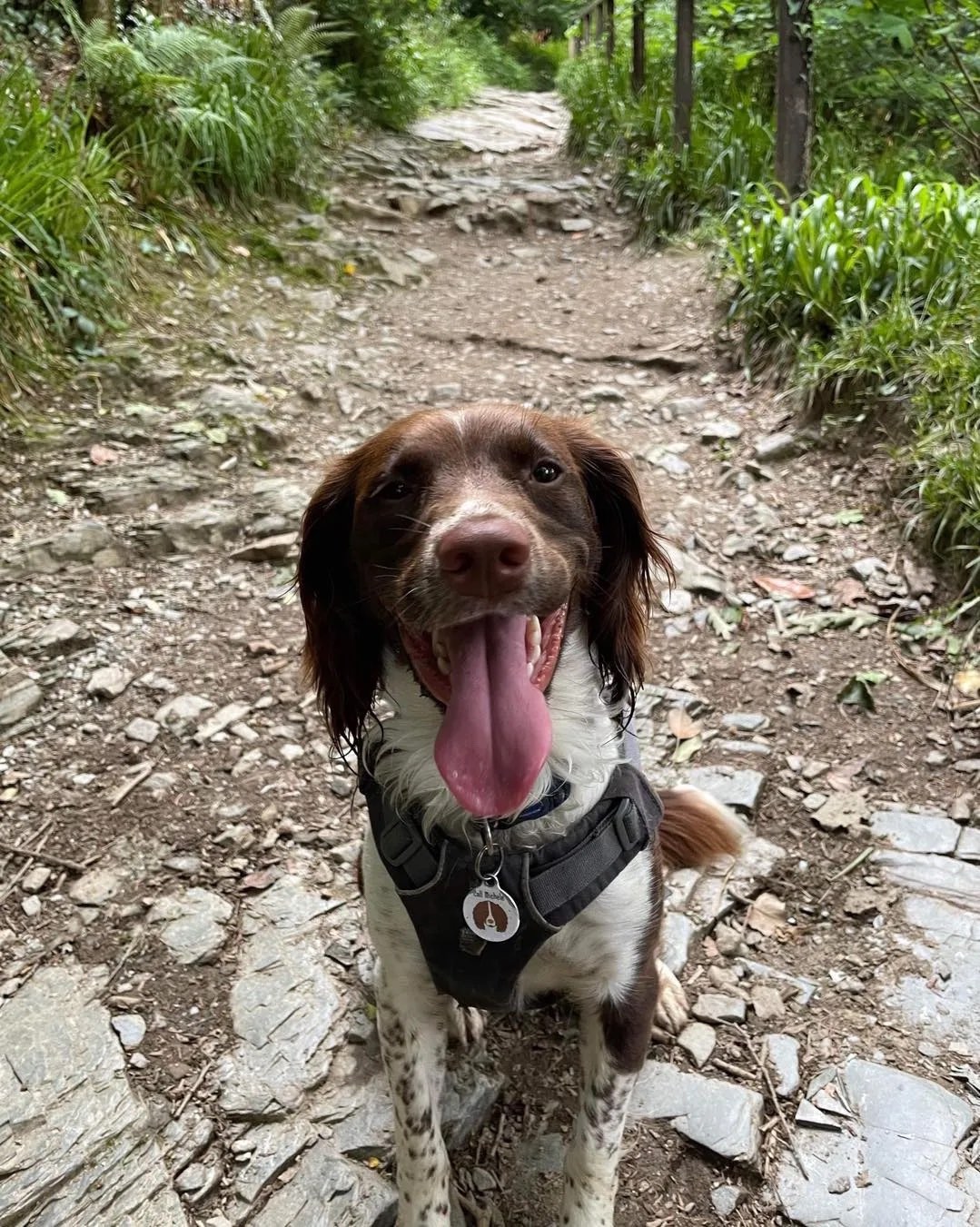 In a heartwarming tale of loyalty and bravery, a family in Cornwall, UK, was reunited with their missing cat, Mowgli, thanks to their quick-thinking dog, Daisy. Mowgli had gone missing on October 20 and was lost for six days before Daisy led the family to a surprising discovery.
Mowgli's owner, Michele Rose, had nearly given up hope of finding her beloved cat when Daisy, a spirited spring spaniel, exhibited unusual behavior near the woods surrounding their Cornwall home. "Daisy was going berserk," Michele explained, prompting the family to follow the determined dog.
Daisy, known to be good friends with Mowgli, seemed to sense something amiss and guided the family to an abandoned mineshaft. Michele's son, Hamish, shared with the PA news agency, "Daisy and Mowgli are pretty good mates, so she could probably tell he was down there."
The family's concern deepened as they realized Mowgli might be trapped in the mineshaft. Swift action was required, and a rescue team was summoned to the scene. Equipped with cages and rope, the team worked tirelessly for hours to reach the stranded feline.
To their astonishment, Mowgli was found safe at the bottom of the mineshaft. Miraculously, despite the ordeal, the resilient cat emerged unharmed. The rescue team carefully lifted Mowgli to safety, bringing joy and relief to the worried family.
"Without Daisy doing that, Mowgli could still be down there, that's for sure. She was persistent in making me follow her; it was amazing. Daisy is a superstar. She's an amazing dog," expressed Michele Rose in gratitude to her faithful canine companion during an interview with the BBC.
Hamish, Michele's son, added with a touch of humor, "If Daisy wasn't the favorite child already, she definitely is now," speaking to The Independent. The heroic efforts of Daisy not only saved Mowgli but also showcased the incredible bond between animals and their ability to understand and communicate in times of need.