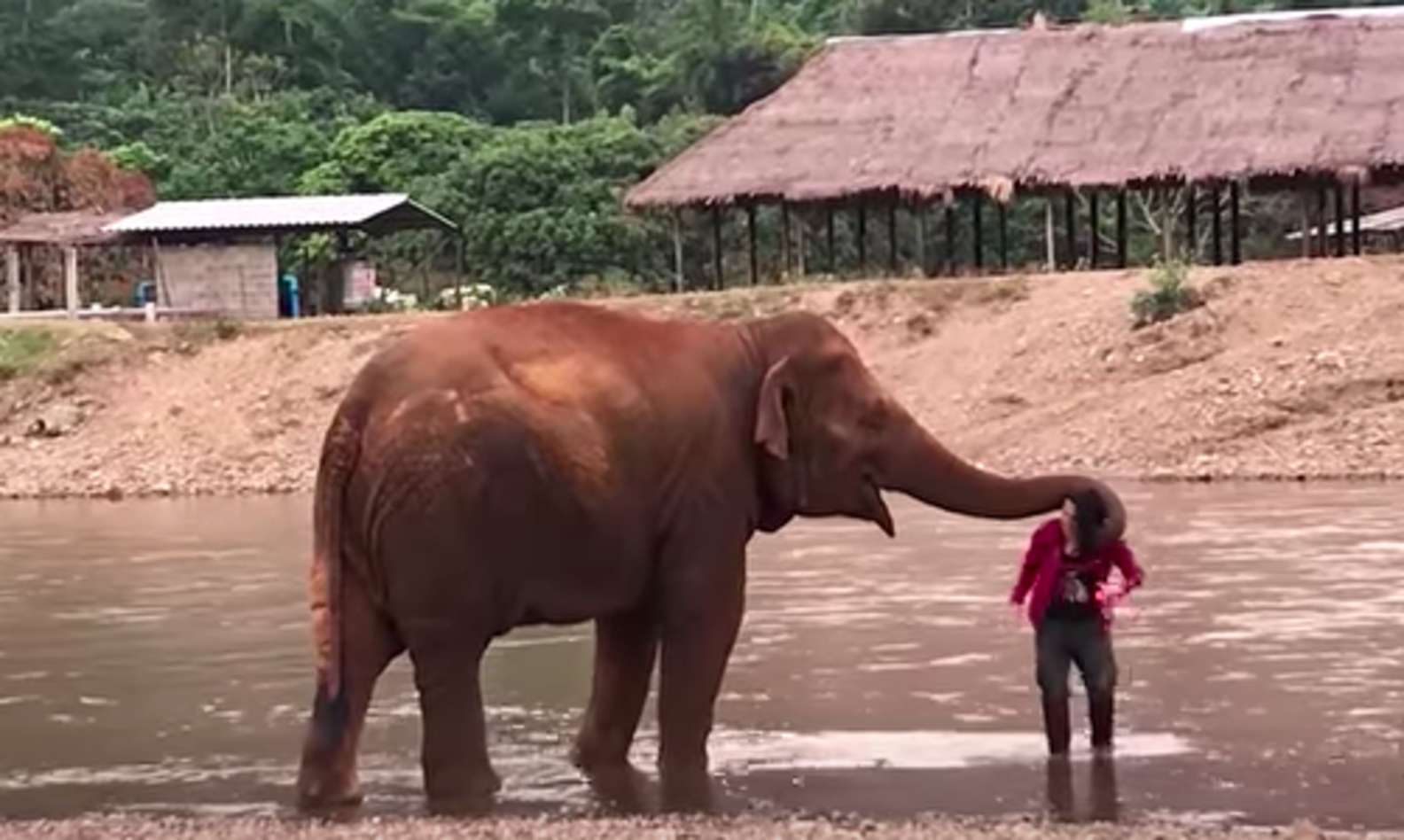 Elephant Protects Best Friend As She Bathes
Everybody needs a friend.
Everyone deserves to have a true friend, and most times we often find it in the people we interact with on a daily basis- at work, at home, on the streets, in a café, at a leisure park and even in the weirdest of places.
The fun thing about friendship is that it knows no bounds. Throughout history, humanity has seen the most unlikely individuals and groups become best of friends to create alliances that help all the parties involved. Such is the story of the unique friendship between this elephant and her human buddy.
Yes. You read that right. A human and her giant elephant friend have grown super close to become best of friends, and they often find ways to show each other just how much they mean to each other.
Who said friendships couldn't be inter-specific?
This elephant is so fond of her best friend that she follows her to the river banks to have friendship baths, and it can be said with utmost certainty that her friend loves her just as much. She protects her friend at the river by noticing the strong river currents and placing her quite heavy trunk on her friend to protect her from getting swept away.
The elephant places her huge foot on the woman's head without hurting her while she's bathing at the river. Nobody knows why she actually did that, but a pretty good guess would be that she just loves playing around with her human friend.
The woman also doesn't mind the foot- she knows her best friend wouldn't crush her, so she trusts her and continues with her bath. In the video that shows their friendship bath, a voice can be heard telling the woman that the elephant's foot would only get her dirty again, but she doesn't really mind.
After her bath, the woman walks up the river and the elephant can be seen walking right above her. Yes. Right above. But she spreads her leg open while walking to avoid crushing her best friend under her huge weight.
They both walk all the way to shore, and the elephant seems to be glad that she spent some time with her friend, and she got the chance to protect her.
Elephants are known to be a very emotional species, so this type of relationship is only typical of them. They often create forever friendships with family members, grieve the death of their loved ones, and even visit their death sites.
Since humans are also equally very emotional, it shouldn't come as a surprise that they create bonds with elephants. Under the right circumstances, a strong friendship can come out of human-elephant interactions, and this story only proves it.
Dog Trainer and Dog Groomer Get Married Accompanied By Their Best Friends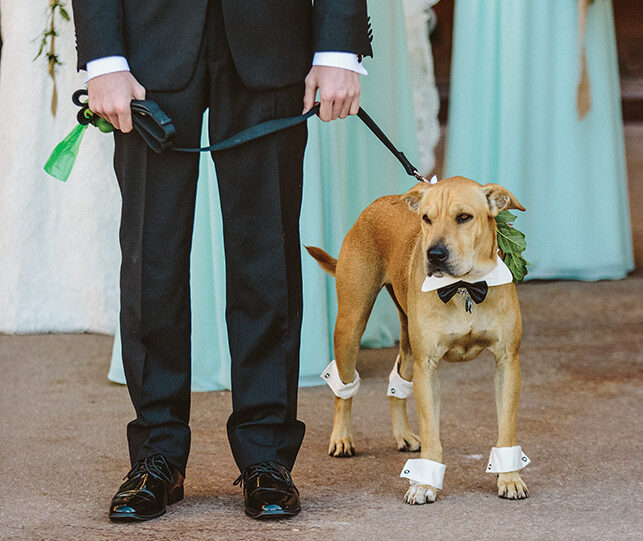 Weddings Are for Sharing With Loved Ones
When people get married, they spend one perfect day with their most loved friends and family. While many people only think about their human friends and family, there are a lot of people who could never imagine starting this important new chapter in their lives without their beloved pets. In fact, many people might have to admit, if they were being honest, that they loved their pets more than some of the relatives who came to the wedding, especially if they felt obligated to invite some relatives they rarely see and barely know.
Some People Already Spend Their Lives With Pets
Anyone who works full-time as a dog trainer or groomer already spends most of their working days with animals. They see dogs all day long, and they make the choice to do so because of many reasons. Working with pets is rewarding on many levels. Especially if you see the same dogs again and again, you form a close bond. Communicating with pets is therapeutic and generally far less stressful than dealing with humans. The people who work with dogs don't get sick of dogs and try to go home to a quiet house; they tend to have larger pet families than average.
A Dog Trainer and a Dog Groomer Tie the Knot
Paul and Annette Anthony are typical in that they work with dogs as a profession, and they have a large pet family. On the day they got married, their family consisted of 2 humans and 9 canines. Both Paul and Annette admitted that their pets were more to them than just fun — their beloved dogs also helped them get through rough times in their lives, including personal tragedies. Annette's German Shepherd Pesci is even an emotional support animal, helping her to deal with severe anxiety and depression. There was no way that their pets were going to be left out of the most important day of their lives going forward.
Canine Best Man
Paul's service dog Finn has earned his retirement. Finn has competed in over 40 events, earning titles and even setting records. He was also there for Paul when Paul developed PTSD after being at the scene of the deadliest plane crash in Pennsylvania's history. Finn was the one who helped with the proposal, giving Annette the ring with a note asking her to marry his dad. It was only fitting that Finn ended up being one of the best men at the wedding too.
A Family Affair
All 9 dogs walked down the aisle and stayed throughout the ceremony. Annette's dog Pesci even came to comfort her during the ceremony when she started to cry from happiness because he wanted to make sure his momma was all right. Whether you want to use your dogs in the ceremony as ring bearers, best men, or flower girls, or if you just want them to be present, it makes sense to have your pets help you celebrate such an important day in your life.