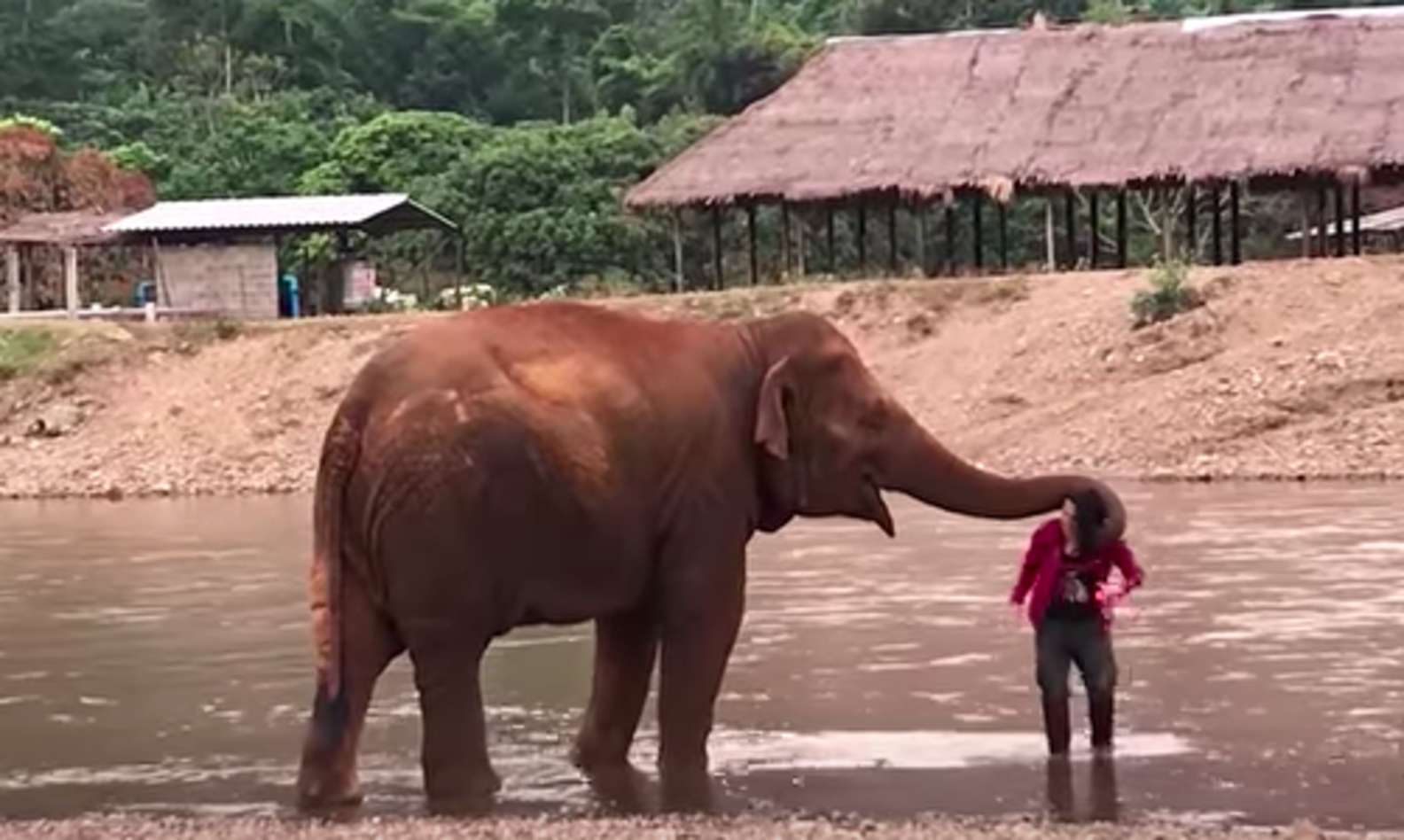 Elephant Protects Best Friend As She Bathes
Everybody needs a friend.
Everyone deserves to have a true friend, and most times we often find it in the people we interact with on a daily basis- at work, at home, on the streets, in a café, at a leisure park and even in the weirdest of places.
The fun thing about friendship is that it knows no bounds. Throughout history, humanity has seen the most unlikely individuals and groups become best of friends to create alliances that help all the parties involved. Such is the story of the unique friendship between this elephant and her human buddy.
Yes. You read that right. A human and her giant elephant friend have grown super close to become best of friends, and they often find ways to show each other just how much they mean to each other.
Who said friendships couldn't be inter-specific?
This elephant is so fond of her best friend that she follows her to the river banks to have friendship baths, and it can be said with utmost certainty that her friend loves her just as much. She protects her friend at the river by noticing the strong river currents and placing her quite heavy trunk on her friend to protect her from getting swept away.
The elephant places her huge foot on the woman's head without hurting her while she's bathing at the river. Nobody knows why she actually did that, but a pretty good guess would be that she just loves playing around with her human friend.
The woman also doesn't mind the foot- she knows her best friend wouldn't crush her, so she trusts her and continues with her bath. In the video that shows their friendship bath, a voice can be heard telling the woman that the elephant's foot would only get her dirty again, but she doesn't really mind.
After her bath, the woman walks up the river and the elephant can be seen walking right above her. Yes. Right above. But she spreads her leg open while walking to avoid crushing her best friend under her huge weight.
They both walk all the way to shore, and the elephant seems to be glad that she spent some time with her friend, and she got the chance to protect her.
Elephants are known to be a very emotional species, so this type of relationship is only typical of them. They often create forever friendships with family members, grieve the death of their loved ones, and even visit their death sites.
Since humans are also equally very emotional, it shouldn't come as a surprise that they create bonds with elephants. Under the right circumstances, a strong friendship can come out of human-elephant interactions, and this story only proves it.
Pets Elected As Mayors, Earn Town Money For Project Development
Fundraisers are a dime a dozen, but great or unique fundraisers, on the other hand, are not so common.
Desperate times call for desperate measures or thinking outside of the box, and that's exactly what officials at a town in the state of Vermont did.
Instead of moping about the pandemic's impact on their city, they decided to go back to the drawing table and come up with a plan to develop a proper playground for the children in the town and its environs.
So what did they come up with? The election of two animals, a dog, and a goat, as mayors. That fundraiser may probably be one of the greatest of all times, (goat) or just doggone smooth, but either way, the plan has been working.
The fundraiser began in 2018 in the Vermont town of Fair Haven, where they elected a goat named Lincoln to hold the position as their honorary mayor.
The project aimed to raise funds to remodel a park that has been in a state of disrepair after serving the community for more than thirty years.
Once Lincoln completed his term as honorary mayor, he was succeeded by Murphee, a dog who still handles the special mayoral duties to garner funds for the project.
Both Lincoln and Murphee make frequent appearances at events, and people have been spending their money to catch a glimpse of them.
Murphee is a King Charles Spaniel, and his owner was ready from the onset of being approached to use her dog for the fundraiser.
Little did she know that it would become a significant undertaking attracting thousands of people and raising thousands of dollars.
The city aims to raise a hundred thousand dollars, and so far, the animals have helped to warn approximately thirty thousand of the amount.
The town has added another twenty thousand dollars to the amount raised, putting them at half the amount needed.
With the honorary mayors gaining national prominence, it is expected that they'll make the full amount needed for the redevelopment project at the park and more.
The federal Land and Water Conservation Fund has given a grant amounting to the other half required for the development, to Fair Bank.
Therefore, any additional earnings will go to other things needed in the community.
Residents are genuinely appreciative of the show put on by both Lincoln and Murphee in refined style and plan to begin the park renovation project in the spring.
Everyone is looking forward to the transformation of the park, which will enhance the aesthetics of the town.
It is not yet clear if the honorary mayors will be popularly featured at the park or if they'll be participating in the ribbon-cutting ceremony.
However, it turns out; this is undoubtedly going to be spoken about for many years to come. It will be a great story to tell the future generation about how the funds were raised to build the fantastic Park that they now enjoy.