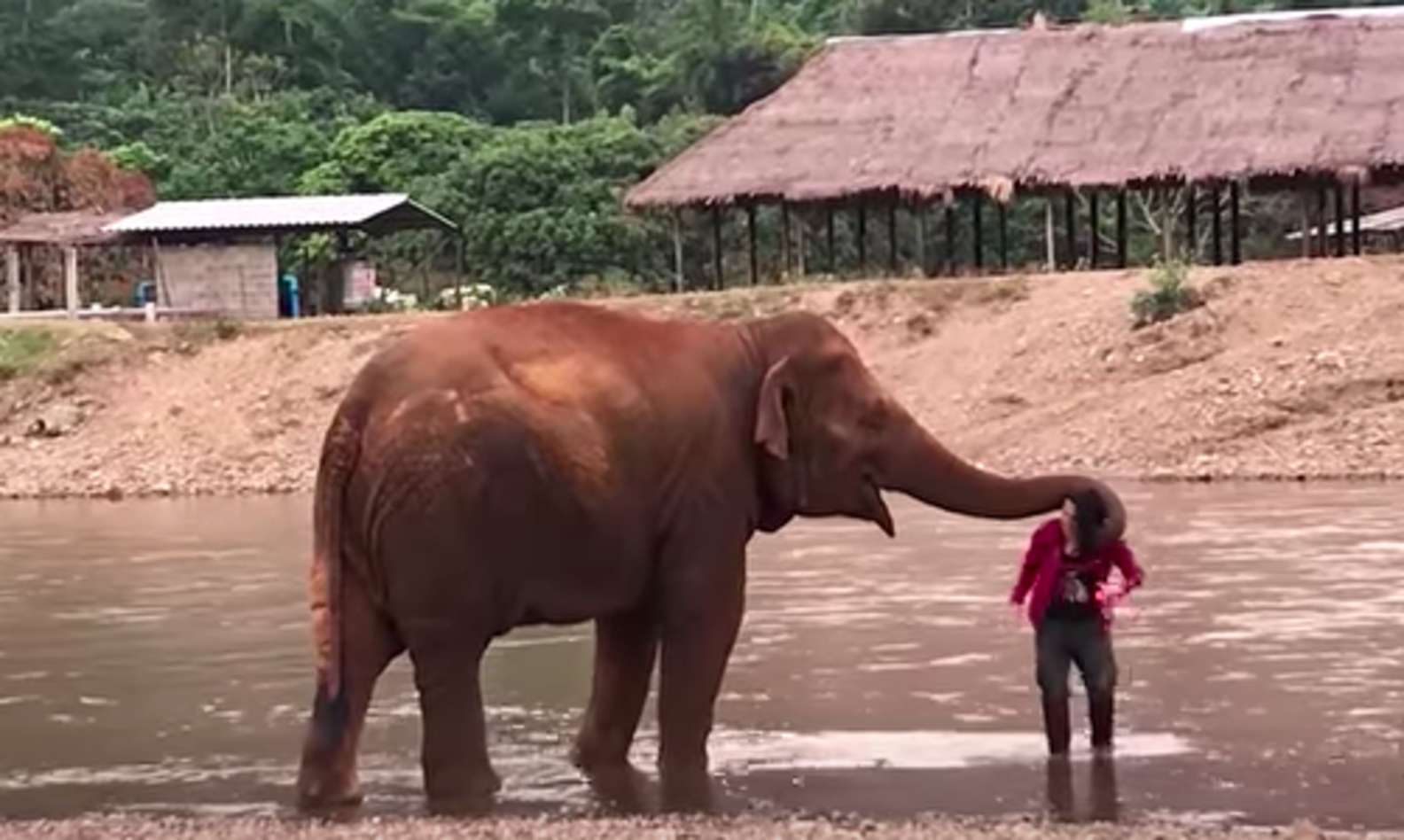 Elephant Protects Best Friend As She Bathes
Everybody needs a friend.
Everyone deserves to have a true friend, and most times we often find it in the people we interact with on a daily basis- at work, at home, on the streets, in a café, at a leisure park and even in the weirdest of places.
The fun thing about friendship is that it knows no bounds. Throughout history, humanity has seen the most unlikely individuals and groups become best of friends to create alliances that help all the parties involved. Such is the story of the unique friendship between this elephant and her human buddy.
Yes. You read that right. A human and her giant elephant friend have grown super close to become best of friends, and they often find ways to show each other just how much they mean to each other.
Who said friendships couldn't be inter-specific?
This elephant is so fond of her best friend that she follows her to the river banks to have friendship baths, and it can be said with utmost certainty that her friend loves her just as much. She protects her friend at the river by noticing the strong river currents and placing her quite heavy trunk on her friend to protect her from getting swept away.
The elephant places her huge foot on the woman's head without hurting her while she's bathing at the river. Nobody knows why she actually did that, but a pretty good guess would be that she just loves playing around with her human friend.
The woman also doesn't mind the foot- she knows her best friend wouldn't crush her, so she trusts her and continues with her bath. In the video that shows their friendship bath, a voice can be heard telling the woman that the elephant's foot would only get her dirty again, but she doesn't really mind.
After her bath, the woman walks up the river and the elephant can be seen walking right above her. Yes. Right above. But she spreads her leg open while walking to avoid crushing her best friend under her huge weight.
They both walk all the way to shore, and the elephant seems to be glad that she spent some time with her friend, and she got the chance to protect her.
Elephants are known to be a very emotional species, so this type of relationship is only typical of them. They often create forever friendships with family members, grieve the death of their loved ones, and even visit their death sites.
Since humans are also equally very emotional, it shouldn't come as a surprise that they create bonds with elephants. Under the right circumstances, a strong friendship can come out of human-elephant interactions, and this story only proves it.
Young Boy Keeps Toy He Was Measured Against As A Premature Baby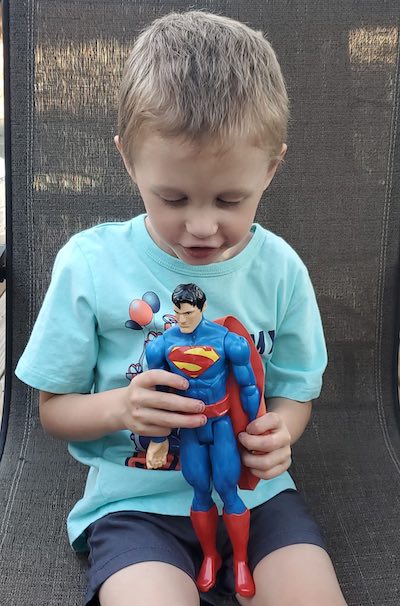 Doctors sent home a woman and her husband to prepare for a miscarriage, but the defiant parents stayed put and now have the tale of a lifetime to tell.
So does their four-year-old son Logan Ray, born less than six months of pregnancy, has a Superman action-figure as proof of how small he was at birth. He was only 12 inches in length and weighed a pound and a half. He and the action figure his parents Rob and Val placed beside him shortly after his birth, are now inseparable.
How did this fascinating and heartwarming story come about?
Nearly five years ago, when Val was pregnant with their son, doctors wiped the smiles off their faces by announcing that the baby would not make it to full term. The Physician claims the baby would not survive at all, and they should brace themselves for any eventuality.
The reason for the bad news was that Val had been diagnosed with a cervix problem. The doctors said examinations showed her Cervix was incompetent. That situation usually transpires when unstable cervical tissue induces or contributes to premature delivery or the loss of pregnancy even though the gestation is, on the other hand, healthy.
Val and Rob blocked out the bad news they received, and we're adamant that they would remain in the hospital to see the pregnancy through. The baby was a fighter too and stayed put for all of twenty-three weeks. Val helped out by keeping her feet elevated and staying in bed for three weeks without getting up to do anything that could further jeopardize the pregnancy.
She gave birth to a child now known as the "Superman Baby" for dual reasons. He was mighty strong and put up a fight to survive, and he was the size of a Superman toy. The toy idea came about when the nurses suggested to the mom that she should use something like a keepsake to measure the baby alongside. When she ran the idea by her husband, he was very supportive and they agreed on the Superman novelty.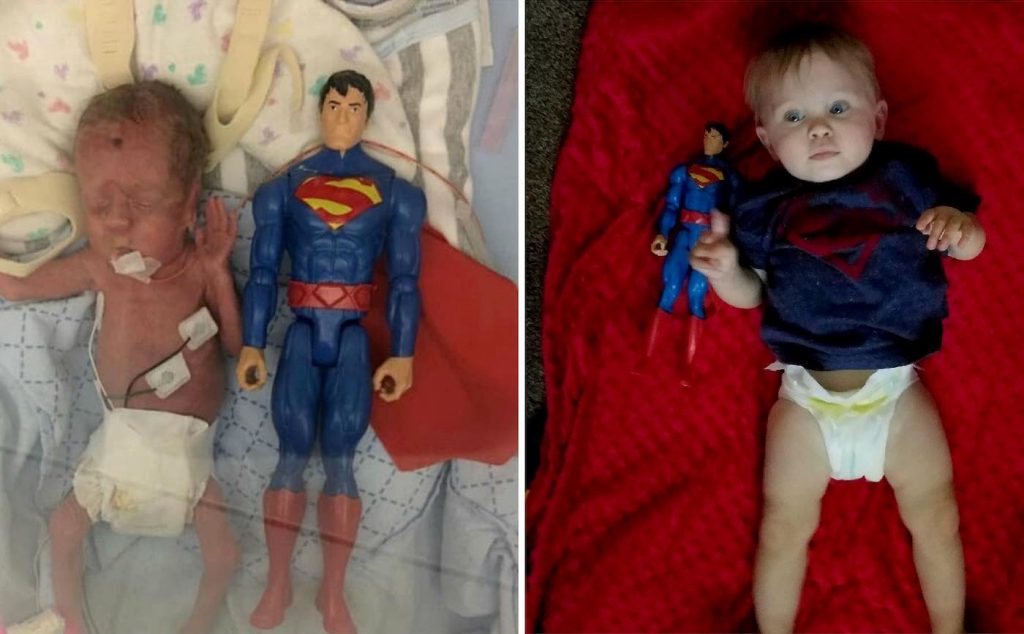 The doll was sanitized and placed beside Logan. For fifteen weeks, he remained in an incubator at the Randall Children's Hospital in Portland, Oregon fighting a myriad of complications that many feared would hinder the survival of Logan, but he pulled through like a champ. It was after those four months that he was finally able to leave with his parents.
From the hospital days to now, four years later, Val has been taking a multitude of photos with Logan carrying around his action figure. The doll is an indicator of Logan's successful development after a traumatic experience in the first few months of his life.
According to the happy and grateful parents, they communicate with the doctor who wants a regular update on Logan, who he refers to as " tough."
Many people consider not just Logan's survival but the fact that he has no further complications a miracle. Just like his action figure, Logan is healthy and strong as any regular child his age. His parents say they will never get rid of the Superman tog as memorabilia is not just for them, but for Logan when he becomes an adult.
He will have a tear-jerking story to tell years from now if or when he becomes a parent as well.