Dolphin and Calf Rescued After 2 Years Trapped in Louisiana Pond
In a heartwarming tale of rescue and teamwork, a mother dolphin and her baby were finally freed after spending nearly two years stuck in a pond in Louisiana. Thanks to the efforts of several agencies and dedicated volunteers, the dolphins were successfully returned to the open sea, their natural habitat.
The story began during Hurricane Ida in late August 2021 when the pair of dolphins, believed to have been pushed into the pond system near Grand Isle, Louisiana, by the powerful storm, found themselves trapped. The pond had enough saltwater and food to keep them alive, but it lacked a clear pathway to the Gulf of Mexico, where they truly belonged.
The Audubon Nature Institute and the Audubon Coastal Wildlife Network (CWN) were on the case, closely monitoring the mother and her calf for over a year. Their plan was to wait until the baby dolphin was old enough to move with its mother to open water. However, storms can be treacherous for marine mammals and sea turtles, often washing them into inland waterways like this one. Weeks and months after such events, these animals are often found stranded, requiring the expertise of trained responders to return them to their natural homes.
Finally, on June 17th, 2023, the rescue operation took place, led by the Audubon Coastal Wildlife Network in collaboration with the NOAA Fisheries Service and several other partners, including the National Marine Mammal Foundation, SeaWorld Orlando, The Institute for Marine Mammal Studies, Dauphin Island Sea Lab, and South Carolina Aquarium.
The rescue team worked diligently to ensure the safe extraction and release of the dolphins. With their combined knowledge and experience, they successfully orchestrated the return of the mother and calf to the open waters of the Gulf of Mexico, where they could once again roam freely.
This heartwarming rescue story serves as a testament to the power of collaboration and compassion for animals in need. It highlights the importance of wildlife observation and conservation efforts to ensure that creatures like these dolphins have the best chance of survival and a safe return to their natural habitats.
As the dolphins swam off into the vast ocean, there was a sense of joy and fulfillment among the rescuers. Their dedication and hard work had paid off, and the two dolphins were given a second chance at life in the wild where they truly belong. The rescue serves as a reminder that with teamwork and determination, we can make a positive impact on the lives of animals in distress and protect the precious biodiversity that makes our planet so extraordinary.
500,000-Year-Old Wooden Structure Rewrites History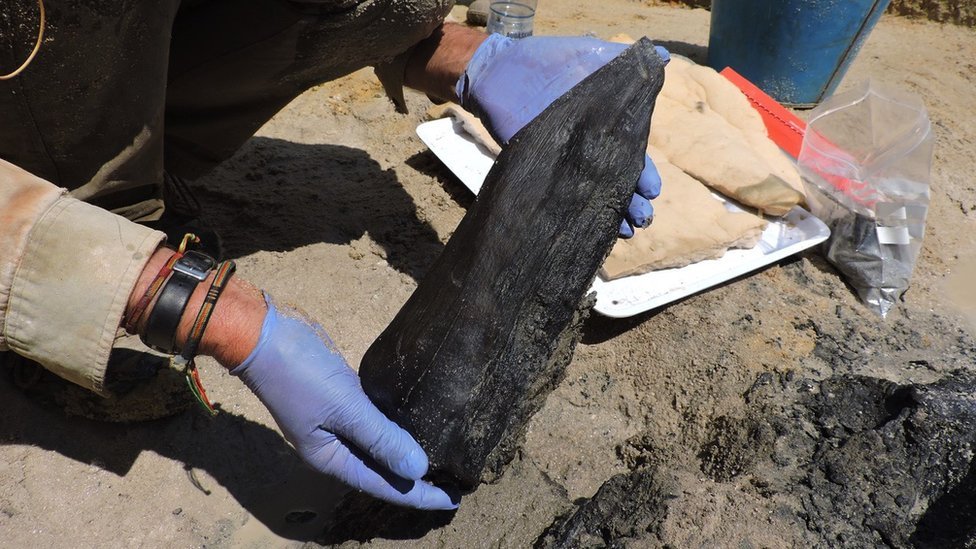 In an archaeological discovery, a wooden structure dating back an astonishing 500,000 years has been unearthed on the banks of a river in Zambia, challenging long-held beliefs about the capabilities of ancient humans. Researchers stumbled upon these ancient wooden logs, a revelation that has the potential to reshape our understanding of the lives of early humans.
The find, located on the riverbanks near Zambia's Kalambo Falls, provides compelling evidence that stone-age people may have constructed primitive shelters, forever altering our perception of their intelligence and resourcefulness. Archaeologist Prof Larry Barham, who led the research, was profoundly impacted by the discovery, stating, "This find has changed how I think about our early ancestors."
What makes this find truly remarkable is that it suggests ancient humans did more than merely survive; they thrived by creating something entirely new. These early humans exhibited intelligence, imagination, and craftsmanship by fashioning structures from wood, a material that had never before been transformed into such large and sophisticated objects.
The researchers also uncovered ancient tools, including digging sticks, but the most exciting find was two pieces of wood positioned at right angles to each other. "One is lying over the other, and both pieces of wood have notches cut into them," explained Geoff Duller, a professor of geography at the University of Aberystwyth and a member of the research team. "You can clearly see those notches have been cut by stone tools, making the two logs fit together to become structural objects."
Radiocarbon dating confirmed the wood's age, placing it at a staggering 476,000 years old. This revelation has ignited curiosity about the woodworking traditions of ancient societies, challenging the prevailing notion that early humans led simplistic, nomadic lives.
Perrice Nkombwe, a team member from the Livingstone Museum in Zambia, expressed her astonishment, saying, "I was amazed to know that woodworking was such a deep-rooted tradition. It dawned on me that we had uncovered something extraordinary."
The preservation of the wooden structure itself is a miracle. Typically, wood decays over time unless preserved under specific conditions. However, in the waterlogged environment along the Kalambo Falls, the wood remained intact, essentially pickled by the elements for millennia.
While the exact purpose of this ancient wooden structure remains a mystery, it has sparked numerous speculations. Prof. Duller suggests it might have been used as a place to sit beside the river and fish, although a complete understanding of its function remains elusive.
Moreover, the identity of the individuals who constructed this structure raises intriguing questions. "We don't know – it could have been Homo sapiens, and we just haven't discovered fossils from that age yet," Prof. Duller added. "But it could be a different species – [perhaps] Homo erectus or Homo naledi – there were a number of hominid species around at that time in southern Africa."
This discovery has the potential to enrich our understanding of ancient woodworking techniques, craftsmanship, and human interaction with the environment. As researchers continue their work at the Kalambo Falls site, the pages of history are being rewritten, and our appreciation for the ingenuity of our ancient ancestors grows ever deeper.