Doing a Critical Job Even When Pregnant
Firefighters make it their life mission to save people and property. So, it's fairly challenging for them to turn off that mentality, even when they know they should be off the clock. That was the case for one Maryland fire ground pounder who has been a firefighter much of her adult life.
At 30, Megan Warfield was dealing with contractions and expecting to have a baby in a matter of hours or a day. However, working through the sensations while being driven as a passenger, she ended up in a multiple car accident. Warfield was fine, a fender-bender at most for the vehicle she was in. So, her firefighter training kicked in, and she began helping direct traffic away from the accident itself. However, as Warfield surveyed the situation, she realized someone was trapped inside one of the cars turned upside down by the event.
Not even thinking about herself or the contractions, Warfield wiggled into the overturned car to stabilize the victim and prevent the person from getting injured further. Knowing it's a common situation for folks to go into shock, get dropped and land on their head and knock or similar, stabilization was key in the first moments of an accident to protect the victim. As regular paramedics flooded in minutes later and took over, Warfield herself realized she needed to get to a hospital as well, just in case something happened to her baby from the accident. As it turned out, after being admitted, the hospital staff confirmed she was fully in labor and her baby was out of position thanks to the accident motion.
Being sideways versus upside down is a serious issue, but Warfield hadn't even noticed being entirely in firefighter mode during the event. So, no surprise, when things settled the cramps really started kicking in, and she knew her baby was on the way. Less than a day later, Warfield was a new mom, giving birth to her third child on October 4. With a brand-new daughter, Charlotte, Warfield finally relented and completely gave in to relaxing and staying off the clock for a while as a firefighter.
The accident was no small one either. A total of six people were moved by ambulance to local hospitals, and everyone fully recovered after the fact. Warfield's stations gave big kudos, not just for the service the pregnant firefighter provided at the scene, but congratulations on her new child as well. The whole story and details got repeated airtime on her fire department's social media account as well as the local news circuit as well. Sure enough, the story got picked up nationally, and the TODAY show interviewed Warfield as well afterwards.
It's not surprising Warfield jumped into the fray. She had been put on light duty due to her pregnancy and had spent most of her working days up to the day of delivery managing administrative functions for her fire department and related paperwork. She herself admits she was a bit stir-crazy and wanted to get back on the engine fire line.
Now that Charlotte is taken care of and growing, it won't be surprising to see Warfield out at vehicle accidents and local fires again doing what she does best as a firefighter.
400-Pound Black Bear Rescued From Waterway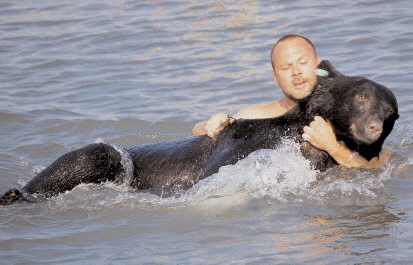 A Florida man recently became a hero after saving a 400lb black bear from drowning. Black bears are known to be excellent swimmers and are athletic animals, but the bear in question was not in its usual state when it jumped into the water. The bear had been tranquilized after walking into a residential neighborhood, and when the tranquilizer started to take effect, it ran towards the water and eventually began to sink.
Wildlife biologist Adam Warwick immediately sprang into action, jumping into the water to save the bear. Despite the bear's massive size, Adam was able to keep its head above water and pull it to safety. Although he suffered only a scratch in the process, Adam's bravery was a testament to the care and dedication of wildlife officials in protecting and preserving the natural world.
Black bears are found in various parts of North America, including Florida, and are excellent swimmers. They are known for their athletic ability and can easily swim across rivers and lakes in search of food and territory. However, when the bear in question was tranquilized, it was not in its natural state, and its swimming abilities were significantly compromised.
The incident highlights the importance of wildlife officials in preserving natural habitats and protecting animals from harm. Despite the risks involved, these officials put their lives on the line to ensure that animals receive the care and protection they need. The successful rescue of the black bear is a reminder of the importance of caring for the environment and all its inhabitants, no matter how large or small.