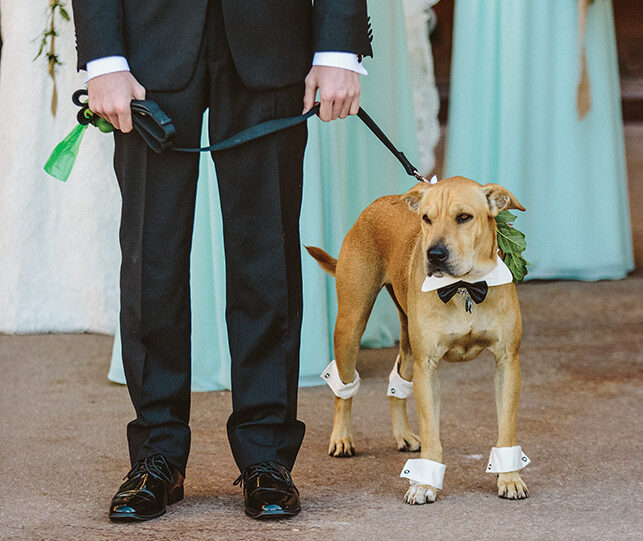 Dog Trainer and Dog Groomer Get Married Accompanied By Their Best Friends
Weddings Are for Sharing With Loved Ones
When people get married, they spend one perfect day with their most loved friends and family. While many people only think about their human friends and family, there are a lot of people who could never imagine starting this important new chapter in their lives without their beloved pets. In fact, many people might have to admit, if they were being honest, that they loved their pets more than some of the relatives who came to the wedding, especially if they felt obligated to invite some relatives they rarely see and barely know.
Some People Already Spend Their Lives With Pets
Anyone who works full-time as a dog trainer or groomer already spends most of their working days with animals. They see dogs all day long, and they make the choice to do so because of many reasons. Working with pets is rewarding on many levels. Especially if you see the same dogs again and again, you form a close bond. Communicating with pets is therapeutic and generally far less stressful than dealing with humans. The people who work with dogs don't get sick of dogs and try to go home to a quiet house; they tend to have larger pet families than average.
A Dog Trainer and a Dog Groomer Tie the Knot
Paul and Annette Anthony are typical in that they work with dogs as a profession, and they have a large pet family. On the day they got married, their family consisted of 2 humans and 9 canines. Both Paul and Annette admitted that their pets were more to them than just fun — their beloved dogs also helped them get through rough times in their lives, including personal tragedies. Annette's German Shepherd Pesci is even an emotional support animal, helping her to deal with severe anxiety and depression. There was no way that their pets were going to be left out of the most important day of their lives going forward.
Canine Best Man
Paul's service dog Finn has earned his retirement. Finn has competed in over 40 events, earning titles and even setting records. He was also there for Paul when Paul developed PTSD after being at the scene of the deadliest plane crash in Pennsylvania's history. Finn was the one who helped with the proposal, giving Annette the ring with a note asking her to marry his dad. It was only fitting that Finn ended up being one of the best men at the wedding too.
A Family Affair
All 9 dogs walked down the aisle and stayed throughout the ceremony. Annette's dog Pesci even came to comfort her during the ceremony when she started to cry from happiness because he wanted to make sure his momma was all right. Whether you want to use your dogs in the ceremony as ring bearers, best men, or flower girls, or if you just want them to be present, it makes sense to have your pets help you celebrate such an important day in your life.

Buzz Aldrin Finally Marries Long-Term Love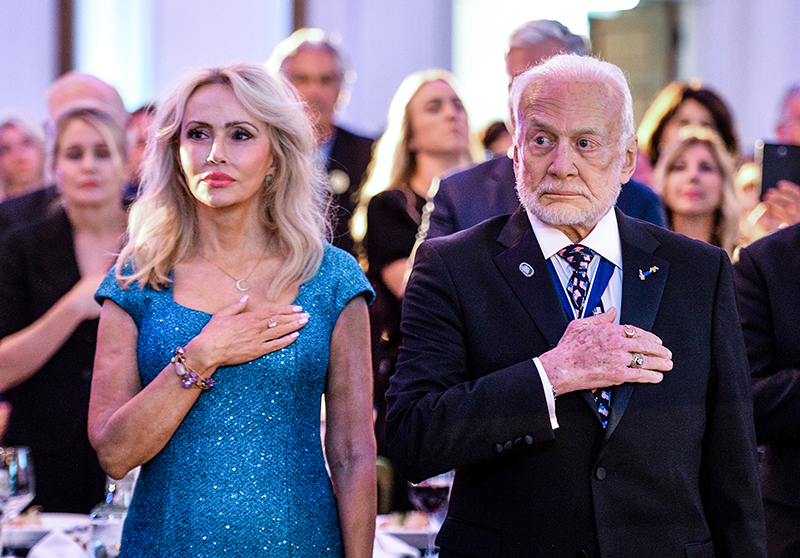 Buzz Aldrin, the second man to walk on the moon, recently married his longtime love, Lois Driggs Cannon. The couple, who have been together for more than a decade, married in a private ceremony in Los Angeles, California.

Aldrin, who is now 93 years old, first met Cannon at a gala event in Los Angeles in the late 1990s. They quickly became friends and began dating. They've been together ever since, and their love has only grown stronger over time.

Aldrin is best known for his involvement in the Apollo 11 mission, which saw him and astronaut Neil Armstrong become the first humans to walk on the moon in 1969. Since then, he has devoted his life to promoting space exploration and education. He is also a published author, having written several books about his astronaut experiences, including "Return to Earth" and "Magnificent Desolation: The Long Journey Home from the Moon."

Cannon, a retired businesswoman, has been an unwavering supporter of Aldrin throughout his career. She has accompanied him on many of his public appearances and speaking engagements. She has also been a strong supporter of space exploration and education, and the two have frequently collaborated to advance these causes.

The couple's wedding was a small and intimate affair attended by only close family and friends. The wedding took place at a private residence in Los Angeles, and the couple exchanged vows in a stunning outdoor setting. The ceremony was followed by a reception with food, drinks, and music for the guests.

The wedding of Aldrin and Cannon is a testament to the power of love and the value of companionship in life. Despite the difficulties and challenges they have faced, their love for one another has remained strong. The couple's marriage serves as an example to others and a reminder that love knows no age limit.
Aldrin is an American hero not only for his role in the Apollo 11 mission but also for his adventurous spirit and unyielding passion for space exploration. The news of his marriage serves as a reminder that love and companionship are important aspects of human life, even after achieving great heights and facing challenges. Marriage is a celebration of love, commitment, and a lifetime of shared adventures and experiences for the couple.