Dog Owner Turns Dog Into Polar Bear, Among Other Animals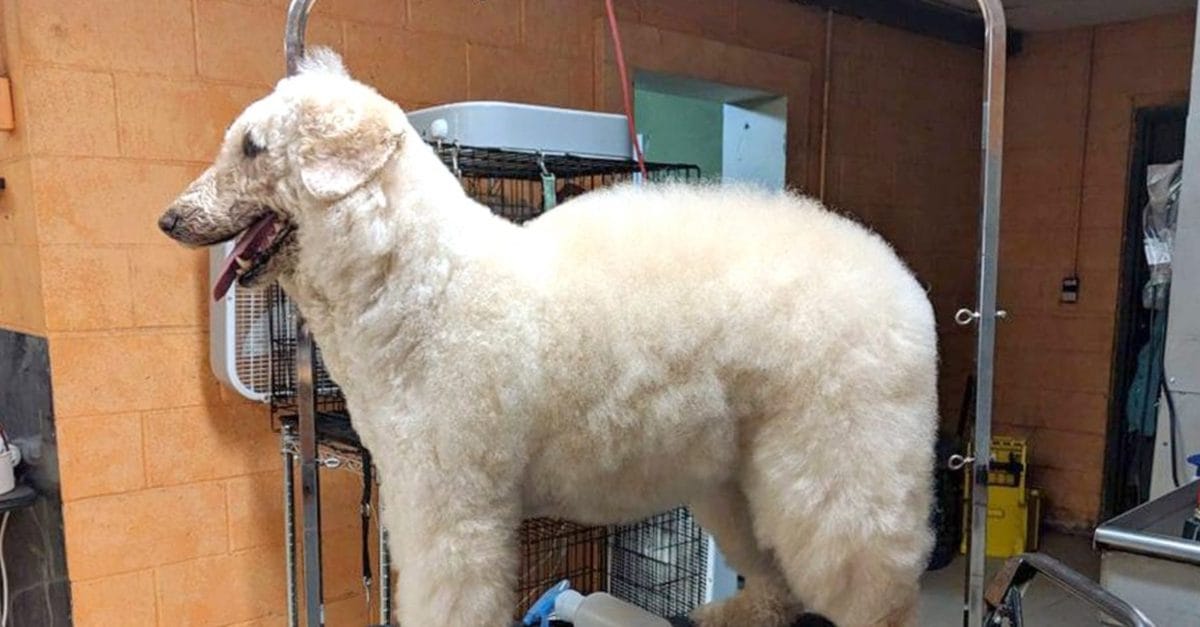 Have you ever wanted to have a polar bear as a pet? Or maybe a giraffe, or even a lion? If you're like expert groomer Rachelle McGinnis, it's definitely possible. McGinnis doesn't have these animals as pets. Instead, she transforms her poodle, 12-year-old Bijou, into these amazing creatures. The latest being a mini polar bear.
McGinnis has said she loves being able to transform her poodle into anything she dreams up because it shows off her creativity. To get the look just right, Bijou had to grow out her fur for 11 months, so it was long enough for her to resemble a polar bear. First Mcginnis cut her fur, which took her a few hours. She didn't make Bijou sit for that long, though. She did the cutting in stages. Although it took hours to create the look, it only took 30 minutes to style it. Styling the hair includes washing and brushing and a lot of hairspray.
It takes a lot of time, work, and energy to get the look just right. After brushing Bijou's fur, McGinnis posed her for pictures. She made sure her neck was elongated just right, and had her stand at certain angles. The pictures were taken in the snow, so that from a distance, it's believable that she really is a mini polar bear roaming in your backyard. She looks so realistic that it would scare most people. But Bijou is anything but ferocious.
Bijou enjoys being pampered, groomed, and pet. McGinnis enjoys styling her and expressing her creativity, so it's no surprise she has transformed Bijou into many animals. So far, she has transformed her into a horse, peacock, and a dragon. She has used different methods to transform her dog, like carving and dying the fur. She has said that she loves doing the wackiest designs because it lets her explore different creative outlets.
If you're concerned about Bijou, she doesn't mind the transformations one bit, or the attention. She enjoys meeting new people. Many have stopped their cars to meet her, pet her, and take a picture with her.
McGinnis has said that Bijou doesn't care what she looks like, but craves the attention. Being groomed is like a spa day for her. She doesn't care the outcome, just as long as she feels loved.
The hardest transformation so far was making Bijou into a horse. Bijou had a saddle and a mane. McGinnis said the carving was very intricate and it took about eight hours to complete. McGinnis has many other animals she wants to create but next, she plans on making her dog look like a sheep. This transformation will be easier to upkeep, however. It will include making her fur as fluffy as possible and her paws dyed back to look like hooves.

'Chewy' Online Pet Store Offers Incredible Gesture to Grieving Pet Owner.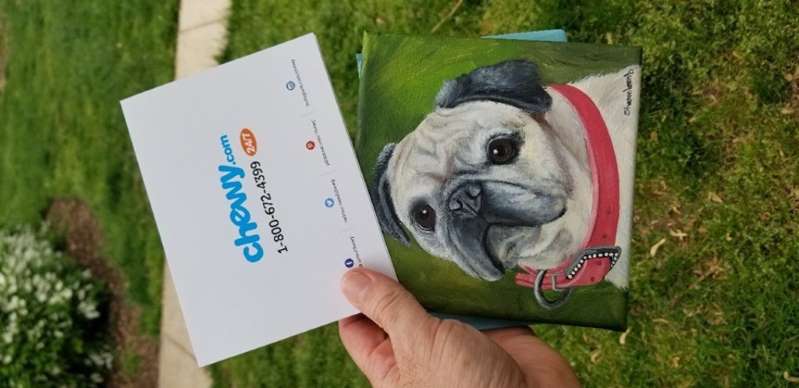 When you adopt a pet, you are bringing them into your family for life. When you lose a pet, it feels like you just lost a member of your family. While the grief that we feel over losing our beloved pets is not easy to forget, there are kindhearted souls out there that are doing their part to make it easier. Joseph Inabnet had to put down his 14-year-old pug, named Bailey, due to continual health problems that were not getting better. With a bag of prescription pet food that he could no longer use, Inabnet decided to contact the online pet retailer 'Chewy', in order to see if he could get a refund. What happened next would leave Inabnet crying bittersweet tears of happiness. Let's see if you can keep your tears from flowing!
According to Inabnet, Bailey had been struggling with health issues since her fifth birthday. In reality, Inabnet had assumed that he would have to let her go before she turned eight. However, Inabnet worked hard with Bailey's veterinarian, and they were able to extend her life for almost a full decade, thus allowing Inabnet and Bailey to share many moments of joy together. One of Bailey's favorite tricks was to sit on her backside in order to beg for treats. Inabnet loved to take pictures of Bailey when she performed this trick, and he sent one photo to Chewy along with his email, detailing the tragic loss of his best furry friend. Chewy told Inabnet to donate the pet food to a shelter and that they would send him a refund. Inabnet thought that this was the end of the story, but it was not.
Weeks later, Inabnet received a curious package in the mail from Chewy. Not sure what the object was, Inabnet slowly opened the package. As he unwrapped the package, weeks after saying goodbye to Bailey, his heart began to thud. What could be in here? What did Chewy send him? When he finally opened the package, he found a hand-painted portrait of Bailey doing her favorite trick. Inside of the package was a handwritten note from the owners of Chewy, sending love to Inabnet and a promise to support him if he ever needed anything. The painting captured Bailey in all of her silly joy and Inabnet was overcome with emotion. How could he not be? Inabnet was quick to share the lovely portrait on social media whereupon it was quicker to go viral. After being shared hundreds of thousands of times, Inabnet's story was soon all over the internet.
While Inabnet will never truly get over the loss of Bailey, he was afforded one of the kindest parting gifts that a pet owner could ever ask for. Inabnet praised the portrait a thousand times over before tearfully talking about his beloved pup. Bailey loved to always do her 'sit up' trick, and she had even been attempting to do it when he had to put her down due to her terminal illness. With one portrait and a lovely letter, Chewy was able to change Inabnet's last memories of his faithful, furry friend. Bailey was Inabnet's first pet, and he was quick to talk about how much she had changed his life. Inabnet went on to point out that he had never been closer to any animal and that he didn't know if he ever would be again. It's clear to see that Bailey left an impression on Inabnet, and we are happy to read that Chewy helped him to get through the grieving process.