Dog Owner Turns Dog Into Polar Bear, Among Other Animals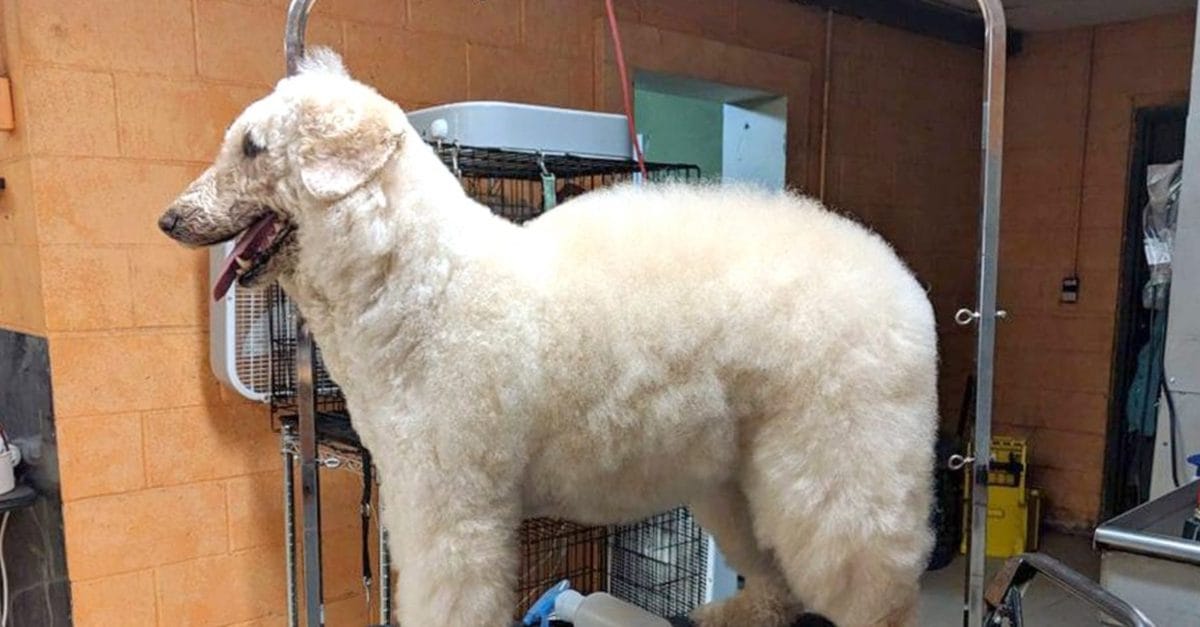 Have you ever wanted to have a polar bear as a pet? Or maybe a giraffe, or even a lion? If you're like expert groomer Rachelle McGinnis, it's definitely possible. McGinnis doesn't have these animals as pets. Instead, she transforms her poodle, 12-year-old Bijou, into these amazing creatures. The latest being a mini polar bear.
McGinnis has said she loves being able to transform her poodle into anything she dreams up because it shows off her creativity. To get the look just right, Bijou had to grow out her fur for 11 months, so it was long enough for her to resemble a polar bear. First Mcginnis cut her fur, which took her a few hours. She didn't make Bijou sit for that long, though. She did the cutting in stages. Although it took hours to create the look, it only took 30 minutes to style it. Styling the hair includes washing and brushing and a lot of hairspray.
It takes a lot of time, work, and energy to get the look just right. After brushing Bijou's fur, McGinnis posed her for pictures. She made sure her neck was elongated just right, and had her stand at certain angles. The pictures were taken in the snow, so that from a distance, it's believable that she really is a mini polar bear roaming in your backyard. She looks so realistic that it would scare most people. But Bijou is anything but ferocious.
Bijou enjoys being pampered, groomed, and pet. McGinnis enjoys styling her and expressing her creativity, so it's no surprise she has transformed Bijou into many animals. So far, she has transformed her into a horse, peacock, and a dragon. She has used different methods to transform her dog, like carving and dying the fur. She has said that she loves doing the wackiest designs because it lets her explore different creative outlets.
If you're concerned about Bijou, she doesn't mind the transformations one bit, or the attention. She enjoys meeting new people. Many have stopped their cars to meet her, pet her, and take a picture with her.
McGinnis has said that Bijou doesn't care what she looks like, but craves the attention. Being groomed is like a spa day for her. She doesn't care the outcome, just as long as she feels loved.
The hardest transformation so far was making Bijou into a horse. Bijou had a saddle and a mane. McGinnis said the carving was very intricate and it took about eight hours to complete. McGinnis has many other animals she wants to create but next, she plans on making her dog look like a sheep. This transformation will be easier to upkeep, however. It will include making her fur as fluffy as possible and her paws dyed back to look like hooves.

Handicapped Puppy Befriends Flightless Pigeon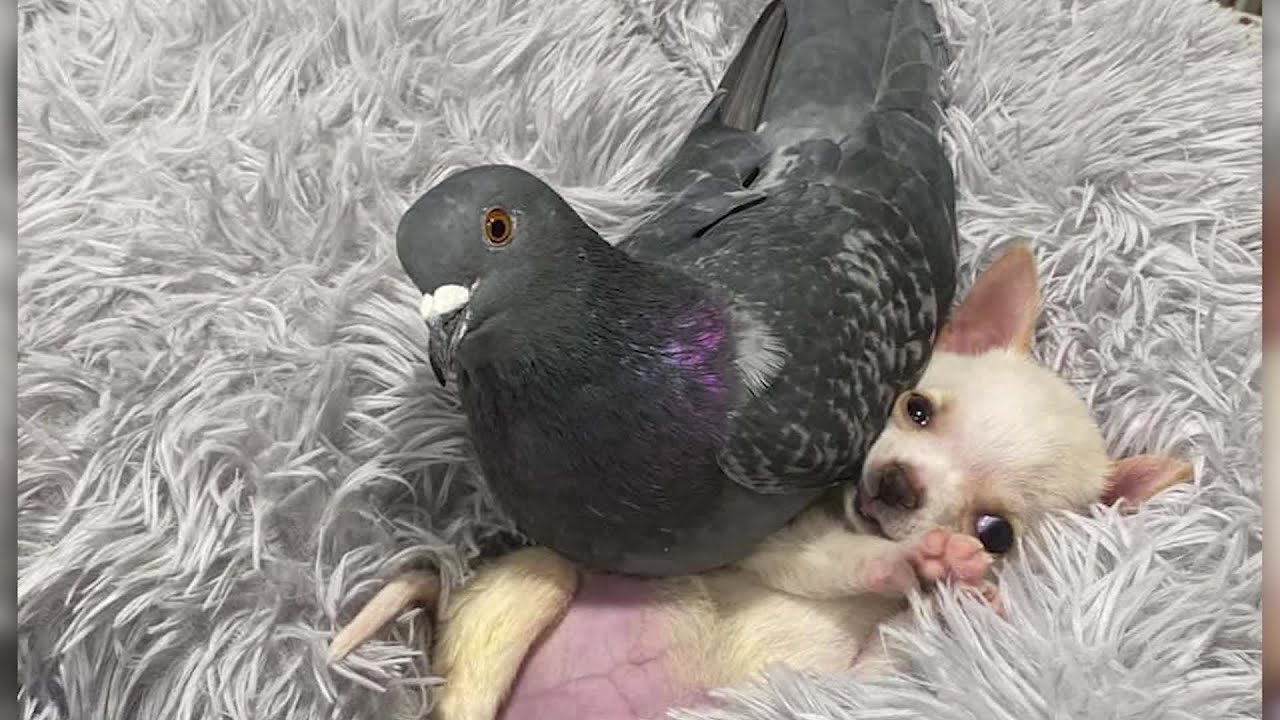 In Rochester, NY, Sue Rogers runs a non-profit called the Mia Foundation. The rescue organization rescues and rehabilitates animals who have birth defects or deformities and tries to find them a loving home. About a year ago, a pigeon was found unable to move in the parking lot of a car dealership. The pigeon was huddled and cowering on the ground. When a local wildlife rescue was called, they said the bird had neurological damage that caused him not to be able to fly. They thought that euthanization would be the best option for him.
Sue was having none of that. She stepped in and took the bird, who she named Herman, under her wing, so to speak. She made space for him in her shelter and kept him close where she could keep an eye on him. He liked to sit on a furry dog pillow and watch her work.
A couple months ago, a tiny Chihuahua was brought to the Mia Foundation. He was an infant, maybe a few months old, when his South Carolina breeders sent him to Sue. He's a teacup sized Chihuahua they named Little Lundy and he was born with spinal cord damage. Sue also determined that he was suffering from swimmers syndrome. Swimmers syndrome is a developmental deformity that causes the front and hind legs to be splayed out. This makes it almost impossible for Little Lundy to walk.
Although swimmers syndrome is thought to be untreatable, according to a few studies and an article in a veterinary journal, it can be treatable. With some physical therapy and at-home treatment, Little Lundy could live a long and happy life, which is exactly what Sue plans for him.
When Little Lundy arrived at the Mia Foundation he decided to get acquainted with his new surroundings and the other animals at the shelter. One particular encounter, created a friendship that has gone viral. Herman and Little Lundy, a puppy and a pigeon, are the unlikeliest of friends, but they have a lot in common. They both have trouble walking, or flying in Hermans case, and they were living in the same place. You could say, they were in the right place at the right time to become instant friends.
In the six weeks they have been together, Herman and Little Lundy have become inseparable. They do everything together, which is a lot of sleeping and snuggling. Mostly, with Herman sitting on top of Little Lundy, which doesn't bother him in the slightest. This friendship was so out of the ordinary that Sue had to document it. The viral sensation of the puppy and pigeon has brought attention to the Mia Foundation that was much needed. The rescue organization runs solely on donations to help cover the costs of taking care of the animals and for needed surgeries. So far, about $6000 was donated because of this unlikely friendship and over 100 adoption inquiries. Hopefully when they are adopted, they are able to stay together.