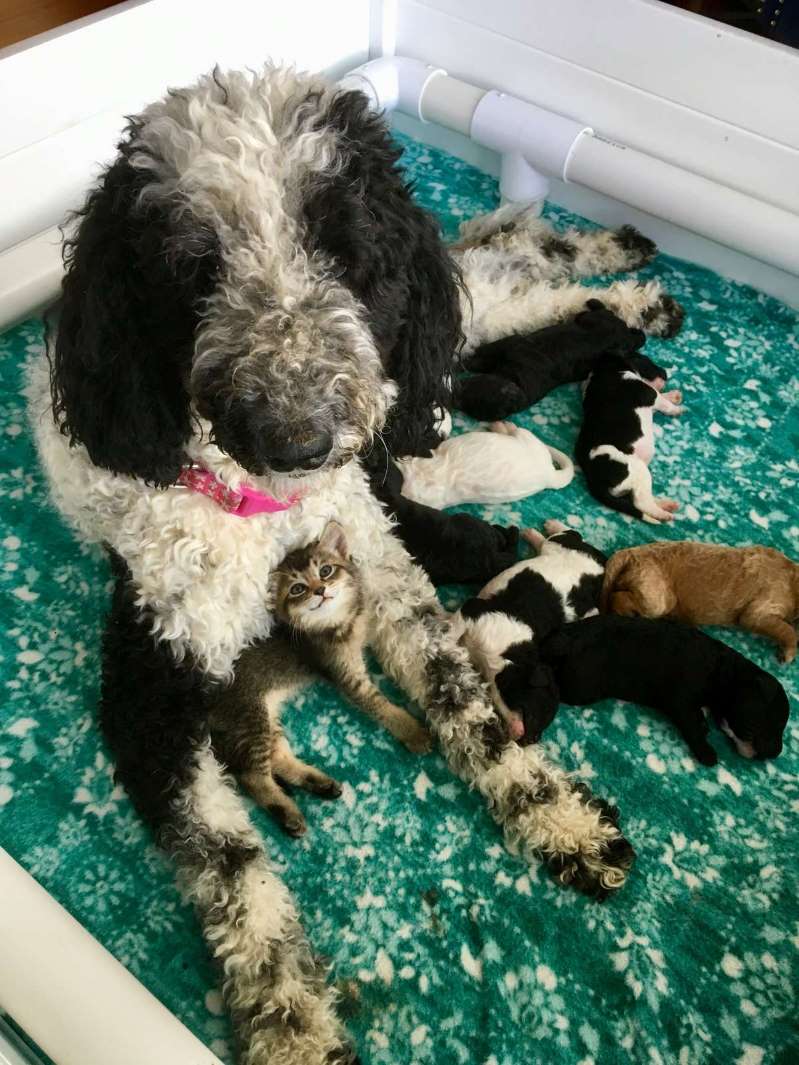 Dog Mom Adopts Kitten, Raises Adorable 'Puppy'!
We live in a pretty crazy world, so it is always nice to know when something genuinely sweet happens. If you love cats and dogs then boy oh boy do we have the story for you. Meet Nala, a runt of a kitten that was abandoned by her family in a dirty alley. With few prospects for survival ahead of her, Nala surely seemed to be on the verge of being lost. This is when a kindly neighbor came into the picture in order to save Nala, but that isn't where this story really gets exciting! According to the Spokane County Regional Animal Protection Services (SCRAPS), located in Spokane, WA, this story was JUST getting started.
Nala was adopted long before she had ever truly come to know her mother. Despite lacking a family, Nala would end up with a pair of mothers before she could even really open her eyes. After being saved from the dirty alley, Nala was brought to a foster family in order to see if she would survive and flourish. Nala was brought in by the Myer family, and they were more than excited to see how she blended in with the rest of their own pets. While Nala lagged behind the other kittens, she soon found love from an unusual source — a dog named Izzy.
Izzy was a beautiful black-and-white mama with a litter of puppies to take care of. Despite her own motherly duties, Izzy was more than ready to welcome Nala into her pack. Izzy fell in love with little Nala and soon became apparent that the feeling was mutual. Despite routinely falling behind the other kittens in their developmental phases, Nala was soon comfortable sleeping directly on Izzy's large paws while the dog nursed her own litter. In fact, Izzy kept trying to put Nala with the rest of the puppies so that the little kitten could nurse. Before long, Nala and Izzy were absolutely inseparable. You wouldn't know that Nala was a cat by the way that she learned to act!
Whenever the Myer family would put Nala in the pen with Izzy and the puppies, a furry pile of love would soon appear. Nala couldn't go two feet without being swarmed by her 'litter'. Soon, it became obvious that Nala was adopting the dog family as much as they were adopting her. In fact, it became a typical sight to see Nala buried in four or five sleeping puppies. Of course, Nala didn't mind, she was purring and sleeping along right next to them! When Nala would grow tired of being cuddled, she'd climb up and out of the puppy pen in order to do her own thing. After she would get done eating or playing outside of the pen, she would climb right back in so that she could join her new family.
Thanks to all the love that Nala got from kittens, dogs, and the Myer family, she was able to grow into a beautiful adult cat. By the time that Nala was completely rejuvenated, she was ready to go and find her forever home. As Nala left the home, Izzy became distraught. It was clear that Izzy would miss Nala. The Myer family knew that they couldn't keep Nala but that didn't mean that they were done doing good deeds. Instead, the Myer family went straight to adopting more foster kittens in order to help rejuvenate them. Wouldn't you know it, Izzy was once again ready to play mom to another batch of cute little kittens. What could be better than that?
Father in Bumblebee costume escorts his kid back to school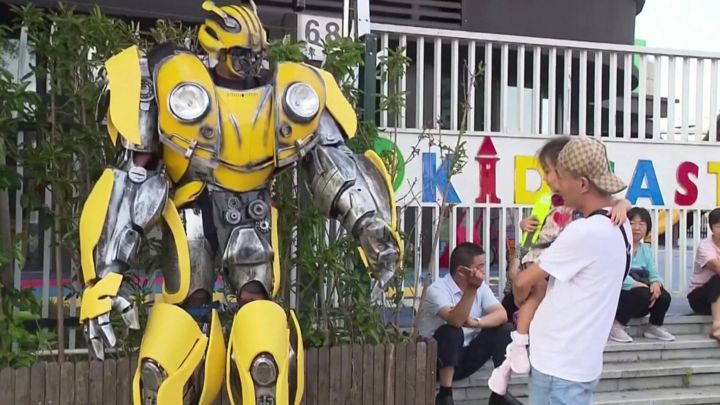 Bumblebee from the American sci-fi movie series Transformers never had a kid, but if he did, he'd have definitely escorted him to school.
A father in Shanghai, China has gone above and beyond to encourage his kid to go back to school after staying at home for months due to the Covid-19 pandemic. There's no way any child is refusing to walk with Bumblebee into school, and this man had that in mind when building his Autobot suit.
Just like the rest of the world, China had been on lockdown, and for months, kids had to stay away from school to prevent infection and spread of the deadly virus. However, some normalcy is being restored in some parts of the region, and schools now have the green light to open and allow children continue with their education.
The Bumblebee suit wasn't only for his kid, though. He built it to serve as some amusement and surprise to other kids at school- and that he did.
"I also want to bring happiness to other children. I didn't only wear it for my own child. All of them were preschoolers," he said in the video.
His suit looks like the real thing. The only things missing were metal, alien technology, and missiles- not much, right? Standing about 2.3-metre tall, the suit was built using soft materials to prevent touchy and curious children from getting injured- and he was right to have done that because he was rushed and hugged by children upon arrival at the school.
The excitement of the kids at the sight of Bumblebee could light up astronomical units of outer space, as the intergalactic warrior once again put smiles on the faces of humans. Kudos to this amazing dad for his efforts to make kids happy to resume back to school- he'd probably do it every day if he could.
The home-made suit seems to be inspired by the 2017 movie Bumblebee.