Dog Mom Adopts Kitten, Raises Adorable 'Puppy'!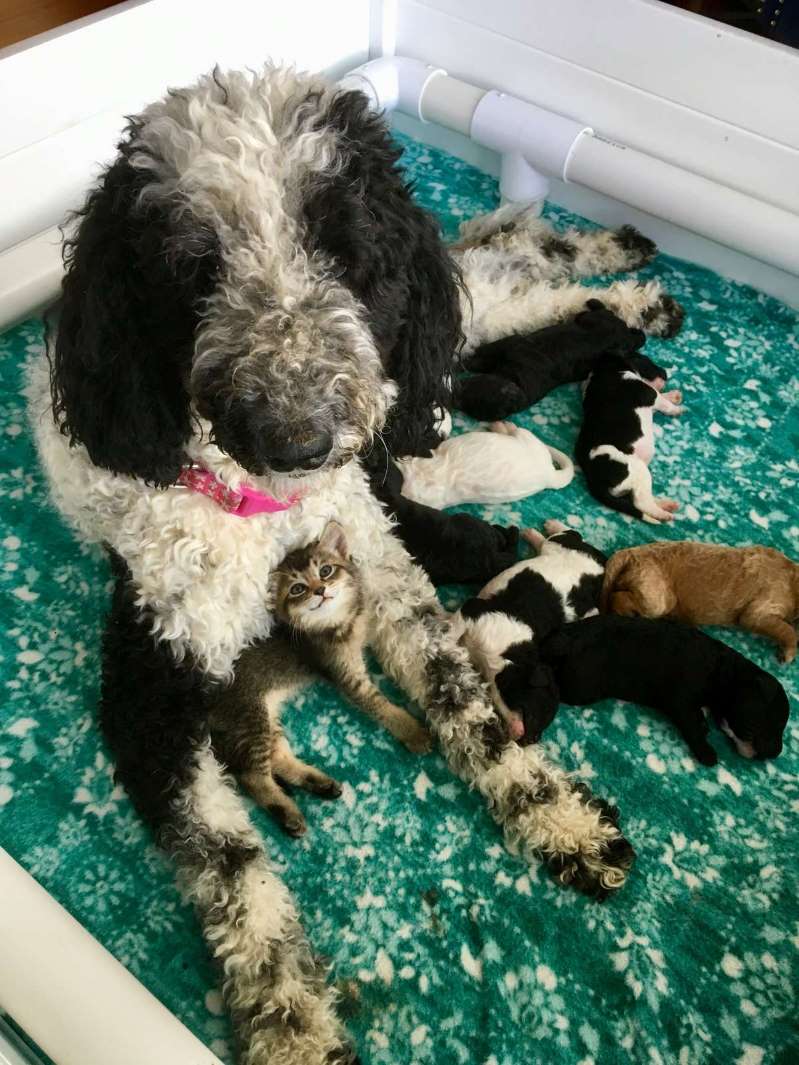 We live in a pretty crazy world, so it is always nice to know when something genuinely sweet happens. If you love cats and dogs then boy oh boy do we have the story for you. Meet Nala, a runt of a kitten that was abandoned by her family in a dirty alley. With few prospects for survival ahead of her, Nala surely seemed to be on the verge of being lost. This is when a kindly neighbor came into the picture in order to save Nala, but that isn't where this story really gets exciting! According to the Spokane County Regional Animal Protection Services (SCRAPS), located in Spokane, WA, this story was JUST getting started.
Nala was adopted long before she had ever truly come to know her mother. Despite lacking a family, Nala would end up with a pair of mothers before she could even really open her eyes. After being saved from the dirty alley, Nala was brought to a foster family in order to see if she would survive and flourish. Nala was brought in by the Myer family, and they were more than excited to see how she blended in with the rest of their own pets. While Nala lagged behind the other kittens, she soon found love from an unusual source — a dog named Izzy.
Izzy was a beautiful black-and-white mama with a litter of puppies to take care of. Despite her own motherly duties, Izzy was more than ready to welcome Nala into her pack. Izzy fell in love with little Nala and soon became apparent that the feeling was mutual. Despite routinely falling behind the other kittens in their developmental phases, Nala was soon comfortable sleeping directly on Izzy's large paws while the dog nursed her own litter. In fact, Izzy kept trying to put Nala with the rest of the puppies so that the little kitten could nurse. Before long, Nala and Izzy were absolutely inseparable. You wouldn't know that Nala was a cat by the way that she learned to act!
Whenever the Myer family would put Nala in the pen with Izzy and the puppies, a furry pile of love would soon appear. Nala couldn't go two feet without being swarmed by her 'litter'. Soon, it became obvious that Nala was adopting the dog family as much as they were adopting her. In fact, it became a typical sight to see Nala buried in four or five sleeping puppies. Of course, Nala didn't mind, she was purring and sleeping along right next to them! When Nala would grow tired of being cuddled, she'd climb up and out of the puppy pen in order to do her own thing. After she would get done eating or playing outside of the pen, she would climb right back in so that she could join her new family.
Thanks to all the love that Nala got from kittens, dogs, and the Myer family, she was able to grow into a beautiful adult cat. By the time that Nala was completely rejuvenated, she was ready to go and find her forever home. As Nala left the home, Izzy became distraught. It was clear that Izzy would miss Nala. The Myer family knew that they couldn't keep Nala but that didn't mean that they were done doing good deeds. Instead, the Myer family went straight to adopting more foster kittens in order to help rejuvenate them. Wouldn't you know it, Izzy was once again ready to play mom to another batch of cute little kittens. What could be better than that?
'Chewy' Online Pet Store Offers Incredible Gesture to Grieving Pet Owner.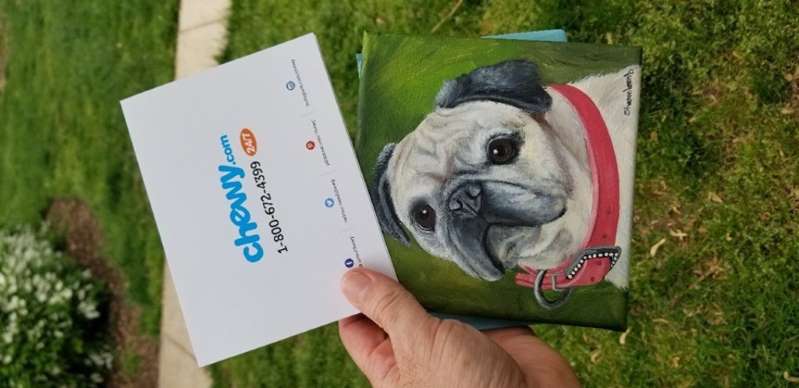 When you adopt a pet, you are bringing them into your family for life. When you lose a pet, it feels like you just lost a member of your family. While the grief that we feel over losing our beloved pets is not easy to forget, there are kindhearted souls out there that are doing their part to make it easier. Joseph Inabnet had to put down his 14-year-old pug, named Bailey, due to continual health problems that were not getting better. With a bag of prescription pet food that he could no longer use, Inabnet decided to contact the online pet retailer 'Chewy', in order to see if he could get a refund. What happened next would leave Inabnet crying bittersweet tears of happiness. Let's see if you can keep your tears from flowing!
According to Inabnet, Bailey had been struggling with health issues since her fifth birthday. In reality, Inabnet had assumed that he would have to let her go before she turned eight. However, Inabnet worked hard with Bailey's veterinarian, and they were able to extend her life for almost a full decade, thus allowing Inabnet and Bailey to share many moments of joy together. One of Bailey's favorite tricks was to sit on her backside in order to beg for treats. Inabnet loved to take pictures of Bailey when she performed this trick, and he sent one photo to Chewy along with his email, detailing the tragic loss of his best furry friend. Chewy told Inabnet to donate the pet food to a shelter and that they would send him a refund. Inabnet thought that this was the end of the story, but it was not.
Weeks later, Inabnet received a curious package in the mail from Chewy. Not sure what the object was, Inabnet slowly opened the package. As he unwrapped the package, weeks after saying goodbye to Bailey, his heart began to thud. What could be in here? What did Chewy send him? When he finally opened the package, he found a hand-painted portrait of Bailey doing her favorite trick. Inside of the package was a handwritten note from the owners of Chewy, sending love to Inabnet and a promise to support him if he ever needed anything. The painting captured Bailey in all of her silly joy and Inabnet was overcome with emotion. How could he not be? Inabnet was quick to share the lovely portrait on social media whereupon it was quicker to go viral. After being shared hundreds of thousands of times, Inabnet's story was soon all over the internet.
While Inabnet will never truly get over the loss of Bailey, he was afforded one of the kindest parting gifts that a pet owner could ever ask for. Inabnet praised the portrait a thousand times over before tearfully talking about his beloved pup. Bailey loved to always do her 'sit up' trick, and she had even been attempting to do it when he had to put her down due to her terminal illness. With one portrait and a lovely letter, Chewy was able to change Inabnet's last memories of his faithful, furry friend. Bailey was Inabnet's first pet, and he was quick to talk about how much she had changed his life. Inabnet went on to point out that he had never been closer to any animal and that he didn't know if he ever would be again. It's clear to see that Bailey left an impression on Inabnet, and we are happy to read that Chewy helped him to get through the grieving process.