Dog Mom Adopts Kitten, Raises Adorable 'Puppy'!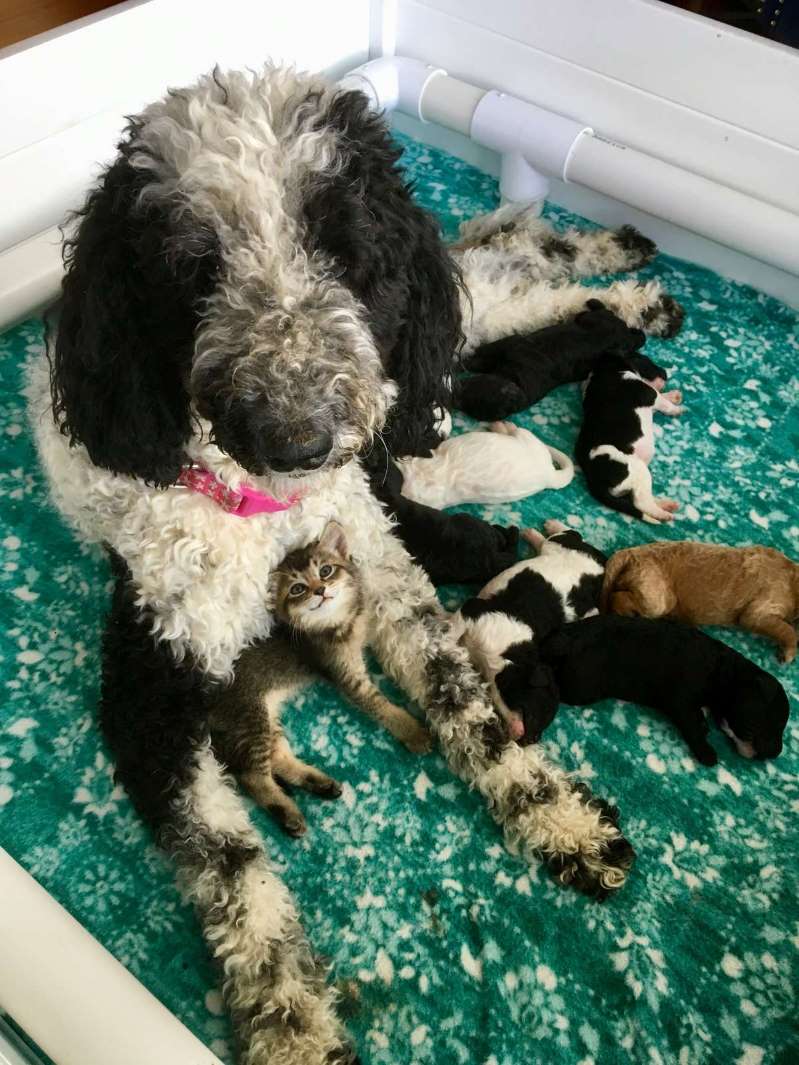 We live in a pretty crazy world, so it is always nice to know when something genuinely sweet happens. If you love cats and dogs then boy oh boy do we have the story for you. Meet Nala, a runt of a kitten that was abandoned by her family in a dirty alley. With few prospects for survival ahead of her, Nala surely seemed to be on the verge of being lost. This is when a kindly neighbor came into the picture in order to save Nala, but that isn't where this story really gets exciting! According to the Spokane County Regional Animal Protection Services (SCRAPS), located in Spokane, WA, this story was JUST getting started.
Nala was adopted long before she had ever truly come to know her mother. Despite lacking a family, Nala would end up with a pair of mothers before she could even really open her eyes. After being saved from the dirty alley, Nala was brought to a foster family in order to see if she would survive and flourish. Nala was brought in by the Myer family, and they were more than excited to see how she blended in with the rest of their own pets. While Nala lagged behind the other kittens, she soon found love from an unusual source — a dog named Izzy.
Izzy was a beautiful black-and-white mama with a litter of puppies to take care of. Despite her own motherly duties, Izzy was more than ready to welcome Nala into her pack. Izzy fell in love with little Nala and soon became apparent that the feeling was mutual. Despite routinely falling behind the other kittens in their developmental phases, Nala was soon comfortable sleeping directly on Izzy's large paws while the dog nursed her own litter. In fact, Izzy kept trying to put Nala with the rest of the puppies so that the little kitten could nurse. Before long, Nala and Izzy were absolutely inseparable. You wouldn't know that Nala was a cat by the way that she learned to act!
Whenever the Myer family would put Nala in the pen with Izzy and the puppies, a furry pile of love would soon appear. Nala couldn't go two feet without being swarmed by her 'litter'. Soon, it became obvious that Nala was adopting the dog family as much as they were adopting her. In fact, it became a typical sight to see Nala buried in four or five sleeping puppies. Of course, Nala didn't mind, she was purring and sleeping along right next to them! When Nala would grow tired of being cuddled, she'd climb up and out of the puppy pen in order to do her own thing. After she would get done eating or playing outside of the pen, she would climb right back in so that she could join her new family.
Thanks to all the love that Nala got from kittens, dogs, and the Myer family, she was able to grow into a beautiful adult cat. By the time that Nala was completely rejuvenated, she was ready to go and find her forever home. As Nala left the home, Izzy became distraught. It was clear that Izzy would miss Nala. The Myer family knew that they couldn't keep Nala but that didn't mean that they were done doing good deeds. Instead, the Myer family went straight to adopting more foster kittens in order to help rejuvenate them. Wouldn't you know it, Izzy was once again ready to play mom to another batch of cute little kittens. What could be better than that?
Zookeepers Set Up Camera And Capture Pregnant Rhino Giving Birth Without Any Assistance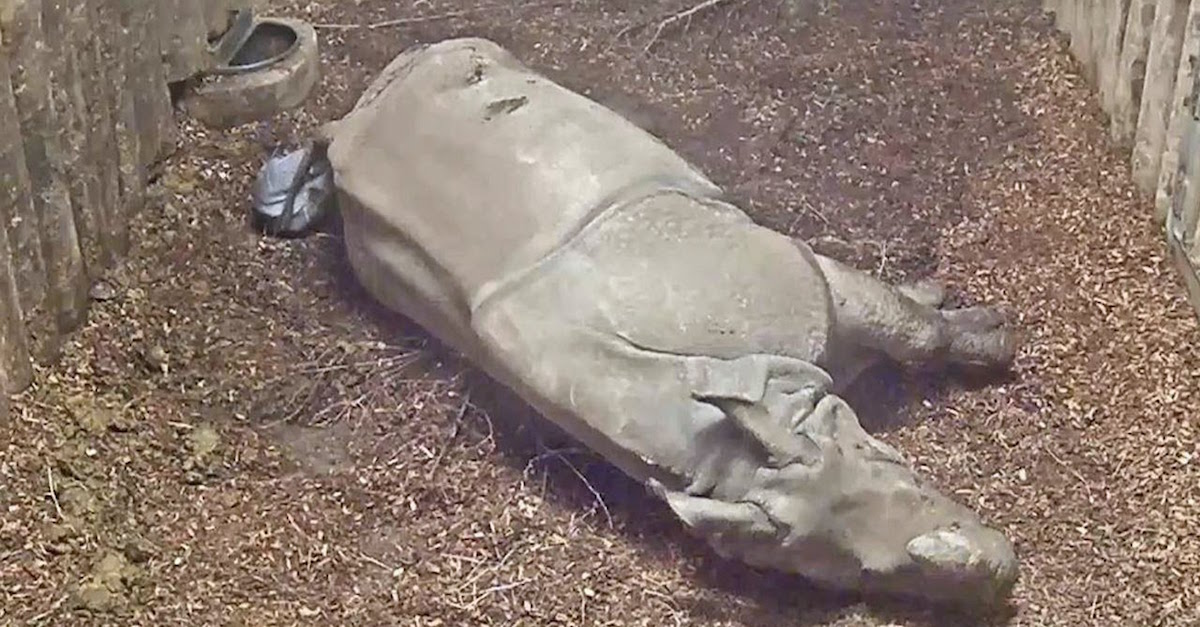 For a whopping sixteen months, Asha carried her baby in her womb. Asha, a rare greater one-horned rhinoceros, lives at the Chester Zoo in Cheshire, England. Luckily, her labor and delivery were much quicker than the gestational period was for her baby Rhino to come into the world.
After only about 20 minutes of labor, Asha successfully delivered a healthy male calf in the early morning hours on May 3, 2018, at her home at the Chester Zoo. The staff at the zoo were able to capture Asha's labor and delivery on video. The mama had an easy delivery on the floor of her enclosure and did not require assistance from the staff as she labored and brought her 132-pound baby boy. Once he is fully grown, Asha's son will balloon to an eye-popping two tons plus in weight!
Guests of the Chester Zoo were excited to visit the little rhino and his mama in their exhibit. Asha's baby is named Akeno which means "beautiful sunrise." Along with his birth, Akeno's first steps were also caught on tape along with snuggles with his 11-year-old mother Asha. They are a hit at the zoo and seem to be getting along well.
The staff at the well-visited zoo have been working towards keeping beautiful animals like Asha and baby Akeno together and better protected. One-horned rhinos are one-horned rhinos that are endangered at this point in a critical way and the staff is hoping the miraculous birth will not only attract visitors to the zoo but will draw attention to their work on this front. Animals like Asha and baby Akeno are the object of hunters who illegally poach them to be able to obtain their horns and sell them. There is a market for them as they are used in traditional Chinese medicine. A hunter can sell a single horn on the Asian black market for around $65,000 United States dollars. Even more offensive is the fact that wealthy hunters simply want the horns to hang on their walls and show off to friends as a status symbol of wealth and popularity.
According to a staff member of the Chester Zoo, not long ago there were less than 200 greater one-horned rhinoceros in the wild.
"They were hunted almost to extinction. Just in time steps were taken to protect them. Now there are about 2,600, but they still face threats in India and Nepal… it's important we do all we can to stop their numbers going down to critical levels again."
As the staff and many others work hard to fight against the illegally poaching of these beautiful animals, Asha and Akeno, who appears like he is dressed in a dark gray suit of armor, are enjoying their stay at the zoo and the many delighted visitors they come into contact with each day. The birth of Akeno on video has drawn more new visitors to the Chester Zoo and everyone seems to be happy with this new situation.