Dog Aids Rescuers in Finding Owner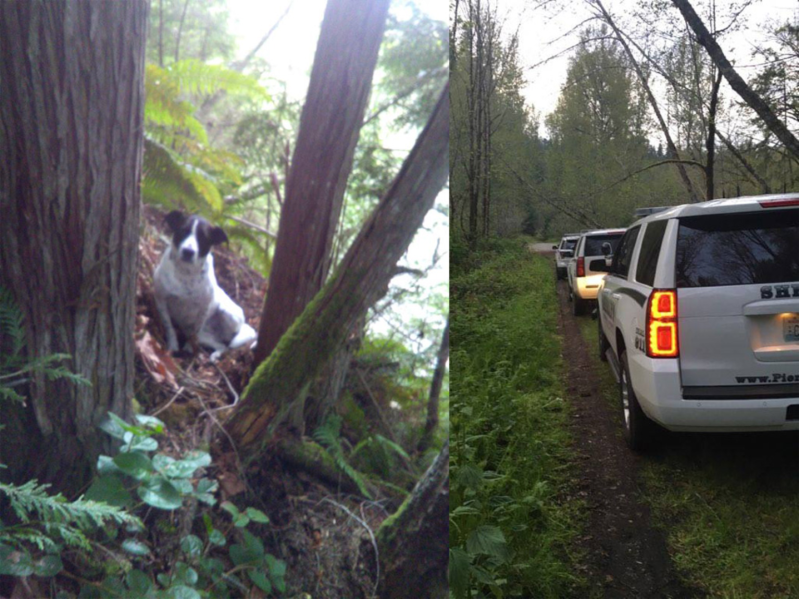 Washington State Police say that a barking dog led them to the dog's owner who had fallen and died during a hike. A 64-year-old man was reported missing by his wife when he did not come home after he was supposed to go on a hike. The woman said that he didn't leave a note about where he was going, but he often went hiking with the dog. During the 911 call, the woman reported her husband and the family dog, Daisy, missing. Authorities started searching near Evans Creek. This is where the wife told police that her husband had been researching online about geocaching in that region.
A search began at sunrise in the Alder Lake area after authorities pinged the man's cell phone and found his last location. However, authorities didn't find the vehicle of the missing man until that afternoon at 4:45 p.m. An hour after finding the car, the newest member of the team that had been searching heard the sound of a barking dog. In the car, authorities also found a list of geocache locations. They were able to use the maps to search nearby locations, but ultimately it was the barking dog that helped with the case. It's unclear from the statement if the maps did help them get closer to Daisy. The rescuer then walked in the direction of the sound of the dog for about 30 minutes. The rescuer spotted a dog that had the same description as Daisy. Daisy was on a steep embankment above the Marshall River. Due to the terrain, it took the search and rescue team another 30 minutes through the brush to get to Daisy's location. When he found the dog, the rescuer also found the missing man's body. The rescuers used a rope system to bring him down the steep hillside so he could be carried to the vehicle. Animal Control was also on the scene in order to return Daisy back home.
The man, who hasn't yet been identified, is believed to have fallen while on a hike in the woods. During his fall, he likely sustained fatal injuries. In a statement, authorities said it a tough search with a sad end. The end of the search wouldn't have been possible without Daisy. Without the barking, authorities would never have been able to find the man, especially given the steep terrain and heavy brush in the area. The local police department praised the efforts of the volunteers and deputies to find the missing man and dog and return to the family.
While this story doesn't have a particularly happy ending, there are plenty of stories where dogs have been able to save their owners. Dogs really are man's best friend and they do have a magical sense of knowing when owners are in danger. They are loyal just like Daisy was and will stay with their owners until the very end. Even though Daisy wasn't able to save her owner, she still proved she was a loyal companion and ultimately did help in making sure he came back home.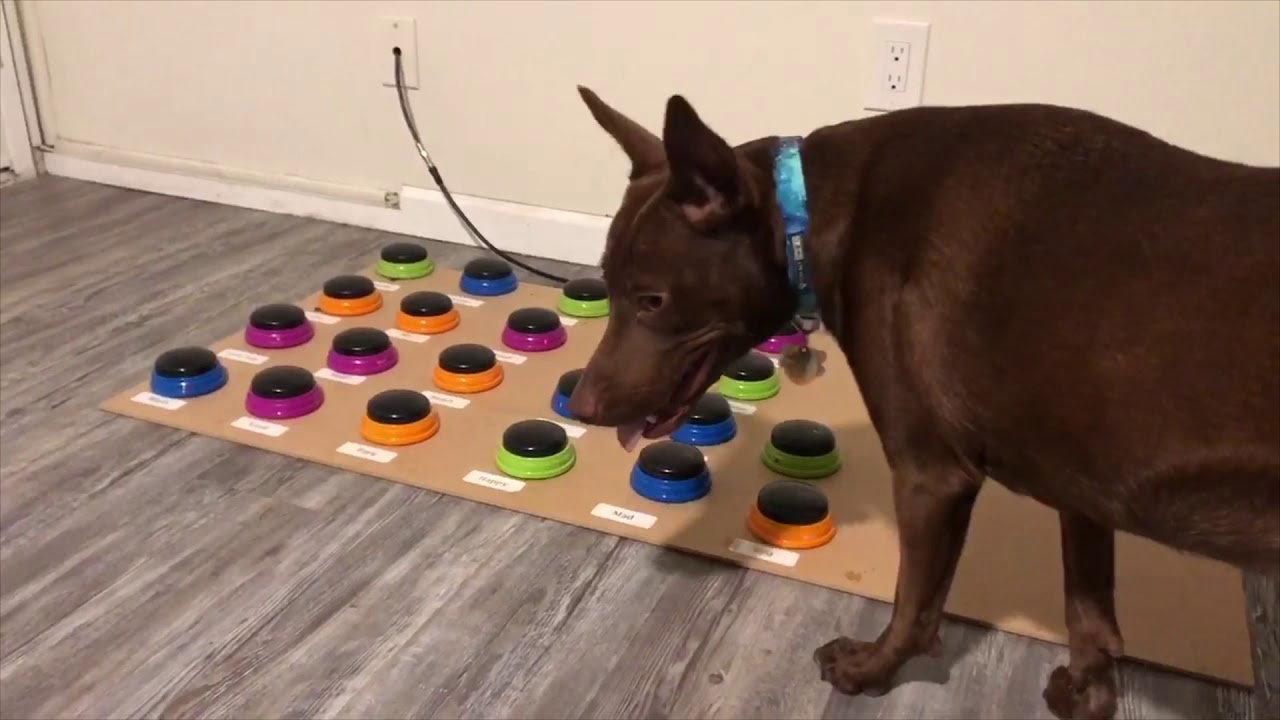 Christina Hunger is a speech pathologist who works with young children around two years old to enhance their ability to communicate with adults. Christina has always wondered if she could teach a puppy to use the word buttons, too. Several years ago, Christina adopted a dog named Stella. She decided to try and see if the same methods she uses for her therapy would also help her puppy to learn to communicate. Many dog owners would like to really understand what their pets are thinking about. Stella uses buttons to communicate her wishes to her owners. Christina can talk with her dog.
Christina set up a group of buttons for Stella to push with her paws. Each button was introduced singularly, and over time Stella learned the meaning of a variety of buttons. The buttons were also grouped by color. Each color represents a particular group of words. Stella can press "walk" or "beach" with her paws to indicate what she wants to do. She can also press buttons for Christina or Jake, her other owner. Stella will walk on the board of 26 buttons as she looks for the one she wants. Stella took the longest to learn her first button. After that, it was much easier to introduce more buttons to the dog.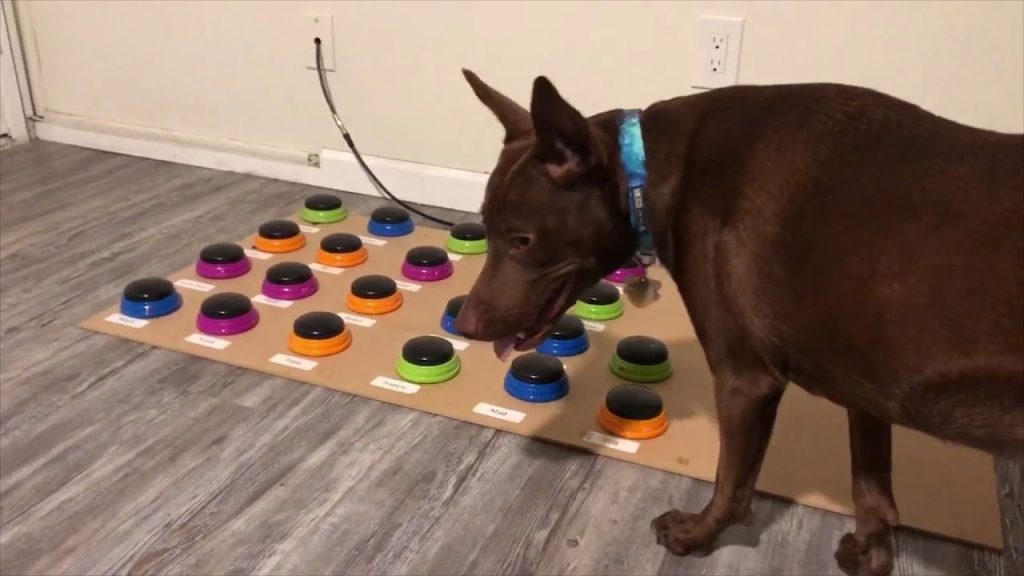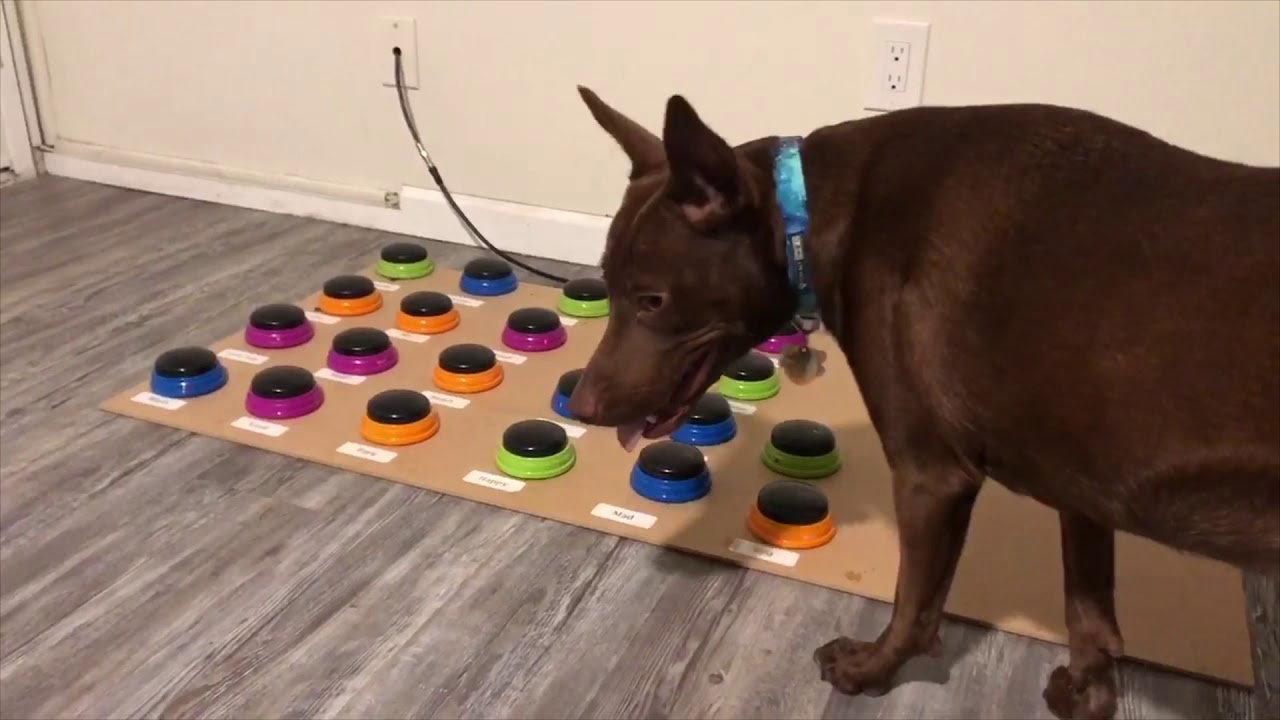 When Stella began to learn to use the buttons, she would only use one paw. Over time, Stella began using both paws to press the buttons. Using both paws makes it easier for Stella to put more than one button together. At this point, she can put a series of five or less words together such as "Christina walk" or "Want Jake Come." Christina feels that the dog showed relief when she finally learned how to punch the buttons for her needs. Stella barks when she hits the buttons, and is able to repeat requests if Christina does not understand her or does not see the dog punch all of her buttons.
Christina has started a blog entitled Hunger for Words where visitors can see the progress of Stella and her buttons. The blog has a number of cool videos of Stella's day. Christina is hoping to teach this method to other dogs and hopes that this method will improve the communication between owners and pets. She also feels that having the board made a recent move easier for Stella to understand. Moves often make pets anxious, but Stella was very calm about their recent move to the beach. Stella intends to introduce more words for Stella to learn.
Stella has been featured in People magazine, which is following the story of Stella from time to time for its readers. For more on Stella, go here to reach Christina's blog. Christina is currently looking for another dog that can learn to push buttons. She is hoping to organize a class of animals and show their owners how to make both of their lives easier.