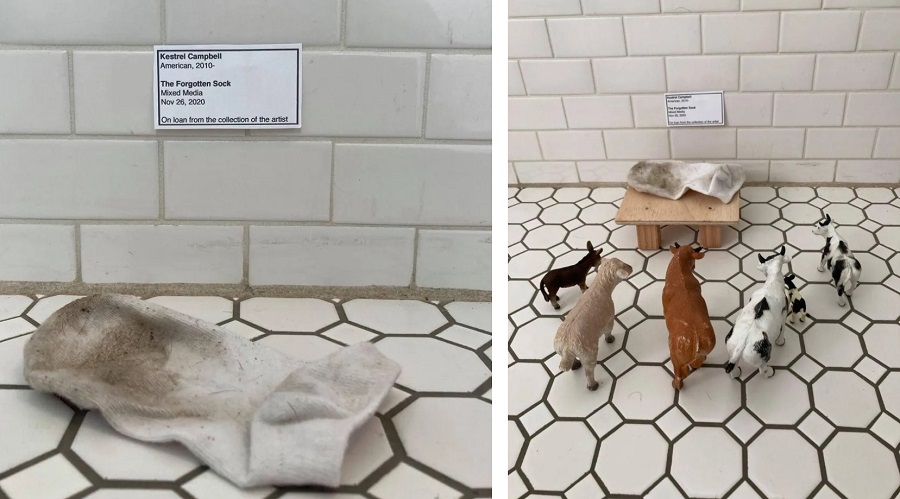 Social media is a very intriguing place, and just about anything can go viral these days—anything from a dancing cat to a romantic proposal. Sometimes, people post things on social media without the expectation of going viral, but some stories like the one today were just too good not to be viewed by millions of people.
Kids are notorious for leaving dirty laundry thrown around their room. They expect their parents to clean up after them, but it's just something kids love to do. A mom from Port Townsend, Washington, had quite an interesting response to her daughter leaving dirty socks around the house.
Ms.Campbell had the idea of waiting for her daughter out, in a sort of "social experiment" with the hopes her daughter would clean up after herself. She left the dirty sock in place without picking it up.
The "Forgotten Sock," the name the dirty sock on the bathroom floor came to be known as wasn't an uncommon thing around the home of the Campbell's. Just like most parents usually have to do, she would pick up the socks and throw them in with the dirty laundry, but this time she wished to switch things up a little. She decided it would be a great idea to play the waiting game with her daughter and see just how long she would leave a dirty sock lying on the floor. I know I'm guilty of leaving dirty clothes around my home once or twice before.
To her surprise, a week had gone by, and the sock was still on the bathroom floor. This was when she took to social media with her master plan of sorts. She did what any other parent would do, took pictures of it and labeled them, posting it on her Facebook account. She wrote about a paragraph describing what was taking place and hilariously calling her daughter an artist and describing the sock as "mixed media."
The Campbell's are a light-hearted family, and Ms. Campbell looked at this as more of a joke than anything else. She figured her daughter would find her post a bit funny and roll along with it. She assumed her daughter, who is her friend on Facebook, would eventually run into the post and pick her sock up, but that wasn't the case. The series of events following this is best described as comical.
Most kids use social media nowadays, so it's not surprising that her daughter ran into her mom's post. After seeing the bar, her daughter sent her a text asking if she put the label on the picture. Instead of getting mad like most people her age would, she had a surprising response. Instead of picking up the dirty sock on the bathroom floor, she hilariously put the iconic "Forgotten sock" on a small pedestal she made.
According to her interview done with Today's Parents, she did not expect that reaction from her daughter. It took her by surprise when she went as far as making a pedestal for the sock, but they did have a really good laugh at the situation. They did enjoy the social media attention it received, and now it's just an enjoyable time for them to look back on in the future.

Kevin Bacon the Pig Found with Hollywood Help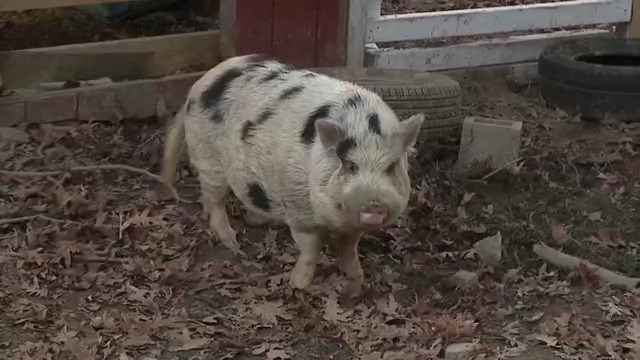 In a heartwarming tale that could rival any Hollywood movie, a missing pig named Kevin Bacon has been found after a two-week adventure in the woods of Pennsylvania. What makes this story even more special is the unexpected involvement of actor Kevin Bacon himself.
Kevin Bacon, the pig, became the center of attention when he went missing from his home in Pennsylvania. Owned by Chelsea Rumbaugh, Kevin had only joined the family in October before deciding to explore the great outdoors on his own. Chelsea shared the news of her missing pig on a Facebook group she created, aptly named 'Bring Kevin Bacon Home.'
"We were so close to him; my 16-year-old was petting him," Rumbaugh explained in her post. "He stayed close but eventually took off into the woods."
Enter the unexpected hero, actor Kevin Bacon. When he caught wind of the missing pig's plight, he shared the information on his social media thread. The actor's post not only drew attention to the missing pig but also brought the community together in the search for the adorable runaway.
Despite the collective efforts to capture Kevin Bacon the pig, he remained elusive. That is until a clever strategy involving a sticky bun laced with pet-safe Benadryl was employed. The irresistible treat proved to be the key to success. After indulging in the sticky bun, Kevin Bacon the pig became drowsy, making it easier for the search party to guide him back to his pen.
To ensure that this escapade wouldn't happen again, Kevin Bacon's pen underwent reinforcement with concrete. This measure was taken to prevent the adventurous pig from using his tunneling skills for future escapes.
The story of Kevin Bacon the pig's disappearance and rescue not only highlights the power of community efforts but also shows how even Hollywood celebrities like Kevin Bacon can play a role in helping those in need, no matter how small or four-legged they may be. The happy ending to this tale brings a smile to all those who followed the journey of Kevin Bacon, the pig who briefly took the spotlight with a little help from his famous namesake.