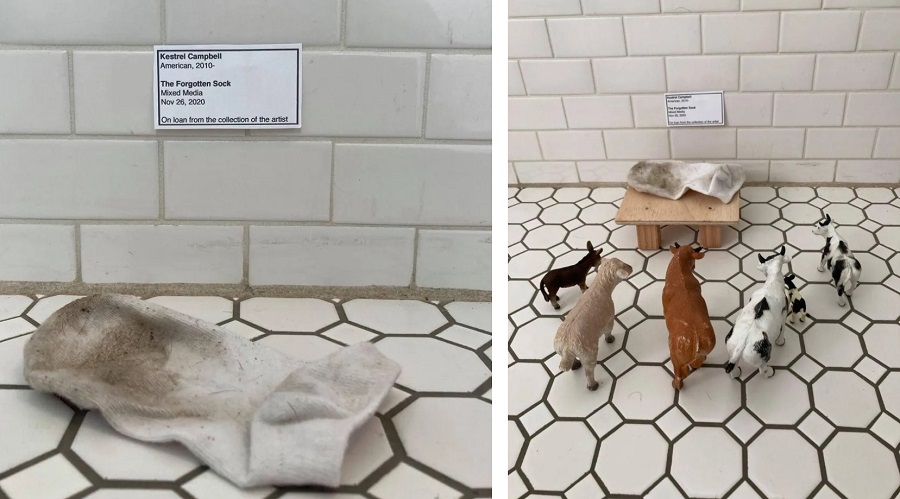 Social media is a very intriguing place, and just about anything can go viral these days—anything from a dancing cat to a romantic proposal. Sometimes, people post things on social media without the expectation of going viral, but some stories like the one today were just too good not to be viewed by millions of people.
Kids are notorious for leaving dirty laundry thrown around their room. They expect their parents to clean up after them, but it's just something kids love to do. A mom from Port Townsend, Washington, had quite an interesting response to her daughter leaving dirty socks around the house.
Ms.Campbell had the idea of waiting for her daughter out, in a sort of "social experiment" with the hopes her daughter would clean up after herself. She left the dirty sock in place without picking it up.
The "Forgotten Sock," the name the dirty sock on the bathroom floor came to be known as wasn't an uncommon thing around the home of the Campbell's. Just like most parents usually have to do, she would pick up the socks and throw them in with the dirty laundry, but this time she wished to switch things up a little. She decided it would be a great idea to play the waiting game with her daughter and see just how long she would leave a dirty sock lying on the floor. I know I'm guilty of leaving dirty clothes around my home once or twice before.
To her surprise, a week had gone by, and the sock was still on the bathroom floor. This was when she took to social media with her master plan of sorts. She did what any other parent would do, took pictures of it and labeled them, posting it on her Facebook account. She wrote about a paragraph describing what was taking place and hilariously calling her daughter an artist and describing the sock as "mixed media."
The Campbell's are a light-hearted family, and Ms. Campbell looked at this as more of a joke than anything else. She figured her daughter would find her post a bit funny and roll along with it. She assumed her daughter, who is her friend on Facebook, would eventually run into the post and pick her sock up, but that wasn't the case. The series of events following this is best described as comical.
Most kids use social media nowadays, so it's not surprising that her daughter ran into her mom's post. After seeing the bar, her daughter sent her a text asking if she put the label on the picture. Instead of getting mad like most people her age would, she had a surprising response. Instead of picking up the dirty sock on the bathroom floor, she hilariously put the iconic "Forgotten sock" on a small pedestal she made.
According to her interview done with Today's Parents, she did not expect that reaction from her daughter. It took her by surprise when she went as far as making a pedestal for the sock, but they did have a really good laugh at the situation. They did enjoy the social media attention it received, and now it's just an enjoyable time for them to look back on in the future.

Man Sets Guinness World Record For TALLEST Stack of M&M's — EVER!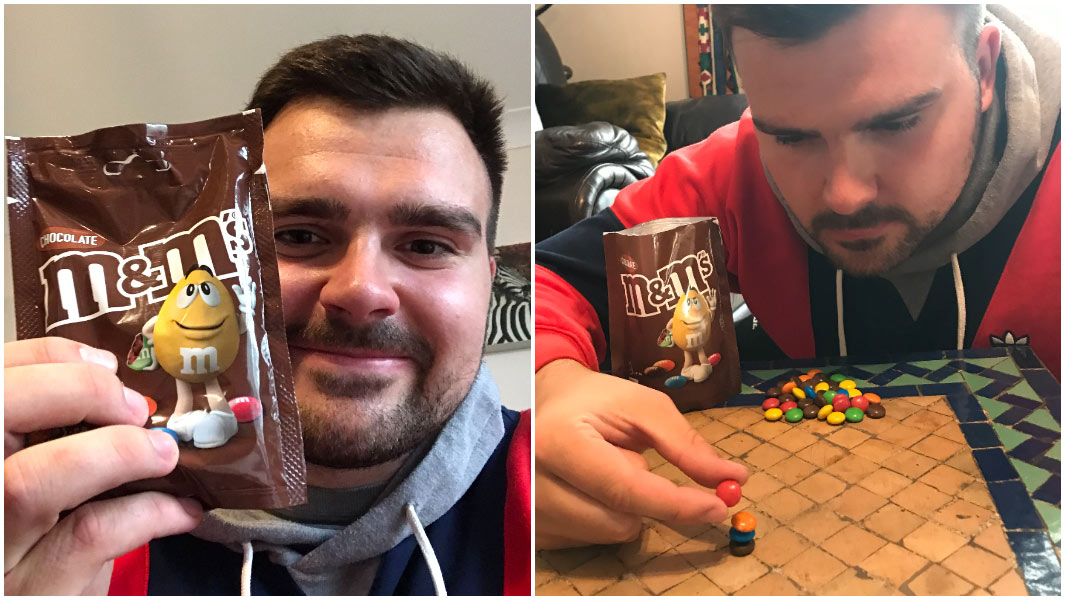 Where were you when you had your first bite of M&Ms? These multi-colored chocolate buttons were first introduced to the world by Mars, Incorporated on September 10, 1941 – more than 79 years ago! Sold around the planet, M&Ms have become one of the most popular sugary candies on the planet, gaining ground with its catchy slogan, "Melts in your mouth, not in your hand."
More than just a sweet treat for chocolate lovers everywhere, one man turned to his favorite candy to land within the Guinness Book of World Records. That man, named Will Cutbill of the U.K., would do so by managing to balance five M&M sweets atop one another, bursting through the record of four held by Brendan Kelbie of Australia and Silvio Sabba of Italy.
Snacking and World Records
When we think of accomplishing a world record, most of us probably consider all of the work that likely goes into the equation. We certainly don't anticipate beating a world record while relaxing in front of the television with our favorite snack. For Will and his bag of M&Ms, it turned out that sitting around was the EXACT recipe for success that would push him to victory. Will said, "One day in lockdown I was mixing up my confectionary choice (…) and this time the bag of M&Ms called me, and boy am I glad they did!"
Will had been sitting on his couch with his snacks when he felt possessed to try and stack them atop one another. At the time, Will thought that he was just killing time with his candies. He didn't realize that he was practicing and preparing to break a world record! After seeing how good he was at stacking the M&Ms initially, he decided to go for as many as possible.
Will said before breaking his record, "One day I thought, right, let's crack this. So I sat down determined to complete it."
The future M&Ms world record holder would film his attempts to stack five M&Ms atop one another and in doing so, Will would capture his success as it happened. Will said, "I've had a lifelong ambition to break a world title. I've always wanted one." Will would go on to admit that he had been purchasing the Guinness books every single year, hoping one day to add his name to its pages.
After breaking the record from the comfort of his living room, Will would submit the recording for review. Claiming that the moment felt 'absolutely amazing', Will would wait until the video was verified to actually celebrate. "It's madness. I can now say I'm a Guinness World Records title holder!"
Despite earning the record for his ability to balance chocolate candies, Will admits that he himself isn't very athletic. "I can barely stand on one leg, but I have a talent for chocolate!"
While he is happy to hold onto his record, for now, the U.K. native admitted that he's already planning on future challenges. Will said that he was inspired and that his "creative juices" were flowing.