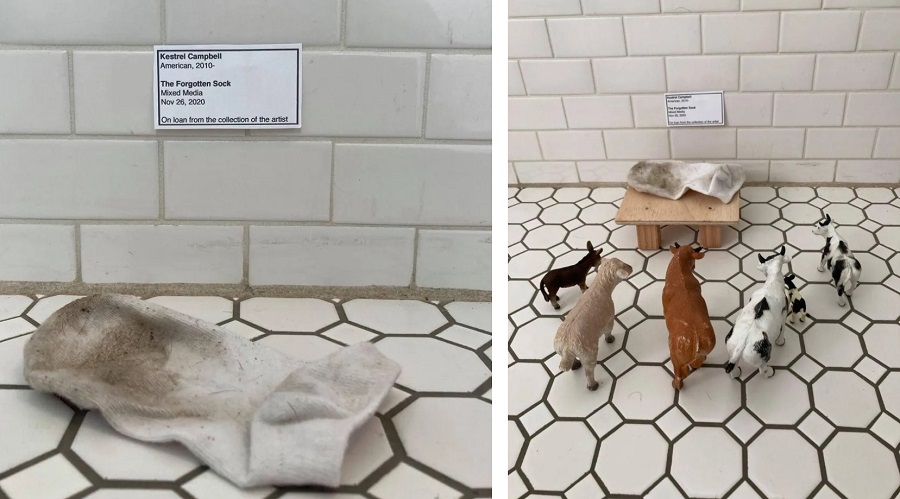 Social media is a very intriguing place, and just about anything can go viral these days—anything from a dancing cat to a romantic proposal. Sometimes, people post things on social media without the expectation of going viral, but some stories like the one today were just too good not to be viewed by millions of people.
Kids are notorious for leaving dirty laundry thrown around their room. They expect their parents to clean up after them, but it's just something kids love to do. A mom from Port Townsend, Washington, had quite an interesting response to her daughter leaving dirty socks around the house.
Ms.Campbell had the idea of waiting for her daughter out, in a sort of "social experiment" with the hopes her daughter would clean up after herself. She left the dirty sock in place without picking it up.
The "Forgotten Sock," the name the dirty sock on the bathroom floor came to be known as wasn't an uncommon thing around the home of the Campbell's. Just like most parents usually have to do, she would pick up the socks and throw them in with the dirty laundry, but this time she wished to switch things up a little. She decided it would be a great idea to play the waiting game with her daughter and see just how long she would leave a dirty sock lying on the floor. I know I'm guilty of leaving dirty clothes around my home once or twice before.
To her surprise, a week had gone by, and the sock was still on the bathroom floor. This was when she took to social media with her master plan of sorts. She did what any other parent would do, took pictures of it and labeled them, posting it on her Facebook account. She wrote about a paragraph describing what was taking place and hilariously calling her daughter an artist and describing the sock as "mixed media."
The Campbell's are a light-hearted family, and Ms. Campbell looked at this as more of a joke than anything else. She figured her daughter would find her post a bit funny and roll along with it. She assumed her daughter, who is her friend on Facebook, would eventually run into the post and pick her sock up, but that wasn't the case. The series of events following this is best described as comical.
Most kids use social media nowadays, so it's not surprising that her daughter ran into her mom's post. After seeing the bar, her daughter sent her a text asking if she put the label on the picture. Instead of getting mad like most people her age would, she had a surprising response. Instead of picking up the dirty sock on the bathroom floor, she hilariously put the iconic "Forgotten sock" on a small pedestal she made.
According to her interview done with Today's Parents, she did not expect that reaction from her daughter. It took her by surprise when she went as far as making a pedestal for the sock, but they did have a really good laugh at the situation. They did enjoy the social media attention it received, and now it's just an enjoyable time for them to look back on in the future.

Geese Showing Off By Flying Upside Down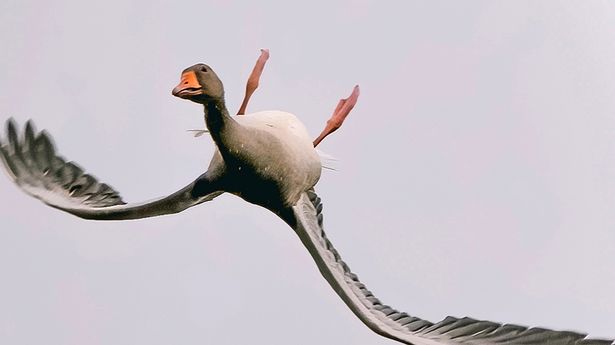 Amateur photographers love to get great shots, especially given that sometimes they seem random, and the trick to reaching professional status is to produce great shots consistently versus every once in a while. So, for photographers in Holland watching geese fly near Arnhem, the opportunity to catch a goose flying upside down was a bit out of the norm and eye-catching. As it turned out, the goose was showing off.
Geese in the region have regularly been seen flying upside down, which might seem somewhat odd to the bystander seeing the behavior for the first time. Locally referred to as "whiffling," upside-down geese flying occurs on a regular basis when the bird manages to twist its belly up in the air and keep flying while the head is also twisted right side up. No one is quite sure why geese do this, but some guesses are it helps distract would-be predator birds from attacking when something looks odd, or it slows the goose's flight to the ground. Geese are not the only birds to perform whiffling either; lapwings and godwits have been seen doing the same in flight.
Vincent Cornelissen was the lucky photographer who was able to snap a wonderfully clear shot of a goose near Arnhem, and it was his image that ended up triggering the latest online debate and interest in geese whiffling. Cornelissen had posted the image to his Facebook page to show off the photograph, and it ended up expanding his audience to some 10,000 different followers as a result. One particular fellow in Turkey turned out to be an aerodynamics professor at Istanbul University and used Cornelissen's image as an example for students studying flight capabilities.
The upside-down goose was not Cornelissen's first bird shot either. The photographer has been watching and catching images of birds since childhood, and his library of photographs over the years has grown expansive. However, the odd goose flight could arguably be Cornelissen's most famous photograph by far. It was pure accident that he even got the shot, simply noticing that one of the birds was flying weirdly at the time. The odd flight approach wasn't fully noticed until Cornelissen was working on post-processing of his images when he realized what the bird was doing.
At first, Cornelissen thought his audience would accuse the amateur of photoshopping the image, the practice of making a fake image with Adobe Photoshop, a highly powerful post-processing image editing program. However, Cornelissen was soon buffered by those in other countries who confirmed the behavior as being real and accurate.
As it turns out, when young geese become accomplished in flight, they do dumb stuff, most notably, flying upside down to apparently "show off." It works great until the goose runs into trouble and then has to adjust for a potential flight mishap and crash on the ground. The whiffling has been confirmed by other photographers after Cornelissen's image was produced, but his image remains the greatest clarity so far of the goose's flight behavior.