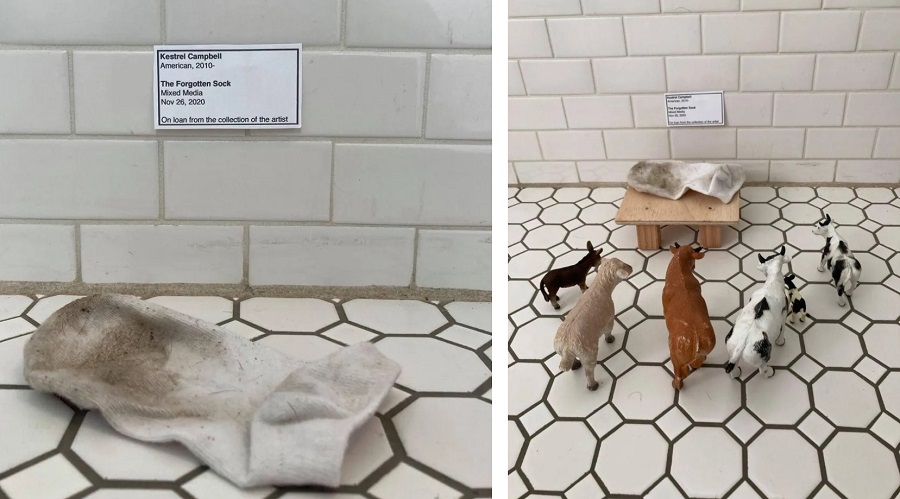 Social media is a very intriguing place, and just about anything can go viral these days—anything from a dancing cat to a romantic proposal. Sometimes, people post things on social media without the expectation of going viral, but some stories like the one today were just too good not to be viewed by millions of people.
Kids are notorious for leaving dirty laundry thrown around their room. They expect their parents to clean up after them, but it's just something kids love to do. A mom from Port Townsend, Washington, had quite an interesting response to her daughter leaving dirty socks around the house.
Ms.Campbell had the idea of waiting for her daughter out, in a sort of "social experiment" with the hopes her daughter would clean up after herself. She left the dirty sock in place without picking it up.
The "Forgotten Sock," the name the dirty sock on the bathroom floor came to be known as wasn't an uncommon thing around the home of the Campbell's. Just like most parents usually have to do, she would pick up the socks and throw them in with the dirty laundry, but this time she wished to switch things up a little. She decided it would be a great idea to play the waiting game with her daughter and see just how long she would leave a dirty sock lying on the floor. I know I'm guilty of leaving dirty clothes around my home once or twice before.
To her surprise, a week had gone by, and the sock was still on the bathroom floor. This was when she took to social media with her master plan of sorts. She did what any other parent would do, took pictures of it and labeled them, posting it on her Facebook account. She wrote about a paragraph describing what was taking place and hilariously calling her daughter an artist and describing the sock as "mixed media."
The Campbell's are a light-hearted family, and Ms. Campbell looked at this as more of a joke than anything else. She figured her daughter would find her post a bit funny and roll along with it. She assumed her daughter, who is her friend on Facebook, would eventually run into the post and pick her sock up, but that wasn't the case. The series of events following this is best described as comical.
Most kids use social media nowadays, so it's not surprising that her daughter ran into her mom's post. After seeing the bar, her daughter sent her a text asking if she put the label on the picture. Instead of getting mad like most people her age would, she had a surprising response. Instead of picking up the dirty sock on the bathroom floor, she hilariously put the iconic "Forgotten sock" on a small pedestal she made.
According to her interview done with Today's Parents, she did not expect that reaction from her daughter. It took her by surprise when she went as far as making a pedestal for the sock, but they did have a really good laugh at the situation. They did enjoy the social media attention it received, and now it's just an enjoyable time for them to look back on in the future.

Punk Kid Goes From Homeless to Opening A Quirky Barbershop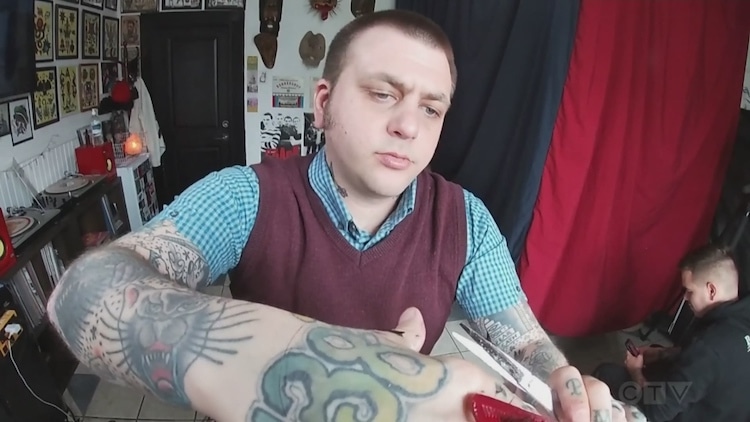 If you've ever seen the musical movie, Sweeney Todd: The Demon Barber of Fleet Street, starring Johnny Depp and Helena Bonham-Carter, then you could be forgiven for thinking twice before stepping into a barbershop for a straight-razor shave. However, many people have that reaction as well when stepping into Daryl Bidner's Little Barbershop of Horrors in today's Vancouver Island.
Bidner himself was never one for being mainstream. Growing up as a punk kid in his teen years, the barber today is a close-cropped fellow, arms blazoned with tattoos, and a late 1960s skinhead-style outfit décor via collared shirt, sleeveless sweater matched to his jeans and boots. However, when it comes to cutting hair, Bidner is all the professional and about business.
Starting off definitely wanting his barbershop to stand out and apart from the competition locally, Bidner modeled the entire theme of his haircutting venue around the movie, Little Shop of Horrors. He parlayed his interest in cutting hair for friends with mohawks into a bona fide skill, and now enjoys regular business as a barber for clientele young and old.
However, life wasn't always peachy-keen for Bidner. He was a school drop-out, had been in and out of drug addiction, and reached his own personal bottom after being homeless for an extended period. Ironically, it was a tattoo that finally seemed to put the young man back on track. His first tattoo allowed Bidner to skip the usual downspin of wasting the night high on something, and he sobered up. A number of days later, he did it again, using tattoos to get clean. By the 40th inking, Bidner was fundamentally off his addictions and broke his need to use mindlessly.
The tattooing was cathartic for Bidner, and he finally began to think about tomorrow instead of the next binge today. That in turn got him into thinking what Bidner could do for a proper living. Obviously, the young man was not going to go and wear a corporate suit the following Monday. So, he looked around at what made sense. Being a tattoo artist was logical, but then haircutting and being a barber appealed even more.
Bidner knuckled down, figured out how to get himself into barbering school, and after three years of grinding to perfect his skill, he had a license and started his own business with a single barber chair. Since that major breakthrough, Bidner has been at it as a barber for over five years, and he's been involved with community help drives and giving free haircuts to the homeless at local shelters as well. No surprise, Bidner credits his profession for saving his life and giving him direction, but it has also been a living lesson to others that no matter how bad it gets, people can pull themselves out and up again.