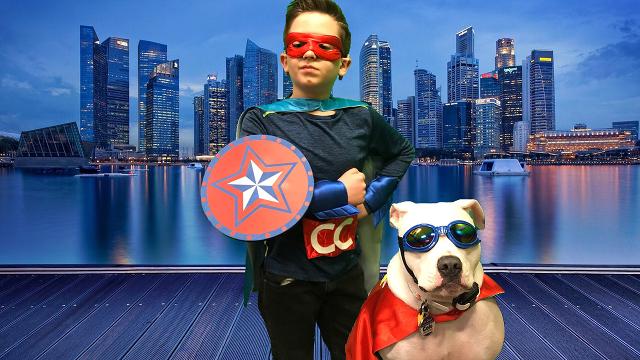 Deaf dog transforms into comic book superhero to promote acceptance
Mennies Elementary School witnessed the debut of Vineland, an interesting canine fable, which interestingly coincides with the Read Across America festivities. Vineland is not just an ordinary story. It is one filled with passion, and it touched the hearts of all who took their time to savor its special moments.
As the school's music teacher, Chris Hannah was saddled with the task of getting a dog for the story, and he didn't disappoint. During his search, he perused the South Jersey Regional Animal Shelter's online selection where he spotted a cute puppy labeled "Special Needs."
For him, it was like love at first sight.
"I instantly fell in love," he said.
The poor canine had been neglected by other parties, but Hannah developed a special interest in him, and booked an appointment to meet the pup.
Many people saw the puppy as defective, deformed, and abnormal, but he only saw uniqueness.
According to him, he adopted the dog because of the same reason other people ignored him- deafness.
He had a special attachment to the deaf nature of the dog because his 10-year-old nephew, Kevin Guinan was also deaf.
"Some things just happen for a reason," Hannah said.
After successfully adopting the dog, which he named Cole, Hannah introduced him to his nephew. Kevin was quick to collate a list of American Sign Language commands to train and teach the little canine. Hannah made sure he sparked some inspiration during his Mennies music classes by sharing details of life with his new pet, Cole.
Cole and Kevin collaborated to star in the superhero story with the tag "Captain Cochlear and Maestro Mutt." Making the story a success was no easy feat, and it took about 250 students to make perfect every aspect of the story. These students were given the freedom to allow their imaginations run wild, and in the process they came up with interesting characters and realistic storylines. 
In the final version of the story, the spotlight focuses on Annie and her phobia for singing in front of a crowd or in any public place for that matter.
Captain Cochlear, Maestro Mutt and alter egos of other Hannah pets swing into action to, help the young singer defeat "Dr. Fear's Forcefield of Fright."
In his successful attempt to inspire Annie, Maestro Mutt tells her, "It's OK to make mistakes, but it's a mistake not to try." Those words helped her find her voice to cap the story with a happy ending.
"The best thing you learn is accepting those who may be a little different," Hannah said.
He further explained that Cole was perfectly healthy and capable of doing what other "normal" dogs could do, only difference is that he had to do it in an unconventional way. He could understand basic hand signs that order him to sit, rollover, and obey other basic instructions.
Cole's ability to feel vibrations substitutes his lack of hearing, so in a way, he can still listen for Hannah.
Despite his success in the school story, Cole is showing no signs of slowing down. He is spreading his message of acceptance and it is growing like wildfire on YouTube and Instagram.
Bev Greco, Executive Director of the ASPCA was full of praises of the young pup during his interview with The Daily Journal. "This is an amazing outcome for a pup that had the odds stacked against him," "Deaf dogs are hard to place and rarely end up with a family that really taps into their potential — we're thrilled for him."
Cole will take a test that will see him become a certified therapy dog and he hopes to be able to visit hearing-impaired students throughout the district to share his "bestselling" comic book.
"The project went so much better than I thought," Hannah said.
Cole rolled over, four feet up, in the middle of a circle of adoration.
Tap the polka dot on Cole's nose and he'll jump in the air. That's called a "nose beep."
According to Hannah, the young pup loves to learn new things, and he, alongside his brother will continue to teach him.
The Returned Wallet from Antarctica – Half A Decade Later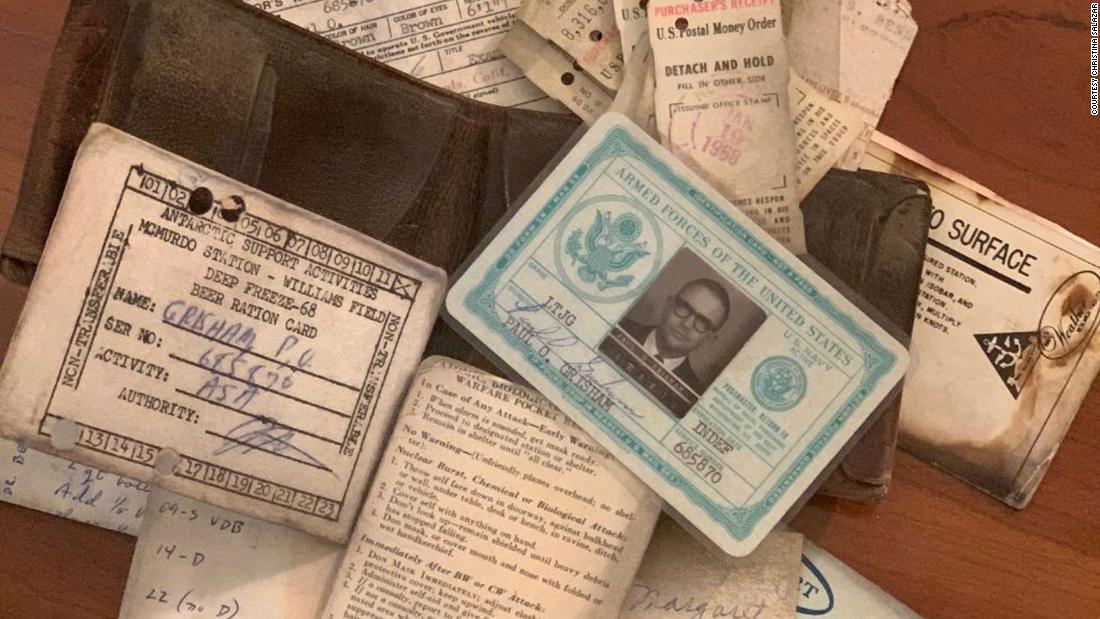 In 1968 a meteorologist was stationed in Antarctica among a number of military personnel. Their role was research as well as, and Paul Grisham's job was to track the weather in the southern pole region. Unfortunately, as crazy as it seems, Grisham managed to lose his wallet while working in the remote location and never did find it before leaving. That wallet sat in Antarctica at the station for another 53 years until it was rediscovered.
When the wallet was returned to Grisham, he felt like he was going back in a mental time machine. The wallet was in exceptionally good condition as well as the cards and materials that were kept in it. At 91 Grisham remarked first about how young he looked in the card photos as well as how far back that part of his life was.
The location, McMurdo Station, was being redesigned along with the demolishing and removal of older buildings. During the work, one of the construction crew found the wallet which had stayed in its place since Grisham had been stationed. Looking back on the cards now, Grisham continues to repeatedly trigger memories when he looks at his own Navy ID card. Last carried in 1968, the card was preserved and never deteriorated except for the edges of the leather. Included in the contents was a beer ration card, a guide card on how to deal with attacks ranging from nuclear to biological. And Grisham even included a recipe folded up in the cards for a liqueur.
The weather monitoring was a big issue at the time. Unlike today with tons of satellites spinning around the planet for watching everything from a farmer in the western side of China eat a sandwich to the weather's minute moves, back then the weather had to be observed in person. Grisham's job was to track the regional patterns so that planes and ships moving through the edge of the southern hemisphere to the station could do so safely and avoid storms. The work shifts were hard; Grisham remembered working a half day on, literally, and the half day off to rest and went straight for five long months.
Things weren't all about work. Grisham remembers they had pretty useful mini bowling alley which never got boring. And an inside gym was handy since jogging outside was off the list everyday of the year. Location-wise, the station was in one of the best locations in Antarctica as well; it would usually get to a balmy 25 degrees Fahrenheit. That was considerably better than other locations a bit further in easily only getting to a tepid minus 65 degrees.
When Grisham left the southern continent, he did so with a promotion, but he never did find his wallet before taking off. He doesn't have any fond wishes to return, still remembering a soda would explode from the cold in under 15 minutes if left outside. However, one thing he did miss was all the IOUs Grisham kept in his wallet from winning an inordinate number of poker games while on duty at McMurdo. It does make one wonder if he can still collect on this plus interest.
Grisham continues to be a name in history, but the rediscovered wallet was not his first entry. Grisham spent two hours talking with Sir Edmund Hillary about weather when Hillary arrived, and Grisham himself also got to reach the South Pole as well, some 850 miles inland. Sitting now at home, he enjoys the San Diego weather a lot more, but the wallet recovery was definitely a nice touch to Memoryville.