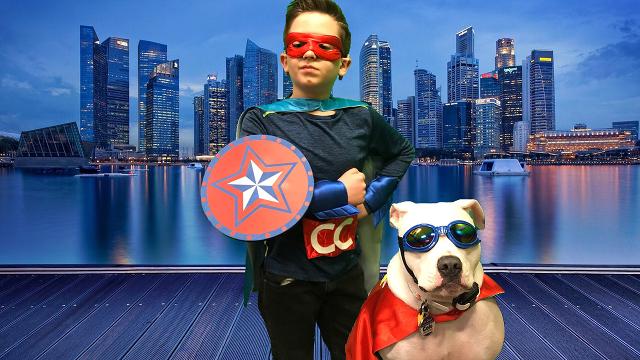 Deaf dog transforms into comic book superhero to promote acceptance
Mennies Elementary School witnessed the debut of Vineland, an interesting canine fable, which interestingly coincides with the Read Across America festivities. Vineland is not just an ordinary story. It is one filled with passion, and it touched the hearts of all who took their time to savor its special moments.
As the school's music teacher, Chris Hannah was saddled with the task of getting a dog for the story, and he didn't disappoint. During his search, he perused the South Jersey Regional Animal Shelter's online selection where he spotted a cute puppy labeled "Special Needs."
For him, it was like love at first sight.
"I instantly fell in love," he said.
The poor canine had been neglected by other parties, but Hannah developed a special interest in him, and booked an appointment to meet the pup.
Many people saw the puppy as defective, deformed, and abnormal, but he only saw uniqueness.
According to him, he adopted the dog because of the same reason other people ignored him- deafness.
He had a special attachment to the deaf nature of the dog because his 10-year-old nephew, Kevin Guinan was also deaf.
"Some things just happen for a reason," Hannah said.
After successfully adopting the dog, which he named Cole, Hannah introduced him to his nephew. Kevin was quick to collate a list of American Sign Language commands to train and teach the little canine. Hannah made sure he sparked some inspiration during his Mennies music classes by sharing details of life with his new pet, Cole.
Cole and Kevin collaborated to star in the superhero story with the tag "Captain Cochlear and Maestro Mutt." Making the story a success was no easy feat, and it took about 250 students to make perfect every aspect of the story. These students were given the freedom to allow their imaginations run wild, and in the process they came up with interesting characters and realistic storylines. 
In the final version of the story, the spotlight focuses on Annie and her phobia for singing in front of a crowd or in any public place for that matter.
Captain Cochlear, Maestro Mutt and alter egos of other Hannah pets swing into action to, help the young singer defeat "Dr. Fear's Forcefield of Fright."
In his successful attempt to inspire Annie, Maestro Mutt tells her, "It's OK to make mistakes, but it's a mistake not to try." Those words helped her find her voice to cap the story with a happy ending.
"The best thing you learn is accepting those who may be a little different," Hannah said.
He further explained that Cole was perfectly healthy and capable of doing what other "normal" dogs could do, only difference is that he had to do it in an unconventional way. He could understand basic hand signs that order him to sit, rollover, and obey other basic instructions.
Cole's ability to feel vibrations substitutes his lack of hearing, so in a way, he can still listen for Hannah.
Despite his success in the school story, Cole is showing no signs of slowing down. He is spreading his message of acceptance and it is growing like wildfire on YouTube and Instagram.
Bev Greco, Executive Director of the ASPCA was full of praises of the young pup during his interview with The Daily Journal. "This is an amazing outcome for a pup that had the odds stacked against him," "Deaf dogs are hard to place and rarely end up with a family that really taps into their potential — we're thrilled for him."
Cole will take a test that will see him become a certified therapy dog and he hopes to be able to visit hearing-impaired students throughout the district to share his "bestselling" comic book.
"The project went so much better than I thought," Hannah said.
Cole rolled over, four feet up, in the middle of a circle of adoration.
Tap the polka dot on Cole's nose and he'll jump in the air. That's called a "nose beep."
According to Hannah, the young pup loves to learn new things, and he, alongside his brother will continue to teach him.
Saskatoon Dog Lost In Blizzard Reunited With Family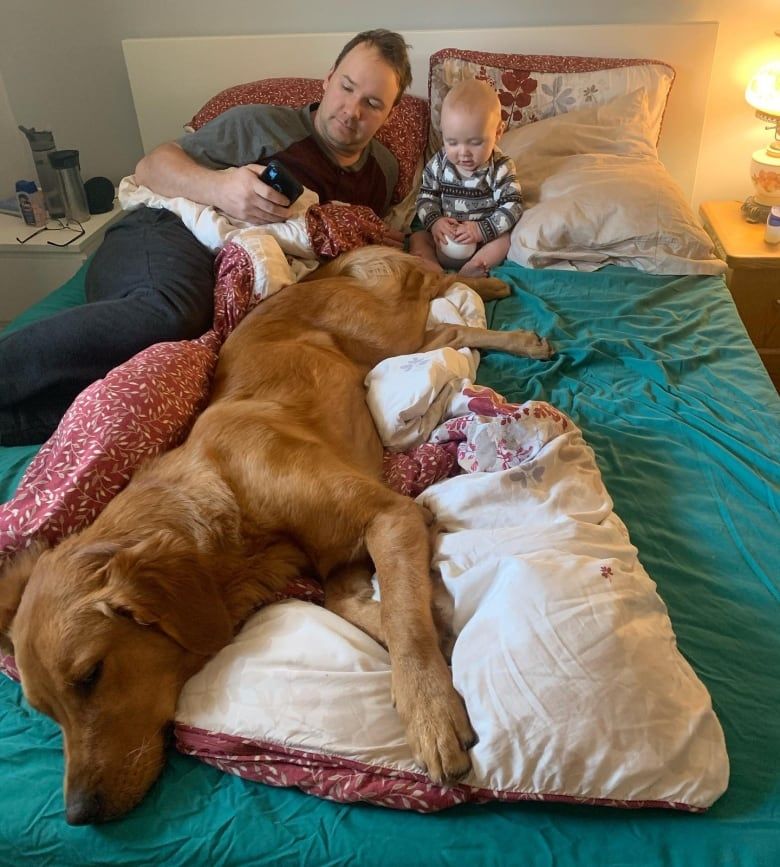 A dog is back into the warmth of it's home and the loving arms of its owners after spending three days lost in a blizzard, which many feared had killed him.
Despite the worries, efforts to find the Golden Retriever never ceased, and the outpouring of social media support showed that humankind is still helpful and sympathetic.
A cross-country skier returned the year and a half old Golden Retriever after finding him with only minor injuries despite three days in a snowstorm.
It all began in Saskatoon last Sunday when the dog's owner Julia Neufeldt agreed to let Louie hit the Furdale Dog Park to have some outdoor fun. A close friend had asked to walk the dog they decided to let him go.
However, the fun dog walk led to terror as Louie had wandered off, and they could not find him anywhere. Julia, who was devastated by the news, had become consumed with thoughts of all the possibilities, especially with the vast expanse that they had to search for the Retriever. She added that it felt as though a family member had gone missing, and it was overwhelming.
As desperation kicked in, Julia took to Facebook to share her pain with friends and family, but what happened next blew her mind. It's like the whole town heard about what happened, and the show of support kept rolling in, and so many searched for the missing pet dog.
Bolster From Social media
Julia said she expected a few dozen friends to share the information if anyone came across the dog. However, the post went viral, and not only friends but total strangers were sharing it and reaching out to the family to lend their support. Julia has a seven-month-old son so venturing out into the snowstorm to search for the dog was not possible.
However, scores of volunteers kept up the search and kept her updated by sending images whenever they spotted the dog. It was hurtful that Louie could be seen but was not accessible. They then lost sight of him, but on Wednesday, everyone decided to make a last-ditch effort to find the dog and get him home.
Julia had joined the search at this point, armed with a blanket and a glimmer of hope that finding Louie was still a possibility. Then the best phone call they could receive came in from the Saskatoon Animal Control Agency. They told her someone had seen Louie.
The cross-country skier was brought to Louie by his dog Banjo, amid their trip. The Animal Control team then linked the skier to Julia, who was delighted and thankful.
She had a mixture of emotions from shock to relief at getting back the dog safely. According to Julia, Louie has lost a few pounds but is poised to recover. He has a torn ACL but will get a surgery done soon.
She has since shared the great news with newfound friends on Facebook, and the encouragement and complimentary messages continued to flow.
Julia says her family is still in astonishment at how people rallied around despite not knowing them. She says this act of kindness outshines any negative news.
In the meantime, Louie will have to stay put for a while, but he is being fed, pampered, and showered with love. Julia adds that the little things that would bug her, like Louie wanting to run in and out of the house continually, are now minuscule after what they just endured.
She says the empty nest feeling has dissipated, and they are happy to have him in the warmth of the house again.