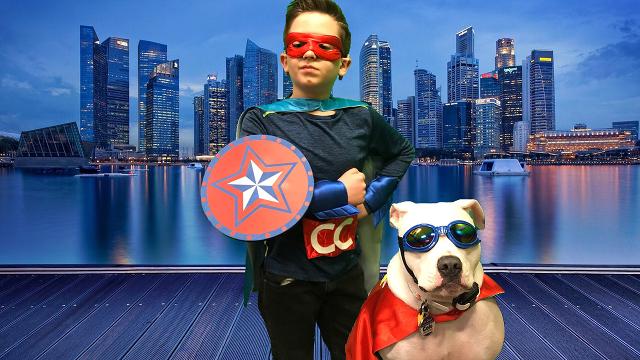 Deaf dog transforms into comic book superhero to promote acceptance
Mennies Elementary School witnessed the debut of Vineland, an interesting canine fable, which interestingly coincides with the Read Across America festivities. Vineland is not just an ordinary story. It is one filled with passion, and it touched the hearts of all who took their time to savor its special moments.
As the school's music teacher, Chris Hannah was saddled with the task of getting a dog for the story, and he didn't disappoint. During his search, he perused the South Jersey Regional Animal Shelter's online selection where he spotted a cute puppy labeled "Special Needs."
For him, it was like love at first sight.
"I instantly fell in love," he said.
The poor canine had been neglected by other parties, but Hannah developed a special interest in him, and booked an appointment to meet the pup.
Many people saw the puppy as defective, deformed, and abnormal, but he only saw uniqueness.
According to him, he adopted the dog because of the same reason other people ignored him- deafness.
He had a special attachment to the deaf nature of the dog because his 10-year-old nephew, Kevin Guinan was also deaf.
"Some things just happen for a reason," Hannah said.
After successfully adopting the dog, which he named Cole, Hannah introduced him to his nephew. Kevin was quick to collate a list of American Sign Language commands to train and teach the little canine. Hannah made sure he sparked some inspiration during his Mennies music classes by sharing details of life with his new pet, Cole.
Cole and Kevin collaborated to star in the superhero story with the tag "Captain Cochlear and Maestro Mutt." Making the story a success was no easy feat, and it took about 250 students to make perfect every aspect of the story. These students were given the freedom to allow their imaginations run wild, and in the process they came up with interesting characters and realistic storylines. 
In the final version of the story, the spotlight focuses on Annie and her phobia for singing in front of a crowd or in any public place for that matter.
Captain Cochlear, Maestro Mutt and alter egos of other Hannah pets swing into action to, help the young singer defeat "Dr. Fear's Forcefield of Fright."
In his successful attempt to inspire Annie, Maestro Mutt tells her, "It's OK to make mistakes, but it's a mistake not to try." Those words helped her find her voice to cap the story with a happy ending.
"The best thing you learn is accepting those who may be a little different," Hannah said.
He further explained that Cole was perfectly healthy and capable of doing what other "normal" dogs could do, only difference is that he had to do it in an unconventional way. He could understand basic hand signs that order him to sit, rollover, and obey other basic instructions.
Cole's ability to feel vibrations substitutes his lack of hearing, so in a way, he can still listen for Hannah.
Despite his success in the school story, Cole is showing no signs of slowing down. He is spreading his message of acceptance and it is growing like wildfire on YouTube and Instagram.
Bev Greco, Executive Director of the ASPCA was full of praises of the young pup during his interview with The Daily Journal. "This is an amazing outcome for a pup that had the odds stacked against him," "Deaf dogs are hard to place and rarely end up with a family that really taps into their potential — we're thrilled for him."
Cole will take a test that will see him become a certified therapy dog and he hopes to be able to visit hearing-impaired students throughout the district to share his "bestselling" comic book.
"The project went so much better than I thought," Hannah said.
Cole rolled over, four feet up, in the middle of a circle of adoration.
Tap the polka dot on Cole's nose and he'll jump in the air. That's called a "nose beep."
According to Hannah, the young pup loves to learn new things, and he, alongside his brother will continue to teach him.
Kind couple reunite homeless man with his family after 20 years apart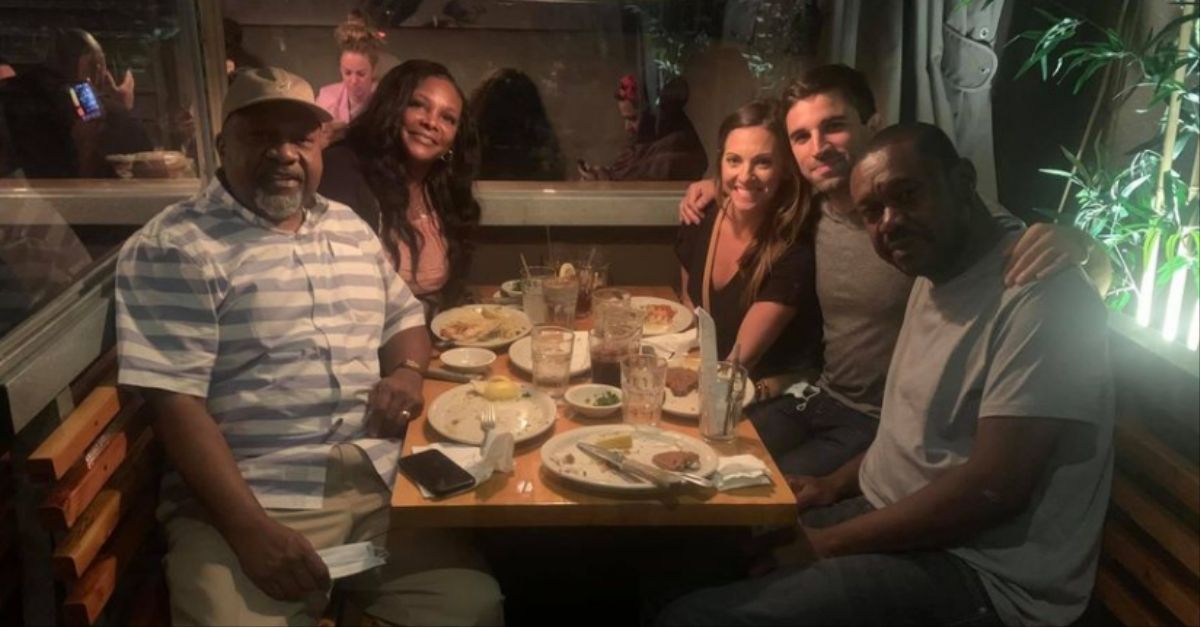 "Everyone just stares at me. I'm an educated man, but all they see is a person who doesn't have a home and doesn't have anyone to call."
These were the sad, heartbreaking words Randi Emmans heard as she stepped outside her apartment in Los Angeles to take her dog on a walk. 54-year-old Petro Reid was the man Emmans had just heard talking to himself, and he was in a bad place mentally.
She called up her boyfriend, John Suazo to jointly hold a conversation with Reid. He was quite surprised at first, because according to him, no one had ever taken interest in him, and he poured out his mind to them.
For a homeless man, the person they had just held a conversation with was very fluent in expressing himself.
"He was so impressive," said Suazo.
"The whole conversation really touched us."
From the conversation, they found out that Reid had left his family home in Charleston, S.C., and moved to L.A. in 1999 to live with an aunt. Barely a year later, he found himself going off the rails and homeless due to drug and alcohol addiction.
He became a popular figure in jail, from where he'd occasionally call home and send letters to his grandmother's house in Charleston.
"It was always for petty crimes, usually shoplifting to support my habits, food and things of that nature," he said. "That cycle continued for years, and whenever I got released, I was right back on the streets."
For more than two decades, Reid wandered the streets of L.A. in search of his family or some beacon of hope, and for those two decades he didn't find anything- until Emmans heard him.
He had lost all hope of living a decent life. He always thought of his family, but the chances of setting eyes on them once again were pretty dim, so he gave up.
He found Emmans and her boyfriend non-judgmental. They genuinely cared about his situation and that was why he opened up to them.
"John and Randi saw me as more than what everyone else saw me as — just a homeless person living on the streets," he said. "They believed in me, despite the situation they found me in."
After giving him food, water, and other basic human needs, the couple felt they hadn't done enough to truly take him out of misery and ridicule. Emmans made a post on Facebook, a public plea asking for donations to help cover the costs of a night or two at a hotel, so Reid could get rest up, recuperate, and have decent hot meals.
Her post received a lot of engagements, and in only 3 days, they were able to raise about $6,500 for Reid. The funds were used to lodge him in a hotel, get him a new mobile phone, and buy him some new clothes.
Although grateful for all Emmans and Suazo had done, Reid still wanted to find his family. He asked the couple for help and they decided to help him.
Reid took on the name Franklin Mitchell after an encounter with the police in L.A. He didn't have his identity card, so the name stood- that was why his family members could never reach him.
In the search for his family, Reid gave Emmans and Suazo some names he could remember, as well as his grandmother's address, without knowing if she was still living there or alive at all.
"Randi and I started plugging away on the Internet, and we were able to find his grandmother's name associated with the address," Suazo said. "We called wrong numbers until, finally, we got someone who was his uncle's ex-wife."
This was when all the dominoes started falling in place.
Reid's uncle, Pierre Grant was informed by his ex-wife of a certain contact about his nephew and he immediately called the couple to set up a meeting.
Grant said "For over 20 years, we had been praying and believing that one day we would find him, and the day finally came. This is a miracle."
He took a flight paid for by Emmans and Suazo to L.A. to link up with his nephew. The amazing couple were also able to pay for a covid-19 test for Reid, Grant, and themselves- all which came back negative.
The long awaited family reunion came on Friday, August 7. Mia Green, Reid's cousin was also present for the reunion. It was a touching and soulful moment for Reid as he tightly embraced his cousin and uncle after 20 years of wandering the streets of L.A.
Now that Reid has finally reunited with his family, he plans to get his life together and back on track.
"I believe I can help a lot of people that are still in the position that I was in," said Reid.
He plans to start the next chapter of his education and find himself a stable, paying job.