Dad Transforms Backyard Into a Three-Story Playground for Four Dogs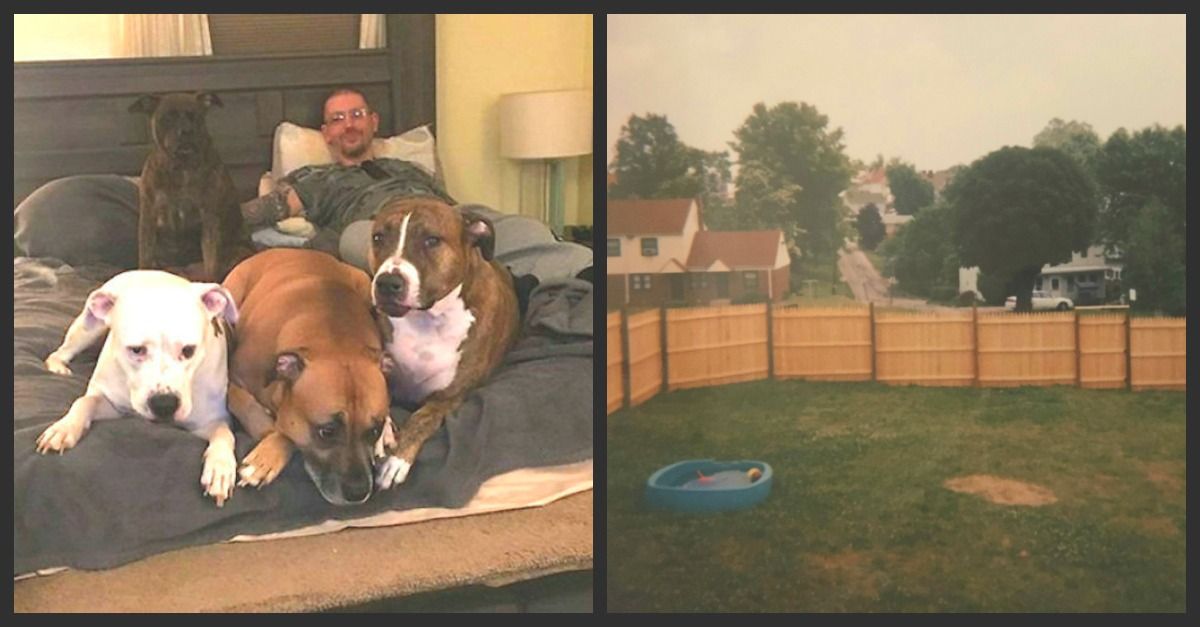 Aaron Franks of Pennsylvania spent two years transforming his mundane backyard into a spectacular playground for his four Pit Bull dogs. He is now considered to be one of the most devoted and loyal dog dads in the country.
Franks' family not only includes his wife and their children, but their four beloved dogs, Tessa, Bruno, Cooper, and Mia. The extremely lucky K-9 foursome are the beneficiaries of Franks' custom playground that he devoted two years of his life to create for them.
The custom playground is not even close to an ordinary doghouse or play area. It can be more accurately described as an amazing doggy spa or maybe even a puppy retreat. Franks' labor of love is well though-out and very well put together. His desire to express to his four Pit Bulls just how much they mean to him and his family was the basis of his doggy-dream creation that is now considered a major backyard masterpiece and the envy of dog owners across the nation.
Franks said he feeds, waters, and walks his four canine friends every single day.
"I make sure they get the proper exercise but at the end of the day, I still felt it wasn't enough for them," the Pennsylvania man said to a reporter of the DoDo that was reproduced on the website, The Little Things.
He said he feels like this is a great way to show his love for his dogs and that it makes him feel good that he could do it for them. He recently shared the completed playground with the world in a Facebook post dated August 15, 2017. The post includes 17 photos of the project and has been shared well over 154,000 times throughout social media.
His final project is three-stories high and includes an amazing doggy playhouse along with a pirate-themed "doggy pool," with some very appropriate dog bone-themed decor surrounding it. It even includes a spot for the dogs to chill out and relax poolside. Franks placed and secured huge rope-style toys by hanging them from a suspended beam for endless hours of playtime and enjoyment for the four large dogs. It also includes a spot for the four dogs to do their "business." That particular area is highlighted with a cute little yellow fire hydrant.
Franks has been renovating his family's home for the past decade and the elaborate doggy playground was one of the final projects he needed to complete the entire renovation. In his Facebook post, he gives credit to his wife for being so patient and supportive while he spent hours working on the doggy dream area along with her gift of the $500 he needed to finish painting the masterful construction project for the family pets. He credits teamwork for making the dream a reality.
"It just came together as I went along. I simply worked on it as I had time which mean some months, it was just a few boards that I had time to place," Aaron told The Dodo.
Franks said his kids were the ones who suggested he install a flat-screen TV in the doggy playground area so that the dogs can watch Animal Planet but the dog dad everyone envies drew the line at the idea, adding that a TV maybe a bit too much over the top. The playhouse also includes lights that illuminate the playground area at night.
The four dogs appear to love their new digs.
"My two older dogs like to just hang out and chill. They can even see over the fence now which they seem to enjoy," Aaron said.
He said his two youngest, more energetic dogs like the romp room area and enjoy swinging on the swings he created for them.
"It's pretty cool to see all four of them so happy with my completed project," said Franks.
Giant Seal is Beached and Then has a Baby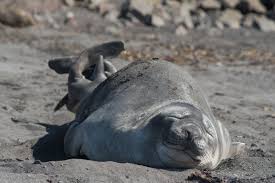 The exact moment when a mother sees her newborn baby for the first time is one of the most amazing sights in the world. The utter disbelief and joy on her face in combination with wonderment is one of the finest moments in any woman's life. It is the same feeling that animals have when they give birth and the look on their faces when they first see their babies is as equally magical.
Recently a tourist spotted a large female seal on the beach. She appeared to be in great pain because of the manner in which she was writhing around. The tourist shot a video of the seal. A few minutes later, the elephant seal appeared to have a spot beneath her tail. After some hard pushing, her calf was born. She quickly turned around and inspected her new baby to make certain that it was okay.
Elephant Seal Interesting Facts
Giant seals or elephant seals are the largest seals in the world. There are two types: the Northern elephant seal and the Southern elephant seal. The northern species are found in the coastal waters near Canada and Mexico and the southern species are found off the coast of South Africa, Argentina and New Zealand.
The adult bull or male seal has a proboscis that appears much like the trunk of an elephant, making it easy to distinguish males from females at a glance. The males roar through this appendage during the mating season to attract females. They also use it to fight with other males in order to win battles and claim females as their own.
The average adult southern male can weigh up to 6,600 pounds and reach a length of 16 feet in total. The female adults weigh about 2,000 pounds and measure around 10 feet long. Elephant seals may be light brown, dark brown, gray or rust colored.
Southern elephant seals can live to reach 22 years old and the northern species life span is only about 9 years.
Elephant Seal Reproduction
Elephant seals return to the coast for their breeding grounds in the winter. Female giant seals reach maturity between 3 and 6 years old and males mature slower between 5 and 6 years. Males battle each other to gain the alpha status that allows them to mate with the females. A male will mate with 30 to 100 females. A bit over 50 percent of first time breeding seals fail to produce a pup. A female elephant seal has one pup per year and the gestation period is 11 months. So, when females arrive at the breeding grounds in the winter, they are already pregnant. Females don't eat while nursing their pups for the first month of its life.
Don't Get Too Close to Wildlife
If you ever spot an animal of any kind that appears to be hurt, it's best not to get too close to them. In 2000, Homer, an elephant male seal terrorized Gisborne, a town in New Zealand. He attacked trash bins, cars, boat trailers, a tree and a power transformer in a rage. It isn't known what made him so mad, but it's best to keep your distance from all wildlife—thus the term of wild and life.