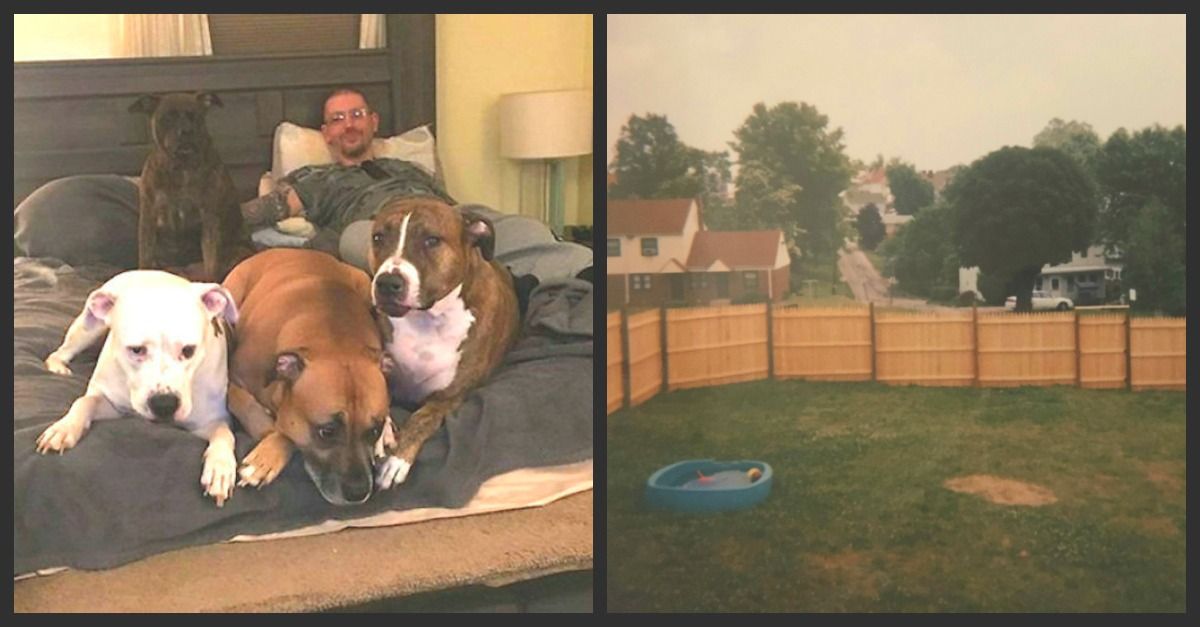 Dad Transforms Backyard Into a Three-Story Playground for Four Dogs
Aaron Franks of Pennsylvania spent two years transforming his mundane backyard into a spectacular playground for his four Pit Bull dogs. He is now considered to be one of the most devoted and loyal dog dads in the country.
Franks' family not only includes his wife and their children, but their four beloved dogs, Tessa, Bruno, Cooper, and Mia. The extremely lucky K-9 foursome are the beneficiaries of Franks' custom playground that he devoted two years of his life to create for them.
The custom playground is not even close to an ordinary doghouse or play area. It can be more accurately described as an amazing doggy spa or maybe even a puppy retreat. Franks' labor of love is well though-out and very well put together. His desire to express to his four Pit Bulls just how much they mean to him and his family was the basis of his doggy-dream creation that is now considered a major backyard masterpiece and the envy of dog owners across the nation.
Franks said he feeds, waters, and walks his four canine friends every single day.
"I make sure they get the proper exercise but at the end of the day, I still felt it wasn't enough for them," the Pennsylvania man said to a reporter of the DoDo that was reproduced on the website, The Little Things.
He said he feels like this is a great way to show his love for his dogs and that it makes him feel good that he could do it for them. He recently shared the completed playground with the world in a Facebook post dated August 15, 2017. The post includes 17 photos of the project and has been shared well over 154,000 times throughout social media.
His final project is three-stories high and includes an amazing doggy playhouse along with a pirate-themed "doggy pool," with some very appropriate dog bone-themed decor surrounding it. It even includes a spot for the dogs to chill out and relax poolside. Franks placed and secured huge rope-style toys by hanging them from a suspended beam for endless hours of playtime and enjoyment for the four large dogs. It also includes a spot for the four dogs to do their "business." That particular area is highlighted with a cute little yellow fire hydrant.
Franks has been renovating his family's home for the past decade and the elaborate doggy playground was one of the final projects he needed to complete the entire renovation. In his Facebook post, he gives credit to his wife for being so patient and supportive while he spent hours working on the doggy dream area along with her gift of the $500 he needed to finish painting the masterful construction project for the family pets. He credits teamwork for making the dream a reality.
"It just came together as I went along. I simply worked on it as I had time which mean some months, it was just a few boards that I had time to place," Aaron told The Dodo.
Franks said his kids were the ones who suggested he install a flat-screen TV in the doggy playground area so that the dogs can watch Animal Planet but the dog dad everyone envies drew the line at the idea, adding that a TV maybe a bit too much over the top. The playhouse also includes lights that illuminate the playground area at night.
The four dogs appear to love their new digs.
"My two older dogs like to just hang out and chill. They can even see over the fence now which they seem to enjoy," Aaron said.
He said his two youngest, more energetic dogs like the romp room area and enjoy swinging on the swings he created for them.
"It's pretty cool to see all four of them so happy with my completed project," said Franks.
Father in Bumblebee costume escorts his kid back to school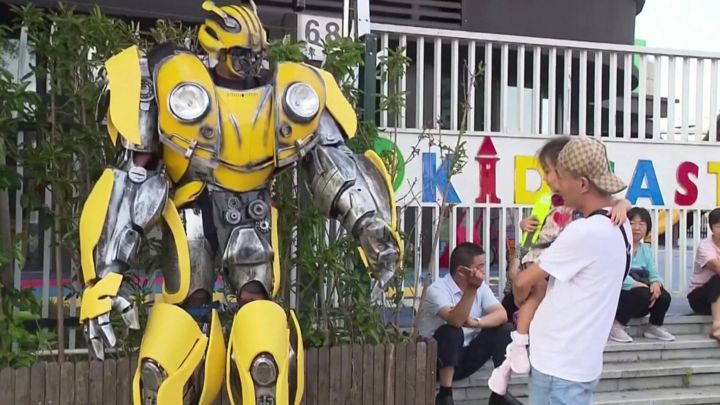 Bumblebee from the American sci-fi movie series Transformers never had a kid, but if he did, he'd have definitely escorted him to school.
A father in Shanghai, China has gone above and beyond to encourage his kid to go back to school after staying at home for months due to the Covid-19 pandemic. There's no way any child is refusing to walk with Bumblebee into school, and this man had that in mind when building his Autobot suit.
Just like the rest of the world, China had been on lockdown, and for months, kids had to stay away from school to prevent infection and spread of the deadly virus. However, some normalcy is being restored in some parts of the region, and schools now have the green light to open and allow children continue with their education.
The Bumblebee suit wasn't only for his kid, though. He built it to serve as some amusement and surprise to other kids at school- and that he did.
"I also want to bring happiness to other children. I didn't only wear it for my own child. All of them were preschoolers," he said in the video.
His suit looks like the real thing. The only things missing were metal, alien technology, and missiles- not much, right? Standing about 2.3-metre tall, the suit was built using soft materials to prevent touchy and curious children from getting injured- and he was right to have done that because he was rushed and hugged by children upon arrival at the school.
The excitement of the kids at the sight of Bumblebee could light up astronomical units of outer space, as the intergalactic warrior once again put smiles on the faces of humans. Kudos to this amazing dad for his efforts to make kids happy to resume back to school- he'd probably do it every day if he could.
The home-made suit seems to be inspired by the 2017 movie Bumblebee.