Dad Transforms Backyard Into a Three-Story Playground for Four Dogs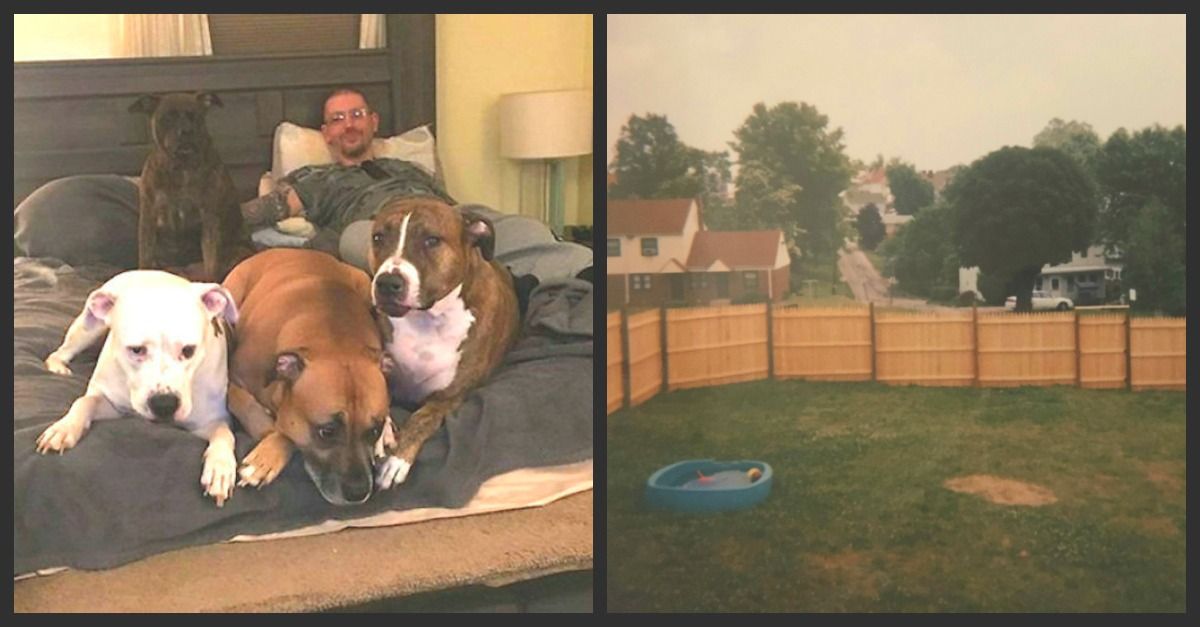 Aaron Franks of Pennsylvania spent two years transforming his mundane backyard into a spectacular playground for his four Pit Bull dogs. He is now considered to be one of the most devoted and loyal dog dads in the country.
Franks' family not only includes his wife and their children, but their four beloved dogs, Tessa, Bruno, Cooper, and Mia. The extremely lucky K-9 foursome are the beneficiaries of Franks' custom playground that he devoted two years of his life to create for them.
The custom playground is not even close to an ordinary doghouse or play area. It can be more accurately described as an amazing doggy spa or maybe even a puppy retreat. Franks' labor of love is well though-out and very well put together. His desire to express to his four Pit Bulls just how much they mean to him and his family was the basis of his doggy-dream creation that is now considered a major backyard masterpiece and the envy of dog owners across the nation.
Franks said he feeds, waters, and walks his four canine friends every single day.
"I make sure they get the proper exercise but at the end of the day, I still felt it wasn't enough for them," the Pennsylvania man said to a reporter of the DoDo that was reproduced on the website, The Little Things.
He said he feels like this is a great way to show his love for his dogs and that it makes him feel good that he could do it for them. He recently shared the completed playground with the world in a Facebook post dated August 15, 2017. The post includes 17 photos of the project and has been shared well over 154,000 times throughout social media.
His final project is three-stories high and includes an amazing doggy playhouse along with a pirate-themed "doggy pool," with some very appropriate dog bone-themed decor surrounding it. It even includes a spot for the dogs to chill out and relax poolside. Franks placed and secured huge rope-style toys by hanging them from a suspended beam for endless hours of playtime and enjoyment for the four large dogs. It also includes a spot for the four dogs to do their "business." That particular area is highlighted with a cute little yellow fire hydrant.
Franks has been renovating his family's home for the past decade and the elaborate doggy playground was one of the final projects he needed to complete the entire renovation. In his Facebook post, he gives credit to his wife for being so patient and supportive while he spent hours working on the doggy dream area along with her gift of the $500 he needed to finish painting the masterful construction project for the family pets. He credits teamwork for making the dream a reality.
"It just came together as I went along. I simply worked on it as I had time which mean some months, it was just a few boards that I had time to place," Aaron told The Dodo.
Franks said his kids were the ones who suggested he install a flat-screen TV in the doggy playground area so that the dogs can watch Animal Planet but the dog dad everyone envies drew the line at the idea, adding that a TV maybe a bit too much over the top. The playhouse also includes lights that illuminate the playground area at night.
The four dogs appear to love their new digs.
"My two older dogs like to just hang out and chill. They can even see over the fence now which they seem to enjoy," Aaron said.
He said his two youngest, more energetic dogs like the romp room area and enjoy swinging on the swings he created for them.
"It's pretty cool to see all four of them so happy with my completed project," said Franks.
Handicapped Puppy Befriends Flightless Pigeon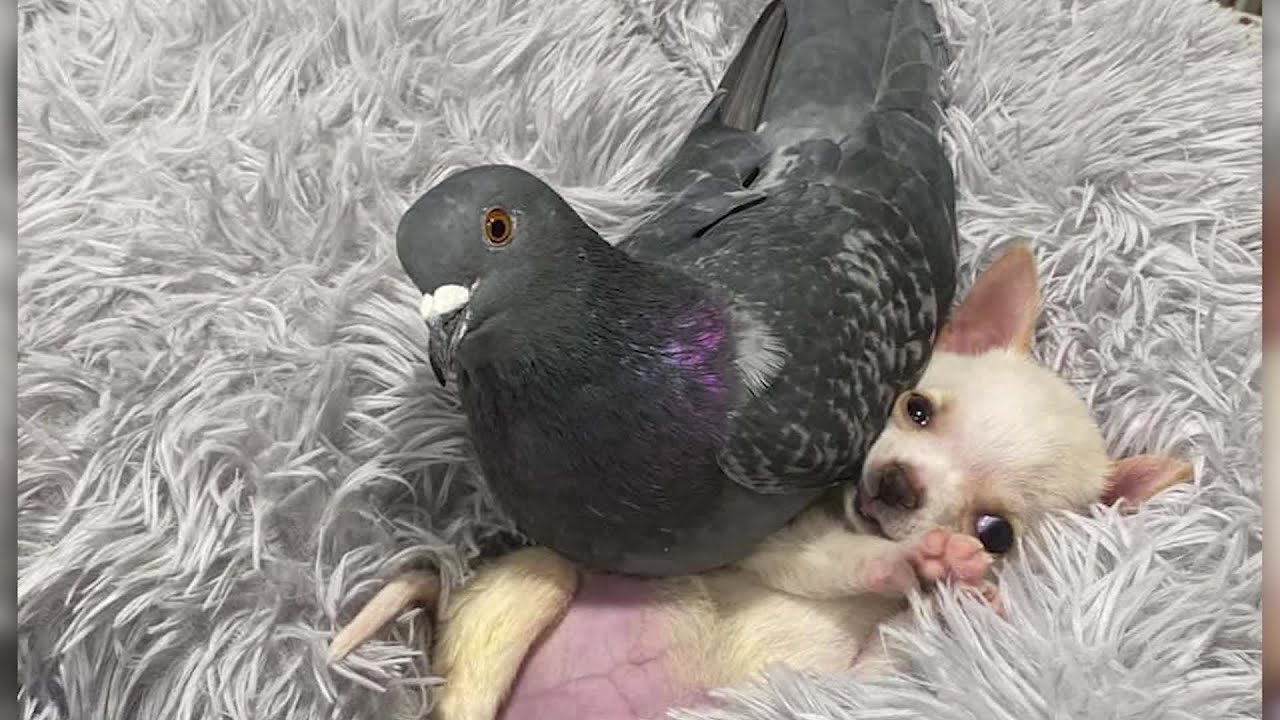 In Rochester, NY, Sue Rogers runs a non-profit called the Mia Foundation. The rescue organization rescues and rehabilitates animals who have birth defects or deformities and tries to find them a loving home. About a year ago, a pigeon was found unable to move in the parking lot of a car dealership. The pigeon was huddled and cowering on the ground. When a local wildlife rescue was called, they said the bird had neurological damage that caused him not to be able to fly. They thought that euthanization would be the best option for him.
Sue was having none of that. She stepped in and took the bird, who she named Herman, under her wing, so to speak. She made space for him in her shelter and kept him close where she could keep an eye on him. He liked to sit on a furry dog pillow and watch her work.
A couple months ago, a tiny Chihuahua was brought to the Mia Foundation. He was an infant, maybe a few months old, when his South Carolina breeders sent him to Sue. He's a teacup sized Chihuahua they named Little Lundy and he was born with spinal cord damage. Sue also determined that he was suffering from swimmers syndrome. Swimmers syndrome is a developmental deformity that causes the front and hind legs to be splayed out. This makes it almost impossible for Little Lundy to walk.
Although swimmers syndrome is thought to be untreatable, according to a few studies and an article in a veterinary journal, it can be treatable. With some physical therapy and at-home treatment, Little Lundy could live a long and happy life, which is exactly what Sue plans for him.
When Little Lundy arrived at the Mia Foundation he decided to get acquainted with his new surroundings and the other animals at the shelter. One particular encounter, created a friendship that has gone viral. Herman and Little Lundy, a puppy and a pigeon, are the unlikeliest of friends, but they have a lot in common. They both have trouble walking, or flying in Hermans case, and they were living in the same place. You could say, they were in the right place at the right time to become instant friends.
In the six weeks they have been together, Herman and Little Lundy have become inseparable. They do everything together, which is a lot of sleeping and snuggling. Mostly, with Herman sitting on top of Little Lundy, which doesn't bother him in the slightest. This friendship was so out of the ordinary that Sue had to document it. The viral sensation of the puppy and pigeon has brought attention to the Mia Foundation that was much needed. The rescue organization runs solely on donations to help cover the costs of taking care of the animals and for needed surgeries. So far, about $6000 was donated because of this unlikely friendship and over 100 adoption inquiries. Hopefully when they are adopted, they are able to stay together.