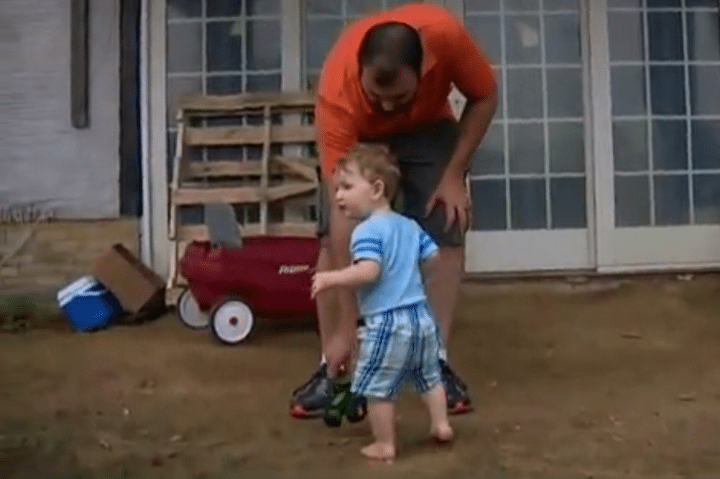 Dad Thwarts Kidnapping Attempt on Son
Thursday June 29, 2017 was just an ordinary day for Ron Kraus and his son Ryker, until it took an unexpected turn.
It was around suppertime when Ron Kraus was in his front yard in Walkerton, Indiana putting a John Deere Tractor Trailer together for his son's 1st birthday party they were having the upcoming Sunday. He noticed a minivan had been parked across the street for the last 10 minutes and didn't think anything of it until the van pulled up to the end of the driveway. A white male wearing a white T-shirt with gray camouflage shorts walked up to Kraus and asked if he had any water because his vehicle was overheating. Kraus, being a good Samaritan, and knowing he had plenty of cases of water by the front door for the party, decided to help. But it was something he would think twice about doing in the future. He turned his back for one minute, and just like that, his child was gone.
The stranger had waited for Kraus' back to turn before taking little Ryker and running as fast as he could. But he wasn't fast enough. While running from the house and trying to put Ryker in a duffel bag, Kraus had realized what was going on and ran after his son's kidnapper. He quickly caught up to him and hit him over the head. Ryker fell, but Kraus made sure he was okay and safely inside his house before calling the police around 6:13 p.m. Before police arrived though, the suspect had fled from the scene. Kraus attempted to chase after him, but he was not fast enough this time.
Police say the suspect is a white male, about 45 years old, with beard stubble, 5″11, 200 pounds, and a stocky, athletic build. He may have tan, leathery skin and crow's feet around his eyes. The vehicle he was driving is described as a 90's model Ford Aerostar minivan.
Although the police state this is an uncommon occurrence – especially not one that includes an abductee attempting to sidetrack a parent to take a child – there have been two similar occurrences in Walkerton and Wanatah where someone had approached children. Police say the instances are not connected and there is no immediate danger. Parents should still be cautious, though. You never know what is going to happen. This father turned his back for one minute to help someone who he thought was in need, and his child was almost taken. It is a very scary thought. If it wasn't for the quick response from the father, things could have definitely ended up differently. It just goes to show, you never know what is going to happen and you should always be prepared. Be aware of your surroundings, like Kraus did. He had seen the vehicle there before it had parked in his driveway. It maybe caused him to be a little more cautious when helping this man. If the water wasn't easily accessible, would he have attempted to help? Maybe, but he probably would have brought his son inside with him to get it. This father did what any parent would do – protect his son at all costs.
Drew Carey's Beyond Generous Gesture to Support Striking Writers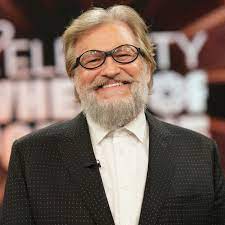 In times of struggle, acts of kindness and generosity can bring hope and relief to those in need. Drew Carey, a well-known television personality, has once again shown his compassion by providing daily lunches for members of the Writer's Guild of America (WGA) who are currently on strike. This remarkable gesture is helping to alleviate some of the financial strain faced by these hardworking individuals.
Drew Carey is graciously covering the expenses at two local businesses for WGA members who show their guild card. The two restaurants involved in this endeavor are Bob's Big Boy in Burbank and Swingers Diner on Beverly. With every meal, Drew is estimated to be spending thousands of dollars per day to ensure that these writers are well-fed during this challenging time.
This is not the first time that Drew Carey has demonstrated his support for the WGA. During the 2007 strike, he generously provided lunches to struggling writers for two consecutive months. His commitment to helping others in need has not wavered over the years, and he continues to be a beacon of kindness.
The gratitude expressed by the WGA members for Drew's actions is overwhelming. Many writers have taken to social media to share their appreciation and to highlight the impact of his generosity. One writer tweeted, "Drew bought me lunch for two months straight in '07 when I was struggling with that WGA strike. In a better place now, but Drew continues to be a good dude." The outpouring of thanks and support from the WGA community is a testament to the positive effect that Drew's kind gestures have on their lives.
The participating restaurants have become a gathering place for WGA members, who are not only enjoying the delicious meals but also feeling the love and support from Drew. The writers express their gratitude repeatedly, and the staff at the restaurants are grateful to be part of this compassionate act. They feel privileged to play a role in facilitating Drew's generosity and witness the joy it brings to those in need.
Being a writer can be challenging, with periods of financial uncertainty and limited opportunities. The current strike has exacerbated these difficulties, making every complimentary meal a significant relief for the writers. As one member explained, "They're very, very happy and they're very, very thankful to Drew." The impact of Drew's support goes beyond a single meal—it represents a lifeline for those facing financial hardships during the strike.
Drew Carey's unwavering commitment to supporting the WGA and his genuine care for those in need is truly commendable. His actions remind us of the power of kindness and the difference one person can make in the lives of others. As the strike continues, the lunches provided by Drew serve as a ray of hope and a reminder that the writing community is not alone in their fight.
In times of hardship, it is heartwarming to see individuals like Drew Carey step forward and offer their support. His kindness and generosity are an inspiration to us all, and his contributions to the well-being of the WGA members are deeply appreciated.