Dad Thwarts Kidnapping Attempt on Son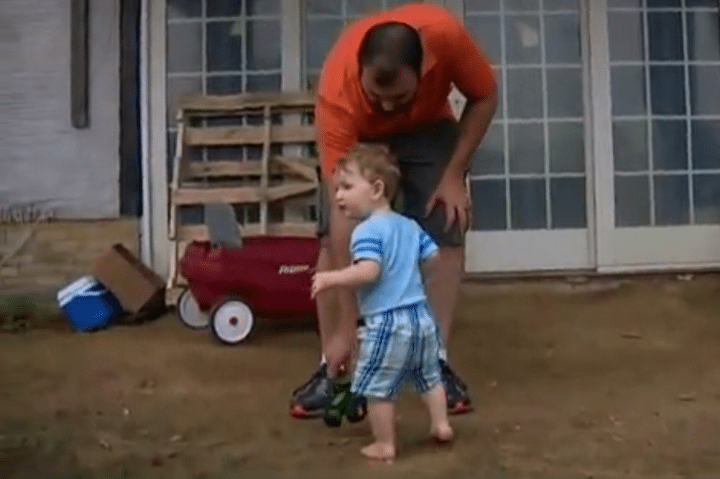 Thursday June 29, 2017 was just an ordinary day for Ron Kraus and his son Ryker, until it took an unexpected turn.
It was around suppertime when Ron Kraus was in his front yard in Walkerton, Indiana putting a John Deere Tractor Trailer together for his son's 1st birthday party they were having the upcoming Sunday. He noticed a minivan had been parked across the street for the last 10 minutes and didn't think anything of it until the van pulled up to the end of the driveway. A white male wearing a white T-shirt with gray camouflage shorts walked up to Kraus and asked if he had any water because his vehicle was overheating. Kraus, being a good Samaritan, and knowing he had plenty of cases of water by the front door for the party, decided to help. But it was something he would think twice about doing in the future. He turned his back for one minute, and just like that, his child was gone.
The stranger had waited for Kraus' back to turn before taking little Ryker and running as fast as he could. But he wasn't fast enough. While running from the house and trying to put Ryker in a duffel bag, Kraus had realized what was going on and ran after his son's kidnapper. He quickly caught up to him and hit him over the head. Ryker fell, but Kraus made sure he was okay and safely inside his house before calling the police around 6:13 p.m. Before police arrived though, the suspect had fled from the scene. Kraus attempted to chase after him, but he was not fast enough this time.
Police say the suspect is a white male, about 45 years old, with beard stubble, 5″11, 200 pounds, and a stocky, athletic build. He may have tan, leathery skin and crow's feet around his eyes. The vehicle he was driving is described as a 90's model Ford Aerostar minivan.
Although the police state this is an uncommon occurrence – especially not one that includes an abductee attempting to sidetrack a parent to take a child – there have been two similar occurrences in Walkerton and Wanatah where someone had approached children. Police say the instances are not connected and there is no immediate danger. Parents should still be cautious, though. You never know what is going to happen. This father turned his back for one minute to help someone who he thought was in need, and his child was almost taken. It is a very scary thought. If it wasn't for the quick response from the father, things could have definitely ended up differently. It just goes to show, you never know what is going to happen and you should always be prepared. Be aware of your surroundings, like Kraus did. He had seen the vehicle there before it had parked in his driveway. It maybe caused him to be a little more cautious when helping this man. If the water wasn't easily accessible, would he have attempted to help? Maybe, but he probably would have brought his son inside with him to get it. This father did what any parent would do – protect his son at all costs.
Three Week Pet and House Sitting Turns Into a Year Long Mystery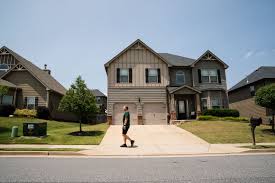 Any responsible pet owner knows that if you cannot bring the animals with you then you need to make arrangements to ensure they are taken care of. If you are going to be gone for any length of time it is also a good idea to have someone check in on the house once in a while to make sure everything is ok. Last year one Canadian man agreed to watch his neighbor's home while they were away.
The neighbors were going to be traveling for a few weeks visiting family overseas. They asked the man and his wife to watch the house and their pets and check on the house for three weeks while they went to Taiwan as his mother was dying and they wanted to see her and spend time with the family. They left the man $500 dollars for food for their 2 German Sheppards and their cat. The man agreed and went over daily to feed the pets and would walk through the house to check on things every week.
On July 1, he got an email asking if the man and his wife could watch things for a little longer. It was taking more time than they expected to take care of everything after his mother had died. They agreed and expected the man to return in 2 week's time. They never arrived and no other communications were received. On July 21, the man sent an email but never got a reply. By the end of the month the neighbor's cell phone had been disconnected and he was not responding to any email messages at all now. At some point in the following weeks a pipe had burst and ended up flooding the basement causing massive water damage. The man did not know what to do now since he still could not get in touch with the family.
He ended up paying someone out of his own pocket to have the leak fixed, and he also paid for one of their dogs to have surgery. This was quickly becoming a real nightmare situation, and worst of all, he had no idea how long it was going to last. He thought about trying to track them down via social media but they had a very common last name and he had no address or name for contact on who they were staying with in Taiwan so it seemed a search on his own was going to be fruitless.
The electricity was still running in the house, which the man credited to an autopayment. The internet was also still working. There was no way to track down a place of employment or other contact ins Canada who might know the couple and be able to help track them down. So, after waiting nearly a year, the man filed a missing person report with the police to try and get some help finding out what happened to the couple. Eventually, they got a response- there was good news and bad news.
The good news was that the couple were alive and well and not dead or in prison as the man had feared. The bad news was that they seemed to be very irresponsible and privileged people. They said they had asked a relative to come to get the pets and deal with the house but had never checked in with him to see if any of it had been done. They said the man and his wife could keep the pets if they wanted or he could find some way to take them off their hands. He also seemed to care little about the house and made a statement along the lines of – if we ever come back we can pay to fix it or just buy a new house.
The man said that he and his wife would keep the pets as they couldn't bear to give them up after a year of caring for them. They were also very worried about what this couple may do with animals they seemed to truly care so little about. It is one of the most bizarre stories ever, but at least it ends on a happy not and those pets are still in good hands and are being loved and cared for. But let this be a warning before anyone agrees to house sit or pet sit for something- get all the details and contact information before you ever say yes!