Custom Wheelchair Created for one Lucky Duck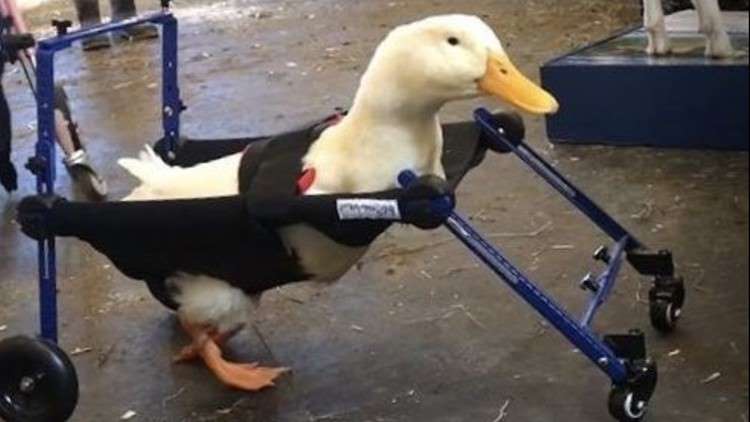 A New Hampshire-based company created a custom wheelchair for one lucky duck in New Jersey. Merlin the duck has a deformed left leg which has made it difficult for him to walk and get the exercise he needs. When the caring staff at Walkin' Pets heard the story, they wanted to help, so they invented the Walkin' Wheels Duck wheelchair. This custom-made cart aids Merlin in getting the exercise he needs and significantly improves his mobility on a daily basis, so he can lead a normal life.
The employees at Walkin' Pets had a special visit to the Goats of Anarchy sanctuary in Northern New Jersey to drop-off his new wheelchair and watch him take his first steps. In a press release following the experience, Walkin' Pets noted that Merlin took to his new wheelchair like a duck takes to water. The company has created a newfound relationship with the Sanctuary to help more injured and disable animals in need through donations of wheelchairs, supplies and other equipment.
The wheelchair has a variety of useful features to help improve Merlin's mobility, comfort, and safety; including:
• Fully-adjustable frame
• Frame made from lightweight but durable extruded aluminum and urethane wheels
• All parts are washable
• Frame designed having an open back to leave room for the tail
• Quad support for stability
• Frames are blue
• Neoprene sling for comfort and support
• Customer service to answer any questions
Considered to be North Jersey's most adorable animal farm, the Goats of Anarchy sanctuary cares for a variety of adorable animals – from domesticated raccoons to micro pigs in strollers and even a cuddly Chinchilla named Mr. Bagel. The original creation of the sanctuary was to rescue and rehabilitate goats with special needs. The owner takes-in goats with all types of issues – from frostbite to neurological problems – and cares for them with the assistance of volunteers. For goats missing limbs, the Sanctuary provides prosthetics.
Located in Amherst, New Hampshire, Walkin' Pets offers a variety of commercially-available products for aging, injured or disabled pets. These products aim to make the owner's life easier while keeping the pet healthy, safe, mobile and able to enjoy life. Such products include dog wheelchairs, harnesses and slings, clothing and accessories. Of course, the products are not solely for dogs, any animal with an ailment is eligible.
Also, each year, Walkin' Pets releases a calendar of the animals they have helped with their devices. The 2019 calendar features 239 pets across the 12-months. All proceeds from the calendar go to the Handicapped Pets Foundation which is an organization that donates wheelchairs to those in need.
Goats of Anarchy and Walkin' Pets continue to help so many disabled animals lead the normal, comfortable lives they deserve through extensive volunteer work and donations. There are thousands of animals in need of such care and love and the work these organizations are providing will help more animals and pets each day.
These Police Officers Are Mixing It Up With The Local Kids….Find Out How!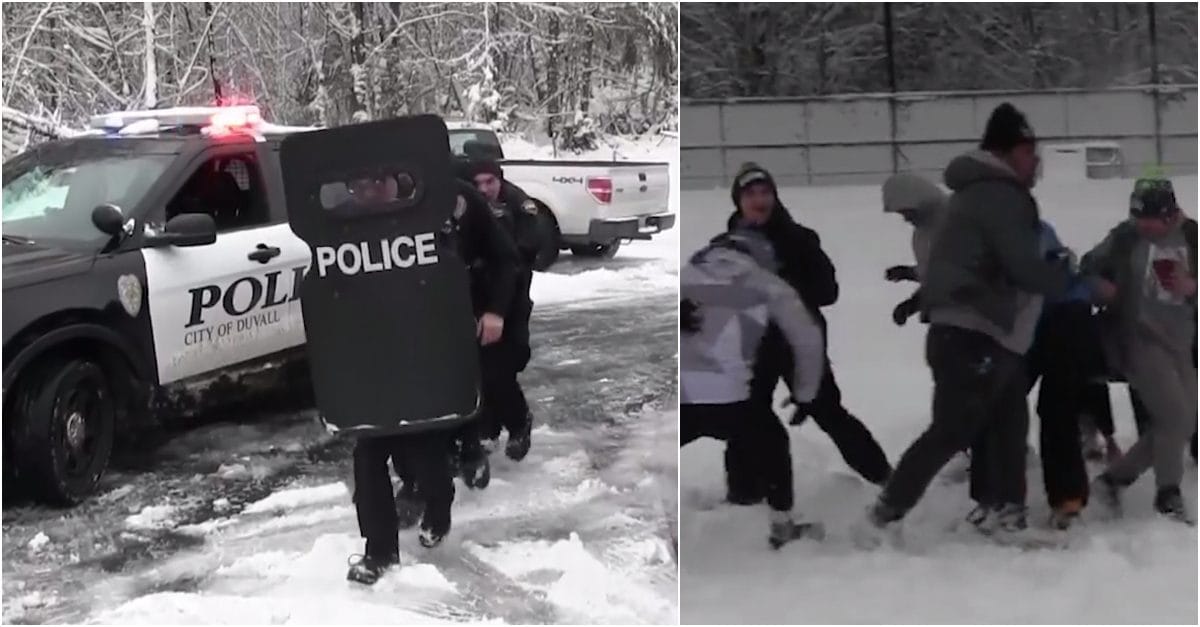 For those of us who have gotten sick and tired of always reading headlines about the mistakes that police officers make on the job, this story is going to serve as a breath of fresh air. In a world where it feels like we are constantly inundated with bad news about our nation's police officers, it is good to see a story like this one.
Children who reside in Duvall, Washington were recently given quite the special treat. They were at a local park and they had come together to play some football in the snow. When these officers arrived on the scene, the children were not happy. What child would be?
We are sure that these kids probably assumed that the officers were on hand to mess up their game. We would have thought the same exact thing if we were in their position. However, these officers were not looking to put a stop to their good time. Their intentions were something else entirely.
When the clip first begins, we see the cops pulling up the football field. We also see the cops exiting their vehicles, while clad in full riot gear. This is the part where we started to get skeptical. These kids are just trying to have a good time. Why are these cops rolling up on them as if they are in the midst of some horrific crime spree?
The cops start to approach the children. It is clear to see that they are taking a more cautious approach. The kids also look like they are pretty nervous about the arrival of the police. Can you imagine getting ready to play an innocent game of snow football and being greeted by a sizable percentage of the Duvall police force? We would probably take off running right then and there.
The kids decided that they were going to let the officers know exactly what they thought of this intrusion. The football game was called off and the kids began to make a pile of snowballs. By the time the cops start to speak to the children, their fears are assuaged. This is not a form of harassment. These cops are simply here to have fun.
They crack a few jokes about taking the kids downtown but it is all in good fun. Once they "advance" on the kids, they begin to pelt the officers with snowballs. It is a good thing that they have all this riot gear, huh? They are going to stay protected from the barrage of snowballs and teach the kids a valuable lesson in the process.
It is not about who has the most snowballs to throw. It is about who has the most protection from said snowballs. There is something to be said for teaching the youth the most valuable lessons that they will need going forward. Now, these kids will probably take the time to build some shields, in addition to a mountain of snowballs.
We got a major kick out of the one officer who hid behind all of the others and lobbed snowballs over the top of the rest of the group. He's got the best idea of all. He gets all of the advantages associated with the riot shields and still gets to throw snowballs at these kids. That's a man who has life all figured out.
If you would like to check out this hilarious clip for yourself, please be sure to take a closer look at the link below. We are glad that this police visit ended in the way that it did. It was definitely quite the scary sight at first!