Custom Wheelchair Created for one Lucky Duck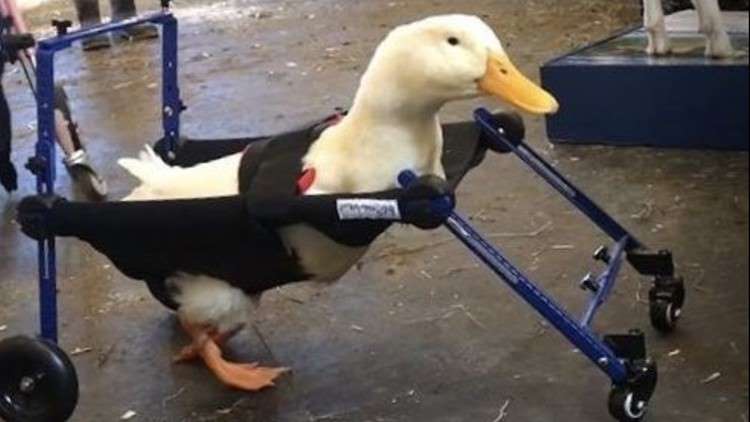 A New Hampshire-based company created a custom wheelchair for one lucky duck in New Jersey. Merlin the duck has a deformed left leg which has made it difficult for him to walk and get the exercise he needs. When the caring staff at Walkin' Pets heard the story, they wanted to help, so they invented the Walkin' Wheels Duck wheelchair. This custom-made cart aids Merlin in getting the exercise he needs and significantly improves his mobility on a daily basis, so he can lead a normal life.
The employees at Walkin' Pets had a special visit to the Goats of Anarchy sanctuary in Northern New Jersey to drop-off his new wheelchair and watch him take his first steps. In a press release following the experience, Walkin' Pets noted that Merlin took to his new wheelchair like a duck takes to water. The company has created a newfound relationship with the Sanctuary to help more injured and disable animals in need through donations of wheelchairs, supplies and other equipment.
The wheelchair has a variety of useful features to help improve Merlin's mobility, comfort, and safety; including:
• Fully-adjustable frame
• Frame made from lightweight but durable extruded aluminum and urethane wheels
• All parts are washable
• Frame designed having an open back to leave room for the tail
• Quad support for stability
• Frames are blue
• Neoprene sling for comfort and support
• Customer service to answer any questions
Considered to be North Jersey's most adorable animal farm, the Goats of Anarchy sanctuary cares for a variety of adorable animals – from domesticated raccoons to micro pigs in strollers and even a cuddly Chinchilla named Mr. Bagel. The original creation of the sanctuary was to rescue and rehabilitate goats with special needs. The owner takes-in goats with all types of issues – from frostbite to neurological problems – and cares for them with the assistance of volunteers. For goats missing limbs, the Sanctuary provides prosthetics.
Located in Amherst, New Hampshire, Walkin' Pets offers a variety of commercially-available products for aging, injured or disabled pets. These products aim to make the owner's life easier while keeping the pet healthy, safe, mobile and able to enjoy life. Such products include dog wheelchairs, harnesses and slings, clothing and accessories. Of course, the products are not solely for dogs, any animal with an ailment is eligible.
Also, each year, Walkin' Pets releases a calendar of the animals they have helped with their devices. The 2019 calendar features 239 pets across the 12-months. All proceeds from the calendar go to the Handicapped Pets Foundation which is an organization that donates wheelchairs to those in need.
Goats of Anarchy and Walkin' Pets continue to help so many disabled animals lead the normal, comfortable lives they deserve through extensive volunteer work and donations. There are thousands of animals in need of such care and love and the work these organizations are providing will help more animals and pets each day.
These Hermit Crabs Will Blow Your Mind With Stunning Natural Ritual.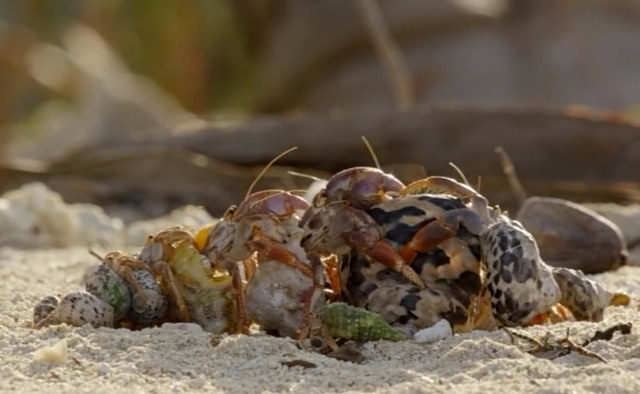 If you are like most people then you are likely fascinated with the ocean and all the creatures inside it. While we can talk forever about massive whales, scuttling squids, and scary sharks, we'd rather highlight a cute little crustacean known as the hermit crab. Now, you've likely heard of the hermit crab and, perhaps, you even know what it looks like. As a member of the superfamily known as the Paguroidea, hermit crabs manage to stand out all on their own. In fact, after learning about this natural ritual that hermit crabs complete, you might even want one of your own!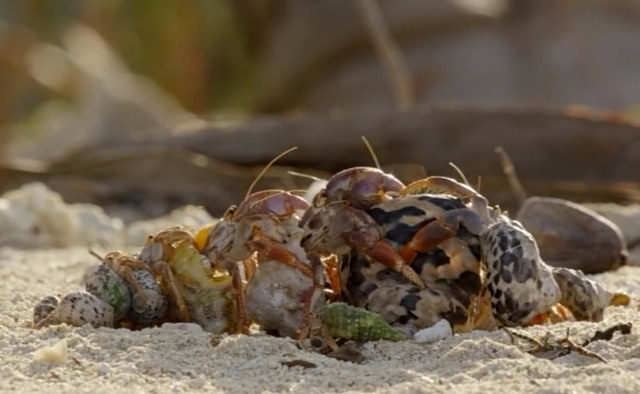 In a post shared on Facebook by a user named Melody Flowers, it was revealed that hermit crabs are always looking for bigger shells to live in. While you probably knew this already, what you didn't realize about this ritual is far more fascinating. According to the post, which has since been backed up by other scientific journals, hermit crabs like to line up next to shells that happen to be too big for them. Hermit crabs can wait for up to eight hours for another crab to come along and try the shell out. Why do these crabs wait next to shells that are too large for them? As it turns out, the first hermit crab is simply waiting for the second crab in line to discard its shell.
So we outlined a natural ritual that hermit crabs undertake when finding a new home. Why is this so fascinating? While you may have summoned up an image of two hermit crabs swapping shells, that isn't entirely accurate. As the second crab lines up behind the shell, more will come to follow. Before long, observers would be able to watch as dozens of hermit crabs all trade shells with one another to ensure that everyone has a comfortable home to live in. The smallest shell of the bunch gets left behind while the shell that started the queue will go to the largest hermit crab of the lot. That's pretty amazing, isn't it? The coordination and cooperation that these hermit crabs have to deploy is nothing short of impressive. If only humans could get along so well when it comes to making to sure everyone is comfortable and safe within their home.
Even though hermit crabs will work together in order to find homes, they are still a competitive species. Gastropod shells can become a limited resource due to a variety of natural and unnatural factors, such as climate change and pollution. When hermit crabs are of a similar size, they are more competitive and violent with one another. When hermit crabs vary dramatically in size, there are more resources available for every member of the group. Hermit crabs are a fascinating sort of creature because they can come in varying sizes with a lifespan ranging between 12 and 70 years. The next time that you see a hermit crab, make sure it has the perfect shell to call home. Maybe it will remember you a couple of decades later!