Custom Wheelchair Created for one Lucky Duck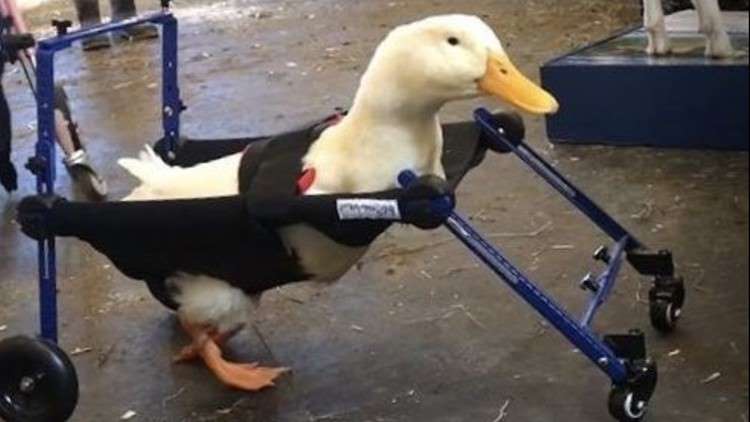 A New Hampshire-based company created a custom wheelchair for one lucky duck in New Jersey. Merlin the duck has a deformed left leg which has made it difficult for him to walk and get the exercise he needs. When the caring staff at Walkin' Pets heard the story, they wanted to help, so they invented the Walkin' Wheels Duck wheelchair. This custom-made cart aids Merlin in getting the exercise he needs and significantly improves his mobility on a daily basis, so he can lead a normal life.
The employees at Walkin' Pets had a special visit to the Goats of Anarchy sanctuary in Northern New Jersey to drop-off his new wheelchair and watch him take his first steps. In a press release following the experience, Walkin' Pets noted that Merlin took to his new wheelchair like a duck takes to water. The company has created a newfound relationship with the Sanctuary to help more injured and disable animals in need through donations of wheelchairs, supplies and other equipment.
The wheelchair has a variety of useful features to help improve Merlin's mobility, comfort, and safety; including:
• Fully-adjustable frame
• Frame made from lightweight but durable extruded aluminum and urethane wheels
• All parts are washable
• Frame designed having an open back to leave room for the tail
• Quad support for stability
• Frames are blue
• Neoprene sling for comfort and support
• Customer service to answer any questions
Considered to be North Jersey's most adorable animal farm, the Goats of Anarchy sanctuary cares for a variety of adorable animals – from domesticated raccoons to micro pigs in strollers and even a cuddly Chinchilla named Mr. Bagel. The original creation of the sanctuary was to rescue and rehabilitate goats with special needs. The owner takes-in goats with all types of issues – from frostbite to neurological problems – and cares for them with the assistance of volunteers. For goats missing limbs, the Sanctuary provides prosthetics.
Located in Amherst, New Hampshire, Walkin' Pets offers a variety of commercially-available products for aging, injured or disabled pets. These products aim to make the owner's life easier while keeping the pet healthy, safe, mobile and able to enjoy life. Such products include dog wheelchairs, harnesses and slings, clothing and accessories. Of course, the products are not solely for dogs, any animal with an ailment is eligible.
Also, each year, Walkin' Pets releases a calendar of the animals they have helped with their devices. The 2019 calendar features 239 pets across the 12-months. All proceeds from the calendar go to the Handicapped Pets Foundation which is an organization that donates wheelchairs to those in need.
Goats of Anarchy and Walkin' Pets continue to help so many disabled animals lead the normal, comfortable lives they deserve through extensive volunteer work and donations. There are thousands of animals in need of such care and love and the work these organizations are providing will help more animals and pets each day.
Elderly Strangers Fall in Love During Flight, You Won't Believe What Happens Next!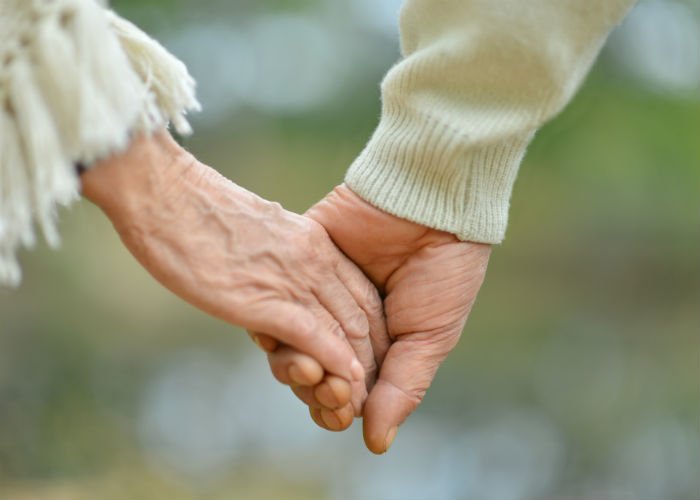 We owe it to ourselves to travel the world. After all, you will never know what's out there waiting for you unless you go to look. Just a few weeks ago, an airline ticket agent experienced the wonders of travel firsthand. Under the username @vvuxian, Twitter users were regaled by a heartwarming story of love found in the air between two elderly strangers. @vvuxian shared the entire story on Twitter through a series of tweets that culminated in what we can only describe as a true Hollywood ending — only in real life!
The story starts with @vvuxian working at an airline counter, just like any other day. As an airline ticket employee, @vvuxian was ready to assist customers as they came to her desk with questions regarding their flight. An elderly lady in her 70s approached @vvuxian with a seemingly strange request. The unnamed woman, who had just arrived on a flight from Canada, was seemingly looking for a stranger. The elderly woman asked @vvuxian if anyone arriving from Spain had been looking for her because the two were supposed to be meeting up. As an airline employee, @vvuxian knew that she couldn't share private information about other passengers.
The elderly woman accepted the rules laid out by @vvuxian, albeit looking sad in the process. Curious to find out what happened, @vvuxian asked for more information. The woman explained that she had met a stranger on her flight from Canada and that the two had fallen in love during their 11-hour flight. Unfortunately, they had to separate on connecting flights from Spain, but they had made a deal to meet up with one another when they reached their final destination. Unfortunately, the stranger had never shown up. What once looked like a Hollywood romance was quickly turning into a sad tale of reality. Was there nothing that could be done?
Unfortunately, @vvuxian knew that she couldn't help the woman, but she wished her well all the same. After the woman explained that she couldn't reach the stranger by telephone, all seemed to be lost. @vvuxian took down the passenger's phone number and promised to call her if anybody showed up. The woman left the ticket counter and @vvuxian probably assumed that this was the end of the story. We all know that this wasn't the case.
An hour later, during her lunch break, @vvuxian heard a co-worker talking to another elderly woman. The stranger at the counter was explaining that she was supposed to meet a friend but that she couldn't get ahold of her. The woman explained that she had met a stranger on a flight but that they had been separated during their connecting flights. This was her! This was the second lost lover! According to @vvuxian, she basically threw her sandwich in order to run to the front desk. Our heroic airline ticket agent quizzed the new stranger with questions, asking her if she had just come from Spain and was she looking for a certain person? The stranger nods and nods again. This was it!
Deciding to risk it all, @vvuxian calls the phone number that had been left by the earlier visitor. Within minutes the second woman appears at the counter, basically at a sprint! The two collapse into a loving embrace before showering @vvuxian in the thanks. Happy just to have helped, @vvuxian wishes them well while nearly tearing up from happiness herself. A little while later the two elderly lovers return with a thank-you gift, a collection of delicious chocolates. Now, who says that real life can't be like the movies?