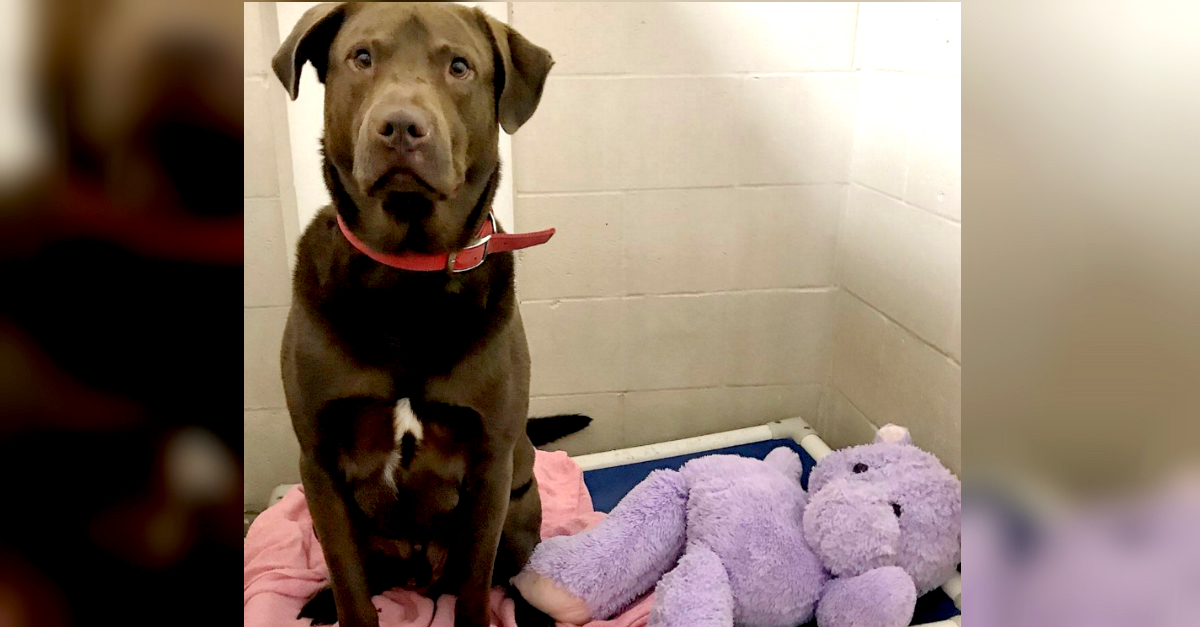 Crime Scene Investigation involving a Labrador and a Stuffed-Toy
A story from an animal shelter in Wisconsin was nothing short of a crime mystery novel, with a twist at ending. The Fox Valley Humane Association is based out of Appleton, WI. The story involves Hank, a rescue Labrador puppy, and his favorite toy, a Fuzzy Purple Hippo. At the time, Hank was a four-year-old Labrador. He was particularly fond of his stuff-toy and took the toy with him wherever he went.
One day, the fuzzy hippo toy was found mercilessly decapitated. Emergency surgery had to be carried out on the toy. Hank was in a state of shock and was not available for any comments. After nervously waiting for the surgery to be over, news broke out that Fuzzy Purple Hippo had survived.
The investigation started on how this incident happened, and more impaortantly, who was the culprit. The investigation began with a friendly interrogation of Hank. Although hank was cooperative, he did not say much. It was hard to determine if Hank was still recovering from the trauma or if he was keeping quiet to cover up a secret. Either way, Hank was gave nothing away. He remained tight-lipped and poker-faced.
Fuzzy Purple Hippo had to see a therapist begin her recovery. The physical damage would heal soon, but her mental health was uncertain. After surviving such a traumatic event, the Fuzzy Purple Hippo could suffer from post-traumatic stress disorder (PTSD). She couldn't remember much about the incident or the events leading up to the incident. This is quite common for someone who went through such a traumatic event.
Hank was given an attorney, appointment by the Fox Valley Humane Association. There were no charges filed, but there were also no other suspects. No one had seen anyone else with Fuzzy Purple Hippo other than Hank. At this point, a new character entered the storyline. His name is Kg Blue and he is a superstar therapy dog. He had arrived with police to offer his services to the Fox Valley Humane Association.
Kg Blue is a popular figure in the law enforcement department. He has helped solve several crime scene mysteries in the past. Using his extraordinary sense of smell and experience in crime scene investigation, Kg Blue was able to trace the movement of the culprit. According to Kg Blue, Hank had been somewhere he was not supposed to. The backyard is off-limits to Hank, especially during the night. Yet, Kg Blue confirmed that hank had ventured out his home and into the backyard, and he was not alone.
Just when the investigation was looking ominous for Hank, Kg Blue made a startling discovery. Finally, there was a breakthrough in the case. Kg Blue had found something at the fence that would change the course of the investigation. Kg Blue revealed his findings to the police and the representative of the Fox Valley Humane Association. It was announced that the findings of the investigation will be revealed the next morning. It was a nervous night for everyone involved. Hank and Fuzzy Purple Hippo were separated for the night. Hank was kept under observation.
The next morning, it was revealed that Hank and Fuzzy Purple Hippo had sneaked out after-hours to look for treats and enjoy gazing at the stars from the backyard. While trying to jump over the fence, Fuzzy Purple Hippo got stuck and was about to fall. Hank jumped in and pulled her to safety. In trying to save her, Hank had accidentally decapitated his friend. It was proven beyond doubt that the incident was an accident and the intentions of Hank were sincere. Hank was exonerated of all charges and was allowed to reunite with his friend.
Newly Discovered Flower Blooms Atop One of the World's RAREST Trees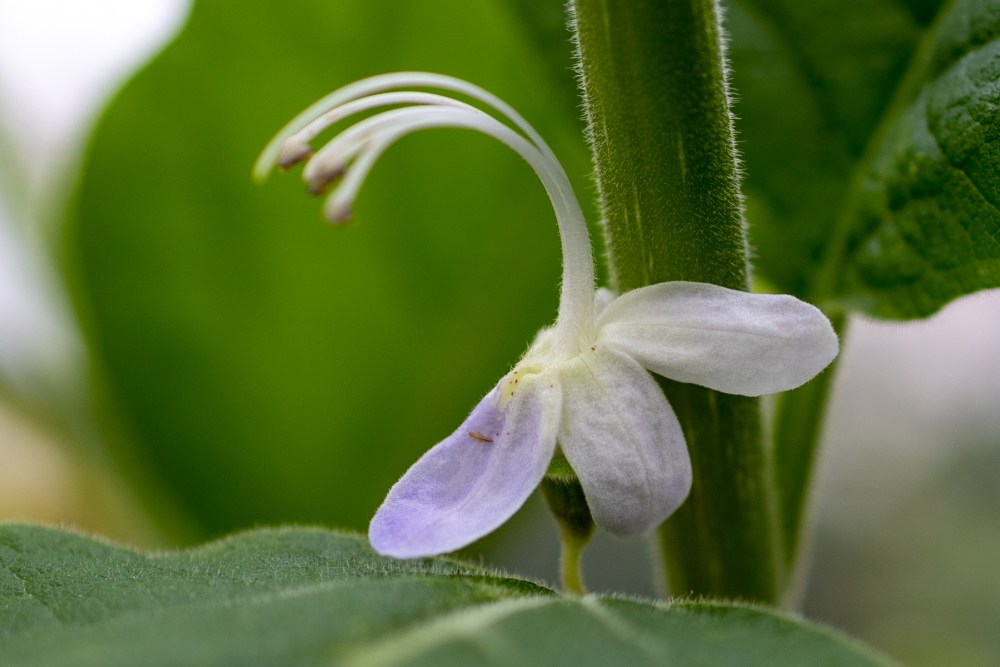 The Missouri Botanical Garden in St. Louis is known by locals for the intense work performed by the experts inside. When a small purple-and-white flower began to grow within their greenhouse, the team of experts at the Missouri Botanical Garden were confused. From their perspective, they were seeing something brand new – a completely fresh discovery.
Discovery on May 3rd
Justin Lee is a senior horticulturist at the Missouri Botanical Garden, and he was performing regular work on a Karomia Gigas sapling in the greenhouse when he first stumbled upon the rare purple-and-white flower. The Karomia Gigas is a tree from Africa with close relations to the mint plant. An endangered tree species in Africa, Justin was confused by the flower that had grown nearly an inch in length atop the tree.
Lee says of his discovery, "It's a bit odd for a mint flower. It seems flipped inside out."
The flower measured an inch in length with a strong halo of purple petals, sloping gently downward toward white stamens bearing pollen. According to Lee, the mint family likes to put out tube-styled flowers in an attempt to attract bees, butterflies, and moths. Lee also suggests that the tree can self-pollinate if necessary.
As the discovery made headlines around the city, the researchers at Missouri's Botanical Garden are preparing for more blooms in the future. Research has suggested that more Karomia Gigas flowers will grow at the greenhouse and it is then that their scientific research will really begin. Lee and his team are focused on successfully cultivating cross-pollination, thus improving the survivability of the plant in the world. At the time of this writing, only about two dozen of the Karomia Gigas trees can be found in the wilds throughout Tanzania.
The Wilds of Tanzania
At the time of this writing, the Karomia Gigas is considered so rare as to not even have a local Tanzanian nickname, nor is there an English one. What little is broadly known about the Karomia is that it can grow in straight stretches for up to 80 feet, limiting branch exposure until nearly halfway to its final height. As a result of its odd, stick-like growth, finding these unseen flower blooms has been harder than you might anticipate!
Roy Gereau is a program director for Tanzania at the Missouri Botanical Garden. Surprised but not shocked by the flower, Gereau was quick to admit that the bloom was new. Gereau said of the rare flower, "There certainly is no record of the flowers in scientific literature."
More important than discovering the flower, researchers in Missouri believe that they can maintain the health of the newly bloomed petals to prevent them from disappearing. Andrew Wyatt is the VP of Horticulture at the Missouri Botanical Garden, and he said, "We can make sure the species doesn't go extinct."
It has been a challenge to grow the plant in Missouri, as has been repeated by researchers at the facility. Seeds had been collected in 2018 from a series of Tanzanian field expeditions. These seeds were shipped to St. Louis where only around 100 were thought to be viable. To make things even more difficult, it was a task to match Tanzanian growing conditions within greenhouses in Missouri.
Despite the challenges that they had to face, it looks like the Karomia is finding solid footing within St. Louis. With some momentum and optimism on their side, what's next?
Andrew Wyatt said of the rare blooming flower and of his own future, "We were debating whether it would even flower in our careers."