Crime Scene Investigation involving a Labrador and a Stuffed-Toy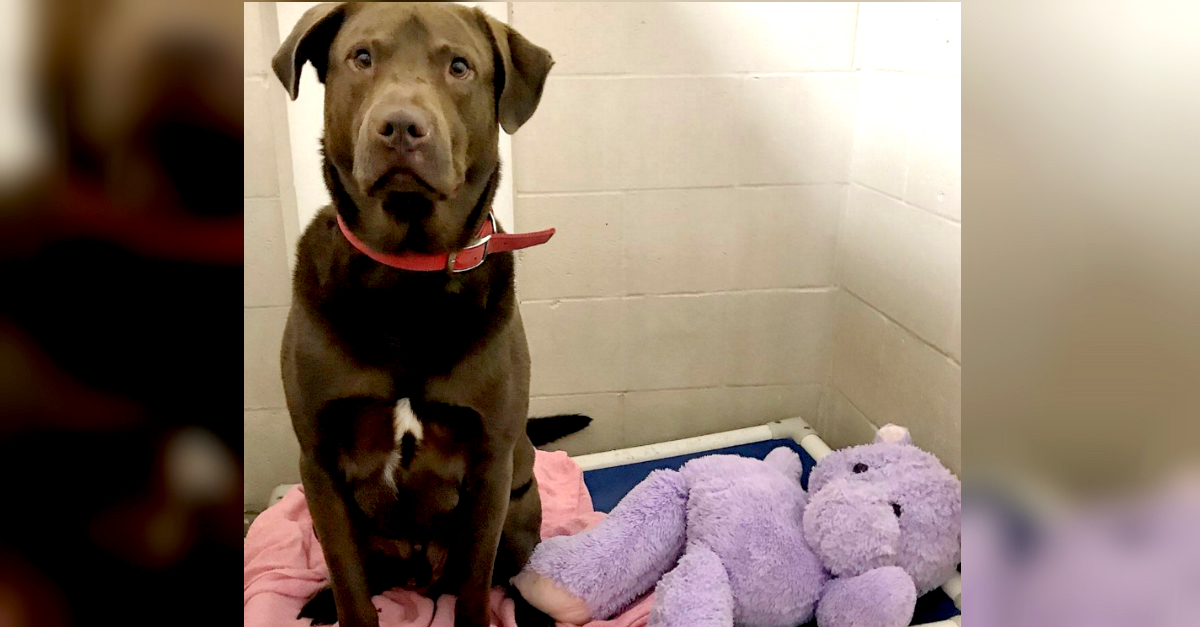 A story from an animal shelter in Wisconsin was nothing short of a crime mystery novel, with a twist at ending. The Fox Valley Humane Association is based out of Appleton, WI. The story involves Hank, a rescue Labrador puppy, and his favorite toy, a Fuzzy Purple Hippo. At the time, Hank was a four-year-old Labrador. He was particularly fond of his stuff-toy and took the toy with him wherever he went.
One day, the fuzzy hippo toy was found mercilessly decapitated. Emergency surgery had to be carried out on the toy. Hank was in a state of shock and was not available for any comments. After nervously waiting for the surgery to be over, news broke out that Fuzzy Purple Hippo had survived.
The investigation started on how this incident happened, and more impaortantly, who was the culprit. The investigation began with a friendly interrogation of Hank. Although hank was cooperative, he did not say much. It was hard to determine if Hank was still recovering from the trauma or if he was keeping quiet to cover up a secret. Either way, Hank was gave nothing away. He remained tight-lipped and poker-faced.
Fuzzy Purple Hippo had to see a therapist begin her recovery. The physical damage would heal soon, but her mental health was uncertain. After surviving such a traumatic event, the Fuzzy Purple Hippo could suffer from post-traumatic stress disorder (PTSD). She couldn't remember much about the incident or the events leading up to the incident. This is quite common for someone who went through such a traumatic event.
Hank was given an attorney, appointment by the Fox Valley Humane Association. There were no charges filed, but there were also no other suspects. No one had seen anyone else with Fuzzy Purple Hippo other than Hank. At this point, a new character entered the storyline. His name is Kg Blue and he is a superstar therapy dog. He had arrived with police to offer his services to the Fox Valley Humane Association.
Kg Blue is a popular figure in the law enforcement department. He has helped solve several crime scene mysteries in the past. Using his extraordinary sense of smell and experience in crime scene investigation, Kg Blue was able to trace the movement of the culprit. According to Kg Blue, Hank had been somewhere he was not supposed to. The backyard is off-limits to Hank, especially during the night. Yet, Kg Blue confirmed that hank had ventured out his home and into the backyard, and he was not alone.
Just when the investigation was looking ominous for Hank, Kg Blue made a startling discovery. Finally, there was a breakthrough in the case. Kg Blue had found something at the fence that would change the course of the investigation. Kg Blue revealed his findings to the police and the representative of the Fox Valley Humane Association. It was announced that the findings of the investigation will be revealed the next morning. It was a nervous night for everyone involved. Hank and Fuzzy Purple Hippo were separated for the night. Hank was kept under observation.
The next morning, it was revealed that Hank and Fuzzy Purple Hippo had sneaked out after-hours to look for treats and enjoy gazing at the stars from the backyard. While trying to jump over the fence, Fuzzy Purple Hippo got stuck and was about to fall. Hank jumped in and pulled her to safety. In trying to save her, Hank had accidentally decapitated his friend. It was proven beyond doubt that the incident was an accident and the intentions of Hank were sincere. Hank was exonerated of all charges and was allowed to reunite with his friend.
Man's Best Friend, Except When It's Time for the Weather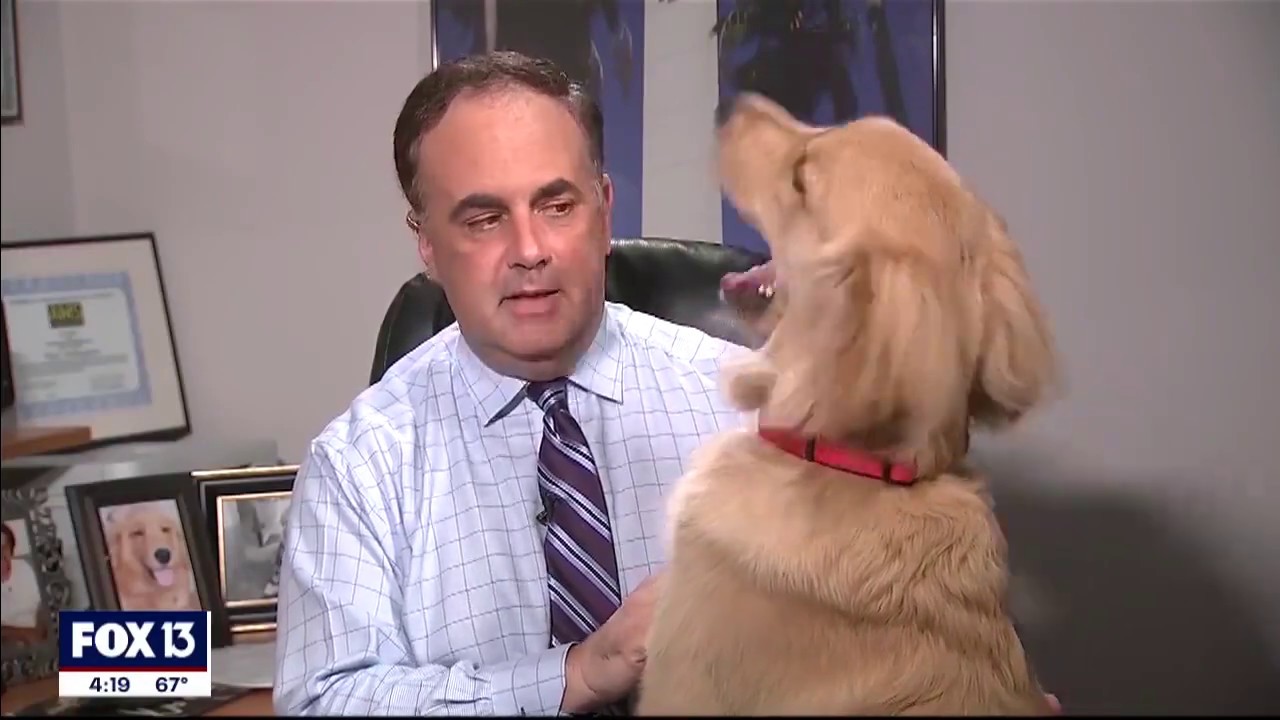 Working from home these days comes with a number of new challenges and risks that most never expected to deal with in their careers. But when the computer camera or conference video is placed in one's private accommodations, all sorts of issues can pop up that folks normally don't deal with in the office setting. Everything from what kind of photos, art or prints one has in the background to their furniture in a personal room to everything else the home is shared with becomes potentially exposed. And in the case of a particular weatherman trying to provide his meteorologist work online, man's best friend can be a notable interruption.
Paul Dellegato regularly works as meteorologist for Fox 13 based in Florida. However, like many others, Paul had to figure out in short notice how to relocate his work and his broadcast to his home to maintain social distance and health safety. While the access to his work networks and computer setups wasn't too hard, the readjustment to a home office and presentation place for his work took a bit of additional thinking. He had to pick a place in the house that would be free of distractions, walk-in surprises, problematic backgrounds, and not be invasive to his own home as well. What Paul didn't count on was that his own extended family might end up being the real disruption to Paul's broadcast.
In the clip provided, Paul is working as usual on his life TV broadcast and covering the weather for the day and the next few days' expectation. As he's going through the details and the changes in high and low pressures as well as the temperature predictions, someone doesn't want to let the weatherman continue. Paul's golden retriever, Brody, has decided to be a gate crasher and literally jump up in Paul's face and personal space. No matter how much Paul tries, his dog just keeps being persistent for his master's attention. Chances are the dog is probably hungry for dinner and is making a point about it. Doing so, however, Paul's dog is not only making a presence on the screen, the canine is goofing up the weather graphics on the nearby computer, making a ton of noise, and showing how useless it is for Paul to try to and stop the chaos. The audience loves it and Brody, and Paul's dog became the new digital mascot for Fox 13.
The weatherman's crisis resonates with all of us. We're all going through a big disruption, trying to reconstruct our professional work lives from home all over the country. So, to find a bit of humor in Paul's online dilemma with Brody provides a cathartic effect, helping us all find some humor and a bit of lightness in watching. Once you watch the show clip, you'll understand why Paul's situation went viral so fast.
Things didn't turn out bad for Paul. He earned big commendations for how patient he was able to stay under duress from Brody and the dog's insistent interruptions of his weather show. And it was clear Paul loves his furry buddy. So, the feeling now is the heck with the weather maps. How Brody behaves on camera will indicate if tomorrow will be a good weather day or otherwise.