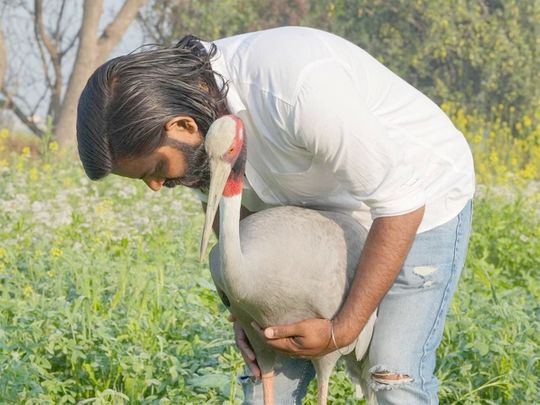 Crane Rarely Leaves Man's Side After Being Nursed Back To Health
In a heartwarming tale of companionship, a Sarus crane has chosen to stay with the man who nursed it back to health. Mohammad Arif, a resident of India's Uttar Pradesh state, found the injured bird in his field about a year ago. Despite the odds being against it, Mohammad took the crane under his wing and helped nurse it back to health.
The crane, which was found with a broken leg and was bleeding heavily, was treated with home remedies by Mohammad and his family. After six weeks of care, the crane was back on its feet and ready to be released back into the wild. However, instead of heading back to its natural habitat, the crane chose to stay with Mohammad and his family.
The Sarus crane, which is the world's tallest flying bird and is considered a symbol of marital devotion in India, has become an integral part of Mohammad's family. The bird rarely leaves his side and some days it will even fly away, but it always returns by sunset.
The crane has formed an unbreakable bond with Mohammad, and the two share a unique and heartwarming relationship. The bird will eat from the same plate as Mohammad and even flies alongside him when he rides on his motorcycle.
Mohammad is thrilled to have the crane as part of his family, and he feels incredibly lucky to have formed such a close bond with the bird. The Sarus crane and Mohammad's relationship is a beautiful example of the deep connections that can form between humans and animals. It's a reminder that with a little kindness and compassion, we can help make a positive difference in the world and create meaningful relationships that last a lifetime.
As the Sarus crane continues to stay by Mohammad's side, it serves as a reminder that love and companionship can come from the most unexpected places, and that sometimes the greatest friendships can form between the unlikeliest of pairs.
Lion At Zoo Boise Finally Getting A Friend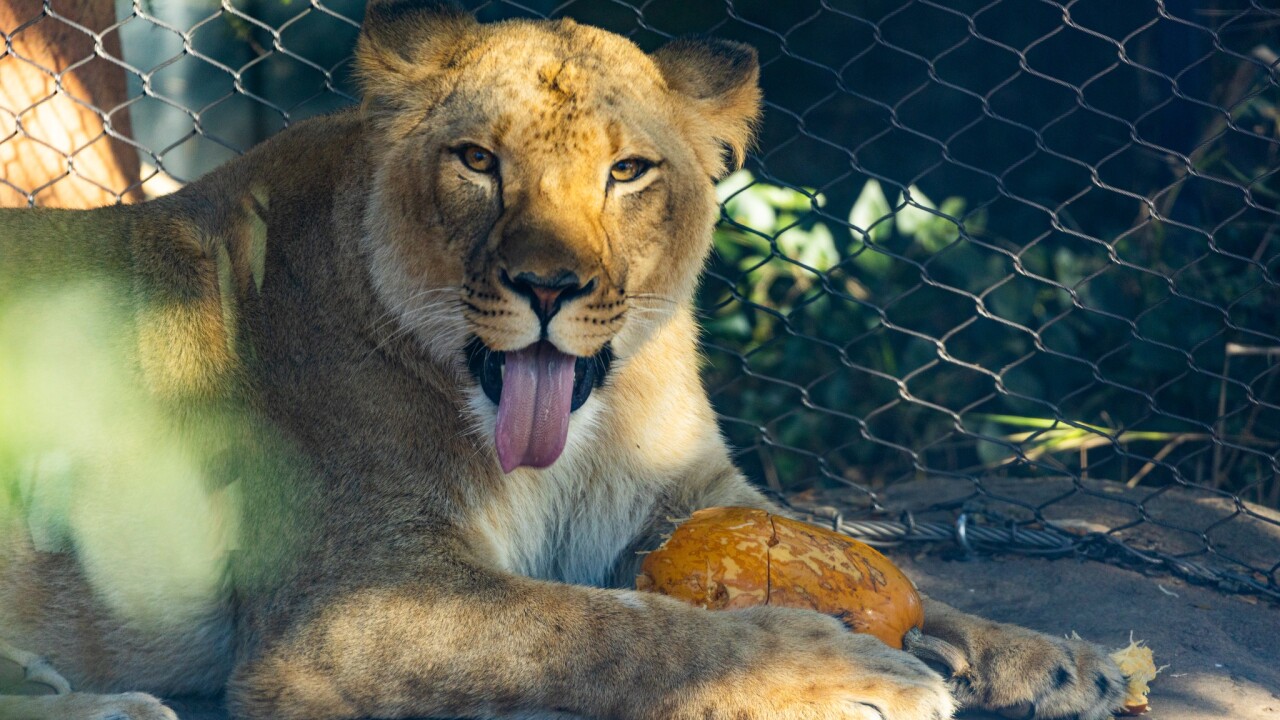 The Boise Zoo in Idaho is about to get a new addition to their animal family. A two-year-old lioness will be arriving from the Santa Barbara Zoo to join the male lion, Revan. The female African lion has not yet been named, but she was born in 2020 to parents Felicia and Ralph.
The decision to pair the two lions together was made with the intention of providing companionship for Revan, who has been living solo for the past year. While the two lions will not be bred, they will have the opportunity to socialize and form a bond with each other.
African lions are the only cats that live in groups called prides. These social structures consist of a few males, a dozen or so females, and their young. Lions are apex predators and are found throughout sub-Saharan Africa. They are known for their distinctive manes, with males sporting large, thick manes around their necks.
The Boise Zoo is located in Julia Davis Park and covers 11 acres of land. It is home to over 200 animals from around the world. In addition to lions, the zoo also houses primates, birds, reptiles, and many other animals. The zoo's mission is to provide a high-quality environment for its animals while also educating visitors about conservation and animal welfare.
Revan, the male lion, has been at the Boise Zoo since 2018. He was born in captivity at the Oakland Zoo in California and arrived in Boise at the age of 5. He is currently 10 years old and weighs over 400 pounds. He is known for his playful personality and enjoys interacting with his zookeepers.
The arrival of the new lioness is a significant event for the zoo, as it provides an opportunity for the animals to form a bond and engage in natural behaviors. Visitors to the zoo will also have the opportunity to see the two lions together and learn more about these magnificent animals.