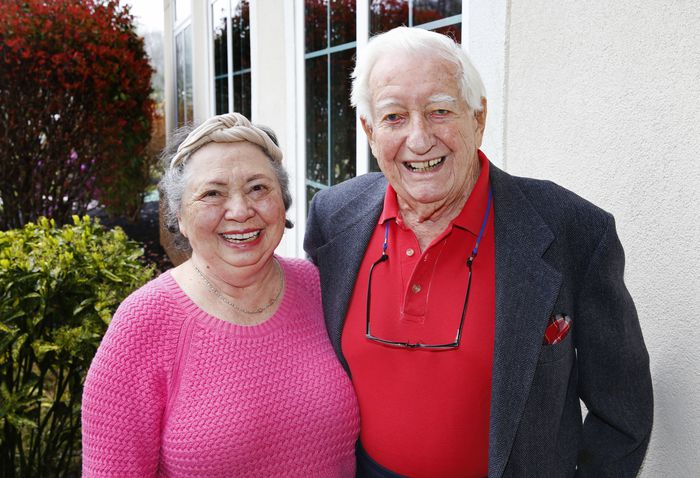 Couple Finds Love in Their 90's
Many assume by the time they have reached their 50s or 60s the window for falling in love again has passed, and the rest of life is likely to be spent with friends and family but a close relationship is probably unlikely. Then, there is Bill Biega and Iris Ivers. These two folks, both in their 90s, decided with the world falling apart due to a pandemic that 2020 was a great year to fall in love.
Pushed Together by Circumstances
Bill and Iris weren't strangers meeting by chance; they had been regular friends for a long time prior to 2020 arriving. However, when the pandemic arrived in March of the same year, the two of them found their situation basically locked up and restricted in their retirement community. Everyone was in a separate apartment in their Freehold complex, but Bill and Iris figured out pretty quick personal separation probably wasn't going to work well for their friendship. No surprise, they started acting like a bunch of teenagers, sneaking back and forth to connect until a security guard caught Bill "red-handed" in one of his clandestine trips.
Confronting both Bill and Iris together, the guard drew the line in the sand that actually pushed the two seniors to making a choice. The whole community had a pretty good idea what was going on with the two of them, so they had to decide whether they would shack up for real or just stay apart for the rest of the year. It was a pretty quick discussion; Iris loaded everything into a suitcase and moved into Bill's home in less than 24 hours.
Moving in Closer
A year later the two of them are happily together, and Bill and Iris are fully protected from COVID with their vaccinations in place and completed. Their community has changed for the better with the social restrictions lessened, but that hasn't stopped Bill and Iris from staying close and keeping their arrangement in place. In fact, it has all brought the couple even closer. It's a cozy place; the apartment was generally a one-bedroom and just enough for two people. Of course, it also helps that the two can actually get out more and move around, socialize and travel now versus how things were during the social lockdown.
Life has not been bad for the two. Homemade couples' dinners, wine on a steady supply since Bill orders it by the case, lots of time to read and discuss news and history, and still enjoy life being healthy and happy has worked out just fine for Bill and Iris. They still stay connected with their family and relatives, as well as friends in the retirement community. Neither expected in their 90s that love would happen again, but it did. Leave it to a pandemic for Bill and Iris to find love in the time of Coronavirus.
'Trail Angel' Leaves Behind Good Deeds For Other Hikers to Find
A marked route stretching between the Eastern United States and into Maine, the Appalachian Trail offers hikers the chance to experience the longest hiking-only trail on the planet. As a one-of-a-kind destination, the Appalachian Trail brings in more than 2 million visitors every single year. Reaching heights of 6,643 feet and extending for more than 2,200 total miles, the Appalachian Trail is as challenging as it is inviting, a testament both to nature and those willing to overcome it.
Due to the intensity of the trail and its large coverage area, Trail Angels have begun to leave behind little gifts to help others follow in their path. Michele Staudenmaier had been hiking on the Appalachian Trail (A.T.) in March alongside her son, Zach. While walking the trail, Zach and Michele got to talking about gifts left behind for the hikers. Apparently, the hiking community has always appreciated donated gifts and drinks alongside trail markers, lovingly referring to these individuals as Trail Angels.
Understanding how important food and drink can be to a wilderness hike that ranges from easy to strenuous, Michel decided that she would become a Trail Angel herself alongside her husband, Dave.
Becoming a Trail Angel
When Michel and Zach had their discussion regarding trail angels, they were in the middle of a fun family trip. Michel's husband, Dave, had already booked several Airbnb's along their route through the A.T., with booked stops in Georgia, Tennessee, Vermont, Maine, West Virginia, and Pennsylvania. The trip was scheduled to take roughly six months, crossing through many significantly remote and rural places. Some of these rural areas end up featuring a small oasis of hikers, and finding these areas is known as stumbling upon Trail Magic.
Michel and her family ran into a group of Trail Angels during their work. Michele said, "I realized there was a massive community of volunteers that spend their time and money to support A.T. hikers." Michele went on to say, "I had no idea!"
While an average hike will knock out nearly 600 calories per hour, it can be hard to normalize this average. Many hikers will carry packs weighing upwards of 30 to 50lbs, adding a tremendous amount of stress to their physical efforts. To help keep these folks fed and energized, Michele would cook and pack foods like hot dogs, chips, sweet treats, Gatorade, and even sodas. One such Trail Magic event saw Michele arrive with several buckets of Kentucky Fried Chicken, leading to more than 30 hikers eating well and sharing their stories.
One event showed Michele the true stakes pertaining to Trail Angels as well as the importance of her own work. Michele had fueled a trail marker with food when a hiker arrived. After talking to the weakened hiker, he revealed that he had run out of food completely. Had he not found Michele and her food, there is no telling what could have happened.
According to Michele and many of the hiking enthusiasts that she has met, it is rare to have any food leftover after a long hike. For that reason, unexpected hot meals waiting in the middle of the A.T. will always be seen and enjoyed as a magical moment!