College Professor Finally Relents After Multiple Requests, Allows Student to Bring Dog to Class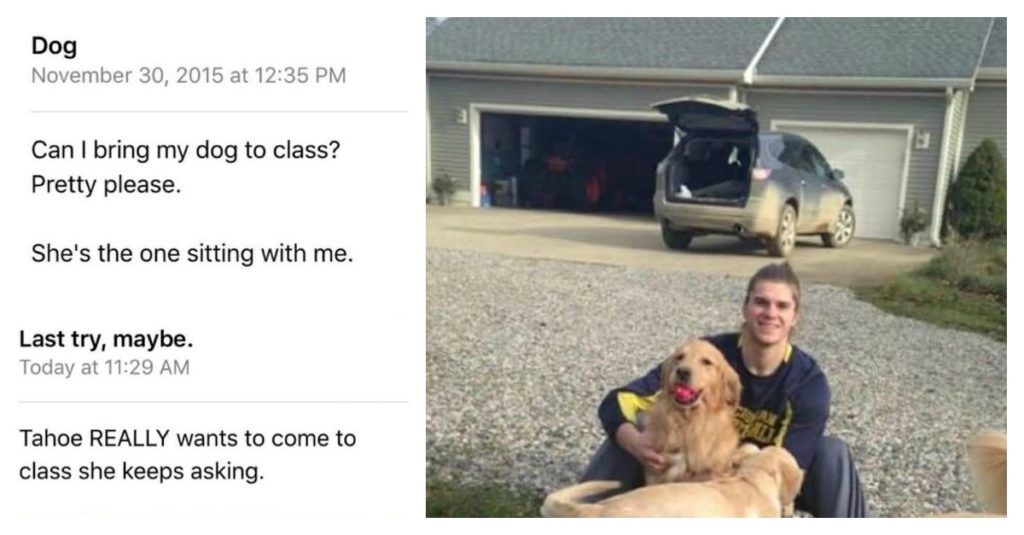 There is a saying that dogs are a man's best friend. There are numerous people who grow up with dogs and decide to treat them as members of their own family. When people head off to college, they often miss their dogs. Some people even bring them to college with them. This is the story of a golden retriever who simply wanted to go to class with its owner. For those who have a golden retriever, they know how awesome these dogs can be. They are fun, loving, and always eager to please their owners and those around them. Many people who own golden retrievers simply take them everywhere because these dogs make such great company.
One college student was attending a school in Michigan. He loves his golden retriever, whose name is Tahoe. Everyone knows that college is a little bit different and is an opportunity to do things differently. In the spirit of this difference, this student sent an email to his professor. He was taking a sociology class at the time and, no, this email did not have much to do with society. Instead, the email simply had a single subject line, saying "dog" in it. The email, politely, asked if he could bring his dog to class. Of course, not very many teachers would even acknowledge such a ridiculous request. There are multiple reasons why dogs aren't allowed in classrooms. They don't know how to sit still. They bark. They distract the students. They get in the way. Yes, these are all very good reasons not to have a dog in class. Yes, they need to be mentioned. But on the other hand, it's an opportunity to have a dog in class. So, why not ask?
Well, the professor didn't acknowledge the first email. Or the second. Or the third. The student began to attach pictures of his dog, Tahoe, to the emails. There were pictures of Tahoe loving its owner. There were pictures of Tahoe playing. There were pictures of Tahoe eating. There were pictures of Tahoe being happy. The student continued to send multiple emails to his professor. The dog continued to get more adorable. The student was begging the way a dog would.
The story even made its way to Twitter. The story went viral. The story had gotten the student more than 4,000 followers on the popular social media platform. People simply want ed to see more pictures of Tahoe. They wanted the story to have a happy ending. This student endorsed multiple other students' attempts to bring their own dogs to school. Fortunately, Tahoe is a very well-behaved dog. Eventually, the professor relented and allowed the student to bring his dog to class.
Tahoe was well-behaved in school as well. Tahoe even went up to the board to participate in class. This is a great way to elevate the mood of everyone taking the class. This story is a lesson for everyone. Dogs are man's best friend. Even though the idea of having a dog in class might sound ridiculous, it isn't. They help people see the big picture. Dogs aim to please their owners. They can be trained to do anything, including behave in class. Anyone who loves dogs needs to read about this story. There are countless people out there who want to spend more time with their furry friends. This is a great example of how to do so. Why not expand the places that dogs are allowed? Almost everyone loves having a dog around.
Handicapped Puppy Befriends Flightless Pigeon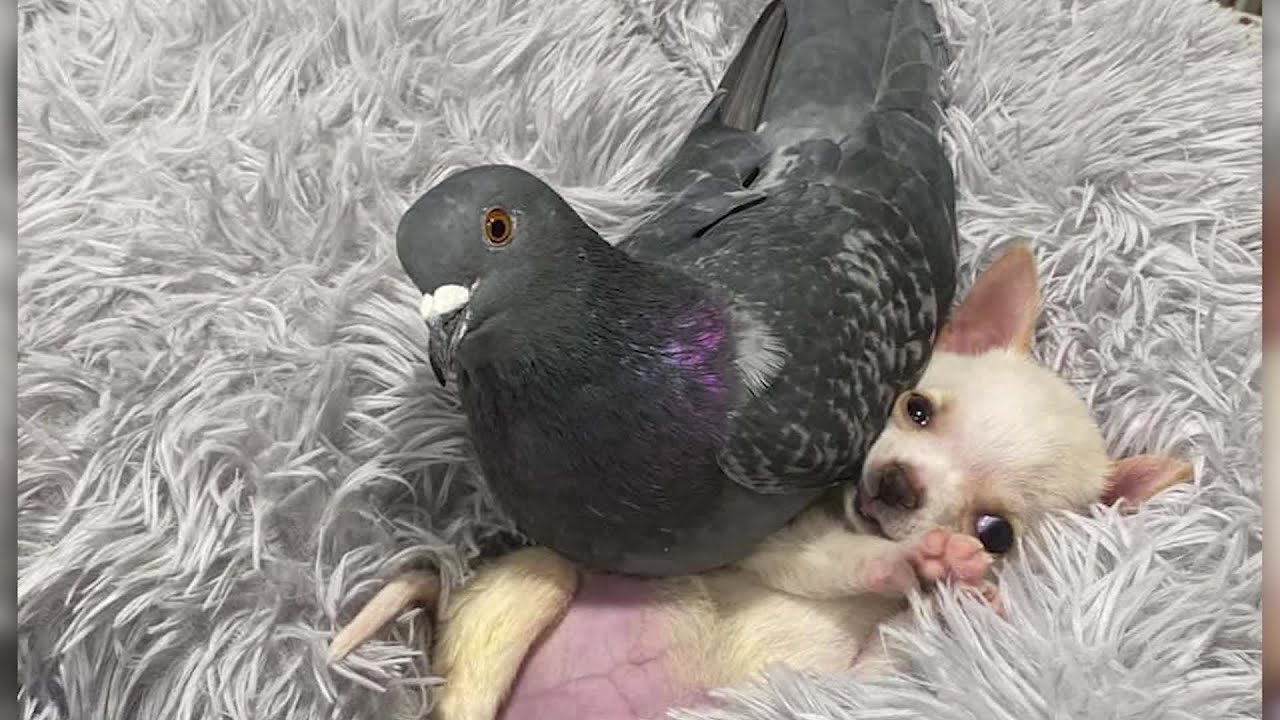 In Rochester, NY, Sue Rogers runs a non-profit called the Mia Foundation. The rescue organization rescues and rehabilitates animals who have birth defects or deformities and tries to find them a loving home. About a year ago, a pigeon was found unable to move in the parking lot of a car dealership. The pigeon was huddled and cowering on the ground. When a local wildlife rescue was called, they said the bird had neurological damage that caused him not to be able to fly. They thought that euthanization would be the best option for him.
Sue was having none of that. She stepped in and took the bird, who she named Herman, under her wing, so to speak. She made space for him in her shelter and kept him close where she could keep an eye on him. He liked to sit on a furry dog pillow and watch her work.
A couple months ago, a tiny Chihuahua was brought to the Mia Foundation. He was an infant, maybe a few months old, when his South Carolina breeders sent him to Sue. He's a teacup sized Chihuahua they named Little Lundy and he was born with spinal cord damage. Sue also determined that he was suffering from swimmers syndrome. Swimmers syndrome is a developmental deformity that causes the front and hind legs to be splayed out. This makes it almost impossible for Little Lundy to walk.
Although swimmers syndrome is thought to be untreatable, according to a few studies and an article in a veterinary journal, it can be treatable. With some physical therapy and at-home treatment, Little Lundy could live a long and happy life, which is exactly what Sue plans for him.
When Little Lundy arrived at the Mia Foundation he decided to get acquainted with his new surroundings and the other animals at the shelter. One particular encounter, created a friendship that has gone viral. Herman and Little Lundy, a puppy and a pigeon, are the unlikeliest of friends, but they have a lot in common. They both have trouble walking, or flying in Hermans case, and they were living in the same place. You could say, they were in the right place at the right time to become instant friends.
In the six weeks they have been together, Herman and Little Lundy have become inseparable. They do everything together, which is a lot of sleeping and snuggling. Mostly, with Herman sitting on top of Little Lundy, which doesn't bother him in the slightest. This friendship was so out of the ordinary that Sue had to document it. The viral sensation of the puppy and pigeon has brought attention to the Mia Foundation that was much needed. The rescue organization runs solely on donations to help cover the costs of taking care of the animals and for needed surgeries. So far, about $6000 was donated because of this unlikely friendship and over 100 adoption inquiries. Hopefully when they are adopted, they are able to stay together.