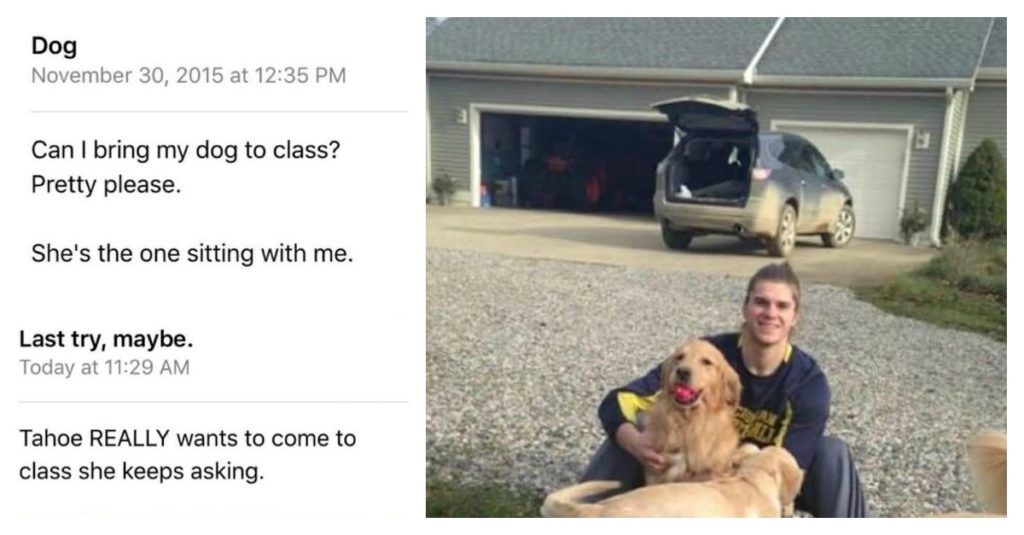 College Professor Finally Relents After Multiple Requests, Allows Student to Bring Dog to Class
There is a saying that dogs are a man's best friend. There are numerous people who grow up with dogs and decide to treat them as members of their own family. When people head off to college, they often miss their dogs. Some people even bring them to college with them. This is the story of a golden retriever who simply wanted to go to class with its owner. For those who have a golden retriever, they know how awesome these dogs can be. They are fun, loving, and always eager to please their owners and those around them. Many people who own golden retrievers simply take them everywhere because these dogs make such great company.
One college student was attending a school in Michigan. He loves his golden retriever, whose name is Tahoe. Everyone knows that college is a little bit different and is an opportunity to do things differently. In the spirit of this difference, this student sent an email to his professor. He was taking a sociology class at the time and, no, this email did not have much to do with society. Instead, the email simply had a single subject line, saying "dog" in it. The email, politely, asked if he could bring his dog to class. Of course, not very many teachers would even acknowledge such a ridiculous request. There are multiple reasons why dogs aren't allowed in classrooms. They don't know how to sit still. They bark. They distract the students. They get in the way. Yes, these are all very good reasons not to have a dog in class. Yes, they need to be mentioned. But on the other hand, it's an opportunity to have a dog in class. So, why not ask?
Well, the professor didn't acknowledge the first email. Or the second. Or the third. The student began to attach pictures of his dog, Tahoe, to the emails. There were pictures of Tahoe loving its owner. There were pictures of Tahoe playing. There were pictures of Tahoe eating. There were pictures of Tahoe being happy. The student continued to send multiple emails to his professor. The dog continued to get more adorable. The student was begging the way a dog would.
The story even made its way to Twitter. The story went viral. The story had gotten the student more than 4,000 followers on the popular social media platform. People simply want ed to see more pictures of Tahoe. They wanted the story to have a happy ending. This student endorsed multiple other students' attempts to bring their own dogs to school. Fortunately, Tahoe is a very well-behaved dog. Eventually, the professor relented and allowed the student to bring his dog to class.
Tahoe was well-behaved in school as well. Tahoe even went up to the board to participate in class. This is a great way to elevate the mood of everyone taking the class. This story is a lesson for everyone. Dogs are man's best friend. Even though the idea of having a dog in class might sound ridiculous, it isn't. They help people see the big picture. Dogs aim to please their owners. They can be trained to do anything, including behave in class. Anyone who loves dogs needs to read about this story. There are countless people out there who want to spend more time with their furry friends. This is a great example of how to do so. Why not expand the places that dogs are allowed? Almost everyone loves having a dog around.
Secret Twin Shocks Grandparents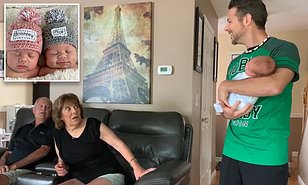 After losing their baby in utero, Tom and Brianne were devasted. Following the loss, Tom hoped that he would be the father to twins.
In utero is a Latin language term meaning in the womb or uterus. In legal terminology, in utero refers to an unborn child. Approximately 24,000 fetuses per year die in the womb or are stillborn in the United States.
In 2019, Tom blew his birthday candle out with the wish that he and Brianne would become pregnant again with twins. Someone was clearly watching that day since the couple recently welcomed new twins to the world.
After birth, the babies were premature and had multiple health complications that doctors were required to monitor. That means they had to stay in the NICU for several weeks before coming home. Finally, the couple was able to bring home their miracle babies once the health issues subsided.
The couple notified their parents that Brianne was pregnant but the twins they were having were kept a secret.
Since the birth occurred during the pandemic, Tom and Brianne could not have visitors in the hospital at any point. This made it much easier to keep the secret.
When Tom showed his parents, his mother's first words were, "that's a real baby" as she was clearly in shock. The grandmother knew about the birth of her granddaughter, Brinkley Hope, but when Tom walked out with a second baby, Ace Leo, she was in utter shock.
With Brianne filming the entire conversation, the couple stated that the parents were the first to know about the twins.
The couple brought the twins to grandma and grandpa's house on grandma's birthday. As Tom walked down the hall with baby Ace he said, "I'm sorry, I did not have time to wrap your present" and revealed the third addition to their family.
The grandmother thought he was holding a Baby Alive doll since it looked so real and the situation was so unexpected.
Tom had always said that if the couple was lucky enough to have twins that he wanted to keep one of them a secret and then have a revealing moment.
Since 1980, the birth rate for twins in the United States has seen a rapid increase. As of 2018, the twin's birthing rate was 32.6 per 1,000 births. Medical professionals believe the reason for this increase is associated with the higher usage of Vitro fertilization and other forms of reproductive technologies that have become commonplace in recent years.
Twin birth rates across the United States vary based on location. The two states with the highest twin birthing rates are the District of Columbia and Connecticut. Another factor to be considered is ethnicity with the jump in twin births increasing across all ethnicities. The highest number of twins occurs in non-Hispanic black mothers with the least number among Hispanic mothers.
Age is another critical factor for twin birthing rates. In 2018, mothers between 45 and 54 had the highest rate of twin births in the United States.
Assisted Reproductive Technology (ART) is a medical remedy that treats infertility in men and women. One common outcome with this technology is having multiple births. In the United States, the most common occurrence when using ART was the birth of a single infant then multiple infant births.
Within all ART cycles, including treatments that did not lead to pregnancy, with non-donor eggs, multiple-fetus pregnancy is present in as much as six percent of all cases. As reproductive technology continues to expand and grow, the birthing rate of twins is expected to increase with it so the percentage will increase in future years.