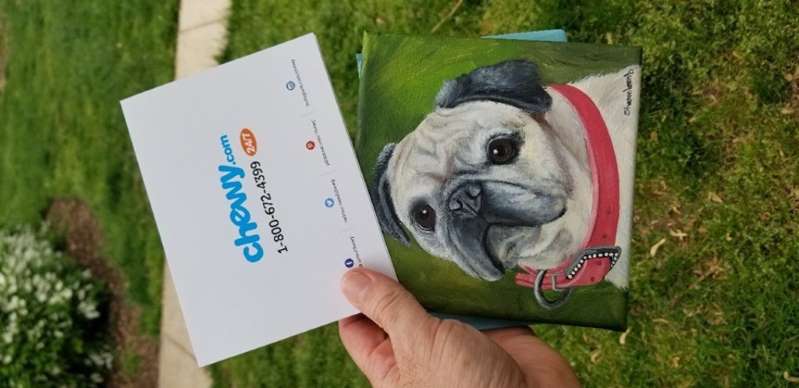 'Chewy' Online Pet Store Offers Incredible Gesture to Grieving Pet Owner.
When you adopt a pet, you are bringing them into your family for life. When you lose a pet, it feels like you just lost a member of your family. While the grief that we feel over losing our beloved pets is not easy to forget, there are kindhearted souls out there that are doing their part to make it easier. Joseph Inabnet had to put down his 14-year-old pug, named Bailey, due to continual health problems that were not getting better. With a bag of prescription pet food that he could no longer use, Inabnet decided to contact the online pet retailer 'Chewy', in order to see if he could get a refund. What happened next would leave Inabnet crying bittersweet tears of happiness. Let's see if you can keep your tears from flowing!
According to Inabnet, Bailey had been struggling with health issues since her fifth birthday. In reality, Inabnet had assumed that he would have to let her go before she turned eight. However, Inabnet worked hard with Bailey's veterinarian, and they were able to extend her life for almost a full decade, thus allowing Inabnet and Bailey to share many moments of joy together. One of Bailey's favorite tricks was to sit on her backside in order to beg for treats. Inabnet loved to take pictures of Bailey when she performed this trick, and he sent one photo to Chewy along with his email, detailing the tragic loss of his best furry friend. Chewy told Inabnet to donate the pet food to a shelter and that they would send him a refund. Inabnet thought that this was the end of the story, but it was not.
Weeks later, Inabnet received a curious package in the mail from Chewy. Not sure what the object was, Inabnet slowly opened the package. As he unwrapped the package, weeks after saying goodbye to Bailey, his heart began to thud. What could be in here? What did Chewy send him? When he finally opened the package, he found a hand-painted portrait of Bailey doing her favorite trick. Inside of the package was a handwritten note from the owners of Chewy, sending love to Inabnet and a promise to support him if he ever needed anything. The painting captured Bailey in all of her silly joy and Inabnet was overcome with emotion. How could he not be? Inabnet was quick to share the lovely portrait on social media whereupon it was quicker to go viral. After being shared hundreds of thousands of times, Inabnet's story was soon all over the internet.
While Inabnet will never truly get over the loss of Bailey, he was afforded one of the kindest parting gifts that a pet owner could ever ask for. Inabnet praised the portrait a thousand times over before tearfully talking about his beloved pup. Bailey loved to always do her 'sit up' trick, and she had even been attempting to do it when he had to put her down due to her terminal illness. With one portrait and a lovely letter, Chewy was able to change Inabnet's last memories of his faithful, furry friend. Bailey was Inabnet's first pet, and he was quick to talk about how much she had changed his life. Inabnet went on to point out that he had never been closer to any animal and that he didn't know if he ever would be again. It's clear to see that Bailey left an impression on Inabnet, and we are happy to read that Chewy helped him to get through the grieving process.
Mayor Max III: The Golden Retriever Who Leads with Love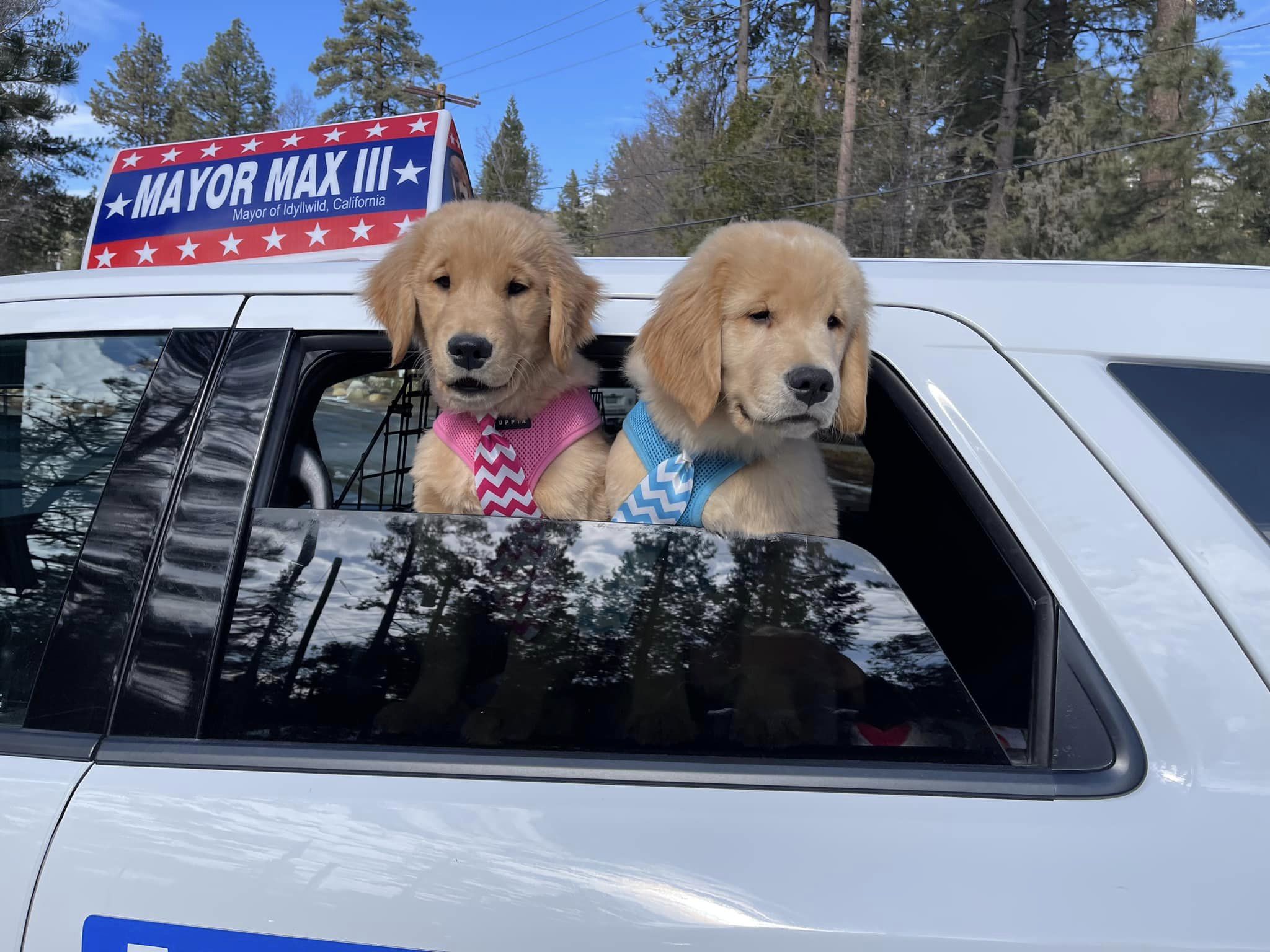 In the picturesque unincorporated mountain town of Idyllwild, nestled in the heart of Southern California, an extraordinary political figure has been making waves for the past year. But this isn't your typical politician; this is Mayor Max III, a lovable and charismatic golden retriever who has celebrated a year in office as the town's mayor. In a town known for its unique and quirky traditions, Max III has carved out a special place in the hearts of the residents.
The legacy of golden retriever mayors in Idyllwild began in 2012 when Mayor Max I took office, followed by Mayor Max II. These remarkable dogs were more than just pets; they were symbols of unity and positivity in a world sometimes marked by division and strife. Max III proudly continues this legacy, and some say he possesses a unique talent passed down from his predecessors—a charming "mouth-closing trick."
Phyllis Mueller, Max III's owner, attests to the magic of this trick. "I just held the treat above his mouth, and he knew exactly what to do, without any instruction," she says with a proud smile. This special skill has become a signature move during his public appearances in the center of town, where Max III has embraced his role with enthusiasm.
Mayor Max III's duties extend beyond his charming tricks. He is a dog on a mission to bring joy and comfort to the people of Idyllwild. His calendar is filled with visits to schools, nursing homes, and hospitals, where he spreads cheer and offers a welcome distraction from life's challenges. "It's a fun way to do politics because we don't do anything divisive, ever," Mueller explains.
Max's journey to becoming the mayor of Idyllwild is a heartwarming tale. Phyllis Mueller, a successful owner of a full-service marketing agency, always maintained a commitment to living on a smaller budget with the intention of giving back to the community. When she adopted Max, she realized that golden retrievers were the perfect ambassadors for her mission to achieve world peace through love and compassion.
Several golden retrievers later, Mueller, along with her husband Warren and their elderly dog Max, made a life-changing move from Pasadena to Idyllwild in the summer of 2011. Fate seemed to be on their side when the town's animal rescue center announced that it would be holding its first-ever election for a non-human mayor. This was the opportunity they had been waiting for.
In their cozy mountain home, Mayor Max III enjoys the perks of his position. Mueller proudly showcases one of two tie closets for the mayor, where Max's collection boasts an impressive 3,000 ties. However, being a mischievous pup at heart, Max couldn't resist indulging in a few of his ties, devouring three of them during his first month in office.
But beyond the ties and the charming tricks, Mayor Max III serves as a reminder to the people of Idyllwild that there is still goodness in the world. "Every day, people do good things," says Mueller, "and these dogs here, they are living angels, and they love you with all their heart."
As Mayor Max III continues his reign, the town of Idyllwild remains a shining example of how love, unity, and the unbreakable bond between humans and their four-legged companions can make the world a better place—one adorable golden retriever at a time.