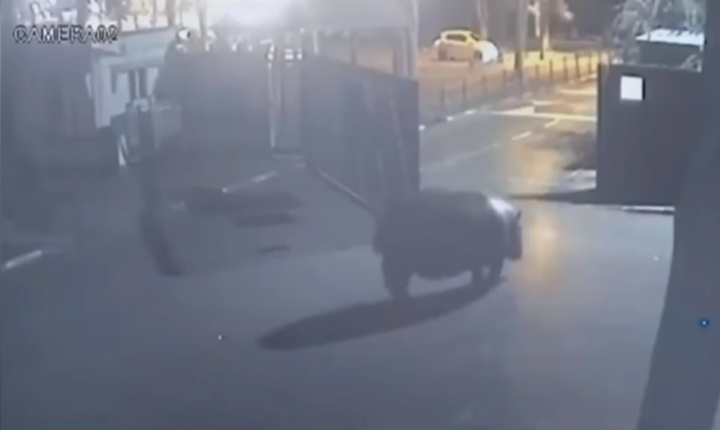 Caught On Camera: Hippo Escapes From The Zoo
When confined to one place with no hope of ever leaving, it is normal to be curious about what the rest of the world has to offer. The slightest chance of getting away from the situation is often met with enthusiasm. But what happens when you find out that the outside world does not feel as good as you expected or that you would not like living anywhere else? Curiosity got the better of a three-year-old hippo at an Israeli Zoo. The hippo escaped from the zoo in search of a little adventure and perhaps, greener pastures.
Some people feel that zoos are a great way to keep animals safe while giving members of the public a chance to appreciate wildlife. Others feel that they take away the freedom of animals to be in their natural habits which is oppressive and selfish. Whichever the case, this little hippo wanted some time away from the zoo at that time, or so he thought. Wanting to get out into the open world may not be shocking. It is what she did later that left many with more questions than answers.
The Gate Is Open
Most zoos try to put in place measures that ensure their animals are safe at all times. The Israeli zoo that is home to the hippo is no different. On one night, however, they made a mistake that many zoos make at one point or another. They left the gates open after the zoo was closed to members of the public. The hippo took advantage of this rare opportunity and escaped. She did not rush out of the gate as one would expect. Instead, she strolled out through the main gate in no hurry taking in sights on the way, and eating some grass as she walked much to the surprise of the night guard. It is not clear what changed her mind, but the hippo appeared to rethink her decision as she approached the city. All this was captured in the zoo's security cameras.
Going Back Home?
Once the nightshift guard realized that the hippo had escaped, he went after it. The fact that he was one man against a hippo meant that he couldn't do much. He could only attempt to ask it to go back to the zoo. Shockingly, the hippo did as it was instructed. It went back to the zoo and its cage. The questions remain, why did it go back? Was she simply unsure of what to expect from the outside world? Did she obey the instructions from the guard? Or did she prefer to go back to the home that was more familiar? Maybe the outside world wasn't as good as the curious hippo had imagined. According to the guard, she did not appear to be afraid. However, she seemed confused. She was happy when she got back to her home.
She Is One of Many Such Cases
The Raat Gan Safari has been conducting investigations to determine why the hippo tried to escape from the zoo. They suspect that the unfamiliar environment may be the main reason. This hippo is not the first caged animal to try escaping from her cage. There have been plenty of similar cases. A recent case is when a Eurasian lynx tried to escape from Borth Wild Animal Kingdom in Wales. The park warned members of the public to be careful as they tried to find it and take it back to the park. A few years ago, three female rhinos escaped from the Safari zoo when the security guard that was in charge fell asleep.
Herriot the Heron and the Underpants Sling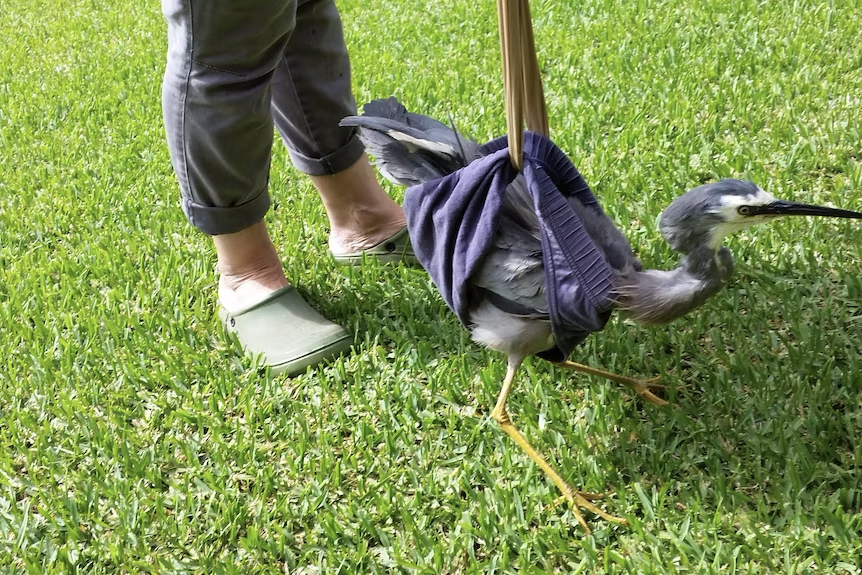 In the world of wildlife rescue, there are heroes who go above and beyond to help our feathered friends when they are in need. One such hero is Karen Ledger, a dedicated wildlife rescuer with a heart of gold. With over a decade of experience, Karen has helped countless birds in distress. However, it was her ingenious creation of an "underpants sling" that recently captured hearts and headlines, as she helped a heron named Herriot regain his ability to walk.
Herriot's story began with a troubling challenge. This majestic heron found himself unable to use his legs for reasons unknown. It was a dire situation, and things didn't look promising at the start. As Karen Ledger recounted, "It didn't look good at the start. He couldn't use his legs for unknown reasons. He might have been hit by a car."
Determined to help this long-legged bird find his footing again, Karen put her inventive mind to work. She faced the daunting task of making a heron walk when it seemed impossible. Her solution? An unconventional yet effective "underpants sling" made with a pair of stockings and her husband's underwear.
"I put the heron in the sling and physically made him use his legs three or four times a day until he could walk by himself," Karen explained. It was no easy feat, requiring intense effort and dedication. But for Karen, every minute was worth it when she saw Herriot finally regain his ability to walk independently.
Herriot's journey to recovery didn't end there. After his progress in the makeshift sling, he continued to improve by walking in an enclosed outdoor area for weeks. Finally, the day came when Herriot was strong enough to be released back into the wild, near a tranquil dam.
Karen's extraordinary efforts aren't limited to Herriot alone. She has a track record of helping a variety of birds in need. One heartwarming tale involves a barn owl who had lost his mate in a tragic road accident. Karen noticed that the owl was not physically injured but was deeply depressed, spending a week with his eyes closed and his head down.
Karen knew she had to find a way to lift the owl's spirits. "You have to think outside the square, just look at what you've got and adapt," she said. Drawing on her resourcefulness, she placed a stuffed toy penguin, roughly the same size as the owl, next to him in his cage. This simple act of comfort worked wonders. "After a couple of days, he started brightening up and opening his eyes. He came back to the point that he was well enough to be released," Karen said.
Karen Ledger's wildlife rescue efforts extend beyond her heroic acts with Herriot and the barn owl. She has dedicated herself to helping a wide array of birds, from barn owls and tawny frogmouths to lorikeets, rosellas, kookaburras, and more.