Caught On Camera – Funny & Wild Trail Cam Photos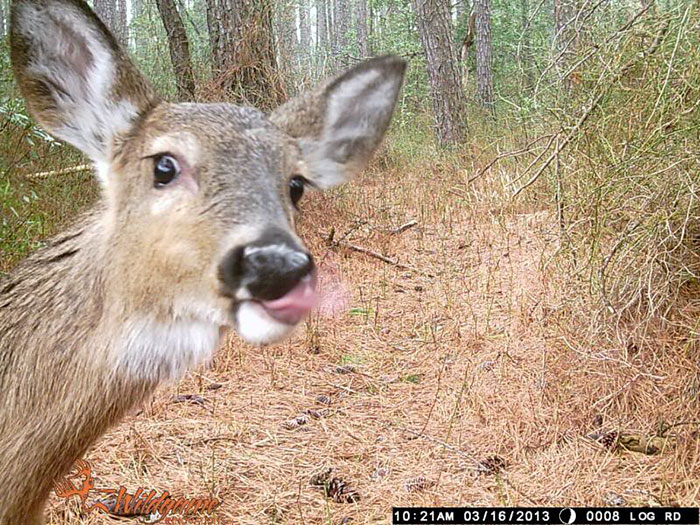 Wild trail camera photos are great. They catch wild animals in their real habitat doing their real behavior unaffected by the intrusion of humans or anything else. And, animals being animals, some of them do the most oddball things caught on camera when they think nobody is looking. After all, animals work on a totally different ruleset and world than us. How we interpret that perspective, however, tends to give a giggle once in a while.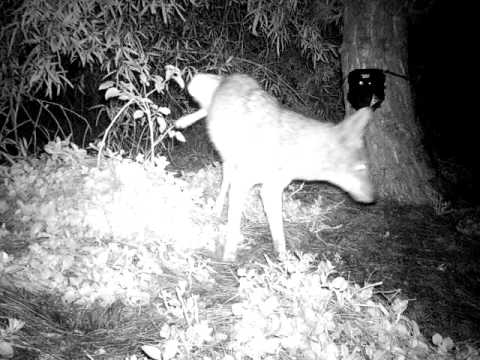 I Really Gotta Go
Animals don't understand the need for privacy when following biological processes, so anywhere is as good as anywhere. However, in the case of one coyote, he decided the camera was a good place too, especially given the face he gives the lens when busy.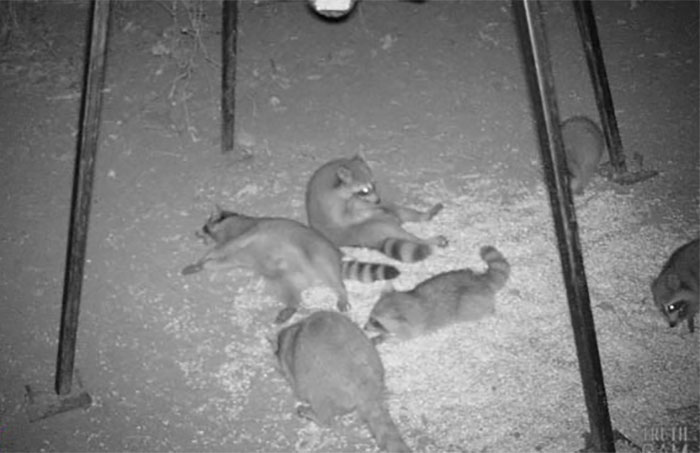 All You Can Eat Buffet
These raccoons didn't care who was watching – they were going to indulge and fall into a food coma. Is this heaven they asked themselves and their fellow raccoons – it must be heave.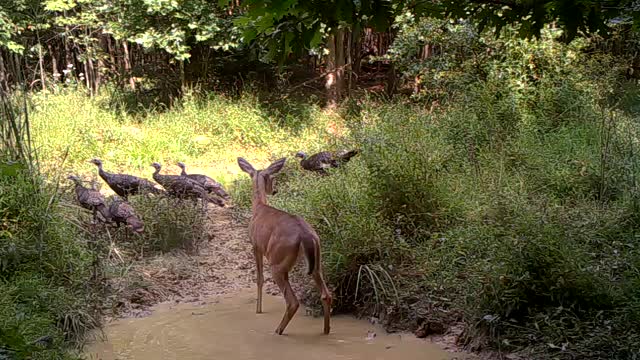 Too Close for Comfort
Despite what humans think, animals interact with each other a lot. The Wild can be pretty crowded in terms of who is in the neighborhood. That was the case in this photo with a turkey getting bothered by a young deer. Personal space does matter.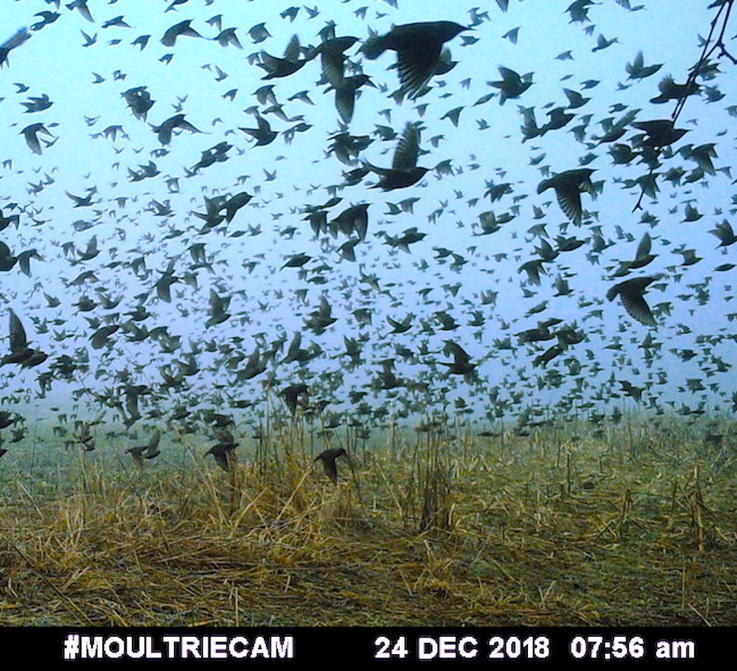 Wow That's a Lot of Birds
Almost like a scene out of an Alfred Hitchcock movie, this cam shot was practically obliterated by birds, everywhere! Anyone standing in that mess is sure to get knocked sideways by an errant bird or two during takeoff.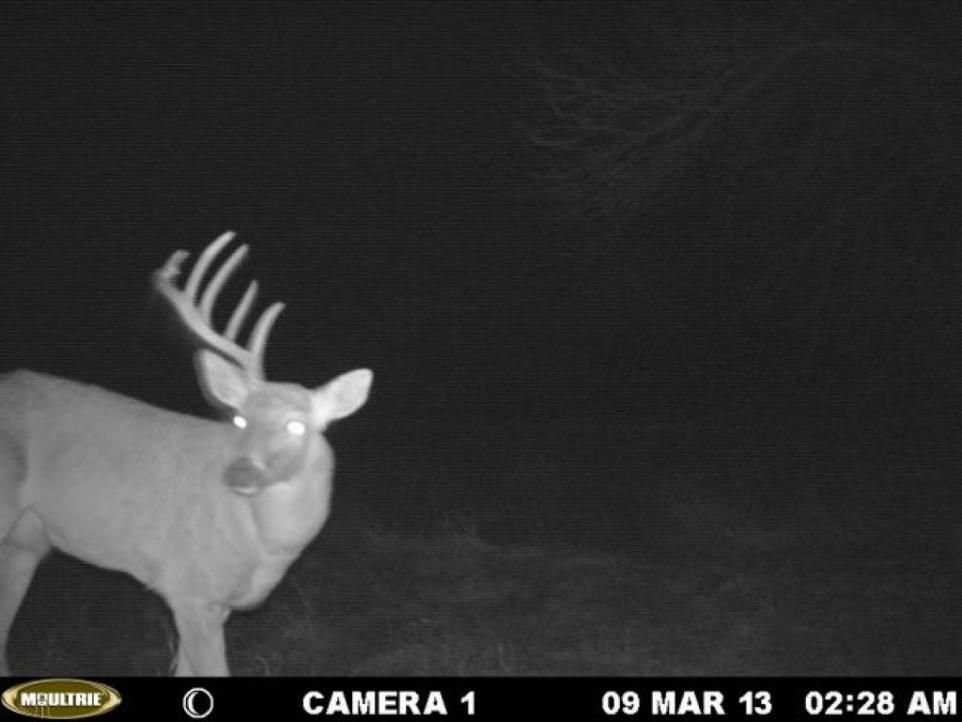 One-Horn Bambi
Nature is not neat and nice like Disneyland. Instead, mistakes happen on a regular basis. In the case of this Bambi character, he's going to go through young life missing an antler for some reason. It happens more often then people think. The deer falls, it was in a scrap, the antler broke on something or similar. The locals just call him one-horn for short.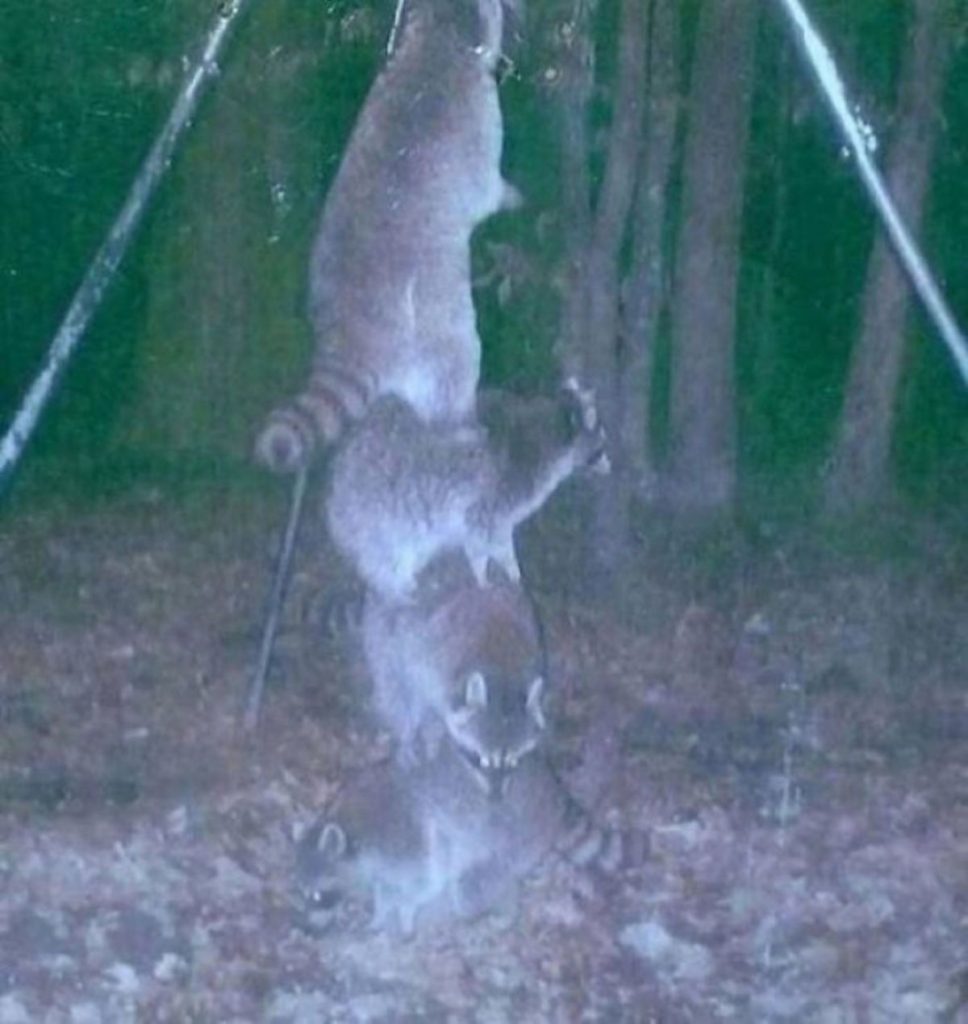 There Is No "I" In "Team"
These trash pandas are smarter then you think and they will do just about anything for food. I wonder if they had to draw straws to see who had to be on the bottom of the stack?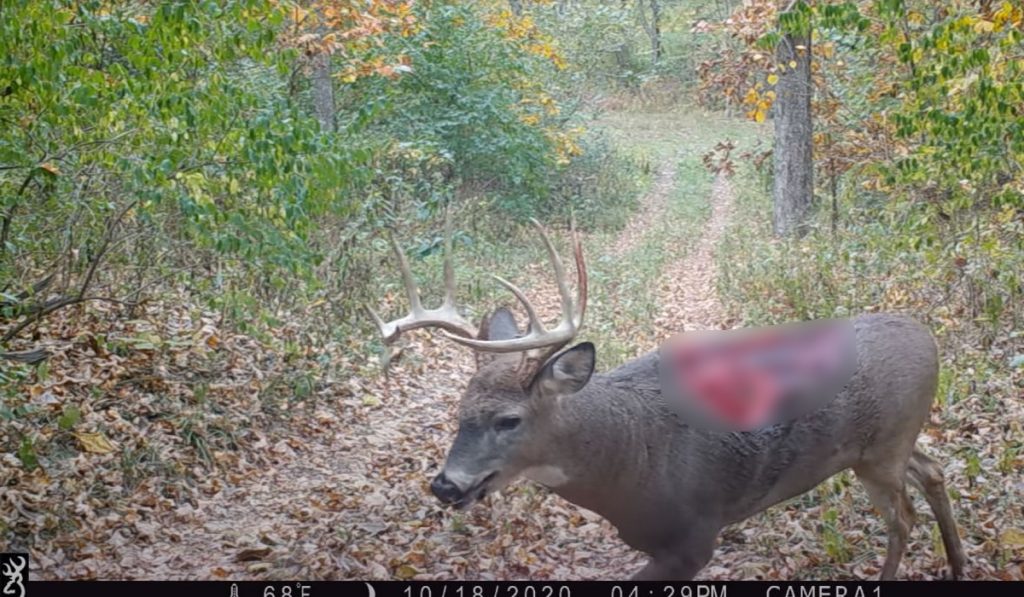 That's Going to Hurt
There are no band-aids in the wild. When you get scratched, it's usually down to the muscle, and it's going to heal hard if not get infected. That was the case for this deer, either hit by something like a car or ripped by a predator. Apparently, it's still up and walking, but that rip is going to hurt a lot for weeks.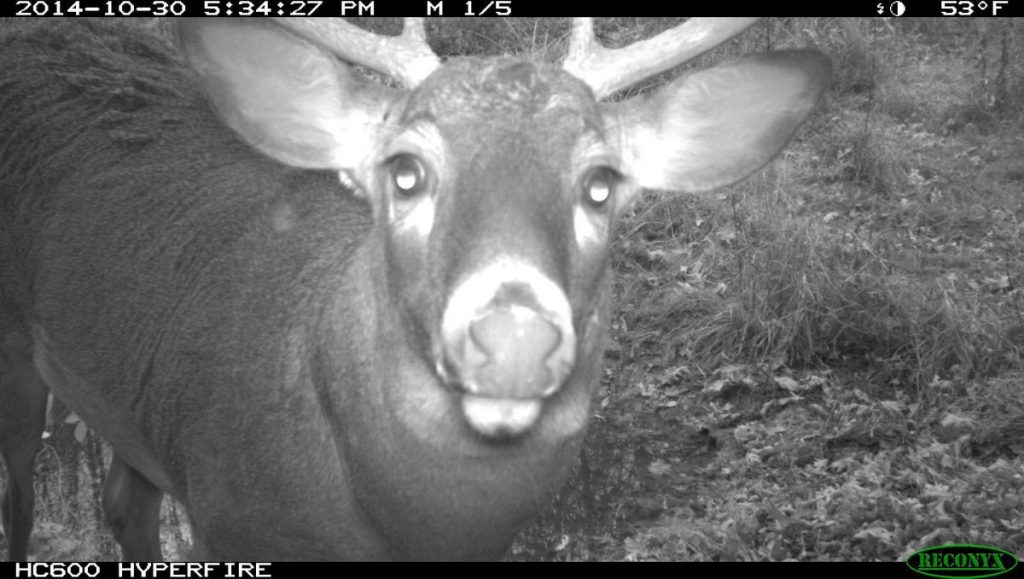 The Nose Knows
Animals rely far more on their sense of smell and hearing than sight. In fact, humans are one creature on earth that can't use smell effectively for figuring out what's going on in the environment. It's amazing we've survived as a result in our early history. This deer, on the other hand, has to put a nose right up to the camera for good measure.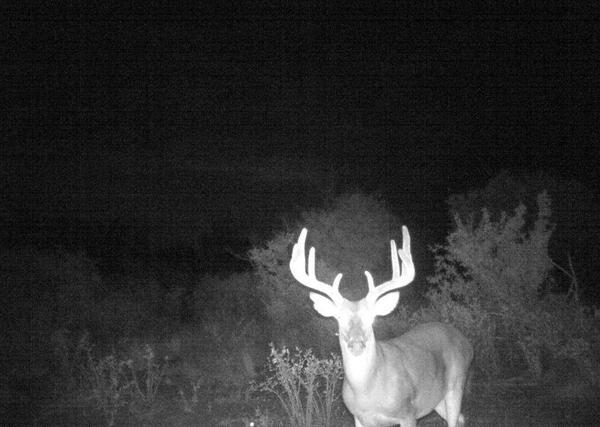 Deer in the Headlights
The classic nighttime photo of a deer, frozen still and the eyes lit up by the flash. In the case of this stag, he's been around long enough not to fly in the air at the first sound, but all senses are on full alert in this photo.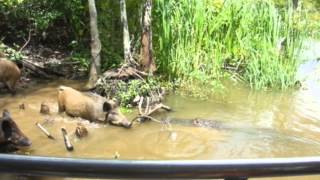 Poor Piggy
The wild isn't nice to its animals. It's eat or be eaten. And, in the swamp areas, gators tend to do most of the eating. For this poor wild hog, his last day in the water was in the photo as the gator involved has a clean grip on the piggy and its lights out in a matter of seconds.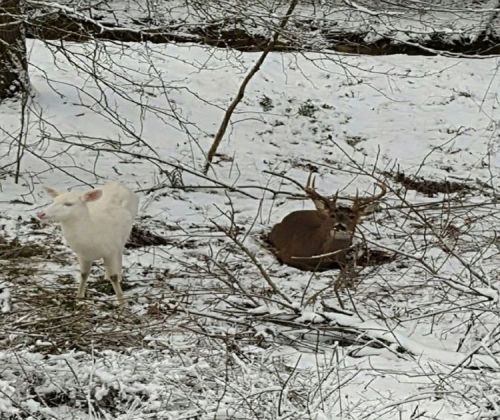 Camo In The Winter
Can you spot the second deer in this photo? On the left and blending in with the snow is a beautiful albino deer. She definitely has a male admirer. This deer is rare and so cool to see.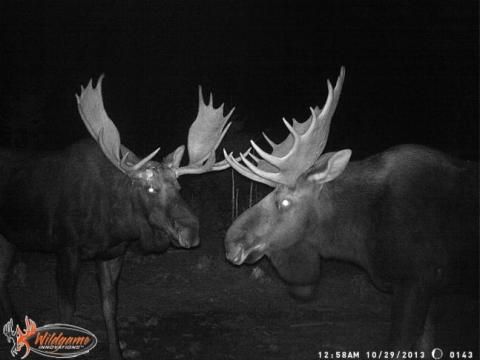 My Horns are Bigger
Even moose get in on the act. These two were attracted by a salt lick left by the camera operator, but the image makes them look like they are in the act of comparing antler sizes.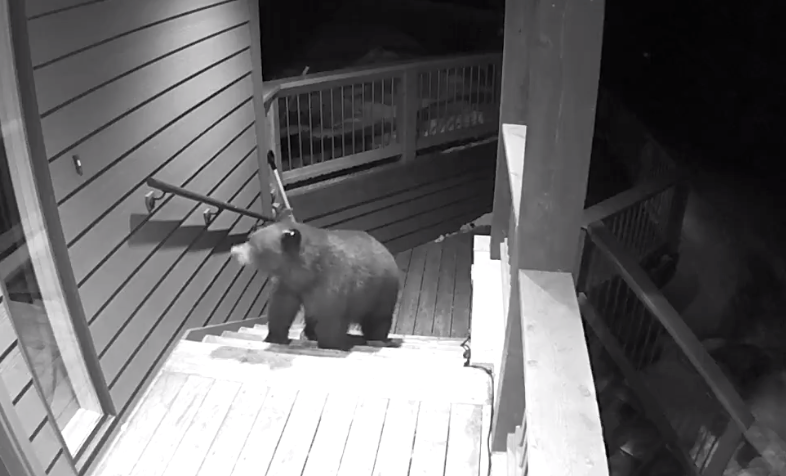 Hello? Trick or Treat!
You don't expect the wild to walk right up to your front door, but when you live in the country, that's exactly what it does. This bear decided the front porch was good place to check out, so he ambled up the steps to get a closer look for anything interesting.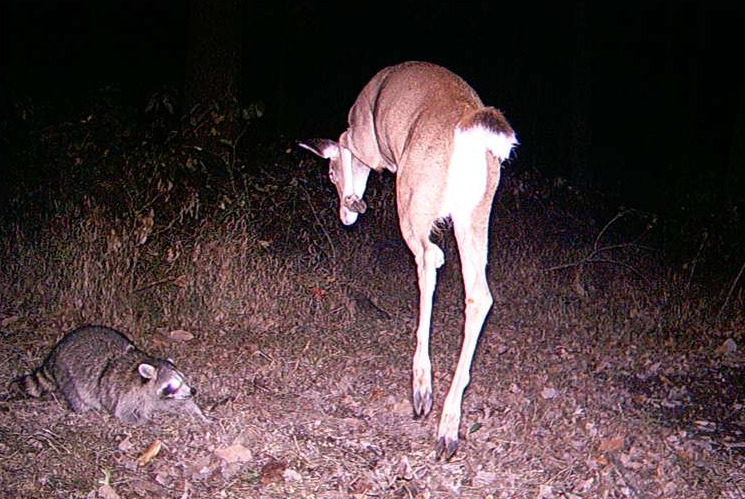 This is the Wrong Party
In the category of accidental contact, lots of things go bump in the night when moving in a hurry. This raccoon seems to have run out of the bush and made a wrong turn, ending up face to face with a deer. They're not as friendly to each other as they are in Disney movies.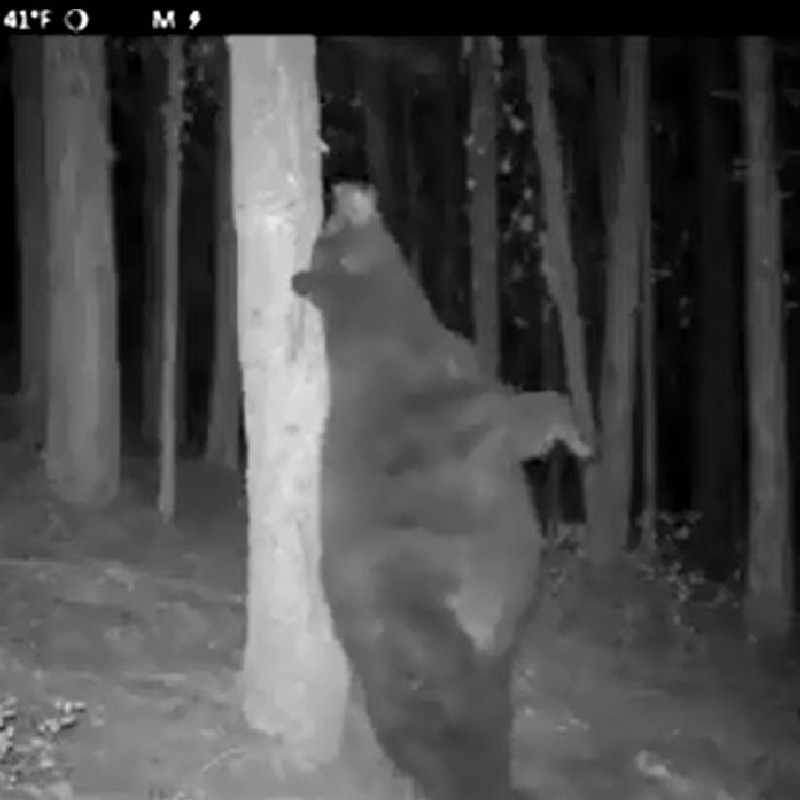 Ahhh That's The Spot
Back scratches are the best! This bear tends to agree and he found the perfect tree to lean against and get his scratch on. The bark is rough enough to really get at that itchy skin.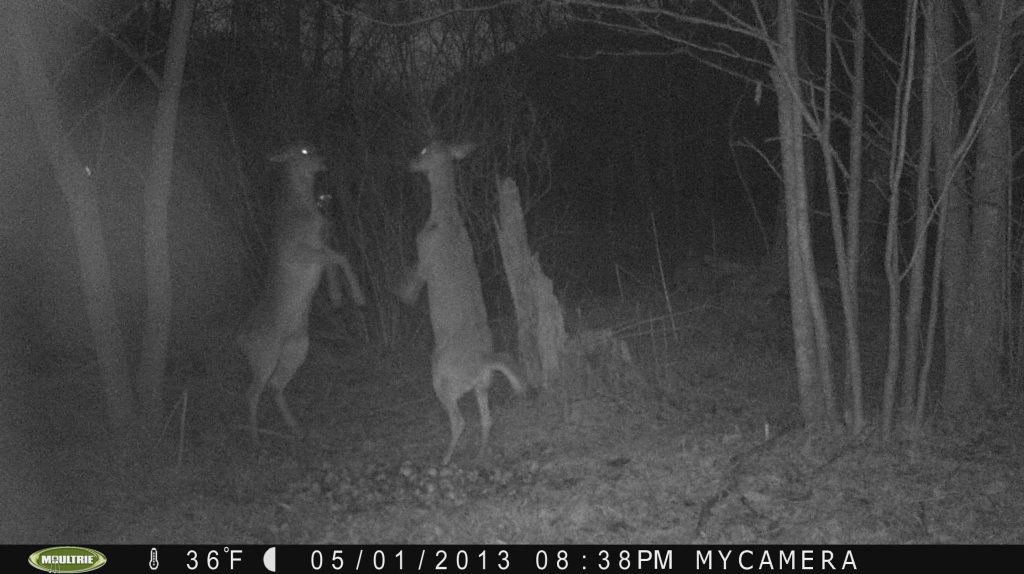 Conga Line
Who says animals don't dance when humans aren't around? These two deer prove that even animals can do a conga line when give the chance. I'd had to think where the front hooves go though.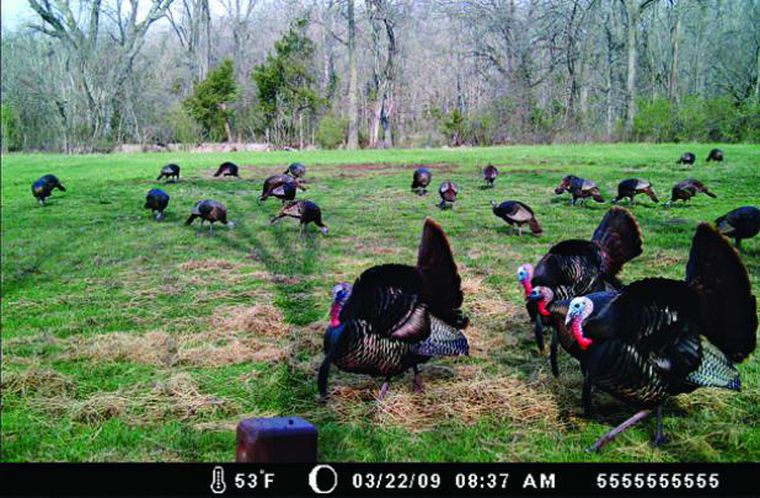 Turkey Fan Club
These birds just had to show off their feathers like they don't care. The irony of this cam shot is that there is a hunter's blind in the background with a clear view across the meadow. This would have been one of the easiest shots to take for a Thanksgiving feast.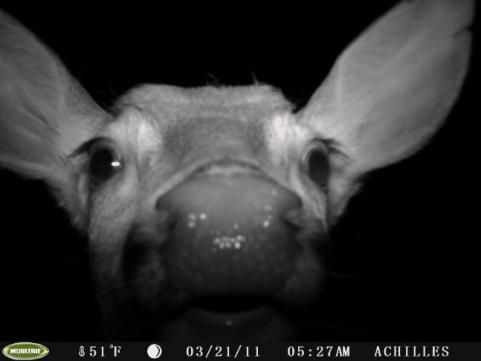 More With the Nose
This deer decided it wanted an up close portrait. The eyes make the picture as the nose just gets shoved right into the lens.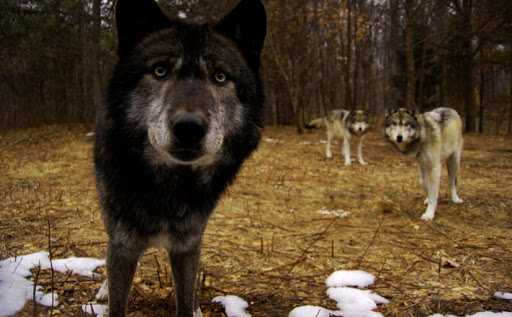 Party Time in the Left Forest
This particular wolf pack was out and about on a full moon night, which is caught in the same cam image. The whole seen looks like a foursome of young wolves dorking around instead of actually on a serious hunt. The flash trigger even caused one to hit the deck with his front paws.
Geese Showing Off By Flying Upside Down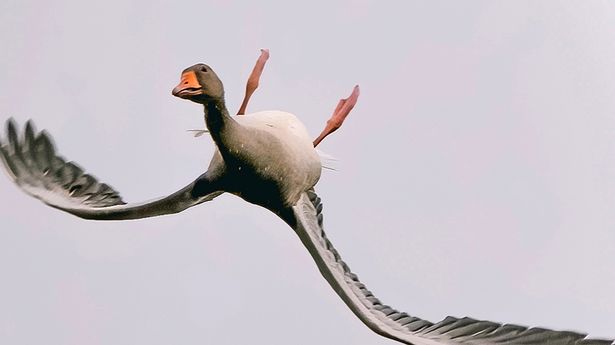 Amateur photographers love to get great shots, especially given that sometimes they seem random, and the trick to reaching professional status is to produce great shots consistently versus every once in a while. So, for photographers in Holland watching geese fly near Arnhem, the opportunity to catch a goose flying upside down was a bit out of the norm and eye-catching. As it turned out, the goose was showing off.
Geese in the region have regularly been seen flying upside down, which might seem somewhat odd to the bystander seeing the behavior for the first time. Locally referred to as "whiffling," upside-down geese flying occurs on a regular basis when the bird manages to twist its belly up in the air and keep flying while the head is also twisted right side up. No one is quite sure why geese do this, but some guesses are it helps distract would-be predator birds from attacking when something looks odd, or it slows the goose's flight to the ground. Geese are not the only birds to perform whiffling either; lapwings and godwits have been seen doing the same in flight.
Vincent Cornelissen was the lucky photographer who was able to snap a wonderfully clear shot of a goose near Arnhem, and it was his image that ended up triggering the latest online debate and interest in geese whiffling. Cornelissen had posted the image to his Facebook page to show off the photograph, and it ended up expanding his audience to some 10,000 different followers as a result. One particular fellow in Turkey turned out to be an aerodynamics professor at Istanbul University and used Cornelissen's image as an example for students studying flight capabilities.
The upside-down goose was not Cornelissen's first bird shot either. The photographer has been watching and catching images of birds since childhood, and his library of photographs over the years has grown expansive. However, the odd goose flight could arguably be Cornelissen's most famous photograph by far. It was pure accident that he even got the shot, simply noticing that one of the birds was flying weirdly at the time. The odd flight approach wasn't fully noticed until Cornelissen was working on post-processing of his images when he realized what the bird was doing.
At first, Cornelissen thought his audience would accuse the amateur of photoshopping the image, the practice of making a fake image with Adobe Photoshop, a highly powerful post-processing image editing program. However, Cornelissen was soon buffered by those in other countries who confirmed the behavior as being real and accurate.
As it turns out, when young geese become accomplished in flight, they do dumb stuff, most notably, flying upside down to apparently "show off." It works great until the goose runs into trouble and then has to adjust for a potential flight mishap and crash on the ground. The whiffling has been confirmed by other photographers after Cornelissen's image was produced, but his image remains the greatest clarity so far of the goose's flight behavior.