Cat Rushes To Comfort Teen Every Time She Collapses in an Adorable Video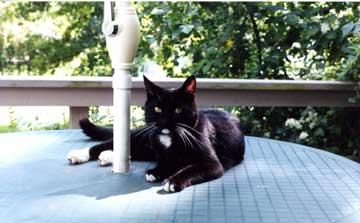 Some people think that our pets know more about what we need than anyone in our families or friend groups. Pets always seem to be able to sense when someone is hiding something, especially their owners. Those who have a pet know what this means. Furthermore, pets also seem to know how to make us feel better when we are sad, angry, or otherwise frustrated. it seems that animals are always able to sense human emotion. This is a belief that many people discover when they live with pets. Pets might not live as long as us; however, for the ten or twenty years, we are all they know. Therefore, it makes sense that they would get to know us. They know our voices, our emotions, and how to comfort us when we are feeling down or depressed.
This was on full display for a young teenage girl who discovered that her pet is indeed compassionate and smart. This teenager learned that she could fake being upset or sad just to get some attention from her cat. While this game is usually played in the opposite direction, it is quite hilarious to watch this teenage girl collapse just to have her cat give her some love!
Whenever her cat thinks she's upset, she runs over to her to comfort her. While the life of a teenager is difficult and the moods can be real, it is also funny to think that this teenager can fake being upset to get her cat to run over to her. For those who get upset when their cats sometimes ignore their pleas to enter the room and provide a cuddle buddy, it is great to see that this cat genuinely cares about her teenage owner.
The teenager was even able to catch her loving cat's reactions on video. She acts like she's upset and then collapses on the couch. She lets out a few cries and the cat comes running over. It is obvious that the teenage girl is appreciative of the bond and friendship the two share. Furthermore, a video like this is always entertaining. Eventually, the teenager drops the act and lets her cat know how much she is loved. The ability of this teenager to capture everything that is happening for the world to see is truly something special.
This video is only the latest example of how pets are always there for humans. When life can be challenging, it is comforting to know that pets are always going to be there with their unconditional love and friendship. Remember, pets do not live very long. We are all that our pets know during the course of their lives. This means that we need to return their unconditional love with care and compassion of our own.
Sure, sometimes, pets might not always do what we ask them. They might poop or pee in the house. They might ignore us when we need a cuddle buddy. They might even steal our food from time to time. On the other hand, also remember that pets are totally dependent on us to survive. We feed them, provide them water, provide them shelter, and take them to the vet when they are sick. It is important for us not to take advantage of their care and compassion. Just as this cat is always there for her owner, we need to be there for our pets as well. Make sure that you show your pet the same care and compassion that it shows you.
Giant Seal is Beached and Then has a Baby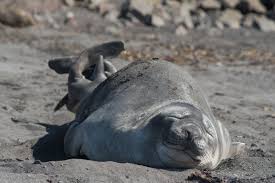 The exact moment when a mother sees her newborn baby for the first time is one of the most amazing sights in the world. The utter disbelief and joy on her face in combination with wonderment is one of the finest moments in any woman's life. It is the same feeling that animals have when they give birth and the look on their faces when they first see their babies is as equally magical.
Recently a tourist spotted a large female seal on the beach. She appeared to be in great pain because of the manner in which she was writhing around. The tourist shot a video of the seal. A few minutes later, the elephant seal appeared to have a spot beneath her tail. After some hard pushing, her calf was born. She quickly turned around and inspected her new baby to make certain that it was okay.
Elephant Seal Interesting Facts
Giant seals or elephant seals are the largest seals in the world. There are two types: the Northern elephant seal and the Southern elephant seal. The northern species are found in the coastal waters near Canada and Mexico and the southern species are found off the coast of South Africa, Argentina and New Zealand.
The adult bull or male seal has a proboscis that appears much like the trunk of an elephant, making it easy to distinguish males from females at a glance. The males roar through this appendage during the mating season to attract females. They also use it to fight with other males in order to win battles and claim females as their own.
The average adult southern male can weigh up to 6,600 pounds and reach a length of 16 feet in total. The female adults weigh about 2,000 pounds and measure around 10 feet long. Elephant seals may be light brown, dark brown, gray or rust colored.
Southern elephant seals can live to reach 22 years old and the northern species life span is only about 9 years.
Elephant Seal Reproduction
Elephant seals return to the coast for their breeding grounds in the winter. Female giant seals reach maturity between 3 and 6 years old and males mature slower between 5 and 6 years. Males battle each other to gain the alpha status that allows them to mate with the females. A male will mate with 30 to 100 females. A bit over 50 percent of first time breeding seals fail to produce a pup. A female elephant seal has one pup per year and the gestation period is 11 months. So, when females arrive at the breeding grounds in the winter, they are already pregnant. Females don't eat while nursing their pups for the first month of its life.
Don't Get Too Close to Wildlife
If you ever spot an animal of any kind that appears to be hurt, it's best not to get too close to them. In 2000, Homer, an elephant male seal terrorized Gisborne, a town in New Zealand. He attacked trash bins, cars, boat trailers, a tree and a power transformer in a rage. It isn't known what made him so mad, but it's best to keep your distance from all wildlife—thus the term of wild and life.