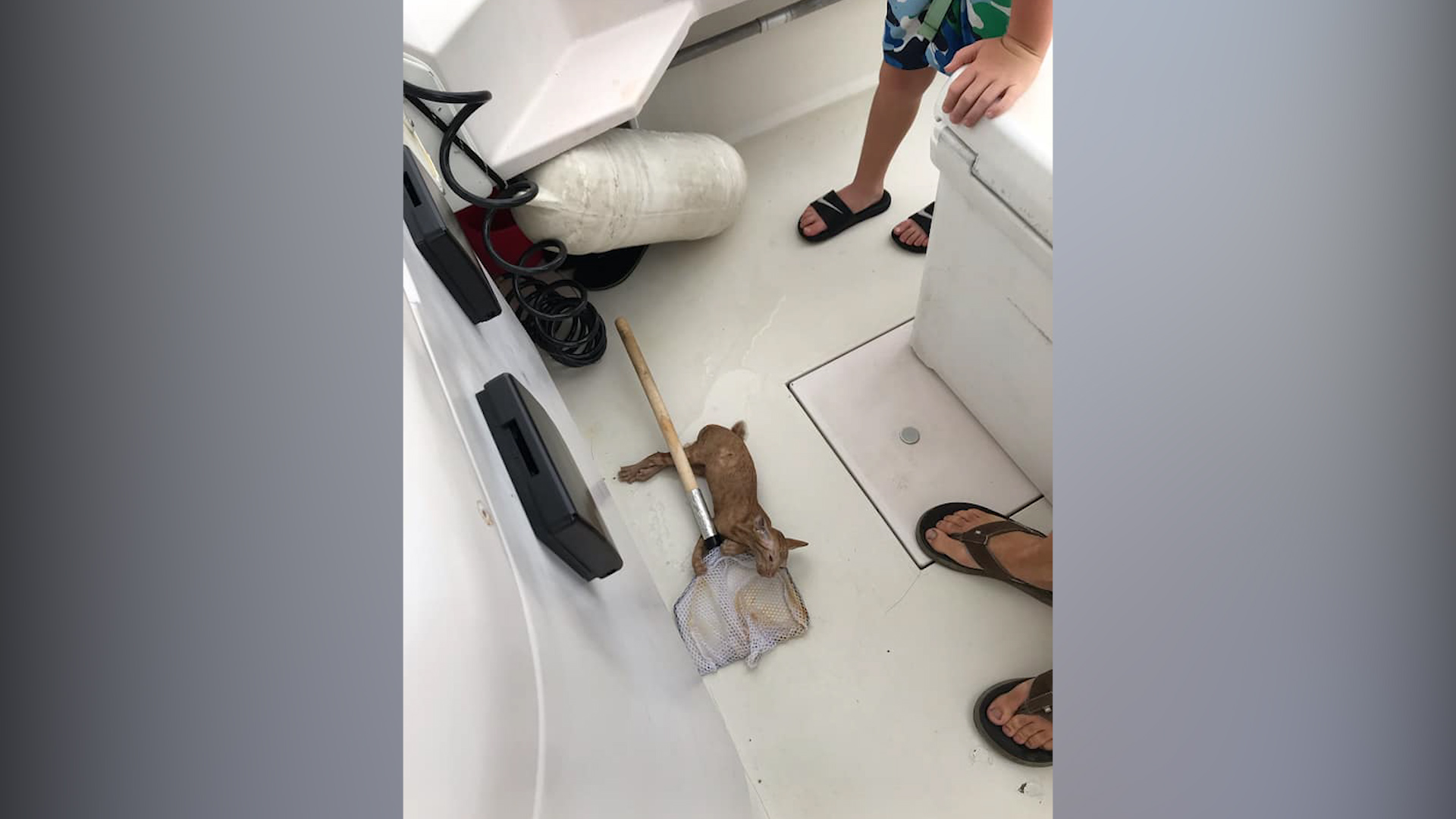 Cat Found Stranded in the Ocean is SAVED By Local Fishing Crew
There is nothing quite like taking an afternoon off to go deep-sea fishing. Fishing in the ocean can be an exciting, adventurous, and thrilling occasion. The smell of the ocean spray and the endless view of the water surrounding you can be a real treat. The silence that overwhelms you as you leave land behind can be the perfect dose of relaxation that you need. For a small crew belonging to Still Flyin Charters, relaxation would take a backseat to a mystery as they stumbled across a cat swimming in the open ocean.
When you take a boat out into the open ocean, the last thing that you expect to see is a domesticated house cat paddling next to your boat. Still, that didn't mean that the crew from Still Flyin Charters wasn't ready for what happened next. As the chartered boat took clients out onto the ocean to go fishing, they spotted what appeared to be a little cat paddling in the water. They watched in horror and confusion as the cat struggled to keep its head above water. Knowing how much cats loathe water added into the risk of harm from seafaring predators, the crew of Still Flyin Charters knew that they had to leap into action.
The crew leaped into action as they scoured their decks for a net that could reach the cat. The crew had to carefully angle their boat to get close to the cat without potentially harming the tiny, furry little creature. Thankfully, the crew was able to net the cat before pulling the poor creature onto the deck of their boat. The Still Flyin Charters crew called the kitten, "Our catch of the day."
After bringing the beleaguered cat aboard the fishing boat, they quickly wrapped the creature in a towel to dry it off. After providing the kitty with some food and water, the crew began to relax a little. It looked like the cat was going to be okay, but how in the heck did it get into the middle of the ocean? While we hope that there aren't any evil former cat-owners abandoning cats on the water, we think it more likely that the kitten was pulled to sea by the tide. One of the crewmembers explained, "We caught him just outside the pass in the gulf."
The story about this cat and fishing crew would quickly go viral after a story was released by the local news. Still Flyin Charters would release a statement on Facebook revealing that the kitten had already found a new home. One of the crew members aboard the boat had managed to place the kitten into a home directly after returning to shore. When asked about their thoughts on the entire story one crew member simply stated, "Don't see that every day."
The next time that you go out fishing, make sure to keep your eyes peeled. You never know what kind of creature you will see in the water!
Kind couple reunite homeless man with his family after 20 years apart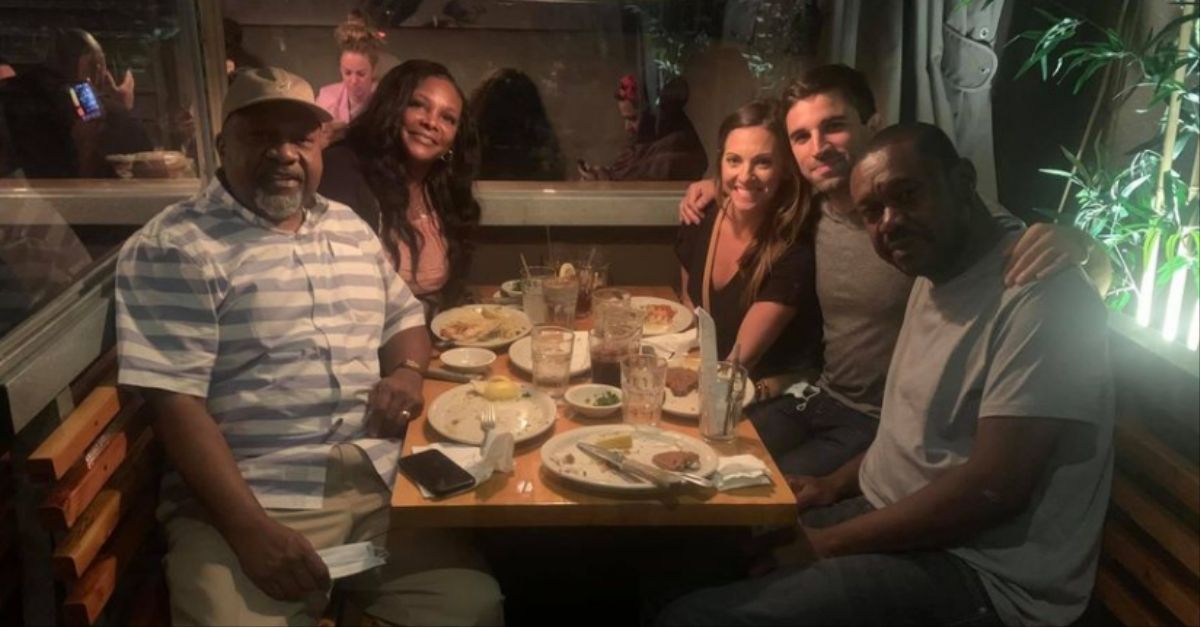 "Everyone just stares at me. I'm an educated man, but all they see is a person who doesn't have a home and doesn't have anyone to call."
These were the sad, heartbreaking words Randi Emmans heard as she stepped outside her apartment in Los Angeles to take her dog on a walk. 54-year-old Petro Reid was the man Emmans had just heard talking to himself, and he was in a bad place mentally.
She called up her boyfriend, John Suazo to jointly hold a conversation with Reid. He was quite surprised at first, because according to him, no one had ever taken interest in him, and he poured out his mind to them.
For a homeless man, the person they had just held a conversation with was very fluent in expressing himself.
"He was so impressive," said Suazo.
"The whole conversation really touched us."
From the conversation, they found out that Reid had left his family home in Charleston, S.C., and moved to L.A. in 1999 to live with an aunt. Barely a year later, he found himself going off the rails and homeless due to drug and alcohol addiction.
He became a popular figure in jail, from where he'd occasionally call home and send letters to his grandmother's house in Charleston.
"It was always for petty crimes, usually shoplifting to support my habits, food and things of that nature," he said. "That cycle continued for years, and whenever I got released, I was right back on the streets."
For more than two decades, Reid wandered the streets of L.A. in search of his family or some beacon of hope, and for those two decades he didn't find anything- until Emmans heard him.
He had lost all hope of living a decent life. He always thought of his family, but the chances of setting eyes on them once again were pretty dim, so he gave up.
He found Emmans and her boyfriend non-judgmental. They genuinely cared about his situation and that was why he opened up to them.
"John and Randi saw me as more than what everyone else saw me as — just a homeless person living on the streets," he said. "They believed in me, despite the situation they found me in."
After giving him food, water, and other basic human needs, the couple felt they hadn't done enough to truly take him out of misery and ridicule. Emmans made a post on Facebook, a public plea asking for donations to help cover the costs of a night or two at a hotel, so Reid could get rest up, recuperate, and have decent hot meals.
Her post received a lot of engagements, and in only 3 days, they were able to raise about $6,500 for Reid. The funds were used to lodge him in a hotel, get him a new mobile phone, and buy him some new clothes.
Although grateful for all Emmans and Suazo had done, Reid still wanted to find his family. He asked the couple for help and they decided to help him.
Reid took on the name Franklin Mitchell after an encounter with the police in L.A. He didn't have his identity card, so the name stood- that was why his family members could never reach him.
In the search for his family, Reid gave Emmans and Suazo some names he could remember, as well as his grandmother's address, without knowing if she was still living there or alive at all.
"Randi and I started plugging away on the Internet, and we were able to find his grandmother's name associated with the address," Suazo said. "We called wrong numbers until, finally, we got someone who was his uncle's ex-wife."
This was when all the dominoes started falling in place.
Reid's uncle, Pierre Grant was informed by his ex-wife of a certain contact about his nephew and he immediately called the couple to set up a meeting.
Grant said "For over 20 years, we had been praying and believing that one day we would find him, and the day finally came. This is a miracle."
He took a flight paid for by Emmans and Suazo to L.A. to link up with his nephew. The amazing couple were also able to pay for a covid-19 test for Reid, Grant, and themselves- all which came back negative.
The long awaited family reunion came on Friday, August 7. Mia Green, Reid's cousin was also present for the reunion. It was a touching and soulful moment for Reid as he tightly embraced his cousin and uncle after 20 years of wandering the streets of L.A.
Now that Reid has finally reunited with his family, he plans to get his life together and back on track.
"I believe I can help a lot of people that are still in the position that I was in," said Reid.
He plans to start the next chapter of his education and find himself a stable, paying job.