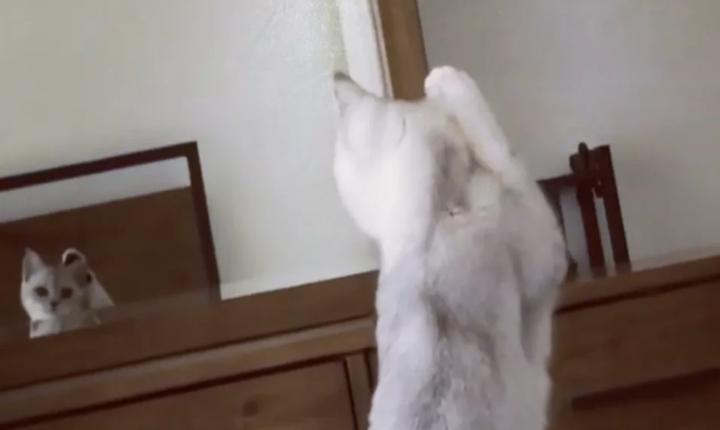 Cat Discovering It Has Ears Is The Cutest Thing on the Internet
Cats continue to be cute and endearing pets even as they grow into adulthood. Their almond-shaped eyes, soft little bodies, and beautiful fur colors are adorable. Cats look almost like toddlers when they are sleeping. You can easily train them to use a litter box and they know how to keep themselves clean. Cats are playful, curious, and beautiful. It is no wonder that many people like to keep them as pets. Mimo, a cat in Brooklyn NY, gave internet users something to talk about. Unlike other cats which are content to play around and sleep, Mimo went on a journey of self-discovery.
Beautiful Cat
Mimo is a cutie with a small nose, big, curious eyes, and little ears. She is an adorable cat with a purr-fect smile and a great personality. Unlike other cats that shy from cameras, this Scottish kitty seems very comfortable in front of cameras. She enjoys doing typical cat things such as taking a nap, exploring her surroundings, and playing around.
The Big Reveal
When you look at your reflection in the mirror, the things you discover may include lipstick on your teeth or a protruding eyelash. What Mimo found out was a lot more surprising. She was shocked to find out that she had ears. While walking past a mirror, Mimo was curious so she decided to look at her reflection. To her shock, she discovered her ears.
The cat appeared to be confused wondering what those tufts of fur were doing on her head and why she had never noticed them before. Finding it hard to believe her new discovery, she took a step back and stood on her hind legs to get a better look. She must have thought that it was a prank or that her eyes were playing tricks on her. It is clear that Mimo recognized her face as soon as she saw it. She, however, could not believe that she had ears. She settles down for a while, changes her position, and goes back to the mirror touching and looking at her ears.
Most creatures seem to know their body parts and why they are important. Mimo is different. She adorably touched the top of her ears almost in disbelief that they were a part of her body. Her own reflection seems like a surprise and she had probably never been in front of a mirror before.
Who Is the Other Cat?
Mimo's experience is a lot like what human beings experience when they find out new things about themselves. For human beings, it is mostly about character and not physical traits. This proves that self-awareness is not reserved for only humans and that animals can experience it too. It is adorable that she took her time in front of the mirror to discover things about herself but not in a self-absorbed way. Cats are smart enough to know when it is time to strike a pose.
Doing Cat Things
The video of Mimo sharing her experience of discovering herself has warmed up the hearts of many cat owners and lovers. She proved that cats are thoughtful and that they can be just as curious as humans. One can only wonder how she will react when she discovers her little tail chasing after her as she walks.
The Internet
Mimo has become an internet sensation. Internet users have praised her for being as smart as she is adorable. Others think that she was confused because she probably expected to look her human. Cats are among the few animals that can pass a mirror test.
N.C. Zoo Announces The Rare Birth of A Sand Cat Kitten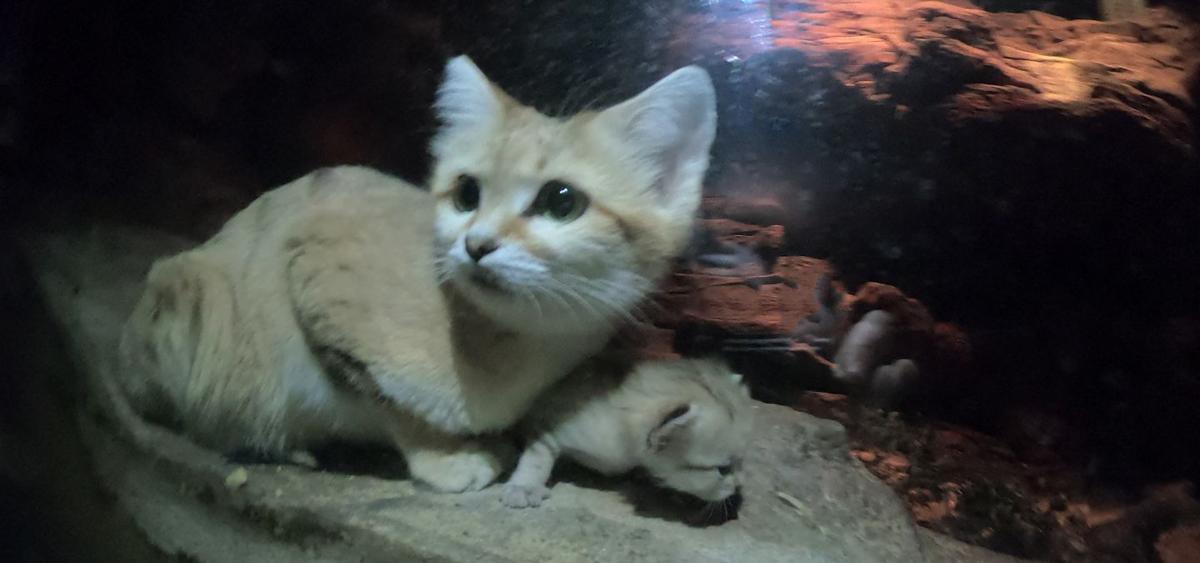 Small, fierce, and daring- words that describe the feline species known as Sand cats.
In the wild, they are mostly found in the desert where they live off insects, small rodents and even venomous snakes. They are extremely rare due to their quiet and reserved nature, which is why there is a lot of celebration over the birth of a Sand Cat on Monday, Aug. 10. The kitten is the first of the mother Najma and father, Cosmo aged 3 and 5 respectively. 
The mother and kitten are currently in a secluded area of the N.C. Zoo and have minimal human contact. They live in the Desert habitat, which is currently closed to the public in accordance with COVID-19 restrictions.
The birth of a sand cat under human care is a rare occurrence. There are only 13 facilities affiliated with the Association of Zoos and Aquariums (AZA) in possession of sand cats, and only about six of them have breeding pairs. In 2019, there were only 33 sand cats in all AZA zoos.
They are petite in size- just like domestic cats, but there is nothing domestic about these desert cats. They are ferocious wild animals that should never be kept as pets, especially in the presence of kids so don't let their small sizes fool you. Their big ears and relatively large eyes distinguish them from domestic cats, but they can be a lot smaller in size. For Sand Cats under human care, life expectancy is about 10-12 years. 
Sand Cats are native to the deserts of North Africa and the Arabian Peninsula. They are nocturnal creatures that can adapt to the hot and cold extremes of their desert environments, primarily because of their thick fur. Their large ears help them pick up low sound frequencies, and this comes in handy when searching for prey or looking for mates. They are solitary creatures by nature, and are only found in pairs for mating purposes. The large span of the desert, however, makes it difficult for two separate Sand Cats to meet, so it takes a long time for that to ever happen. 
Sand Cats keep a low profile by being active at night, staying close to the ground, and leave zero footprints in the sand, making it difficult for humans to see or track them in the wild. All these factors make it a Herculean task to study them and get an accurate number of sand cats living in the wild.