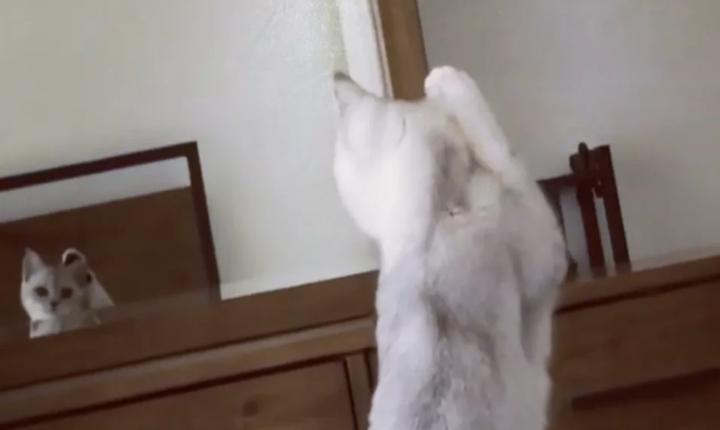 Cat Discovering It Has Ears Is The Cutest Thing on the Internet
Cats continue to be cute and endearing pets even as they grow into adulthood. Their almond-shaped eyes, soft little bodies, and beautiful fur colors are adorable. Cats look almost like toddlers when they are sleeping. You can easily train them to use a litter box and they know how to keep themselves clean. Cats are playful, curious, and beautiful. It is no wonder that many people like to keep them as pets. Mimo, a cat in Brooklyn NY, gave internet users something to talk about. Unlike other cats which are content to play around and sleep, Mimo went on a journey of self-discovery.
Beautiful Cat
Mimo is a cutie with a small nose, big, curious eyes, and little ears. She is an adorable cat with a purr-fect smile and a great personality. Unlike other cats that shy from cameras, this Scottish kitty seems very comfortable in front of cameras. She enjoys doing typical cat things such as taking a nap, exploring her surroundings, and playing around.
The Big Reveal
When you look at your reflection in the mirror, the things you discover may include lipstick on your teeth or a protruding eyelash. What Mimo found out was a lot more surprising. She was shocked to find out that she had ears. While walking past a mirror, Mimo was curious so she decided to look at her reflection. To her shock, she discovered her ears.
The cat appeared to be confused wondering what those tufts of fur were doing on her head and why she had never noticed them before. Finding it hard to believe her new discovery, she took a step back and stood on her hind legs to get a better look. She must have thought that it was a prank or that her eyes were playing tricks on her. It is clear that Mimo recognized her face as soon as she saw it. She, however, could not believe that she had ears. She settles down for a while, changes her position, and goes back to the mirror touching and looking at her ears.
Most creatures seem to know their body parts and why they are important. Mimo is different. She adorably touched the top of her ears almost in disbelief that they were a part of her body. Her own reflection seems like a surprise and she had probably never been in front of a mirror before.
Who Is the Other Cat?
Mimo's experience is a lot like what human beings experience when they find out new things about themselves. For human beings, it is mostly about character and not physical traits. This proves that self-awareness is not reserved for only humans and that animals can experience it too. It is adorable that she took her time in front of the mirror to discover things about herself but not in a self-absorbed way. Cats are smart enough to know when it is time to strike a pose.
Doing Cat Things
The video of Mimo sharing her experience of discovering herself has warmed up the hearts of many cat owners and lovers. She proved that cats are thoughtful and that they can be just as curious as humans. One can only wonder how she will react when she discovers her little tail chasing after her as she walks.
The Internet
Mimo has become an internet sensation. Internet users have praised her for being as smart as she is adorable. Others think that she was confused because she probably expected to look her human. Cats are among the few animals that can pass a mirror test.
500,000-Year-Old Wooden Structure Rewrites History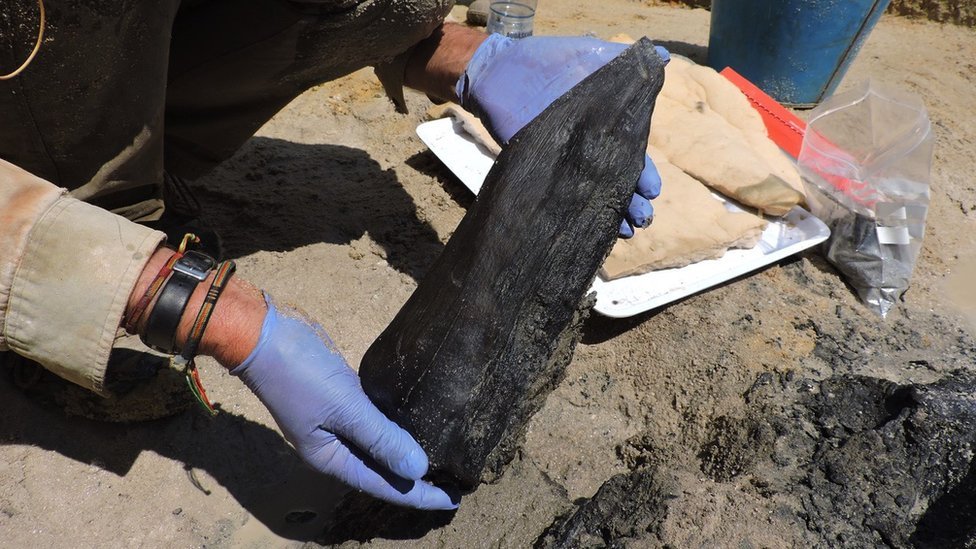 In an archaeological discovery, a wooden structure dating back an astonishing 500,000 years has been unearthed on the banks of a river in Zambia, challenging long-held beliefs about the capabilities of ancient humans. Researchers stumbled upon these ancient wooden logs, a revelation that has the potential to reshape our understanding of the lives of early humans.
The find, located on the riverbanks near Zambia's Kalambo Falls, provides compelling evidence that stone-age people may have constructed primitive shelters, forever altering our perception of their intelligence and resourcefulness. Archaeologist Prof Larry Barham, who led the research, was profoundly impacted by the discovery, stating, "This find has changed how I think about our early ancestors."
What makes this find truly remarkable is that it suggests ancient humans did more than merely survive; they thrived by creating something entirely new. These early humans exhibited intelligence, imagination, and craftsmanship by fashioning structures from wood, a material that had never before been transformed into such large and sophisticated objects.
The researchers also uncovered ancient tools, including digging sticks, but the most exciting find was two pieces of wood positioned at right angles to each other. "One is lying over the other, and both pieces of wood have notches cut into them," explained Geoff Duller, a professor of geography at the University of Aberystwyth and a member of the research team. "You can clearly see those notches have been cut by stone tools, making the two logs fit together to become structural objects."
Radiocarbon dating confirmed the wood's age, placing it at a staggering 476,000 years old. This revelation has ignited curiosity about the woodworking traditions of ancient societies, challenging the prevailing notion that early humans led simplistic, nomadic lives.
Perrice Nkombwe, a team member from the Livingstone Museum in Zambia, expressed her astonishment, saying, "I was amazed to know that woodworking was such a deep-rooted tradition. It dawned on me that we had uncovered something extraordinary."
The preservation of the wooden structure itself is a miracle. Typically, wood decays over time unless preserved under specific conditions. However, in the waterlogged environment along the Kalambo Falls, the wood remained intact, essentially pickled by the elements for millennia.
While the exact purpose of this ancient wooden structure remains a mystery, it has sparked numerous speculations. Prof. Duller suggests it might have been used as a place to sit beside the river and fish, although a complete understanding of its function remains elusive.
Moreover, the identity of the individuals who constructed this structure raises intriguing questions. "We don't know – it could have been Homo sapiens, and we just haven't discovered fossils from that age yet," Prof. Duller added. "But it could be a different species – [perhaps] Homo erectus or Homo naledi – there were a number of hominid species around at that time in southern Africa."
This discovery has the potential to enrich our understanding of ancient woodworking techniques, craftsmanship, and human interaction with the environment. As researchers continue their work at the Kalambo Falls site, the pages of history are being rewritten, and our appreciation for the ingenuity of our ancient ancestors grows ever deeper.