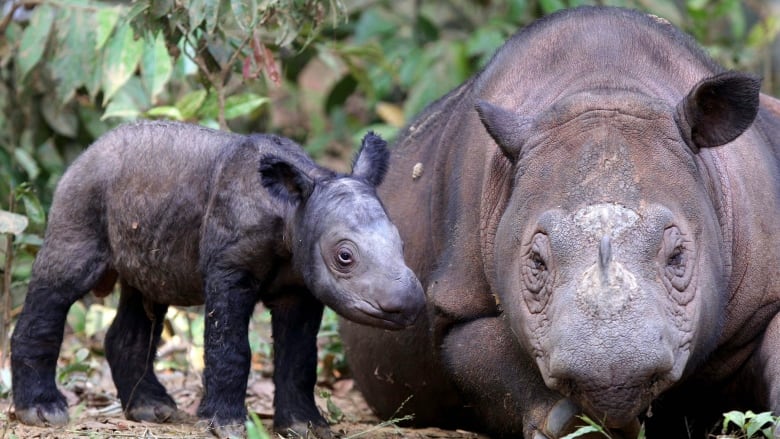 Captive breeding facility welcomes birth of extremely Rare Rhino Species
In Indonesia, a young Sumatran rhino calf was born as part of a captive breeding project designed to help save the highly threatened species.
A Ministry of Environment statement revealed that the birth of the female rhino occurred at the Way Kambas National Park in Sumatra's Lampung province. This was on the 24th of March at the Sumatran Rhino Sanctuary. A male rhino named Andatu was born back in 2012, a male born at the refuge, and Rosa, a female taken from the wild in 2005, gave birth to a calf. There is still no word on the baby's name from the ministry.
Before these two births, there was a Dicerorhinus sumatrensis species calf delivered at Way Kambas refuge, which became the sixth birth since the 1980s when aggressive breeding operations started.
Sumatran rhinos are endangered, and the birth of a new one is a huge boost to efforts to save them, says Wiratno, the Ministry's Conservation department's director-general at the ministry of environment and natural resources, in a press release released on March 28.
There are only a few Sumatran rhinos left on the planet, and they are only found in Indonesia. Way Kambas National Park houses eight captives, including the infant, whereas Indonesian Borneo's Kelian sanctuary houses a single female. The natural population in Borneo as well as Sumatra is estimated to be between 80 and 100 individuals.
After the death of Malaysia's last captive rhino in 2019, specialists around the world concluded that only the Sumatran rhinos being taken captive for breeding in Sumatra and Borneo was a realistic strategy to save the species, which is currently found only in Indonesia. From Bhutan and India through southern China, and along the Malay Peninsula, the species once occupied a wide swath of South and Southeast Asia. There have been several reasons, including hunting, habitat degradation, and insufficient births that have decimated it.
In the 1980s, a similar attempt was made to capture and breed Sumatran rhinos, which inspired the 2017 initiative. However, a decade later, the program came to an end when more than 50% of the animals perished without giving birth to any calves. This latest effort to save the species is based on a run of successful captive births in America and Indonesia, as well as an expanding agreement that the species would go extinct unless action is taken.
In 2005, Rosa was captured from Bukit Barisan Selatan National Park in Sumatra and is now the mother of the calf that was born at the refuge this week.
Andreu, the infant's father, was the first Asian rhino to be born and raised in captivity since a Sumatran rhino gave birth to its first calf in 1889 at India's Calcutta Zoo in northern India. In the United States, Andreu was born in the Cincinnati Zoo to a female rhino named Ratu and a male rhino named Andalas.
Way Kambas Sanctuary also has its very own female rhino named Delilah, whose mother Ratu and father Andalas are the grandparents of every calf born in captivity at the sanctuary since 2016. Andalas's brother, Harapan, the sanctuary's second male rhino, is also named Harapan.
Reproductive problems in rhinos are typically blamed on female rhinos lacking a natural breeding environment while in isolated populations. The eight pregnancies Rosa miscarried from 2017 to 2020 were before this delivery.
When Rosa's calf was born at the Sumatran Rhino Sanctuary in Way Kambas, they hoped that it would give everyone confidence to hear about more Sumatran rhino births in the future, Wiratno stated.
A Boy Expected to Never Write Shows the World What 12 Fingers Can Do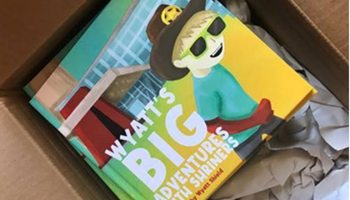 When Wyatt Shield was born, doctors immediately knew they had a developmental mutation case on their hands, no pun intended. The newborn boy was born with 12 fingers. Specifically, each hand came with an additional thumb. Technically known as thumb polydactyly, Wyatt was going to be able to live and function, but the use of hands for dexterity work like writing was going to be limited or none. Like many children with extra parts due to development mutations, Wyatt's extra thumbs were removed a year later thanks to the support and help of the Shriners Children's Hospital, located in St. Louis.
However, regardless of what the medical experts and doctors thought at the time, Wyatt wasn't keen on agreeing with their conclusion about his recovery. Instead, some five years later, Wyatt decided to become an author and write his first book. The story was about his experience at the Shriners' Hospital, from what he could remember, and what he was told about what occurred there to help him. Even more surprising, the book gained enough support to be published, and it's now in circulation.
The story of Wyatt's surgery trip covers all the different procedures he had to go through as well as his perspective of the doctors. It's a kid's view of the world clearly, and Wyatt wanted to show other kids not only could he prove medical experts wrong, but write a book doing so as well. His parents think Wyatt just rocks something huge. It's a classic outcome of what a child can pursue if he's not stopped first and prevented from achieving the "impossible."
The Shriner impact is a family thing for Wyatt and his parents as well. Wyatt's grandfather on his mother's side was a Shriner for a half century. Seeing the program give back personally to the family was a work effort coming full circle because of all the years of volunteering and support his grandfather provided Shriners before Wyatt was ever born. In the same vein, some of the profits from Wyatt's book sales will go right back to the Shriners, as Wyatt and his family wanted. It's a sense of paying forward for the next child that needs help like what Wyatt received for his hands.
And, as for Wyatt, he's off to his next adventure and challenge. His hands are doing just fine, and he's taking on new ideas for his next books as well.