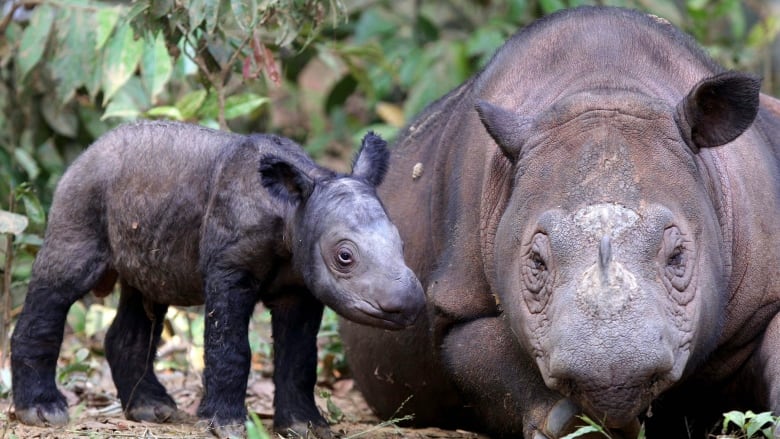 Captive breeding facility welcomes birth of extremely Rare Rhino Species
In Indonesia, a young Sumatran rhino calf was born as part of a captive breeding project designed to help save the highly threatened species.
A Ministry of Environment statement revealed that the birth of the female rhino occurred at the Way Kambas National Park in Sumatra's Lampung province. This was on the 24th of March at the Sumatran Rhino Sanctuary. A male rhino named Andatu was born back in 2012, a male born at the refuge, and Rosa, a female taken from the wild in 2005, gave birth to a calf. There is still no word on the baby's name from the ministry.
Before these two births, there was a Dicerorhinus sumatrensis species calf delivered at Way Kambas refuge, which became the sixth birth since the 1980s when aggressive breeding operations started.
Sumatran rhinos are endangered, and the birth of a new one is a huge boost to efforts to save them, says Wiratno, the Ministry's Conservation department's director-general at the ministry of environment and natural resources, in a press release released on March 28.
There are only a few Sumatran rhinos left on the planet, and they are only found in Indonesia. Way Kambas National Park houses eight captives, including the infant, whereas Indonesian Borneo's Kelian sanctuary houses a single female. The natural population in Borneo as well as Sumatra is estimated to be between 80 and 100 individuals.
After the death of Malaysia's last captive rhino in 2019, specialists around the world concluded that only the Sumatran rhinos being taken captive for breeding in Sumatra and Borneo was a realistic strategy to save the species, which is currently found only in Indonesia. From Bhutan and India through southern China, and along the Malay Peninsula, the species once occupied a wide swath of South and Southeast Asia. There have been several reasons, including hunting, habitat degradation, and insufficient births that have decimated it.
In the 1980s, a similar attempt was made to capture and breed Sumatran rhinos, which inspired the 2017 initiative. However, a decade later, the program came to an end when more than 50% of the animals perished without giving birth to any calves. This latest effort to save the species is based on a run of successful captive births in America and Indonesia, as well as an expanding agreement that the species would go extinct unless action is taken.
In 2005, Rosa was captured from Bukit Barisan Selatan National Park in Sumatra and is now the mother of the calf that was born at the refuge this week.
Andreu, the infant's father, was the first Asian rhino to be born and raised in captivity since a Sumatran rhino gave birth to its first calf in 1889 at India's Calcutta Zoo in northern India. In the United States, Andreu was born in the Cincinnati Zoo to a female rhino named Ratu and a male rhino named Andalas.
Way Kambas Sanctuary also has its very own female rhino named Delilah, whose mother Ratu and father Andalas are the grandparents of every calf born in captivity at the sanctuary since 2016. Andalas's brother, Harapan, the sanctuary's second male rhino, is also named Harapan.
Reproductive problems in rhinos are typically blamed on female rhinos lacking a natural breeding environment while in isolated populations. The eight pregnancies Rosa miscarried from 2017 to 2020 were before this delivery.
When Rosa's calf was born at the Sumatran Rhino Sanctuary in Way Kambas, they hoped that it would give everyone confidence to hear about more Sumatran rhino births in the future, Wiratno stated.
LA Cougar Makes It Over a Freeway Known for Animal Deaths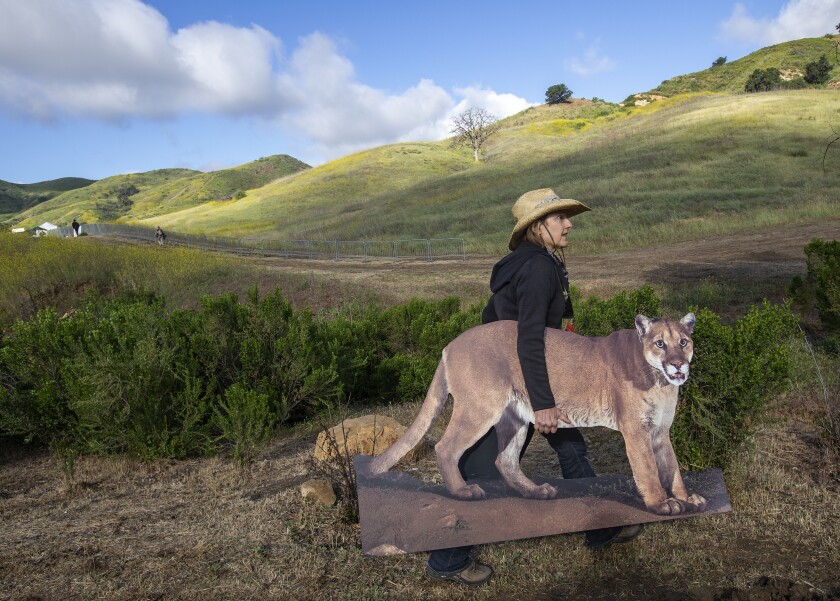 The idea of manmade infrastructure to help wildlife continue to propagate and create new generations has always been a Grand Canyon challenge for conservationists. The cost is usually prohibitive and hard to justify for animals, but the provisioning of the features makes sense as it allows wildlife displaced by development alternative paths and means to re-connect and continue to live. As development continues to spread, most often with highways first, these modern transportation corridors end up being death lines for animals who try to cross but have no idea what the dangers are.
The 101 Freeway that cuts through the Agoura Hills of California is a particularly specific example of a death-line for wildlife. It has repeatedly been a problem, killing animals by impact with cars as they try to forage for food or connect with others for mating. Instead, however, an idea was launched a decade ago to build a safety corridor that animals could use to get across safely. Essentially, the corridor was to be a bridge over the highway, natural in appearance to wildlife but functional and structural to span the highway and keep them away from cars when crossing.
A decade later, on Earth Day 2022, the 101 Freeway Wallis Annenberg Wildlife Crossing was initiated. The idea is not a new one; Europeans have been creating wildlife corridors over or under their highways for years. However, for the U.S. and California, the Annenberg Crossing is one of the first to be created by a municipality over a major traffic conduit.
Additionally, one very distinct wildlife participant will likely have a very strong interest in using the crossing. Mountain lions are extremely long-range roaming animals, directly impacted by highways and infrastructure that makes it too dangerous for them to cross. Along with hundreds of species that will likely use the cross to connect with others of their kind, mountain lions are sure to find the crossing advantageous, particularly at night when they do most of their traveling.
Safety corridors are a game-changer in the conservation world. They allow wildlife to adapt to development and live safely around it versus become blocked and eventually die off from a lack of gene diversity in breeding. They also push society to incorporate conservation impact planning into infrastructure development for the future as well. The Annenberg Crossing will be completed as a partnership between conservancies, charity, non-profit activism and California government.
Spanning over 200 feet long, the Annenberg Crossing will provide local wildlife plenty of room to maneuver across. The width measures at least 165 feet from side to side, will be a natural surface environment, and it will be high enough to keep wildlife entirely safe from passing vehicles below. It will also provide direct land connection for mountain lions who currently survive with small populations in the area and were cut off previously by the freeway.