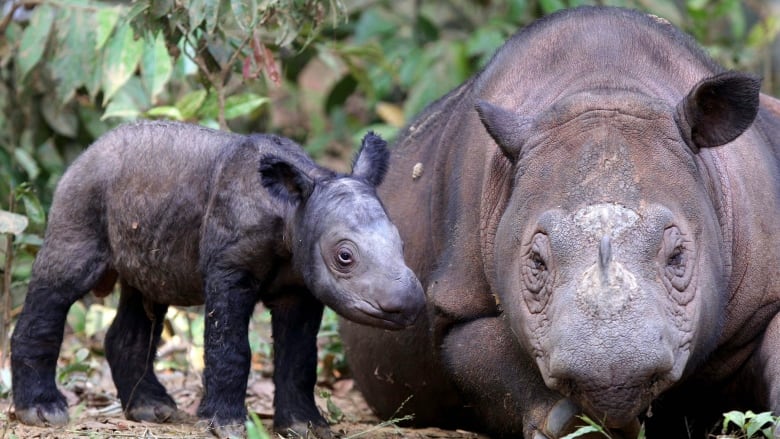 Captive breeding facility welcomes birth of extremely Rare Rhino Species
In Indonesia, a young Sumatran rhino calf was born as part of a captive breeding project designed to help save the highly threatened species.
A Ministry of Environment statement revealed that the birth of the female rhino occurred at the Way Kambas National Park in Sumatra's Lampung province. This was on the 24th of March at the Sumatran Rhino Sanctuary. A male rhino named Andatu was born back in 2012, a male born at the refuge, and Rosa, a female taken from the wild in 2005, gave birth to a calf. There is still no word on the baby's name from the ministry.
Before these two births, there was a Dicerorhinus sumatrensis species calf delivered at Way Kambas refuge, which became the sixth birth since the 1980s when aggressive breeding operations started.
Sumatran rhinos are endangered, and the birth of a new one is a huge boost to efforts to save them, says Wiratno, the Ministry's Conservation department's director-general at the ministry of environment and natural resources, in a press release released on March 28.
There are only a few Sumatran rhinos left on the planet, and they are only found in Indonesia. Way Kambas National Park houses eight captives, including the infant, whereas Indonesian Borneo's Kelian sanctuary houses a single female. The natural population in Borneo as well as Sumatra is estimated to be between 80 and 100 individuals.
After the death of Malaysia's last captive rhino in 2019, specialists around the world concluded that only the Sumatran rhinos being taken captive for breeding in Sumatra and Borneo was a realistic strategy to save the species, which is currently found only in Indonesia. From Bhutan and India through southern China, and along the Malay Peninsula, the species once occupied a wide swath of South and Southeast Asia. There have been several reasons, including hunting, habitat degradation, and insufficient births that have decimated it.
In the 1980s, a similar attempt was made to capture and breed Sumatran rhinos, which inspired the 2017 initiative. However, a decade later, the program came to an end when more than 50% of the animals perished without giving birth to any calves. This latest effort to save the species is based on a run of successful captive births in America and Indonesia, as well as an expanding agreement that the species would go extinct unless action is taken.
In 2005, Rosa was captured from Bukit Barisan Selatan National Park in Sumatra and is now the mother of the calf that was born at the refuge this week.
Andreu, the infant's father, was the first Asian rhino to be born and raised in captivity since a Sumatran rhino gave birth to its first calf in 1889 at India's Calcutta Zoo in northern India. In the United States, Andreu was born in the Cincinnati Zoo to a female rhino named Ratu and a male rhino named Andalas.
Way Kambas Sanctuary also has its very own female rhino named Delilah, whose mother Ratu and father Andalas are the grandparents of every calf born in captivity at the sanctuary since 2016. Andalas's brother, Harapan, the sanctuary's second male rhino, is also named Harapan.
Reproductive problems in rhinos are typically blamed on female rhinos lacking a natural breeding environment while in isolated populations. The eight pregnancies Rosa miscarried from 2017 to 2020 were before this delivery.
When Rosa's calf was born at the Sumatran Rhino Sanctuary in Way Kambas, they hoped that it would give everyone confidence to hear about more Sumatran rhino births in the future, Wiratno stated.
500,000-Year-Old Wooden Structure Rewrites History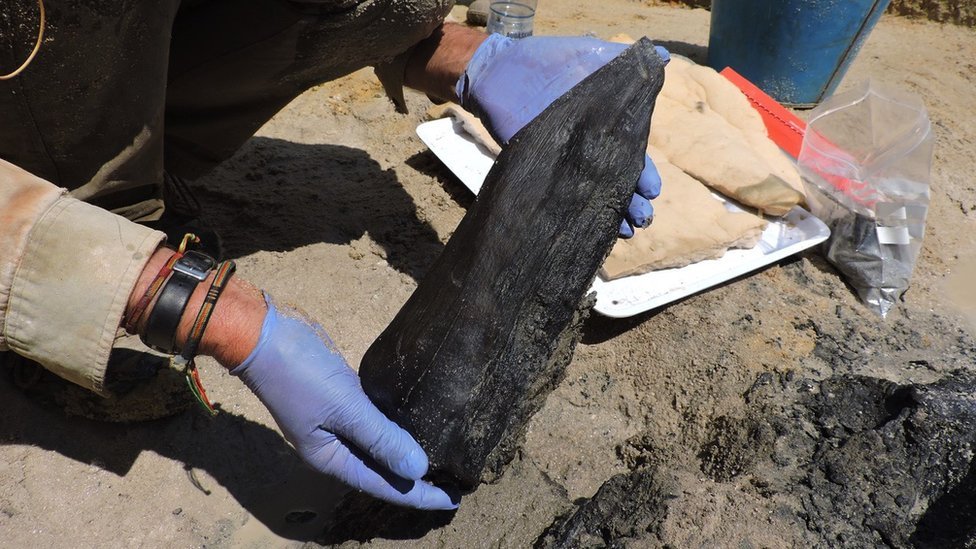 In an archaeological discovery, a wooden structure dating back an astonishing 500,000 years has been unearthed on the banks of a river in Zambia, challenging long-held beliefs about the capabilities of ancient humans. Researchers stumbled upon these ancient wooden logs, a revelation that has the potential to reshape our understanding of the lives of early humans.
The find, located on the riverbanks near Zambia's Kalambo Falls, provides compelling evidence that stone-age people may have constructed primitive shelters, forever altering our perception of their intelligence and resourcefulness. Archaeologist Prof Larry Barham, who led the research, was profoundly impacted by the discovery, stating, "This find has changed how I think about our early ancestors."
What makes this find truly remarkable is that it suggests ancient humans did more than merely survive; they thrived by creating something entirely new. These early humans exhibited intelligence, imagination, and craftsmanship by fashioning structures from wood, a material that had never before been transformed into such large and sophisticated objects.
The researchers also uncovered ancient tools, including digging sticks, but the most exciting find was two pieces of wood positioned at right angles to each other. "One is lying over the other, and both pieces of wood have notches cut into them," explained Geoff Duller, a professor of geography at the University of Aberystwyth and a member of the research team. "You can clearly see those notches have been cut by stone tools, making the two logs fit together to become structural objects."
Radiocarbon dating confirmed the wood's age, placing it at a staggering 476,000 years old. This revelation has ignited curiosity about the woodworking traditions of ancient societies, challenging the prevailing notion that early humans led simplistic, nomadic lives.
Perrice Nkombwe, a team member from the Livingstone Museum in Zambia, expressed her astonishment, saying, "I was amazed to know that woodworking was such a deep-rooted tradition. It dawned on me that we had uncovered something extraordinary."
The preservation of the wooden structure itself is a miracle. Typically, wood decays over time unless preserved under specific conditions. However, in the waterlogged environment along the Kalambo Falls, the wood remained intact, essentially pickled by the elements for millennia.
While the exact purpose of this ancient wooden structure remains a mystery, it has sparked numerous speculations. Prof. Duller suggests it might have been used as a place to sit beside the river and fish, although a complete understanding of its function remains elusive.
Moreover, the identity of the individuals who constructed this structure raises intriguing questions. "We don't know – it could have been Homo sapiens, and we just haven't discovered fossils from that age yet," Prof. Duller added. "But it could be a different species – [perhaps] Homo erectus or Homo naledi – there were a number of hominid species around at that time in southern Africa."
This discovery has the potential to enrich our understanding of ancient woodworking techniques, craftsmanship, and human interaction with the environment. As researchers continue their work at the Kalambo Falls site, the pages of history are being rewritten, and our appreciation for the ingenuity of our ancient ancestors grows ever deeper.