Cancer nurse donates wedding gown to cancer patient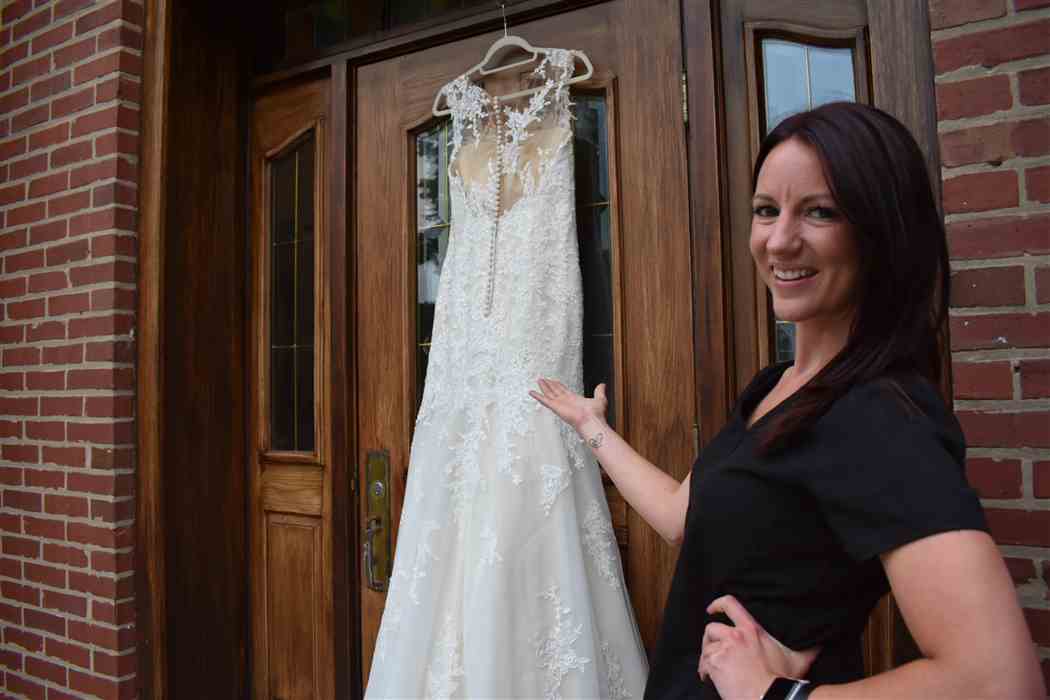 A bride's wedding day celebrates the most special day of her love life – the day she commits to a lifetime with the love of her life. The dress she wears makes the day even more special. Many brides save up their funds to purchase a special dress. Some brides can't swing the expense for a nice dress though because they're spending their funds on a battle with cancer. That was the case of Toni Roberts of Tennessee, engaged to be married and battling breast cancer.
Costs of Battling Breast Cancer
With or without insurance, treatment costs soar above $50,000. Expenses include doctor visits, lab work, chemotherapy and prescriptions. The drug Lynparza that treats breast cancer that spread to other areas of the patient's body costs $156,000 a year for patients with no insurance. The drug Herceptin accompanies chemotherapy treatments and costs $160,000.
Then there's the chemo itself. A basic round of chemotherapy costs between $10,000 to $100,000. If chemo fails, the patient can turn to surgery, opting for a mastectomy that costs about $13,000. Reconstruction surgery after the mastectomy costs more – between $5,000 to $8,000.
Imagine trying to beat breast cancer and plan your wedding at the same time. That became Roberts' plight. A proper wedding gown costs about the same as chemo with insurance or mastectomy reconstruction to put it in context. That's a fact that Illinois oncology nurse Jessica Leja knew well.
Leja's Canceled Wedding
Leja had her own wedding perfectly planned when it was canceled in the spring of 2018. She was left with numerous reminders of what was not meant to be but wanted to create a silver lining for the cloud the cancellation caused. She found the inspiration in her deceased father, who had passed away from kidney cancer two years before. It was caring for him during his cancer battle that led her to become an oncology nurse. It was his memory that led her to donate what she could to a cancer patient. She chose her exquisite, designer wedding gown she never got to wear.
"My heroes are cancer patients: the fighters, the survivors and the taken. The admiration I have for them is beyond words," says Leja.
The nurse knew of no non-profit that handled this type of donation or gift, so she posted her offer to her social media accounts. Leja appealed to the many people online to help her find a deserving cancer patient or survivor to whom she would give her gown.
The Blushing Bride
Leja had snagged a full-length white and ivory lace Stella York gown for a steal of $1,800 making it an even more special giveaway. She could have sold it and made back some of the money she had spent planning her own, canceled, big day, but giving it to its rightful owner meant more.
Leja told the press, "This dress wasn't made for me. It was made for someone else. And I have to find her."
She did. In southern state of Tennessee, the 31-year-old Roberts was embroiled in her breast cancer battle, newly engaged and handling the duties of motherhood, too. Roberts penned a letter to Leja including photos of her life. Leja knew when she read it that she'd present Roberts with the dress.
So far in her battle, Roberts has completed six rounds of chemotherapy with a year of Herceptin therapy. Her treatment still included two future maintenance infusions and one surgery when Leja made her donation. The donated dress inspired others to give, too. The boutique Bella Sposa offered to donate a veil and jewelry to match the dress. Another group raised money for alterations the dress requires before Roberts' wedding on Feb. 20, 2019.
The two women found they share a multitude of similarities. The canceled wedding and donated dress led to a more lasting gift – the two became long distance friends. That gave Roberts something invaluable – a friend who knows firsthand what she's going through.
Why More People Are Finding Snakes Hiding in Their Toilet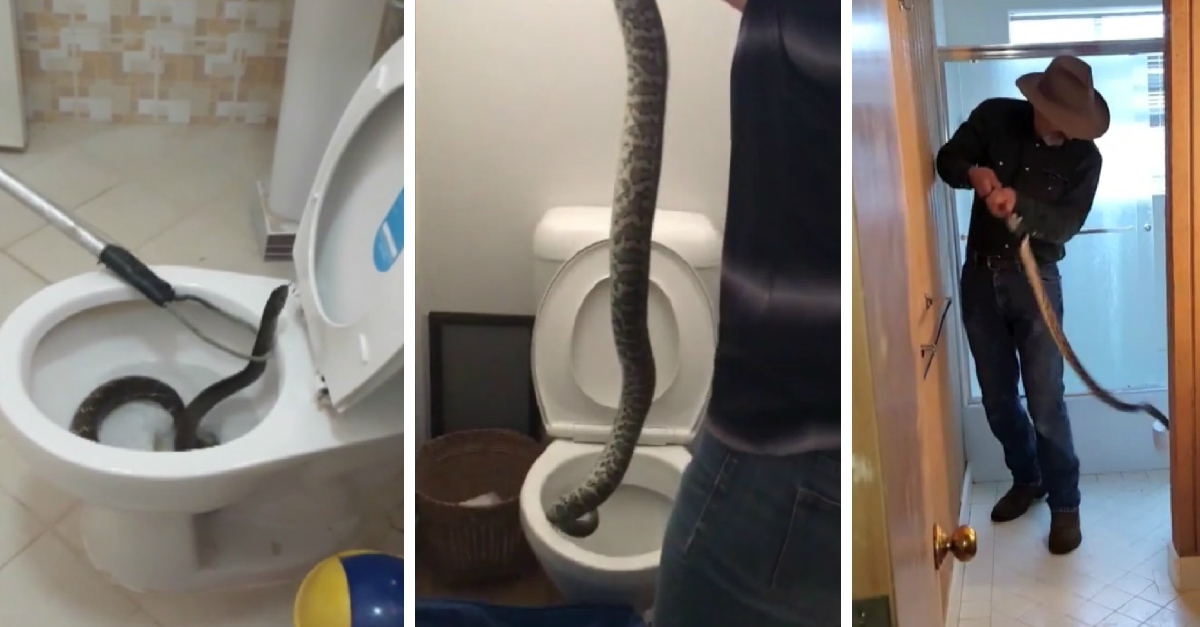 Sitting down on the toilet and then realizing there is a snake in there. It's a scene from a horror movie and can be anyone's worst fear. Snakes hiding in toilets are becoming more and more common.
The latest story making the headlines is from Mike Green in North Carolina, who says he has pulled six snakes out of his toilet in the past four years. This is not the only example. Country singer Brett Eldredge recently shared that he walked in the bathroom where he was staying on vacation in the Bahamas and found a snake in the toilet bowl. There are plenty of stories of pythons hiding out in toilets in Australia.
There is a reason why this is happening. A former plumber and curator of reptiles at the Los Angeles Zoo is sharing the reason. He says that snakes are sleek animals and it's easy for them to fit into tight spaces in their current environment. Snakes feel more at home when they are in a dark, tight space. When they get into a pipe, they feel good about it and it's easy to navigate through the sewer system and then find their way up the pipes into someone's toilet. Snakes get in through the ventilation pipes on the roof. Since the bathroom plumbing is usually connected through the ventilation pipes the snake slithers its way through the system and into the bathroom. It's easy for snakes to slither up anything that will lead them to the roof, such as a tree. If you have a tree that is close to your roof and the ventilation pipe then it can increase your chances of having a snake in the bathroom
If you are wondering what to do if a snake gets in your toilet, know that flushing it away won't work. If you do find a snake in your toilet then call animal control. Animal control can help you get rid of the snake but can also identify the snake. While the good news is that most snakes are harmless, there is a chance you could have a dangerous one. Don't be a hero and handle it yourself, just in case it is dangerous.
If you want to avoid snakes in your toilet, there are simple things you can do. Find a way to make sure the ventilation is covered but that it is still able to do the job it is intended to do. By having some sort of block, such as wire covering and mesh, it not only prevents snakes from getting in but also other pests, like rats. You can also install a roof vent hood. These hoods help protect the venting and keep any creepy pests out. Who would have thought that you actually needed to take care of issues on the roof in order to prevent snakes from slithering through the pipes? If you are truly worried then you can invest in a multi-flap that fits over the toilet pipe and allows waste and water to exit but keeps critters out.
Keep in mind if you live in an area that is prone to snakes then this issue may be more common and you may already know how to deal with it. Many snakes that find their way into a toilet are not native to the area where they were found. It's likely they escaped or were let free by their owners that no longer wanted them and they choose your pipes as a nest. Many snakes aren't able to survive in the main sewer pipe for very long since there can be relatively low temperatures below the ground where pipes are located, making it unlikely that they actually set up their home in a main sewer line.