Cancer nurse donates wedding gown to cancer patient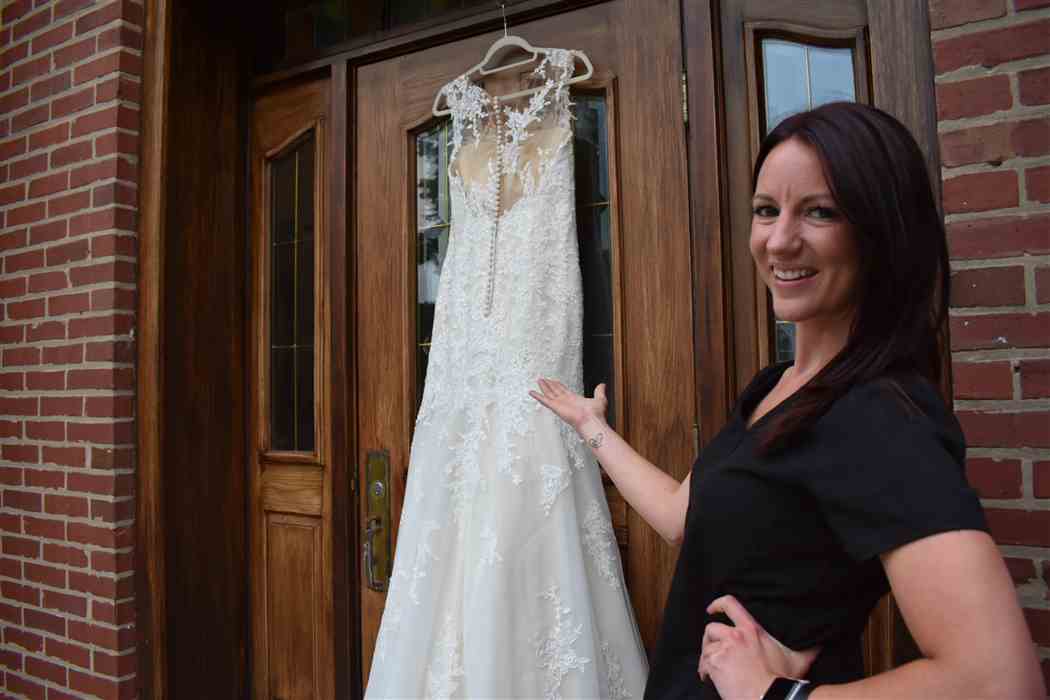 A bride's wedding day celebrates the most special day of her love life – the day she commits to a lifetime with the love of her life. The dress she wears makes the day even more special. Many brides save up their funds to purchase a special dress. Some brides can't swing the expense for a nice dress though because they're spending their funds on a battle with cancer. That was the case of Toni Roberts of Tennessee, engaged to be married and battling breast cancer.
Costs of Battling Breast Cancer
With or without insurance, treatment costs soar above $50,000. Expenses include doctor visits, lab work, chemotherapy and prescriptions. The drug Lynparza that treats breast cancer that spread to other areas of the patient's body costs $156,000 a year for patients with no insurance. The drug Herceptin accompanies chemotherapy treatments and costs $160,000.
Then there's the chemo itself. A basic round of chemotherapy costs between $10,000 to $100,000. If chemo fails, the patient can turn to surgery, opting for a mastectomy that costs about $13,000. Reconstruction surgery after the mastectomy costs more – between $5,000 to $8,000.
Imagine trying to beat breast cancer and plan your wedding at the same time. That became Roberts' plight. A proper wedding gown costs about the same as chemo with insurance or mastectomy reconstruction to put it in context. That's a fact that Illinois oncology nurse Jessica Leja knew well.
Leja's Canceled Wedding
Leja had her own wedding perfectly planned when it was canceled in the spring of 2018. She was left with numerous reminders of what was not meant to be but wanted to create a silver lining for the cloud the cancellation caused. She found the inspiration in her deceased father, who had passed away from kidney cancer two years before. It was caring for him during his cancer battle that led her to become an oncology nurse. It was his memory that led her to donate what she could to a cancer patient. She chose her exquisite, designer wedding gown she never got to wear.
"My heroes are cancer patients: the fighters, the survivors and the taken. The admiration I have for them is beyond words," says Leja.
The nurse knew of no non-profit that handled this type of donation or gift, so she posted her offer to her social media accounts. Leja appealed to the many people online to help her find a deserving cancer patient or survivor to whom she would give her gown.
The Blushing Bride
Leja had snagged a full-length white and ivory lace Stella York gown for a steal of $1,800 making it an even more special giveaway. She could have sold it and made back some of the money she had spent planning her own, canceled, big day, but giving it to its rightful owner meant more.
Leja told the press, "This dress wasn't made for me. It was made for someone else. And I have to find her."
She did. In southern state of Tennessee, the 31-year-old Roberts was embroiled in her breast cancer battle, newly engaged and handling the duties of motherhood, too. Roberts penned a letter to Leja including photos of her life. Leja knew when she read it that she'd present Roberts with the dress.
So far in her battle, Roberts has completed six rounds of chemotherapy with a year of Herceptin therapy. Her treatment still included two future maintenance infusions and one surgery when Leja made her donation. The donated dress inspired others to give, too. The boutique Bella Sposa offered to donate a veil and jewelry to match the dress. Another group raised money for alterations the dress requires before Roberts' wedding on Feb. 20, 2019.
The two women found they share a multitude of similarities. The canceled wedding and donated dress led to a more lasting gift – the two became long distance friends. That gave Roberts something invaluable – a friend who knows firsthand what she's going through.
A baby bear, tiger, and a lion found in a basement 12 years ago are now best friends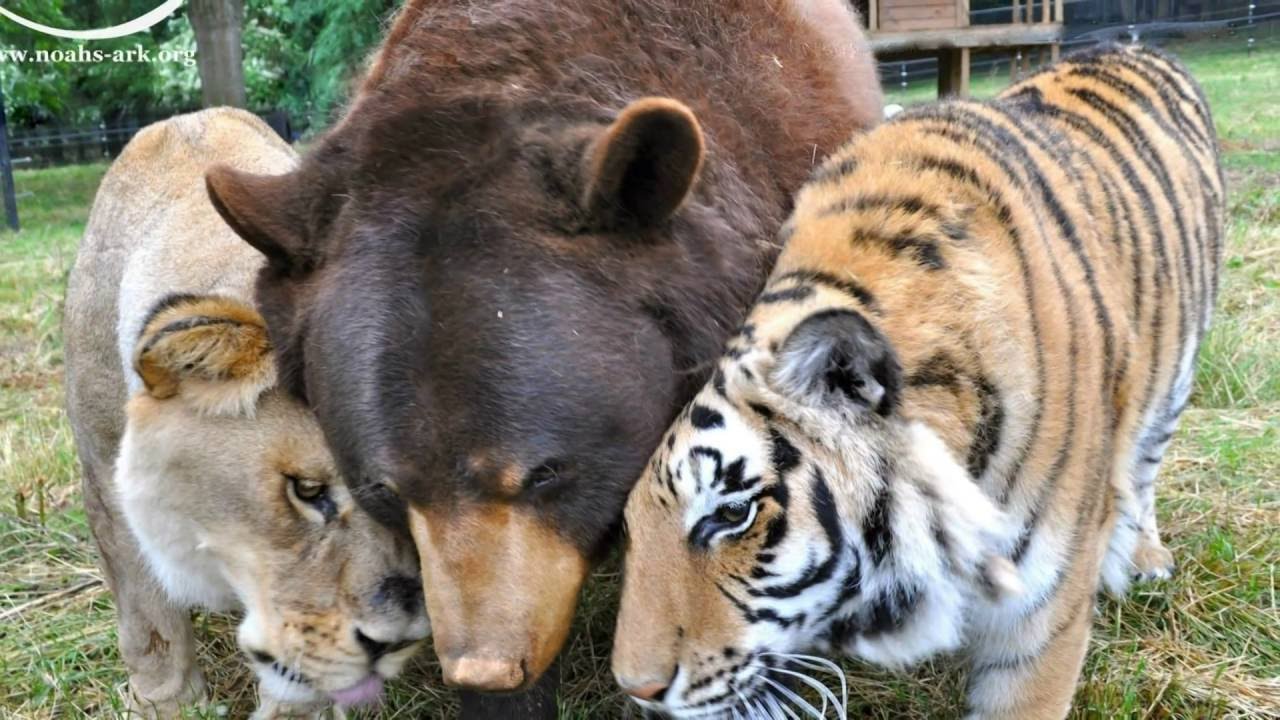 Wild animals try to stick to their natural habitat and they also tend to follow their natural social characteristics. For example, leopards are known to be very reclusive creatures and often prefer a solitary life. Bears and tigers are also not very social too.
In this fascinating story, a bear, a tiger, and a lion have grown up to become best buddies. In a video posted online, a 12-year-old Black Bear, named Baloo, walks over to his friend, Shere Khan, a Bengal Tiger, and cuddles with him as if they are brothers. Tigers don't even get along with their kin. So this friendship between the bear and tiger is even beyond kinship. To make things even more unbelievable, they have another friend, named Leo. You guessed it right, Leo is a lion.
What might explain this unusual friendship is their common history. 12 years ago, when these three animals were babies, they were being kept in terrible conditions in a basement. Fortunately, they were recovered by the police and bought to Noah's Ark Sanctuary in Locust Grove, GA. The three animals have cared for their entire life at the Sanctuary.
The staff at Noah's Ark Sanctuary have never heard of such friendship between a big cat and a bear. They do share the same habitat, especially in the Fat East, but any encounters between them as most aggressive or they just ignore each other and keep out of the way of the other. They don't walk up and cuddle each other. The staff at the sanctuary does point out that out of these three, Shere Khan has kept a little bit of natural wild mannerism but he is still very friendly. When it is sleep time, the trio shares the same room and cuddle together. They were kept as pets in that basement, which was legally not allowed. The owner of the basement was a drug dealer. They were confiscated and bought the sanctuary. Since then the owner of the sanctuary has looked after these three.
Unfortunately, Leo has passed away, leaving his loved ones with wonderful memories of him. He was 15 years of age when he passed away. He had been feeling sick and during surgery, his doctor found 80% of his liver was damaged. He could not have survived in such a condition. The difficult decision to let him go had to be made so that he does not suffer. His end in the world was peaceful.
Leo's best friends, Shere Khan and Baloo, were able to say a final goodbye to him. They have been doing all right since their best friend's departure. The staff at the sanctuary keeps a close eye to check off any worrisome signs of depression or change in behavior. The staff believes these two already knew Leo was terminally ill long before the staff was able to find out.
Leo's final resting place is located by the clubhouse at the sanctuary. Such compassion and bond in animals of different species are very rare. In the wild, they might have been foes, but at the sanctuary they were brothers. Their story is an example of when nurture overtakes nature. They grew up together and build a bond that went beyond the design of nature. Humans do not fully understand the communication or relationship dynamics of the animals. This story is an example of how wild animals can get along in the right environment.