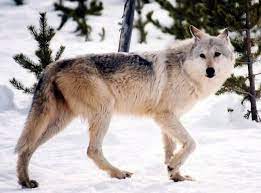 Canadians Embrace Wolves: From Villains to Valued Members of Ecosystems
For a long time, wolves have been depicted as villains in stories, fairytales, and cartoons. However, a recent survey conducted in Canada reveals a shift in perception, with the majority of people now supporting and valuing these magnificent creatures. The survey indicates that 7 out of 10 Canadians hold a "very positive" view of wolves, marking a significant change in public opinion. Aaron Hofman, the director of advocacy and policy for The Fur-Bearers, expressed surprise at the results.
Wolves have a complex history in Canada, having been targeted with bounties in the past and treated as vermin or pests. However, the survey shows that 83 percent of Canadians recognize the importance of wolves as integral members of ecosystems and advocate for their protection. While 60 percent of respondents agreed that wolves pose a threat to farm animals, more than two-thirds agreed that killing wolves, even if it is to save another species, is ethically wrong.
Interestingly, the survey also revealed that approximately half of the participants felt comfortable living near wolves, while 16 percent expressed their willingness to live in close proximity to these remarkable creatures without any concerns. The findings from this survey provide valuable insights into the attitudes and perceptions towards wolves in Canada.
Aaron Hofman highlights the significance of this survey, emphasizing that wolves are vital members of Canadian ecosystems and hold great value for the country. It aims to bridge the gap in understanding public attitudes towards wolves and foster a deeper appreciation for their ecological role.
The changing perspective towards wolves in Canada reflects a growing understanding of the importance of biodiversity and the intricate balance within ecosystems. Wolves play a critical role as apex predators, helping to regulate populations of prey species and contributing to overall ecosystem health. Recognizing their ecological significance, Canadians are increasingly embracing the presence of wolves in their natural habitats.
This shift in public perception also signifies a desire for coexistence and a recognition that wolves are not inherently evil or deserving of their historically negative portrayal. Rather, they are seen as integral components of the natural world that deserve protection and respect.
As attitudes continue to evolve, it is essential to support initiatives that promote education and awareness about the value of wolves in ecosystems. By fostering a greater understanding of these magnificent creatures and their ecological importance, we can work towards creating a harmonious balance between human activities and the natural world.
The Ockendon Solar Farm's Remarkable Transformation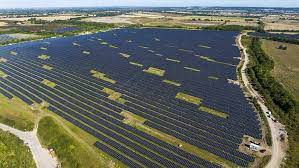 A once-neglected trash dump in England has undergone a breathtaking transformation into one of the United Kingdom's largest solar farms. The Ockendon solar farm, as it is now known, is set to provide electricity to an impressive 15,000 homes. With its 100,000 gleaming solar panels, it proudly stands as the third-largest solar farm in the entire UK.
This remarkable journey from waste ground to green energy oasis reflects the nation's growing commitment to renewable energy and sustainability. Frank Gordon, the director of policy at the Association for Renewable Energy and Clean Technology, highlighted the importance of projects like Ockendon solar farm in addressing the climate crisis. He told The Guardian, "We urgently need more solar in the UK to help meet our legally binding net-zero goals, and this summer's extraordinary global weather has further underlined the need for climate action."
The Ockendon solar farm is a shining example of the UK's transition to cleaner energy sources. Since 2020, nearly half of the nation's power has been sourced from a combination of wind, solar, bioenergy, and hydroelectric sources. This shift towards renewable energy not only reduces harmful emissions but also bolsters energy security and creates jobs in the burgeoning green energy sector.
The transformation of the Ockendon site is nothing short of inspirational. What was once a symbol of waste and environmental neglect has become a symbol of hope for a more sustainable future. As solar farms like Ockendon continue to sprout across the UK, they bring us one step closer to achieving our net-zero emissions goals and safeguarding the planet for generations to come.