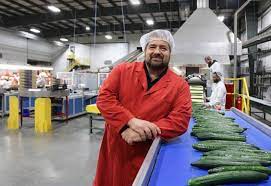 Canadian Company Heeds Consumer Call For Plastic-free Cucumbers
Conveyor belts piled with newly harvested cucumbers off vines hanging from the glass roof of a neighboring greenhouse were a welcome sight to Dino DiLaudo.
That batch of cucumbers was about to go through a process that would remove millions of tons of one-time-use plastic from the distribution chain.
As a result of customer feedback, Westmoreland Topline Farms has developed a no-plastic cucumber export system.
As of June 2022, the producer in Leamington, Ontario, will be the first to export English cucumbers that aren't separately plastic packaged throughout Canada.
Instead, Apeel Sciences has created a plant-based solution that is digestible, bland, and enhances the cucumber's inherent shelf life.
A plant-based, organic product
The new treatment, according to DiLaudo, is both long-term and reduces cost. To prevent oxidation and premature spoilage, he explained that the plastic was dedicated to keeping the cucumber's respiration controlled.
"We're eliminating plastic and using an organic, plant-based substance to preserve the cucumbers."
For nearly 10 years, Apeel Sciences, located in California, has been researching strategies to decrease or eliminate plastics from the production sector.
The company's New Commodity Vice President, Ravi Jolly, said, "We gained awareness of this problem of plastic being utilized to help with retaining moisture and retain the cucumbers' freshness."
"We're giving consumers a choice, a more environmentally-friendly choice."
Solutions Based On Consumer Needs
To coincide with the government's announcement that some single-use plastics, such as straws, takeout containers, supermarket bags, and cutlery, will be banned over the next 18 months, these plastic-free cucumbers reached the shops this week.
According to Deloitte research released in 2019, fewer than 10 percent of the plastic garbage Canadians generate is recycled, which amounts to more than three million tons of plastic packaging being thrown away each year.
According to DiLaudo, "everyone wants to do their share" when it comes to being a good environmental steward.
According to him, the use of plastic packaging for seedless cucumbers has been a big industry issue.
He went on to say that eliminating plastic from just one batch of cucumbers is the same as erasing 100,000 drinking straws from the environment.
Environmental organization the Sierra Club Canada Foundation praised the decision.
As a facilitator for plastics, Lucy Bain noted her dislike for plastic-wrapped fruits in supermarkets. "A lot of times you can't escape plastic," she said.
Plastic pollution is a major concern for Canadians. Businesses should take this initiative because consumers wouldn't want to be pushed to buy plastic things they don't need, thus it's fantastic that they are doing so.
She wishes to see a greater effort at the federal level to establish industry requirements and standards for businesses to reduce their reliance on plastic.
For us to be smarter users, the government must implement these guidelines. We shouldn't have to decide in that regard."
Cucumbers, according to DiLaudo, were the very first commodity to undergo this procedure at their organization, which is now exploring ways to eliminate plastic wrapping on other food items.
"We're producing little seedless cucumbers that I believe will be the next best thing," he remarked.
"It will become a positive thing for everyone if the grade of the cucumber isn't sacrificed, I believe."
Libraries Are Branching Out To Include Bikes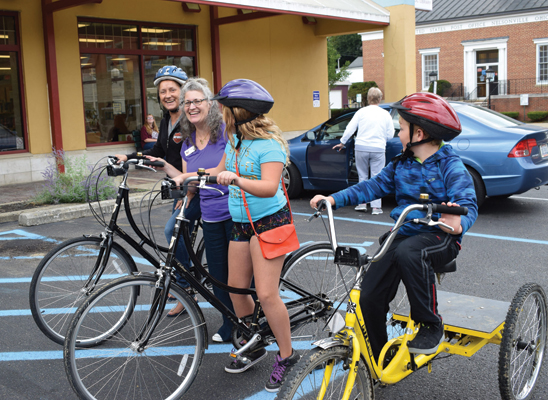 Madison, WI has a total of nine public libraries. They stock everything from classic books to magazines to newspapers to digital reading assets, like audiobooks and ebooks. They also carry an extensive network of disk products such as movies and videos. Now, it turns out, they also lend electric bikes to their patrons as well.
Libraries across the country are looking for more creative ways to make themselves useful, branching out well beyond just books and encyclopedias of the past. Madison's libraries are no exception, but they may very well be the first library in the U.S. that provides electric bikes for borrowing, like a library book. Well, maybe not the first. There are now 35 other similar programs across the country, from Texas to Vermont. And, bikes may very well just be the tip of the iceberg in whatever else libraries get into the business of lending.
The odd thing is, lots of people avoid cycling for an assortment of reasons. Some think that it's a pastime only adult white men engage in. Others can't find anything viable to ride a bike on, whether it be a public sidewalk or a dirt trail. Still others think it's too dangerous altogether, especially with traffic and uncaring vehicle drivers. And, finally, simply having a place to park and lock a bicycle is a convenience people enjoy in big cities but it tends to be a rarity in smaller towns. Money is a barrier as well; a decent bicycle today averages a couple hundred dollars in cost out the door. And an electric bike is well over $1,000 in most locations they are available.
So, Madison's library network and management decided that an electric bike was going to be the next big asset in their inventory of things residents could borrow. Partnering with Madison BCycle, the libraries set up a borrowing system, providing a total of 300 different bike units across the town. Similar to what people see with e-scooters in big cities, those with a library card can now rent a bicycle to get around Madison, but without any charge to a credit card. All the patrons need to activate the bike is a key fob they get from a library. Since the start of the program, almost 280 fobs have been borrowed.
From the library's perspective, the e-bike program has multiple benefits. Instead of having to use Uber or similar at a cost, borrowers can use an e-bike for free. They get exercise which they would not realize with a car. E-bikes connect people and allow them to be more social. E-bikes also help people stay healthier, which avoids medical costs and eventually community costs associated with sickness, lost productivity and public health problems. It also lets patrons try something new around their town and travel more instead of just using a car.
A key factor of success was the fact that Madison City had already put in the infrastructure for the e-bikes all over town. So, they had plenty of docking stations and lockups near libraries and elsewhere. The grid is strategically placed, so no one person has to walk too far to get to an e-bike easily. The only slowdown to the new bike borrowing program was COVID, but since that has passed, bike borrowing is up and running again in Madison.