California Dog Owner Gets Reunited a Year Later After Losing Dog in a Move
Dog owners know darn well how much their canine friends love them back. Dogs stay loyal through thick and thin unless betrayed by the very ones they love. It becomes evident whenever a dog does the impossible just to reconnect with its owner. That was the case for Blue and the pit bull's owner, Linda, in Nashville after being separated for an entire year. And the way the dog reacted at the reunion, it was as if they hadn't been apart at all.
Blue had always been a cared-for dog. Linda raised him, but she also had to travel and relocate to Nashville. As a result, Linda decided to have the dog boarded temporarily while she was out of town. Unfortunately, while Linda was heading back to California to pick up more of her belongings, Blue was supposedly stolen while Linda was away. When she got back, the caretaker gave Linda the bad news, and Linda spent months driving all over Nashville hoping for a glimpse of her dog to recover Blue. She had no luck.
Fate Works in Weird Ways
Unknown to Linda, however, a helpful unknown person spotted Blue, was able to corral the dog, and brought him into the Metro Animal Care and Control (MACC), Nashville's animal control agency otherwise known as the "pound." And, like most animal recovery offices, MACC staff checked to see if Blue happened to be micro-chipped as the dog was being processed for containment. Sure enough, Blue's chip that Linda had made sure was embedded in the dog was read, showing the animal registered to an owner in California.
It had been a year by the time MACC was able to connect with Linda and trace her down, ironically now in Nashville as well. She had been separated from the dog so long, Linda worried whether Blue would even remember her at all.
Like most dogs in an unknown environment, Blue stayed quiet and kept to himself at MACC. However, as soon as the dog realized Linda was in sight and smell, he let loose and raised a huge racket trying to get out and get to her. The dog was so happy he bolted right to Linda as soon as he could. And, even if there hadn't been a chip in Blue, the way he acknowledged and responded he immediately to every one of Linda's hand commands proved the relationship beyond a doubt.
Micro-Chipping Works
Linda and Blue's story proves once again how dramatically important it is for pet owners to micro-chip their pets, both dogs and cats. One never knows how a separation can happen, usually unexpected, but micro-chipping has been one of the most reliable ways for owners to reconnect with their pets nationwide.
For those local to Nashville, MACC can be found at 5125 Harding Place. And for micro-chipping information and how to get your pets tagged to prevent losing them just click on this link.
The Returned Wallet from Antarctica – Half A Decade Later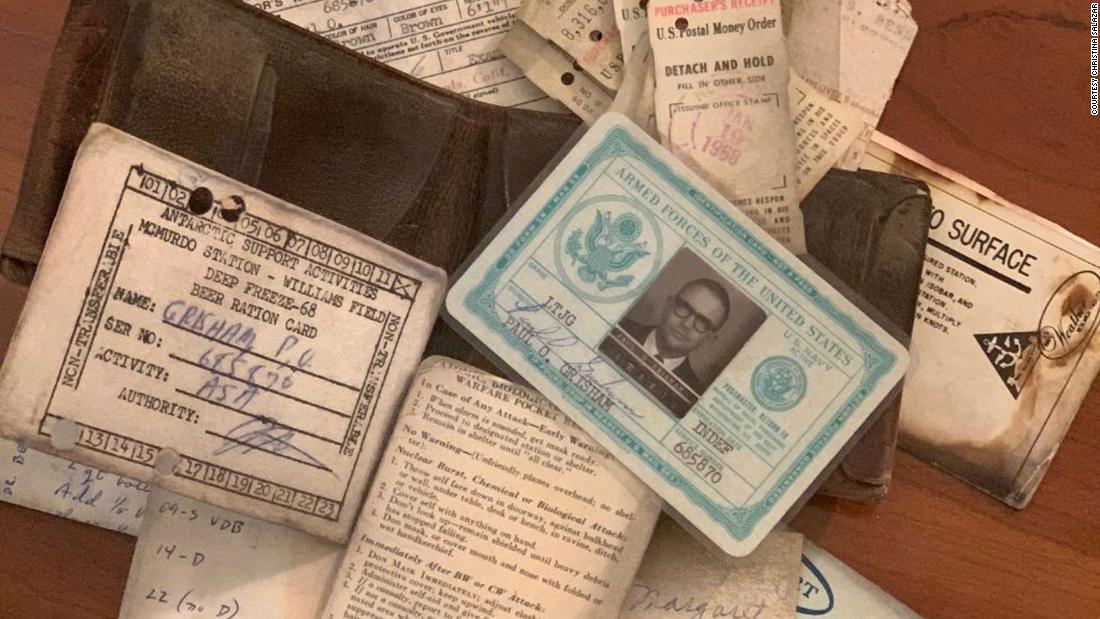 In 1968 a meteorologist was stationed in Antarctica among a number of military personnel. Their role was research as well as, and Paul Grisham's job was to track the weather in the southern pole region. Unfortunately, as crazy as it seems, Grisham managed to lose his wallet while working in the remote location and never did find it before leaving. That wallet sat in Antarctica at the station for another 53 years until it was rediscovered.
When the wallet was returned to Grisham, he felt like he was going back in a mental time machine. The wallet was in exceptionally good condition as well as the cards and materials that were kept in it. At 91 Grisham remarked first about how young he looked in the card photos as well as how far back that part of his life was.
The location, McMurdo Station, was being redesigned along with the demolishing and removal of older buildings. During the work, one of the construction crew found the wallet which had stayed in its place since Grisham had been stationed. Looking back on the cards now, Grisham continues to repeatedly trigger memories when he looks at his own Navy ID card. Last carried in 1968, the card was preserved and never deteriorated except for the edges of the leather. Included in the contents was a beer ration card, a guide card on how to deal with attacks ranging from nuclear to biological. And Grisham even included a recipe folded up in the cards for a liqueur.
The weather monitoring was a big issue at the time. Unlike today with tons of satellites spinning around the planet for watching everything from a farmer in the western side of China eat a sandwich to the weather's minute moves, back then the weather had to be observed in person. Grisham's job was to track the regional patterns so that planes and ships moving through the edge of the southern hemisphere to the station could do so safely and avoid storms. The work shifts were hard; Grisham remembered working a half day on, literally, and the half day off to rest and went straight for five long months.
Things weren't all about work. Grisham remembers they had pretty useful mini bowling alley which never got boring. And an inside gym was handy since jogging outside was off the list everyday of the year. Location-wise, the station was in one of the best locations in Antarctica as well; it would usually get to a balmy 25 degrees Fahrenheit. That was considerably better than other locations a bit further in easily only getting to a tepid minus 65 degrees.
When Grisham left the southern continent, he did so with a promotion, but he never did find his wallet before taking off. He doesn't have any fond wishes to return, still remembering a soda would explode from the cold in under 15 minutes if left outside. However, one thing he did miss was all the IOUs Grisham kept in his wallet from winning an inordinate number of poker games while on duty at McMurdo. It does make one wonder if he can still collect on this plus interest.
Grisham continues to be a name in history, but the rediscovered wallet was not his first entry. Grisham spent two hours talking with Sir Edmund Hillary about weather when Hillary arrived, and Grisham himself also got to reach the South Pole as well, some 850 miles inland. Sitting now at home, he enjoys the San Diego weather a lot more, but the wallet recovery was definitely a nice touch to Memoryville.