California Dog Owner Gets Reunited a Year Later After Losing Dog in a Move
Dog owners know darn well how much their canine friends love them back. Dogs stay loyal through thick and thin unless betrayed by the very ones they love. It becomes evident whenever a dog does the impossible just to reconnect with its owner. That was the case for Blue and the pit bull's owner, Linda, in Nashville after being separated for an entire year. And the way the dog reacted at the reunion, it was as if they hadn't been apart at all.
Blue had always been a cared-for dog. Linda raised him, but she also had to travel and relocate to Nashville. As a result, Linda decided to have the dog boarded temporarily while she was out of town. Unfortunately, while Linda was heading back to California to pick up more of her belongings, Blue was supposedly stolen while Linda was away. When she got back, the caretaker gave Linda the bad news, and Linda spent months driving all over Nashville hoping for a glimpse of her dog to recover Blue. She had no luck.
Fate Works in Weird Ways
Unknown to Linda, however, a helpful unknown person spotted Blue, was able to corral the dog, and brought him into the Metro Animal Care and Control (MACC), Nashville's animal control agency otherwise known as the "pound." And, like most animal recovery offices, MACC staff checked to see if Blue happened to be micro-chipped as the dog was being processed for containment. Sure enough, Blue's chip that Linda had made sure was embedded in the dog was read, showing the animal registered to an owner in California.
It had been a year by the time MACC was able to connect with Linda and trace her down, ironically now in Nashville as well. She had been separated from the dog so long, Linda worried whether Blue would even remember her at all.
Like most dogs in an unknown environment, Blue stayed quiet and kept to himself at MACC. However, as soon as the dog realized Linda was in sight and smell, he let loose and raised a huge racket trying to get out and get to her. The dog was so happy he bolted right to Linda as soon as he could. And, even if there hadn't been a chip in Blue, the way he acknowledged and responded he immediately to every one of Linda's hand commands proved the relationship beyond a doubt.
Micro-Chipping Works
Linda and Blue's story proves once again how dramatically important it is for pet owners to micro-chip their pets, both dogs and cats. One never knows how a separation can happen, usually unexpected, but micro-chipping has been one of the most reliable ways for owners to reconnect with their pets nationwide.
For those local to Nashville, MACC can be found at 5125 Harding Place. And for micro-chipping information and how to get your pets tagged to prevent losing them just click on this link.
Walk Along the Beach Turns Into Jurassic Experience For Shellfish Collector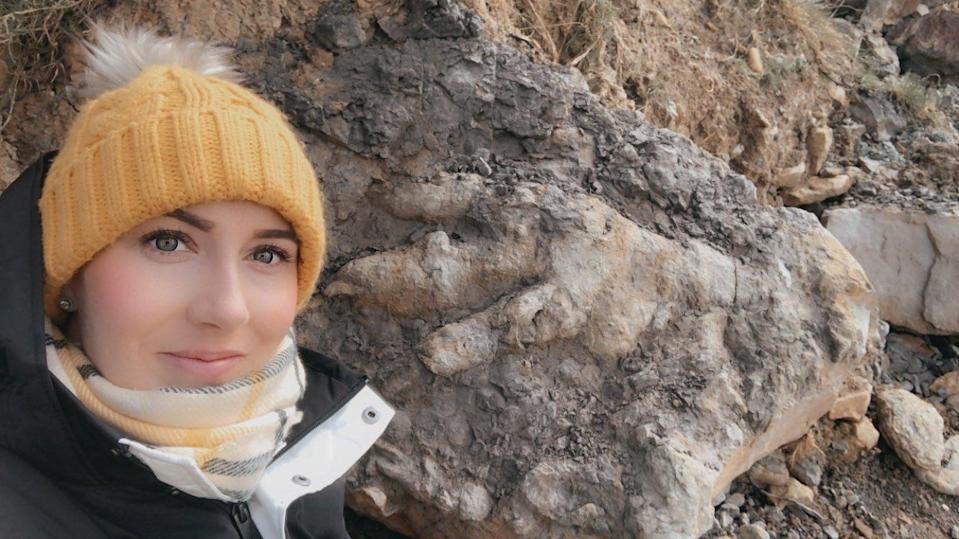 When was the last time that you were truly blown away by something? We don't mean impressed, we mean truly blown away. It's a tough state of mind to find ourselves in, but that doesn't mean that 29-year-old shellfish collector Marie Woods would have the same experiences! Woods had been foraging for shellfish along the Yorkshire Coast when she came across something quite remarkable. And when we say 'quite remarkable' what we really mean is 'a relic of time'.
Let's explore how a walk along the beach turned into a journey through time.
165 Million Years Ago…
Marie Woods was like many Yorkshire locals when she found herself walking along the coast, foraging for dinner. Woods had been looking for shellfish to incorporate into her meal when she came across something quite unique. In fact, what she found was something both out of time and out of place – an enormous footprint thought to be at least 165 million years old!
Now documented by experts, Marie was one of the first leaders in the field to examine the footprint. More than just a local shellfish enthusiast, Marie is also an archeologist. Upon finding the footprint, Marie would end up making international news. Marie said of her experience, "All I wanted was to grab some shellfish for my dinner." Marie would go on to add, "..and I ended up stumbling across this."
Woods wasn't the only expert to put a pair of eyes on the uncovered footprint as Dr. Dean Lomax of the University of Manchester was quick to chime in. Dr. Lomax believes that the discovered print is that of the Megalosaurus, an animal that would stand with hips over two meters high and a body longer than nine meters. Put more plainly, Dr. Lomax says, "This is the largest theropod footprint ever found in Yorkshire, at least made by a large meat-eating dinosaur."
The footprint is distinguishable at a glance, most notable due to its three-toed track and long shape. Dr. Lomax goes on to say that the shape of the footprint makes for a 'large theropod' or, as he likes to say, 'a real Jurassic giant'.
Learning About Megalosaurus
Also known as the Great Lizard, the Megalosaurus was a large meat-eating dinosaur from the theropod class, existing throughout the Middle Jurassic Period. Found throughout Southern England, the first-ever genus of this dinosaur was found in 1824. Originally mistaken by a researcher for a 66-foot long lizard, Megalosaurus would receive more significant and accurate coverage after its inclusion in Richard Owen's Dinosauria.
Described as bipedal with stout hind limbs, the Megalosaurus stood roughly 20 feet tall while weighing in at over 1,500 lbs. With short forelimbs and sharp teeth, the megalosaurus was quickly categorized as another meat eater for the time period. Unfortunately, we are still very short on further details as it has been beyond difficult for researchers to find a well-preserved fossilized skull for the Megalosaurus. Sans this information, it can be hard for researchers to get completely accurate details.
After discovering the fossilized footprint of Megalosaurus, Marie would contact other local experts where she would find out that her discovery was not completely new. Roughly a year ago, the footprint had been found by a local photographer named Rob Taylor. Though the image had been shared on social media, nothing had ever come of the discovery – at least not until Marie showed up.
Working with local experts, Marie and Rob are hopeful that their share discovery may find its way into a public display at the Rotunda Museum located in Scarborough.