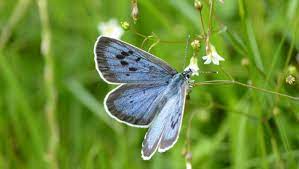 Britain is Celebrating The Return of the Blue Butterfly
If you were one of those kids who remembers back to grade school and your early lessons about evolution as well as adaptation, then you probably remember one of those lessons about British moths. For years, white moths were all over the land, easily hiding against the whitish tree bark and avoiding being eaten by birds. However, when the industrial age began, spewing smog out of chimneys, grey moths began surviving, and all the white moths were quickly eaten and died off, standing out against the soot-stained trees. For years, that's what American kids were raised with as an image if Britain.
As it turns out, Britain is far from its 19th century industrial age smog dump. Instead, the country is now having probably its biggest summer in a century and half with blue butterflies, and large ones at that. It's been the result of a decades-long effort in the restoration of the species, as well as similar efforts to help restore the shrill carder bee as well as the rugged oil beetle.
Originally, the large blue butterfly went the way of the evolutionary moth, dying out and disappearing in about 1979. It took some reintroducing with transplanted caterpillars of the same species from Sweden to get the butterflies back on the isles. However, since that effort began in 1983, the population of the butterflies has grown. And now, 2022 marks the biggest proliferation of the blue butterfly since the start of the program.
The biggest numbers of the colorful insects are found in Southwest England, which has been supported by the intentional planting of meadows stuffed with flowers. Everywhere there has been available land left fallow or unused, meadows have been planted, giving the insect an abundance of food supply and space. The effort has paid off.
Even with plenty of birds being natural predators, the butterflies have flourished, much due to a partnership between a number of trusts, non-profits and insect conservationists in England. For centuries earlier, the insect survived, tricking ants into protecting its eggs until they hatched and ate ant grubs to grow bigger. However, as temperatures shifted, the ant colonies died off, and the butterflies lost their primary protector during their early stage of growth. That and development essentially killed off the species in the late 1970s.
It took some serious study and thinking about how to restore the ant colonies, which then became the foundation for bringing back the butterflies. However, once that formula was worked out, the magic began to happen exponentially. 2022 is proof of that with the largest ever population of large blue butterflies in recorded history.
A Boy Expected to Never Write Shows the World What 12 Fingers Can Do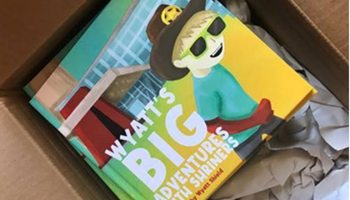 When Wyatt Shield was born, doctors immediately knew they had a developmental mutation case on their hands, no pun intended. The newborn boy was born with 12 fingers. Specifically, each hand came with an additional thumb. Technically known as thumb polydactyly, Wyatt was going to be able to live and function, but the use of hands for dexterity work like writing was going to be limited or none. Like many children with extra parts due to development mutations, Wyatt's extra thumbs were removed a year later thanks to the support and help of the Shriners Children's Hospital, located in St. Louis.
However, regardless of what the medical experts and doctors thought at the time, Wyatt wasn't keen on agreeing with their conclusion about his recovery. Instead, some five years later, Wyatt decided to become an author and write his first book. The story was about his experience at the Shriners' Hospital, from what he could remember, and what he was told about what occurred there to help him. Even more surprising, the book gained enough support to be published, and it's now in circulation.
The story of Wyatt's surgery trip covers all the different procedures he had to go through as well as his perspective of the doctors. It's a kid's view of the world clearly, and Wyatt wanted to show other kids not only could he prove medical experts wrong, but write a book doing so as well. His parents think Wyatt just rocks something huge. It's a classic outcome of what a child can pursue if he's not stopped first and prevented from achieving the "impossible."
The Shriner impact is a family thing for Wyatt and his parents as well. Wyatt's grandfather on his mother's side was a Shriner for a half century. Seeing the program give back personally to the family was a work effort coming full circle because of all the years of volunteering and support his grandfather provided Shriners before Wyatt was ever born. In the same vein, some of the profits from Wyatt's book sales will go right back to the Shriners, as Wyatt and his family wanted. It's a sense of paying forward for the next child that needs help like what Wyatt received for his hands.
And, as for Wyatt, he's off to his next adventure and challenge. His hands are doing just fine, and he's taking on new ideas for his next books as well.