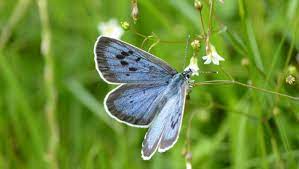 Britain is Celebrating The Return of the Blue Butterfly
If you were one of those kids who remembers back to grade school and your early lessons about evolution as well as adaptation, then you probably remember one of those lessons about British moths. For years, white moths were all over the land, easily hiding against the whitish tree bark and avoiding being eaten by birds. However, when the industrial age began, spewing smog out of chimneys, grey moths began surviving, and all the white moths were quickly eaten and died off, standing out against the soot-stained trees. For years, that's what American kids were raised with as an image if Britain.
As it turns out, Britain is far from its 19th century industrial age smog dump. Instead, the country is now having probably its biggest summer in a century and half with blue butterflies, and large ones at that. It's been the result of a decades-long effort in the restoration of the species, as well as similar efforts to help restore the shrill carder bee as well as the rugged oil beetle.
Originally, the large blue butterfly went the way of the evolutionary moth, dying out and disappearing in about 1979. It took some reintroducing with transplanted caterpillars of the same species from Sweden to get the butterflies back on the isles. However, since that effort began in 1983, the population of the butterflies has grown. And now, 2022 marks the biggest proliferation of the blue butterfly since the start of the program.
The biggest numbers of the colorful insects are found in Southwest England, which has been supported by the intentional planting of meadows stuffed with flowers. Everywhere there has been available land left fallow or unused, meadows have been planted, giving the insect an abundance of food supply and space. The effort has paid off.
Even with plenty of birds being natural predators, the butterflies have flourished, much due to a partnership between a number of trusts, non-profits and insect conservationists in England. For centuries earlier, the insect survived, tricking ants into protecting its eggs until they hatched and ate ant grubs to grow bigger. However, as temperatures shifted, the ant colonies died off, and the butterflies lost their primary protector during their early stage of growth. That and development essentially killed off the species in the late 1970s.
It took some serious study and thinking about how to restore the ant colonies, which then became the foundation for bringing back the butterflies. However, once that formula was worked out, the magic began to happen exponentially. 2022 is proof of that with the largest ever population of large blue butterflies in recorded history.
Brave 12-Year-Old Girl Saves Family from Carbon Monoxide Poisoning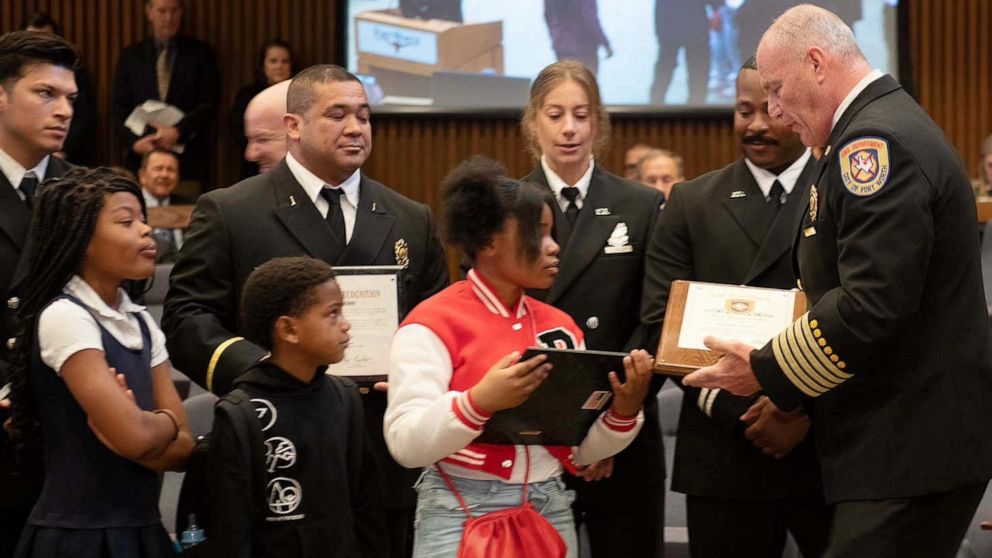 In a remarkable act of courage and quick thinking, 12-year-old Jaziyah Parker from Fort Worth, Texas, became a true hero when she saved her family from a dangerous situation. Jaziyah's keen observation and immediate action prevented a potential tragedy from unfolding.
One day, while Jaziyah was at home, she noticed something was wrong. Her mother and younger brother began to feel sick and lose consciousness. Jaziyah didn't panic but instead sprang into action. She grabbed the phone and dialed 911, desperately seeking help. In the recording of the 911 call, Jaziyah can be heard saying, "Something wrong with my mama. Can you hurry up and come?" Her plea for assistance was a crucial step that would ultimately save her entire family.
Little did Jaziyah know, her family's home was filling up with a silent but deadly gas called carbon monoxide. This odorless and colorless gas can be extremely harmful and even fatal when inhaled. But Jaziyah's sharp instincts and timely call for help prevented a tragic outcome. Her actions ensured that her family received the necessary assistance in time.
The Fort Worth Fire Department recognized Jaziyah's bravery and quick thinking during a special ceremony held on May 23, 2023. The firefighters honored her for her heroic act, commending her for the bravery she displayed in a challenging situation. Jaziyah's actions exemplify the importance of staying calm and taking action during emergencies.
Carbon monoxide poisoning is a serious concern, as it can occur in any home due to faulty appliances, heating systems, or ventilation issues. This incident serves as a reminder for everyone to have carbon monoxide detectors installed in their homes and to be aware of the signs and symptoms of poisoning. Symptoms such as dizziness, headaches, nausea, and confusion should never be ignored, as they could indicate carbon monoxide exposure.
Jaziyah's story is an inspiration to us all. Her courage and quick response saved her family from a potentially fatal situation. She serves as a shining example of how even young individuals can make a significant impact and help those in need. Her actions remind us that heroes can emerge at any age, and we should always be prepared to lend a helping hand in times of crisis.