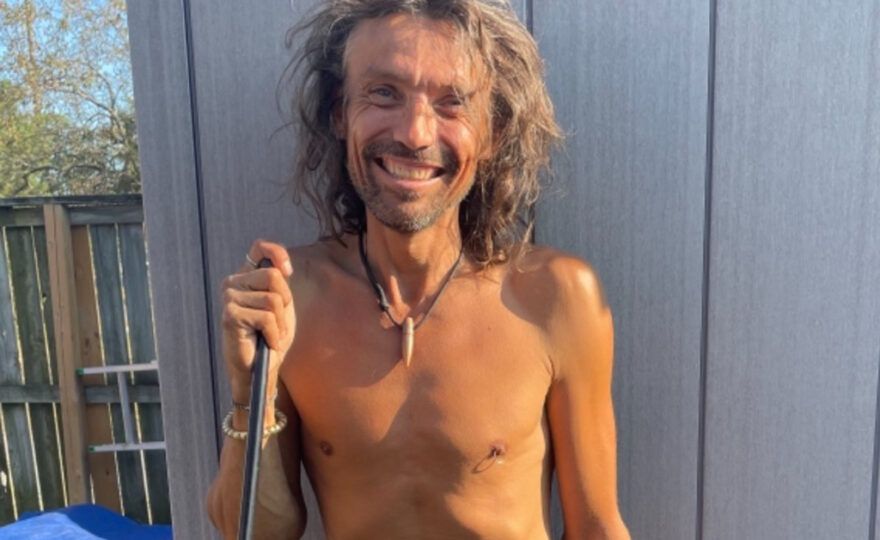 Bringing the Homeless Closer to Home
David McDonald as well as Kim Cornier are not, at first blush, two individuals people would connect as neighbors. As folks often judge others so quickly on sight, the two immediately seem to live worlds apart. Yet, ironically, David was Kim's neighbor literally in her backyard. And as Kim puts it, she would not have preferred things any different.
The two very different people crossed paths in July, which set them on their fate from that point forward. David McDonald had, at least for the last five years, been verifiably homeless most of his time. However, here and there he would manage to get an advantage that would make things easier from day to day. One of those advantages which began to fail was an e-scooter he was riding for basic transportation when it blew a tire passing by near where Kim Cormier lived. Kim happened to be outside at the time working on a project with her laptop, and David took the chance to ask for a simple favor – would she watch his belongings while he tried to go find a replacement inner tube to fix his scooter. Being homeless on the street meant dealing with things being stolen all the time, so unless items were watched continuously, they had a habit among the homeless to get up and disappear.
Eventually, David returned, and Kim felt comfortable enough to ask David if he wanted to have dinner with Kim and her partner, Andrew. The invitation was a hit. The three people ended up having a great evening, lots of conversation, and most importantly connecting on a basic human level. There was also a hell of a lot of laughing, which is good for anyone in any situation.
For David, the evening was finally a nice break. He had been on a bad run of horrible luck that just seemed to be getting worse by the day. Prior to getting stuck in the homeless cycle, he had up until 2010 been a very comfortable owner of a gas station that earned David a six-figure income annually. However, as most in the consumer fuel business know, the profit margins are thin and money is made on volume only. When gas prices increased, people stopped filling up as much. The loss of volume and cut in gross sales literally swung David's business from being in the black instead to sinking in the red. Eventually, the gas station failed and David lost everything trying to hold on. Then, with no income, he lost is home and finally his car. It didn't help that a personal relationship failed during this time as well. When it rains it pours, but none of that rain was anything useful for David. Everything David knew disappeared in front of him within a year.
Eventually, David tried his luck again in Toronto, but when his daughter moved out on her own, David had no ties to the area and nothing to support him. So, he tried his luck out west, moving to Vancouver by Greyhound bus. It was a mistake, and the former business owner was quickly homeless. Somehow, trying to find something better, David took nine entire months to walk and bike his way back to Ontario. Finally, he found a makeshift home site in a park in Toronto, still homeless. There were moments for a few days or weeks where David was able to sleep on a couch or stay with friends, but it always came back to living on the street. Nothing would gel out.
David tried his hand a few times being a roommate, but he was frequently threatened and robbed by his own flatmates, oftentimes because his sexual preference as a gay man gave the impression of him being a weak target. Right after the tire blowout near Kim's home, David was back on the street, feeling safer there than with roommates. Ironically, David would refuse to use homeless services frequently because he felt there were folks worse off than him who needed the money more.
Once she heard his story, Kim and her partner felt moved to do something about it. They decided to let David camp in their backyard. He would pitch his tent, be safe, and have a stable location to try to build from. And that started a friendship where David and Kim both blame the other as being the better person in their connection. That has since blossomed into a project that will now provide David a microhome, fully insulated, as a place to live and a replacement for his tent living. But for Kim and her partner, he's not the homeless guy in their backyard; David is family now. And to David, Kim and her partner are angels when he needed help the most.
Jane Goodall Initiates Massive Billion Tree Reforestation Project Involving Fans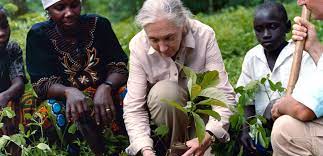 The loss of flora and fauna species due to habitat loss is among the most harmful and distressing outcomes of deforestation. Forests are home to 70 percent of ground plants and biological species, according to National Geographic. Deforestation endangers not only known species but also new species.
The rainforest trees offering shelter for some animals also create a temperature-regulating covering. Deforestation causes a more severe temperature change from day to sundown, similar to a desert, fatal for many residents.
Major Reforestation Effort
Many efforts have been established over the decades to mitigate the effects of deforestation. The Jane Goodall Foundation's most recent efforts, on the other hand, are being considered ambitious and massive projects. Many individuals believe that individuals can restore forests all across the world.
Throughout the United Nations Climate Week, world-renowned primatologist Dr. Jane Goodall started a grassroots initiative to promote their ecological renovation project, the Trillion Tree Campaign.
Trees for Jane is a neighborhood preservation and reforestation initiative founded by Jane Goodall, the empowering founder of the Jane Goodall Institute. Its purpose is to end environmental destruction and help restore the world's diminishing stock of natural vegetation.
She voiced the film A Trillion Trees, which encourages everyone to grow a plant in their yards, roofs, or towns.
As the globe approaches a critical boundary in stopping climate change, their webpage strives to motivate, inform, and mobilize a worldwide audience to act now.
They believe that Trees For Jane will inspire a worldwide audience to help the UN's aim of planting one trillion trees by 2030, from learners and lecturers to advocates, organizations, and politicians.
While Goodall urges everyone to plant trees, the documentary also emphasizes the necessity of tree protection and restoration. At TreesforJane.org, anyone may help by planting a tree or contributing.
What is Deforestation?
Deforestation is the planned, natural, or unintentional clearing, damaging, or otherwise removal of trees. It may happen anywhere with many trees and various greenery, but it's happening a lot right now in the Amazon rainforest.
Global warming, logging, soil degradation, limited harvests, inundation, higher greenhouse gas levels in the air, and a slew of other issues for aboriginal populations can all occur due to reducing trees and various plants.
Greenhouse Gases Have Increased
A lack of trees permits a more significant quantity of greenhouse gases to be emitted into the atmosphere, in addition to habitat loss. Healthy forests absorb CO2 from the atmosphere and operate as excellent carbon sinks. Deforested areas lose this ability, releasing more carbon into the atmosphere.
The Atmosphere's Water
The trees also help in controlling the water cycle, which helps to prevent the amount of water in the atmosphere. There is less water in the air to return to the soil in deforested areas. As a result, the earth becomes drier, making it impossible to cultivate crops.
Erosion of The Soil and Flooding
Soil degradation and coastal flooding are two further consequences of deforestation. Trees aid in the retention of water and dirt, which offers abundant nutrients for other forest life.
The land erodes and drains away without woods, forcing people to relocate on and continue the cycle. The barren soil left behind by this soil degradation is more vulnerable to flooding, particularly in coastal areas.