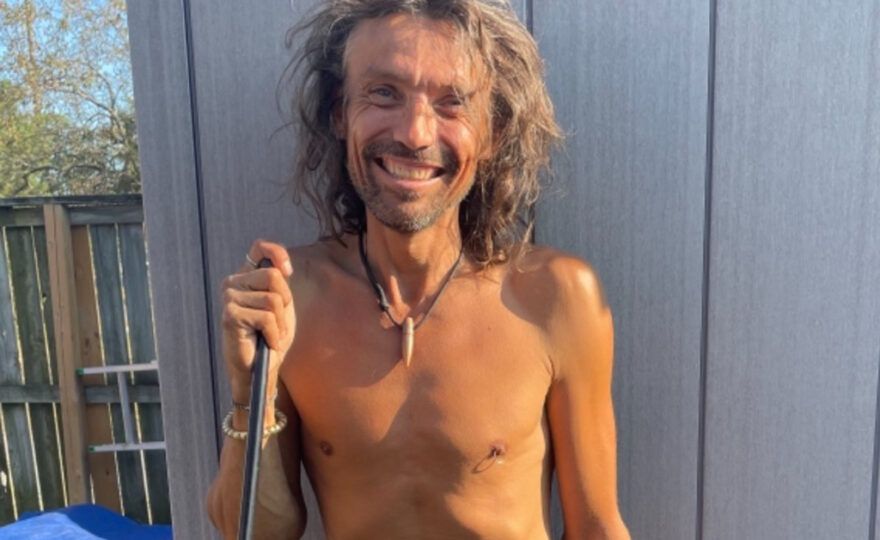 Bringing the Homeless Closer to Home
David McDonald as well as Kim Cornier are not, at first blush, two individuals people would connect as neighbors. As folks often judge others so quickly on sight, the two immediately seem to live worlds apart. Yet, ironically, David was Kim's neighbor literally in her backyard. And as Kim puts it, she would not have preferred things any different.
The two very different people crossed paths in July, which set them on their fate from that point forward. David McDonald had, at least for the last five years, been verifiably homeless most of his time. However, here and there he would manage to get an advantage that would make things easier from day to day. One of those advantages which began to fail was an e-scooter he was riding for basic transportation when it blew a tire passing by near where Kim Cormier lived. Kim happened to be outside at the time working on a project with her laptop, and David took the chance to ask for a simple favor – would she watch his belongings while he tried to go find a replacement inner tube to fix his scooter. Being homeless on the street meant dealing with things being stolen all the time, so unless items were watched continuously, they had a habit among the homeless to get up and disappear.
Eventually, David returned, and Kim felt comfortable enough to ask David if he wanted to have dinner with Kim and her partner, Andrew. The invitation was a hit. The three people ended up having a great evening, lots of conversation, and most importantly connecting on a basic human level. There was also a hell of a lot of laughing, which is good for anyone in any situation.
For David, the evening was finally a nice break. He had been on a bad run of horrible luck that just seemed to be getting worse by the day. Prior to getting stuck in the homeless cycle, he had up until 2010 been a very comfortable owner of a gas station that earned David a six-figure income annually. However, as most in the consumer fuel business know, the profit margins are thin and money is made on volume only. When gas prices increased, people stopped filling up as much. The loss of volume and cut in gross sales literally swung David's business from being in the black instead to sinking in the red. Eventually, the gas station failed and David lost everything trying to hold on. Then, with no income, he lost is home and finally his car. It didn't help that a personal relationship failed during this time as well. When it rains it pours, but none of that rain was anything useful for David. Everything David knew disappeared in front of him within a year.
Eventually, David tried his luck again in Toronto, but when his daughter moved out on her own, David had no ties to the area and nothing to support him. So, he tried his luck out west, moving to Vancouver by Greyhound bus. It was a mistake, and the former business owner was quickly homeless. Somehow, trying to find something better, David took nine entire months to walk and bike his way back to Ontario. Finally, he found a makeshift home site in a park in Toronto, still homeless. There were moments for a few days or weeks where David was able to sleep on a couch or stay with friends, but it always came back to living on the street. Nothing would gel out.
David tried his hand a few times being a roommate, but he was frequently threatened and robbed by his own flatmates, oftentimes because his sexual preference as a gay man gave the impression of him being a weak target. Right after the tire blowout near Kim's home, David was back on the street, feeling safer there than with roommates. Ironically, David would refuse to use homeless services frequently because he felt there were folks worse off than him who needed the money more.
Once she heard his story, Kim and her partner felt moved to do something about it. They decided to let David camp in their backyard. He would pitch his tent, be safe, and have a stable location to try to build from. And that started a friendship where David and Kim both blame the other as being the better person in their connection. That has since blossomed into a project that will now provide David a microhome, fully insulated, as a place to live and a replacement for his tent living. But for Kim and her partner, he's not the homeless guy in their backyard; David is family now. And to David, Kim and her partner are angels when he needed help the most.
Doubling-Up Solar Use and Protecting Water Simultaneously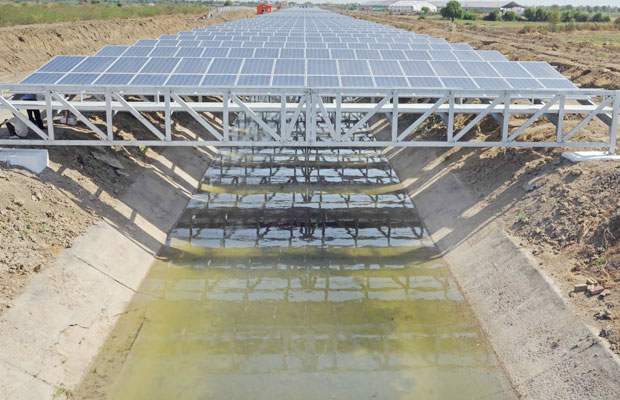 Put water out in the hot sun, and it will eventually disappear. Evaporation causes water to turn into gas and the same dissipates upward until it becomes condensate and rains back down. While this is part of how nature recycles moisture, for farming and water supplies, evaporation is a serious loss.
California is ground zero for agricultural drought and strained water systems, especially in 2022, facing another drought period in less than a decade. Much of the state's water is moved through a canal system, taking the moisture from the wetter north to provide water supply to the Central Valley and the Southern California region. However, while a tremendous amount of water moves everyday through the statewide canal system, a good portion of it is lost to evaporation as well as being directly exposed to the sun.
To solve the water loss problem partially as well as create a solar farm that generates easy energy, Turlock Irrigation District has invested some $20 million in creating serious solar panel covers for water canals traveling through the Turlock area. Two locations will have the construction applied, one being a 500-foot long section, and the other a much bigger stretch measuring a mile in distance. The project is being watched closely for success. If it works, there's a significant interest in keeping it going and adding to the effort.
California as a state is criss-crossed by 4,000 miles of water canals. Just on a space-basis alone, covering that network with solar panels could generate at least thirteen gigawatts of new energy daily. That would generate enough electricity for almost 10 million homes (9.75 million to be exact). The energy generation would be huge; right now there are 13.1 million homes statewide.
California won't be the first to apply solar panels over its water canals; that honor goes to India. However, if the project is successful, California will definitely hold the title to the biggest related project globally if the second mile-long part gets completed. Dubbed Project Nexus for both parts combined, Turlock's goal is to build and apply solar panel covers or canopies over the water canals themselves, as well as hooking them up to the power grid. The project is to start this year in Fall 2022 and expected completion is in 2024.
The panels are expected to have a direct impact on evaporation as well in a two-fold manner. First, their function as a cover breaks up the heat effect of the sun directly on the water in the canal. Second, the structures break up the wind factor, which can also create a drying effect as well. That means more water stays in liquid form and gets to its destination by traveling through the canal system. The difference matters; some 80 percent of water that is sourced in California goes to Southern California to sustain that region, after already providing sufficient supply for folks up north. Just from the hot sun exposure alone, up to 2 percent of the total is lost before the water arrives in the South. Adding some of that back in can be a gamechanger in supply, to the tune of 65 billion gallons a year.
The benefits are big stakes. If the project works, it could be the impetus to covering all of California's canals. And that could save and that could produce some 50,000 acres of hydrated farming soil or supply water to another 2 million people. That is in addition to the electricity benefits noted above. The world is changing, and folks visiting California and driving down Interstate 5 and other areas may see it first hand with Project Nexus and more.