Boy With Down Syndrome Gets Special Invitation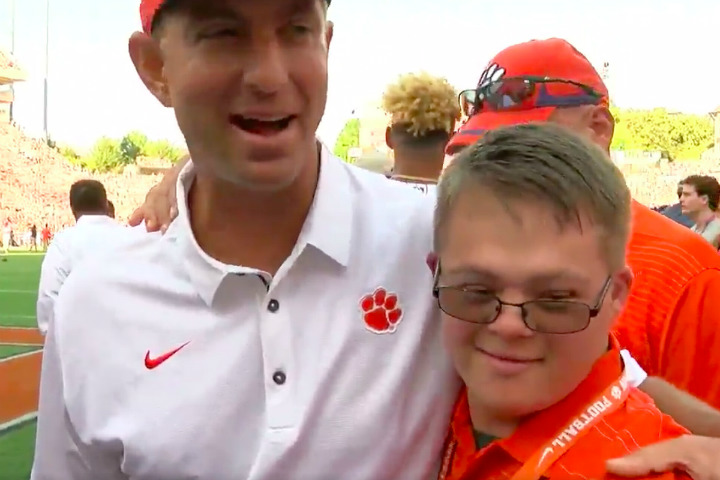 Celebrities are not necessarily bad people, but a good number of them rarely express their kindness and generosity to the deserving ordinary citizens. Perhaps, this is why when the Head Coach of Clemson Tigers, Dabo Swinney, did the exact opposite of this norm last year, the internet went viral. So what exactly did he do? Let's first begin by understanding who Jake Pratt is and what he did in connection to Dabo Swinney.
Jake Pratt is better described as a high school senior diagnosed with Down syndrome. As of now, however, he is probably through with his studies. Football is undoubtedly one of his favorite sports because while at school, Jake Pratt was tasked with the role of being the football manager of his high school team. The young guy wished to engage in actually playing the sport, but his condition would not allow him to do so.
The Epic Touchdown
Despite this fact, the little football team manager made efforts of attending the practices and workouts of the team. For the first time, on the 25th day of August 2017, he was lucky to scoop a chance of playing for his team. It seems that luck was on Jake Pratt's side, or perhaps it was his first time and he wanted to do his very best. Whatever the case, Jake Pratt with the lifetime opportunity in his hand, scored a touchdown which left many puzzled because it was not only his first time playing but he also had Down Syndrome.
The Grand Invitation
During his epic score, a video was taken, and with this digital generation, you can conclude with confidence that his video became uploaded on various social media sites. Whichever platform the footage was shared, positive messages rented the space. Amongst all the positive responses, none was more pleasing to Jake Pratt than that of Clemson Tiger's coach Dabo Swinney. This is because he invited the young man of the match along with his family to watch the game between Clemson Tigers and Auburn Tigers. Of course, the non-footballers would not see anything big with this invitation, but as a die-hard fan of football, you understand the magnitude of such a once in a lifetime invitation.
As if this was not enough, Dabo had the courtesy of recognizing Jake's presence at the South Carolina's stadium. Notably, the coach walked towards the young star and engaged in a few minutes of communication with him. Dabo had the option of failing to spearhead a brief conversation with Jake. He also had the choice of not recognizing the man after inviting him to the match. However, without minding his position in the society, he did this great act. From him, other celebrities should pick a lesson or two. In so doing, the community would be a better place regardless of our positions in the society. If the top persons can be good enough to support such young talents, then the society will undoubtedly be heading in the correct direction.
Routine Traffic Stop Turns into Heartwarming Occasion Thanks to Officer's Kind Gesture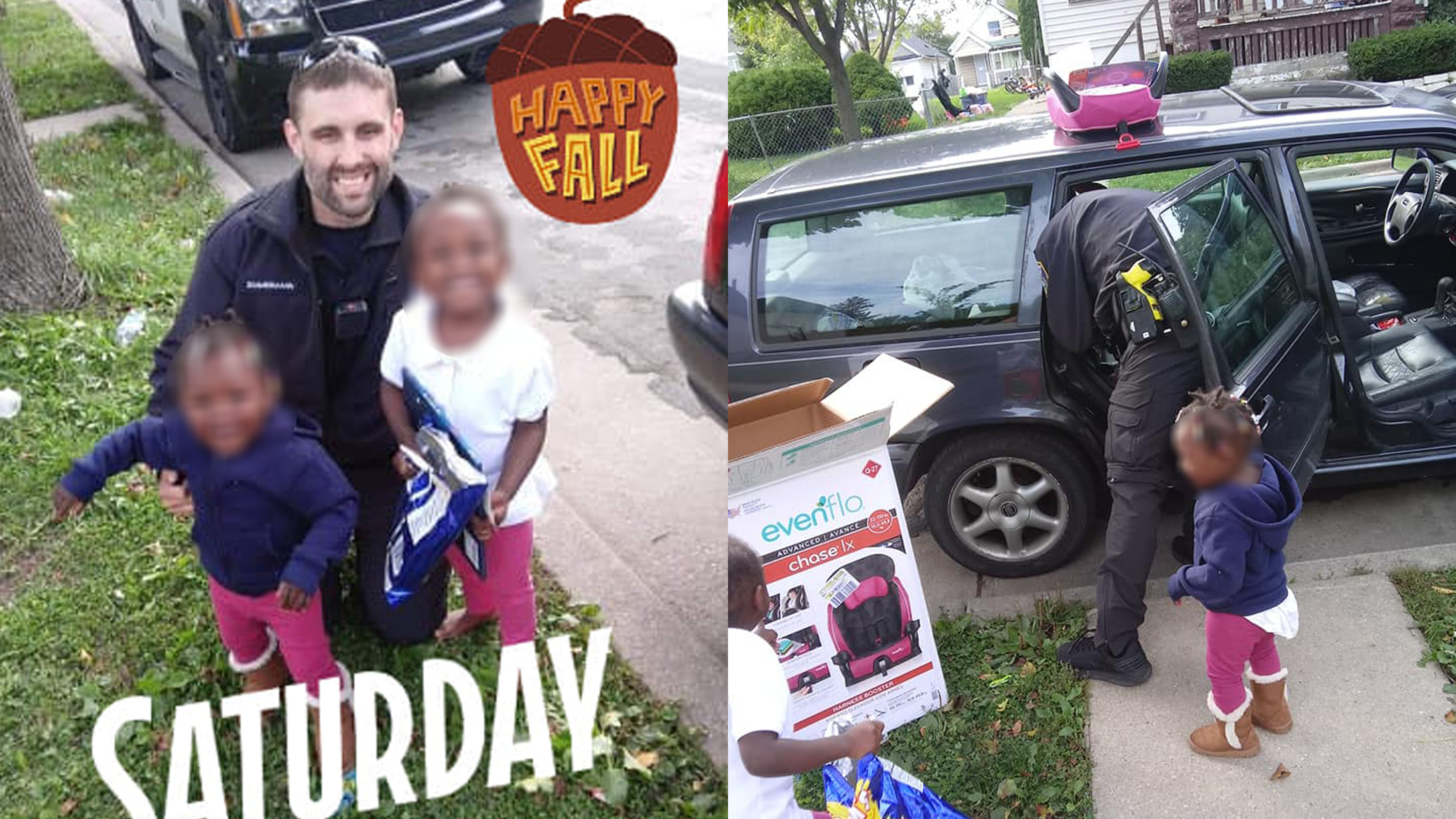 Getting pulled over can be a stressful situation. You may not know right away why you were asked to stop, but you probably have a good hunch that it's not for a good reason.
More often than not, that premonition we have about being pulled over turns out to be accurate and we have to be involved in a less than ideal situation. It's why many of us dread stopping to talk to an officer so much.
Andrella Jackson may now have different thoughts about being asked to stop by an officer though.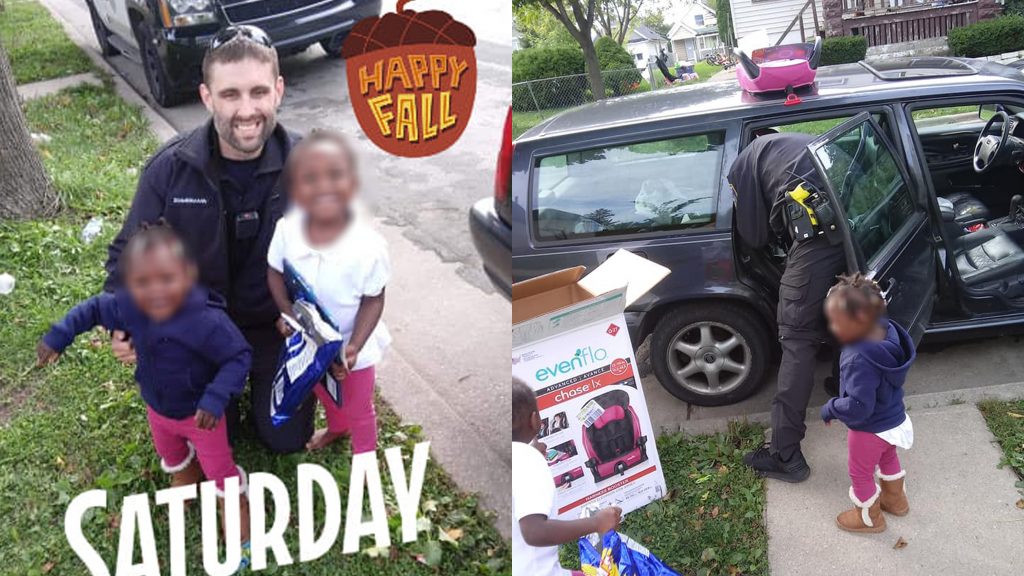 Not too long ago, Jackson was spotted by Milwaukee police officer Kevin Zimmerman and was asked to pull over. Officer Zimmerman requested that Jackson stop because she had the wrong registration for her car.
As he approached the vehicle though, something else caught the eye of Officer Zimmerman. To be more specific, he saw that there were three kids in the backseat of Jackson's car and two of them were still very small, WTMJ-TV reported. He also noticed that the two small children in question were not in car seats.
Officer Zimmerman then asked Jackson why the small kids were not placed in car seats and she said that she did not have the money to pay for those essential pieces of safety equipment at that time. Jackson mentioned that with winter on the way, she was saving up to buy her children new coats and boots.
A shortage of money is the same reason why Jackson had failed to get her vehicle registered properly.
Per the American Automobile Association (AAA), there are laws in every state dictating that children should be in car seats or restraints.
It would have been easy for Officer Zimmerman to issue Jackson tickets for her violations, but he opted to handle things a different way. Instead of adding to her problems, he went about solving one of them.
Officer Zimmerman soon made his way to a nearby Walmart, and after learning how much the kids weighed from Jackson, he went ahead and purchased two car seats using money out of his own pocket. He even stuck around to install the car seats himself.
By the way, the police officer did more than just give Jackson and her kids new car seats. According to this report from CNN, Officer Zimmerman also made a stop at the police department to pick up a few things – children's books and stickers – that he also gifted to Jackson's kids.
The police officer explained why he went the extra mile to help out Jackson. Officer Zimmerman shared that he has kids of his own. He hinted at how frightening the thought is of his own kids moving around in a vehicle with no car seats and how they can be placed in grave danger if an accident occurs.
Officer Zimmerman also said that he was always taught to "do the right thing even if no one is looking." In this case, both Jackson and the Milwaukee Police Department wanted to make sure that Officer Zimmerman would receive the recognition he deserved even if he wasn't looking for that.
The generous act touched Jackson, prompting her to shower Officer Zimmerman with numerous "thank yous." Her kids got in on the chorus of generosity as well.
Jackson called Officer Zimmerman "awesome" and that she is appreciative of the kindness he showed. She added that with the car seats now purchased and installed, she will be able to allocate a bigger budget that will then be used to buy those new coats and boots that her kids need.
What could have turned into an even more trying situation for Jackson and her kids became a shining example of humanity at its best and that is thanks to the generosity exhibited by Officer Zimmerman.