Boy With Down Syndrome Gets Special Invitation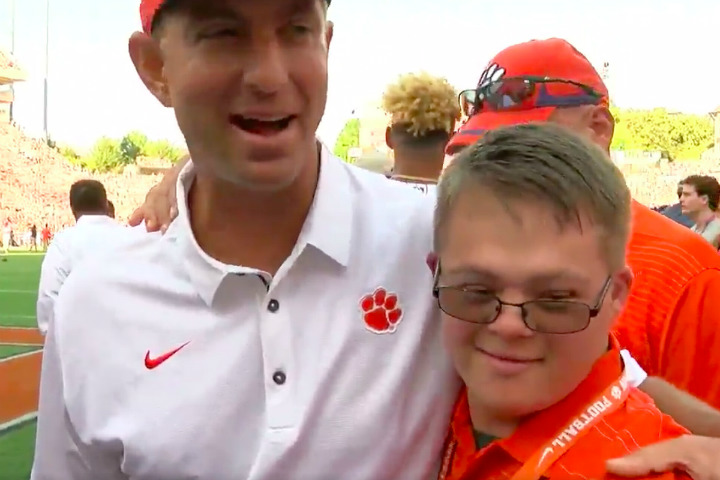 Celebrities are not necessarily bad people, but a good number of them rarely express their kindness and generosity to the deserving ordinary citizens. Perhaps, this is why when the Head Coach of Clemson Tigers, Dabo Swinney, did the exact opposite of this norm last year, the internet went viral. So what exactly did he do? Let's first begin by understanding who Jake Pratt is and what he did in connection to Dabo Swinney.
Jake Pratt is better described as a high school senior diagnosed with Down syndrome. As of now, however, he is probably through with his studies. Football is undoubtedly one of his favorite sports because while at school, Jake Pratt was tasked with the role of being the football manager of his high school team. The young guy wished to engage in actually playing the sport, but his condition would not allow him to do so.
The Epic Touchdown
Despite this fact, the little football team manager made efforts of attending the practices and workouts of the team. For the first time, on the 25th day of August 2017, he was lucky to scoop a chance of playing for his team. It seems that luck was on Jake Pratt's side, or perhaps it was his first time and he wanted to do his very best. Whatever the case, Jake Pratt with the lifetime opportunity in his hand, scored a touchdown which left many puzzled because it was not only his first time playing but he also had Down Syndrome.
The Grand Invitation
During his epic score, a video was taken, and with this digital generation, you can conclude with confidence that his video became uploaded on various social media sites. Whichever platform the footage was shared, positive messages rented the space. Amongst all the positive responses, none was more pleasing to Jake Pratt than that of Clemson Tiger's coach Dabo Swinney. This is because he invited the young man of the match along with his family to watch the game between Clemson Tigers and Auburn Tigers. Of course, the non-footballers would not see anything big with this invitation, but as a die-hard fan of football, you understand the magnitude of such a once in a lifetime invitation.
As if this was not enough, Dabo had the courtesy of recognizing Jake's presence at the South Carolina's stadium. Notably, the coach walked towards the young star and engaged in a few minutes of communication with him. Dabo had the option of failing to spearhead a brief conversation with Jake. He also had the choice of not recognizing the man after inviting him to the match. However, without minding his position in the society, he did this great act. From him, other celebrities should pick a lesson or two. In so doing, the community would be a better place regardless of our positions in the society. If the top persons can be good enough to support such young talents, then the society will undoubtedly be heading in the correct direction.
Experts Warn Pet Owners About The Dangers Of Himalayan Salt Lamps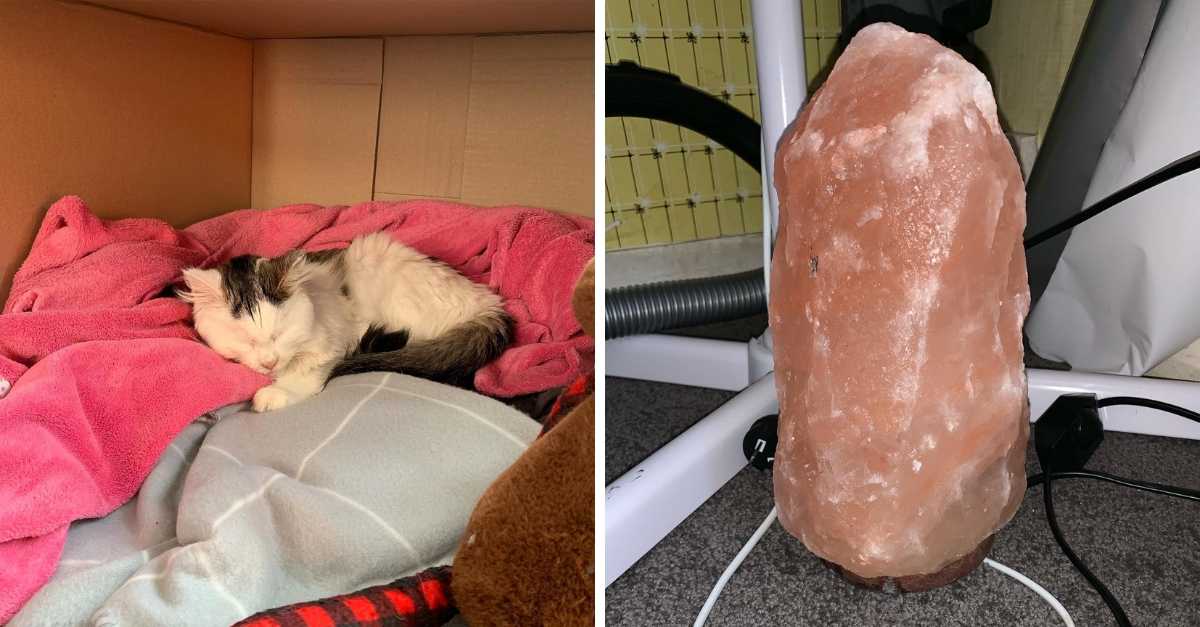 Pet owners are always looking to make sure that their four legged friends are safe and sound. It only makes sense, right? Our pets look to us for food, shelter and care. If we are not going to look out for them, who will? Now that Himalayan salt lamps are steadily rising in popularity, pet owners have been looking into the potential benefits that they have to offer.
These benefits are numerous to the owner but are these salt lamps truly safe for the pet? It is a question that certainly deserves answering. They might be a great addition to the home but these advantages could come at a cost to your pet. In a best case scenario, the lamps clean the air in the home and allow us to get a good night's sleep.
They are also said to offer a marked improvement to our serotonin levels. One woman has a horror story to offer about her cat and it is disconcerting, to say the least. The hidden dangers of these lamps need to be exposed, so that no other pets are forced to suffer from a similar fate. That's what makes this story such an important one to pass along and share with fellow pet owners.
After all, there are no shortage of people out there who are probably blissfully unaware of the issues that these lamps present. They reside at the intersection between home decoration and vital self care. It is easy to see why so many pet owners have already fallen under their spell. Maddie Smith was forced to wake up to a pet owner's worst nightmare recently.
Her cat was not behaving in her usual manner. Something was wrong with poor Ruby but Maddie was not sure what it was. Initially, she believed that the cat was simply feeling chilly. She tried her best to warm up Ruby and left for work. Unfortunately, the cat's condition slowly started to worsen. By the time Maddie was able to come back home, she could tell that something was seriously wrong with the cat.
When she took the animal to the vet's office, the connection between her condition and the Himalayan salt lamp that was being used had been revealed. Humans must avoid excessive exposure to salt and pets experience the same risk factors. These lamps release a sizable amount of salt into the air, causing pets to go through all sorts of harmful side effects.
If Maddie had not brought her pet to the vet's office when she had, we shudder to think of what may have happened next. Lamp owners need to take the proper precautions going forward. It all starts with proper lamp storage. The lamp cannot and should not be kept in an area that pets have easy access to. The owner should be storing the salt lamp far away from their animal.
Maddie's Facebook post about the matter was shared far and wide. She wanted to make sure that other pet owners did not make the same mistake as she did. It is easy to see how these errors happen, though. We mean well and we try our best to keep our homes looking and feeling nice. The last thing that any pet owner wants is to hurt their best friend.
Please do your part to assist other pet owners who might be experiencing similar issues by sharing this story. If you know someone who owns a pet and a Himalyan salt lamp, this is your chance to set things right. Ruby may have been licking this lamp excessively but she is going to be OK now! Let's do our part to make sure that other pet owners do not have to learn this lesson the hard way.