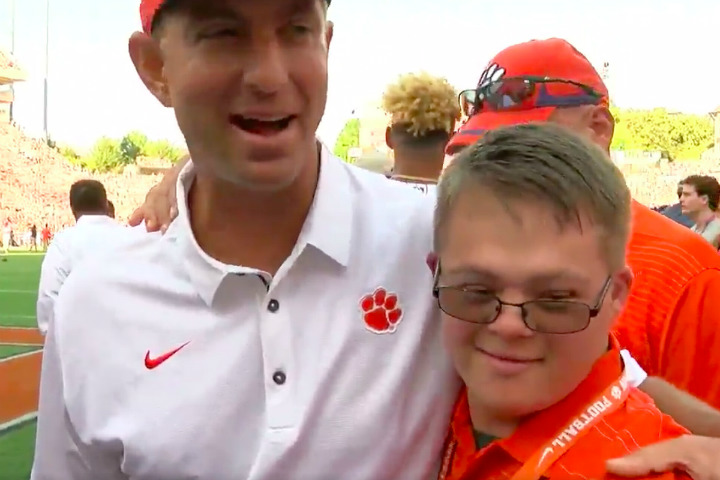 Boy With Down Syndrome Gets Special Invitation
Celebrities are not necessarily bad people, but a good number of them rarely express their kindness and generosity to the deserving ordinary citizens. Perhaps, this is why when the Head Coach of Clemson Tigers, Dabo Swinney, did the exact opposite of this norm last year, the internet went viral. So what exactly did he do? Let's first begin by understanding who Jake Pratt is and what he did in connection to Dabo Swinney.
Jake Pratt is better described as a high school senior diagnosed with Down syndrome. As of now, however, he is probably through with his studies. Football is undoubtedly one of his favorite sports because while at school, Jake Pratt was tasked with the role of being the football manager of his high school team. The young guy wished to engage in actually playing the sport, but his condition would not allow him to do so.
The Epic Touchdown
Despite this fact, the little football team manager made efforts of attending the practices and workouts of the team. For the first time, on the 25th day of August 2017, he was lucky to scoop a chance of playing for his team. It seems that luck was on Jake Pratt's side, or perhaps it was his first time and he wanted to do his very best. Whatever the case, Jake Pratt with the lifetime opportunity in his hand, scored a touchdown which left many puzzled because it was not only his first time playing but he also had Down Syndrome.
The Grand Invitation
During his epic score, a video was taken, and with this digital generation, you can conclude with confidence that his video became uploaded on various social media sites. Whichever platform the footage was shared, positive messages rented the space. Amongst all the positive responses, none was more pleasing to Jake Pratt than that of Clemson Tiger's coach Dabo Swinney. This is because he invited the young man of the match along with his family to watch the game between Clemson Tigers and Auburn Tigers. Of course, the non-footballers would not see anything big with this invitation, but as a die-hard fan of football, you understand the magnitude of such a once in a lifetime invitation.
As if this was not enough, Dabo had the courtesy of recognizing Jake's presence at the South Carolina's stadium. Notably, the coach walked towards the young star and engaged in a few minutes of communication with him. Dabo had the option of failing to spearhead a brief conversation with Jake. He also had the choice of not recognizing the man after inviting him to the match. However, without minding his position in the society, he did this great act. From him, other celebrities should pick a lesson or two. In so doing, the community would be a better place regardless of our positions in the society. If the top persons can be good enough to support such young talents, then the society will undoubtedly be heading in the correct direction.
The little boy shares a special moment with a police officer during a protest rally for George Floyd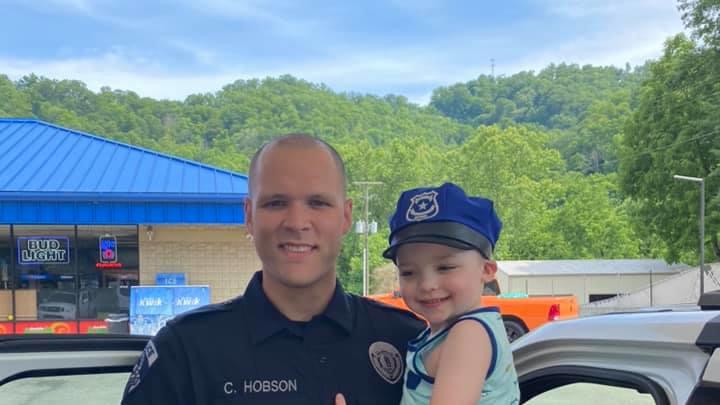 The ruthless killing of George Floyd has caused a thunderous uproar and rage throughout the world. In Winston-Salem, NC, hundreds of people gathered to protest against the killing of Floyd. They took to one knee for 8 minutes and 46 seconds that is the exact length of time former police officer Derek Chauvin had shoved his knee onto Floyd's neck which resulted in Floyd's death. The killing of George Floyd has become a symbol of injustice not only in American society but throughout the world. "Say no to racism" has been the most trending topic in all regions of the globe. In this particular incident, it was a black man who was the victim and this is not the only time it has happened. Several cases have occurred which demonstrated the lack of compassion and justice in the way law enforcement has dealt with individuals from minority racial groups.
Yolanda Williams Dickey, a resident of Winston-Salem, NC, was driving by the protest when she decided she wanted her family to be part of this protest as a sign of solidarity against discrimination against the minority groups. She went home to pick up her husband and son, who were glad they got a chance to be part of this historic protest. For her little son, Kamari it was quite the experience. He had never seen a protest rally before this. He saw a lot of anger and pain in the faces of the protestors. He could also see his parents being very emotional too. His parents had told him what the protest was about and how Floyd had been murdered. Kamari couldn't understand why the former police officer did what he did to George Floyd.
Kamari's attention went to the police officers on the sidelines. He watched them very closely as they stood by making sure there was no violence at the protest. Kamari had always wanted to a police officer himself but now his mother was concerned that after this incident, maybe he would not want to be one. Most of the toys that Kamari had were related to the police and he spent most of his days playing with them. He often told his parents that when he grows up he wanted to be a police officer so he could catch the bad guys. This unfortunate killing of George Floyd might have shattered the dreams of the little boy. At the protest, as the family moved closer to the police officers, Kamari approached Sgt. Dan Battjes, who was sitting on his motorcycle.
Kamari formally introduced himself to the police officer, who was very kind and friendly to the boy. After a few minutes of talking, Kamari said goodbye to the officer by a friendly fist pump. While the citizens of the country are demonstrating against the police and there is an unbelievable level of anger toward law enforcement, this little boy kept no hatred in his heart. The innocence of the little boy showed the resilience of the American community. One incident cannot dismantle years of peaceful coexistence. Yes, there have been cases where the minority communities have been discriminated and there should be strict actions and reforms against such incident but Americans still need to live together. The dream of Kamari to become a police officer might still be alive. The question remains, is the dream of a multi-racial America living with each other with love, compassion, and tolerance still alive? Only time will tell if this dream is alive.