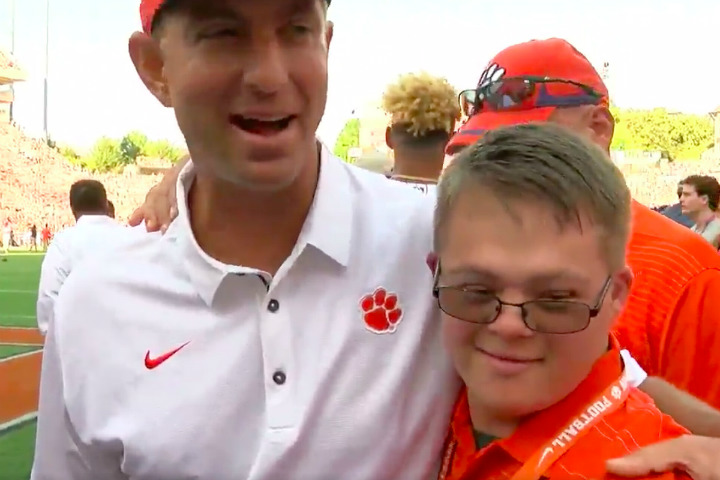 Boy With Down Syndrome Gets Special Invitation
Celebrities are not necessarily bad people, but a good number of them rarely express their kindness and generosity to the deserving ordinary citizens. Perhaps, this is why when the Head Coach of Clemson Tigers, Dabo Swinney, did the exact opposite of this norm last year, the internet went viral. So what exactly did he do? Let's first begin by understanding who Jake Pratt is and what he did in connection to Dabo Swinney.
Jake Pratt is better described as a high school senior diagnosed with Down syndrome. As of now, however, he is probably through with his studies. Football is undoubtedly one of his favorite sports because while at school, Jake Pratt was tasked with the role of being the football manager of his high school team. The young guy wished to engage in actually playing the sport, but his condition would not allow him to do so.
The Epic Touchdown
Despite this fact, the little football team manager made efforts of attending the practices and workouts of the team. For the first time, on the 25th day of August 2017, he was lucky to scoop a chance of playing for his team. It seems that luck was on Jake Pratt's side, or perhaps it was his first time and he wanted to do his very best. Whatever the case, Jake Pratt with the lifetime opportunity in his hand, scored a touchdown which left many puzzled because it was not only his first time playing but he also had Down Syndrome.
The Grand Invitation
During his epic score, a video was taken, and with this digital generation, you can conclude with confidence that his video became uploaded on various social media sites. Whichever platform the footage was shared, positive messages rented the space. Amongst all the positive responses, none was more pleasing to Jake Pratt than that of Clemson Tiger's coach Dabo Swinney. This is because he invited the young man of the match along with his family to watch the game between Clemson Tigers and Auburn Tigers. Of course, the non-footballers would not see anything big with this invitation, but as a die-hard fan of football, you understand the magnitude of such a once in a lifetime invitation.
As if this was not enough, Dabo had the courtesy of recognizing Jake's presence at the South Carolina's stadium. Notably, the coach walked towards the young star and engaged in a few minutes of communication with him. Dabo had the option of failing to spearhead a brief conversation with Jake. He also had the choice of not recognizing the man after inviting him to the match. However, without minding his position in the society, he did this great act. From him, other celebrities should pick a lesson or two. In so doing, the community would be a better place regardless of our positions in the society. If the top persons can be good enough to support such young talents, then the society will undoubtedly be heading in the correct direction.
Drew Carey's Beyond Generous Gesture to Support Striking Writers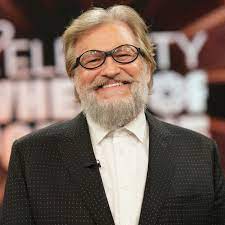 In times of struggle, acts of kindness and generosity can bring hope and relief to those in need. Drew Carey, a well-known television personality, has once again shown his compassion by providing daily lunches for members of the Writer's Guild of America (WGA) who are currently on strike. This remarkable gesture is helping to alleviate some of the financial strain faced by these hardworking individuals.
Drew Carey is graciously covering the expenses at two local businesses for WGA members who show their guild card. The two restaurants involved in this endeavor are Bob's Big Boy in Burbank and Swingers Diner on Beverly. With every meal, Drew is estimated to be spending thousands of dollars per day to ensure that these writers are well-fed during this challenging time.
This is not the first time that Drew Carey has demonstrated his support for the WGA. During the 2007 strike, he generously provided lunches to struggling writers for two consecutive months. His commitment to helping others in need has not wavered over the years, and he continues to be a beacon of kindness.
The gratitude expressed by the WGA members for Drew's actions is overwhelming. Many writers have taken to social media to share their appreciation and to highlight the impact of his generosity. One writer tweeted, "Drew bought me lunch for two months straight in '07 when I was struggling with that WGA strike. In a better place now, but Drew continues to be a good dude." The outpouring of thanks and support from the WGA community is a testament to the positive effect that Drew's kind gestures have on their lives.
The participating restaurants have become a gathering place for WGA members, who are not only enjoying the delicious meals but also feeling the love and support from Drew. The writers express their gratitude repeatedly, and the staff at the restaurants are grateful to be part of this compassionate act. They feel privileged to play a role in facilitating Drew's generosity and witness the joy it brings to those in need.
Being a writer can be challenging, with periods of financial uncertainty and limited opportunities. The current strike has exacerbated these difficulties, making every complimentary meal a significant relief for the writers. As one member explained, "They're very, very happy and they're very, very thankful to Drew." The impact of Drew's support goes beyond a single meal—it represents a lifeline for those facing financial hardships during the strike.
Drew Carey's unwavering commitment to supporting the WGA and his genuine care for those in need is truly commendable. His actions remind us of the power of kindness and the difference one person can make in the lives of others. As the strike continues, the lunches provided by Drew serve as a ray of hope and a reminder that the writing community is not alone in their fight.
In times of hardship, it is heartwarming to see individuals like Drew Carey step forward and offer their support. His kindness and generosity are an inspiration to us all, and his contributions to the well-being of the WGA members are deeply appreciated.