Blind Dog Gets Seeing Eye Dog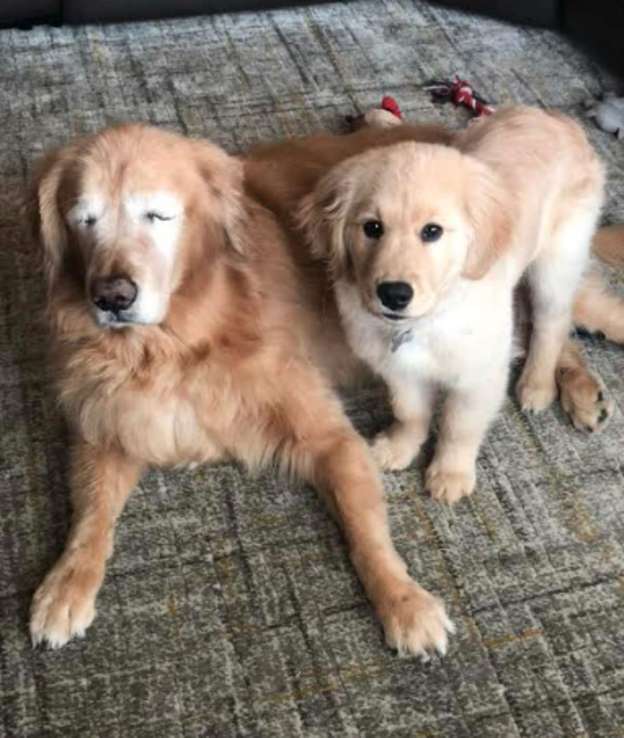 Charlie is 11 years old and his age officially makes him a senior pup. A few years ago, Charlie had to have both of his eyes removed because of glaucoma. He managed life and was able to cope with the blindness from day to day, but he did become less excitable and began to slow down. That is all changing now because of a new friend.
Charlie's owners, Chelsea Stipe and her husband, could tell that the dog could benefit form a friend, even if he was still showing signs that he was a happy dog. They were right. They brought home a puppy named Maverick and things began to change. The two dogs soon became inseparable and Maverick's puppy energy and enthusiasm seemed to inspire Charlie. Stipe told the media that Charlie had become more puppy like and playful since Maverick was brought home. Stipe used to buy Charlie toys and he would never play with them, but now the two dogs are constantly playing with each other and a handful of toys.
Maverick is only a few months old but has already picked up on the fact that Charlie can't see and is experiencing the world much differently. Maverick has adapted to help Charlie with his blindness. Stipe said that Maverick seems to know Charlie is different than him and so he's aware when Charlie begins to move and is always on the lookout for him. He even puts toys in front of him so Charlie can play, and when they are walking together Maverick will help keep Charlie in line. When Charlie is resting, Maverick will too, just to reassure him that he's always there and he's not alone.
While Charlie and Maverick are different, nothing has hindered their friendship. In fact, Stipe thinks it has made the two dogs closer. While nothing can make Charlie's eyesight better or turn back the clock on his life, Maverick gives hope that there is happiness for them both now that they are together. Stipe is confident that if Charlie had eyes, then she would be able to see a twinkle in them. Stipe and her husband used to think they could lose Charlie at any time because he's an older dog. While they know Charlie won't live forever, they know he has a new zest for life and he doesn't have to spend his remaining years gloomy and it's almost like he is a puppy again. Those who want to keep up with Maverick and Charlie can do so on Instagram.
Glaucoma is more common in certain dog breeds since they are genetically predisposed. About 40% of dogs with glaucoma can become blind in the eye that is affected within the first year, regardless of if they get any surgical or medical treatment, which was the case for Charlie. The condition can be managed if caught early enough and the pressure in the eye will have to be checked by a veterinarian often. Half of dogs that develop glaucoma in one eye will also develop conditions in their other eye within eight months. Veterinarians say that most dogs will adjust over time to the loss of an eye or both eyes, especially since with glaucoma they could have been losing their vision over a longer time period. A veterinarian can suggest ways in helping a dog transition to vision loss and how you can make your home and outdoor life easier for the dog without sight. Many times you will have to pay more attention to your dog when he or she loses sight, since it can be more vulnerable to other animals. While it may not be a guaranteed suggestion, getting another dog may just be the ticket.
The little boy shares a special moment with a police officer during a protest rally for George Floyd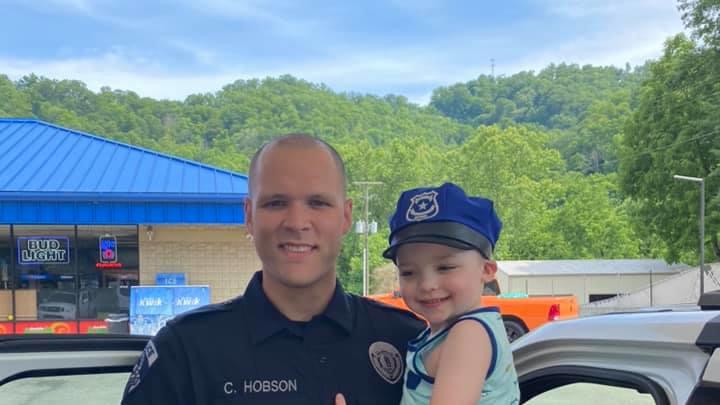 The ruthless killing of George Floyd has caused a thunderous uproar and rage throughout the world. In Winston-Salem, NC, hundreds of people gathered to protest against the killing of Floyd. They took to one knee for 8 minutes and 46 seconds that is the exact length of time former police officer Derek Chauvin had shoved his knee onto Floyd's neck which resulted in Floyd's death. The killing of George Floyd has become a symbol of injustice not only in American society but throughout the world. "Say no to racism" has been the most trending topic in all regions of the globe. In this particular incident, it was a black man who was the victim and this is not the only time it has happened. Several cases have occurred which demonstrated the lack of compassion and justice in the way law enforcement has dealt with individuals from minority racial groups.
Yolanda Williams Dickey, a resident of Winston-Salem, NC, was driving by the protest when she decided she wanted her family to be part of this protest as a sign of solidarity against discrimination against the minority groups. She went home to pick up her husband and son, who were glad they got a chance to be part of this historic protest. For her little son, Kamari it was quite the experience. He had never seen a protest rally before this. He saw a lot of anger and pain in the faces of the protestors. He could also see his parents being very emotional too. His parents had told him what the protest was about and how Floyd had been murdered. Kamari couldn't understand why the former police officer did what he did to George Floyd.
Kamari's attention went to the police officers on the sidelines. He watched them very closely as they stood by making sure there was no violence at the protest. Kamari had always wanted to a police officer himself but now his mother was concerned that after this incident, maybe he would not want to be one. Most of the toys that Kamari had were related to the police and he spent most of his days playing with them. He often told his parents that when he grows up he wanted to be a police officer so he could catch the bad guys. This unfortunate killing of George Floyd might have shattered the dreams of the little boy. At the protest, as the family moved closer to the police officers, Kamari approached Sgt. Dan Battjes, who was sitting on his motorcycle.
Kamari formally introduced himself to the police officer, who was very kind and friendly to the boy. After a few minutes of talking, Kamari said goodbye to the officer by a friendly fist pump. While the citizens of the country are demonstrating against the police and there is an unbelievable level of anger toward law enforcement, this little boy kept no hatred in his heart. The innocence of the little boy showed the resilience of the American community. One incident cannot dismantle years of peaceful coexistence. Yes, there have been cases where the minority communities have been discriminated and there should be strict actions and reforms against such incident but Americans still need to live together. The dream of Kamari to become a police officer might still be alive. The question remains, is the dream of a multi-racial America living with each other with love, compassion, and tolerance still alive? Only time will tell if this dream is alive.