Blind Dog Gets Seeing Eye Dog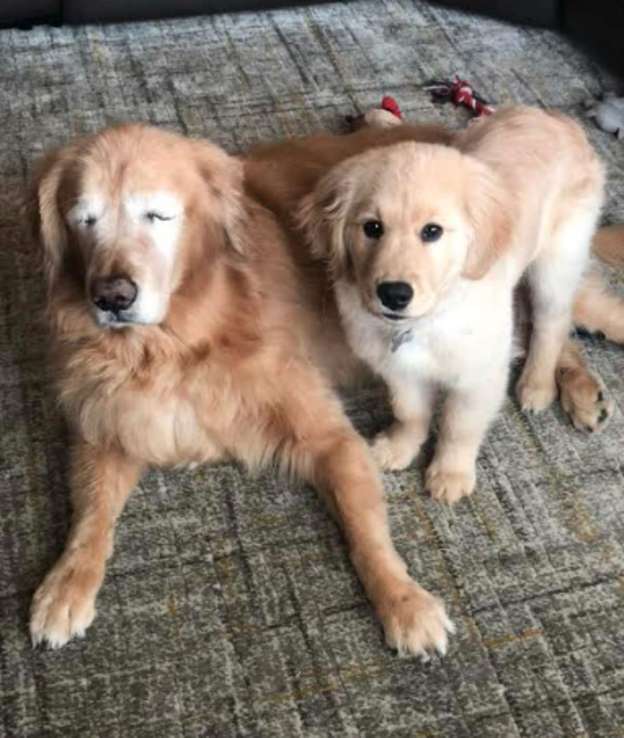 Charlie is 11 years old and his age officially makes him a senior pup. A few years ago, Charlie had to have both of his eyes removed because of glaucoma. He managed life and was able to cope with the blindness from day to day, but he did become less excitable and began to slow down. That is all changing now because of a new friend.
Charlie's owners, Chelsea Stipe and her husband, could tell that the dog could benefit form a friend, even if he was still showing signs that he was a happy dog. They were right. They brought home a puppy named Maverick and things began to change. The two dogs soon became inseparable and Maverick's puppy energy and enthusiasm seemed to inspire Charlie. Stipe told the media that Charlie had become more puppy like and playful since Maverick was brought home. Stipe used to buy Charlie toys and he would never play with them, but now the two dogs are constantly playing with each other and a handful of toys.
Maverick is only a few months old but has already picked up on the fact that Charlie can't see and is experiencing the world much differently. Maverick has adapted to help Charlie with his blindness. Stipe said that Maverick seems to know Charlie is different than him and so he's aware when Charlie begins to move and is always on the lookout for him. He even puts toys in front of him so Charlie can play, and when they are walking together Maverick will help keep Charlie in line. When Charlie is resting, Maverick will too, just to reassure him that he's always there and he's not alone.
While Charlie and Maverick are different, nothing has hindered their friendship. In fact, Stipe thinks it has made the two dogs closer. While nothing can make Charlie's eyesight better or turn back the clock on his life, Maverick gives hope that there is happiness for them both now that they are together. Stipe is confident that if Charlie had eyes, then she would be able to see a twinkle in them. Stipe and her husband used to think they could lose Charlie at any time because he's an older dog. While they know Charlie won't live forever, they know he has a new zest for life and he doesn't have to spend his remaining years gloomy and it's almost like he is a puppy again. Those who want to keep up with Maverick and Charlie can do so on Instagram.
Glaucoma is more common in certain dog breeds since they are genetically predisposed. About 40% of dogs with glaucoma can become blind in the eye that is affected within the first year, regardless of if they get any surgical or medical treatment, which was the case for Charlie. The condition can be managed if caught early enough and the pressure in the eye will have to be checked by a veterinarian often. Half of dogs that develop glaucoma in one eye will also develop conditions in their other eye within eight months. Veterinarians say that most dogs will adjust over time to the loss of an eye or both eyes, especially since with glaucoma they could have been losing their vision over a longer time period. A veterinarian can suggest ways in helping a dog transition to vision loss and how you can make your home and outdoor life easier for the dog without sight. Many times you will have to pay more attention to your dog when he or she loses sight, since it can be more vulnerable to other animals. While it may not be a guaranteed suggestion, getting another dog may just be the ticket.
"Homeless Hero" Saves Multiple People from Fiery Highway Crash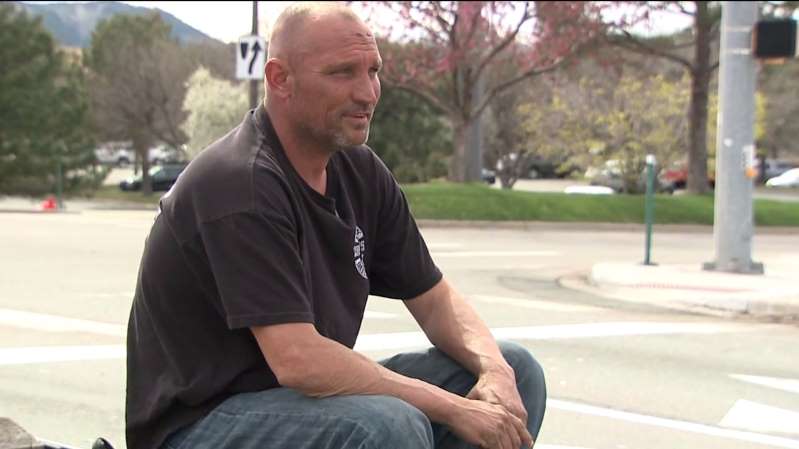 Just two short days ago a man named Darin Barton, who the people and news are calling the "Homeless Hero," saved multiple people from a fiery car crash on Colorado's Interstate 70.
Reports say the late April crash was caused by a truck driver that had lost control of his vehicle and collided with oncoming traffic. The same company has a bad history of problems with their vehicles. There are multiple reports letting trucks in need of repair on the road—including vehicles with break problems.
Luckily for the survivors of the crash, Darin Barton just happened to be passing by. Barton, a local homeless man, saw the crash happen and immediately sprang into action. He was able to pull several victims from the wreckage before emergency services arrived on the scene. The survivors of the crash are all lucky to have had the "Homeless Hero" passing by in their time of need.
Interestingly, this isn't the first time Barton has been a hero to the victims of a traffic accident. Two years ago, Barton saved a woman named Valerie Blease from a flaming car wreck. Blease describes how the collision left her confused and unable to escape her burning car when the "Homeless Hero" arrived and pulled her from the fire. She recalls that in the moment, she didn't know what was happening, only that someone was telling her there was a fire and she needed to get out.
Barton has become something of a local celebrity in Colorado despite his homelessness. He has appeared several times on the local news. Each of these appearances have been stories covering his heroics and even interviews with the "Homeless Hero" and the people he has saved. One of the victims of April's pileup said she "wasn't surprised" to learn that Barton had saved people from these kinds of wrecks before.
Not to leave this selfless hero unrewarded, the local community has banded together and raised thousands of dollars to help Barton in his time of need. Just like he has helped save people from car crashes on multiple occasions, the people of Colorado have come together to help Barton. Local news agencies have started a fundraising effort that has, so far, raised thousands of dollars to help cover Barton's costs as he finds work and a place to live. There have been some concerns that Barton may be the target of robbery given his insecure living situation and sudden rush to local fame, but a few local news agencies said they are working with local authorities to help ensure Barton's safety.
Darin Barton, the "Homeless Hero," is an inspiration reminder that even those of us with the least to give can still help people in the time of need. When interviewed, Barton said he was just helping people in need and hopes that others will be inspired to do the same.