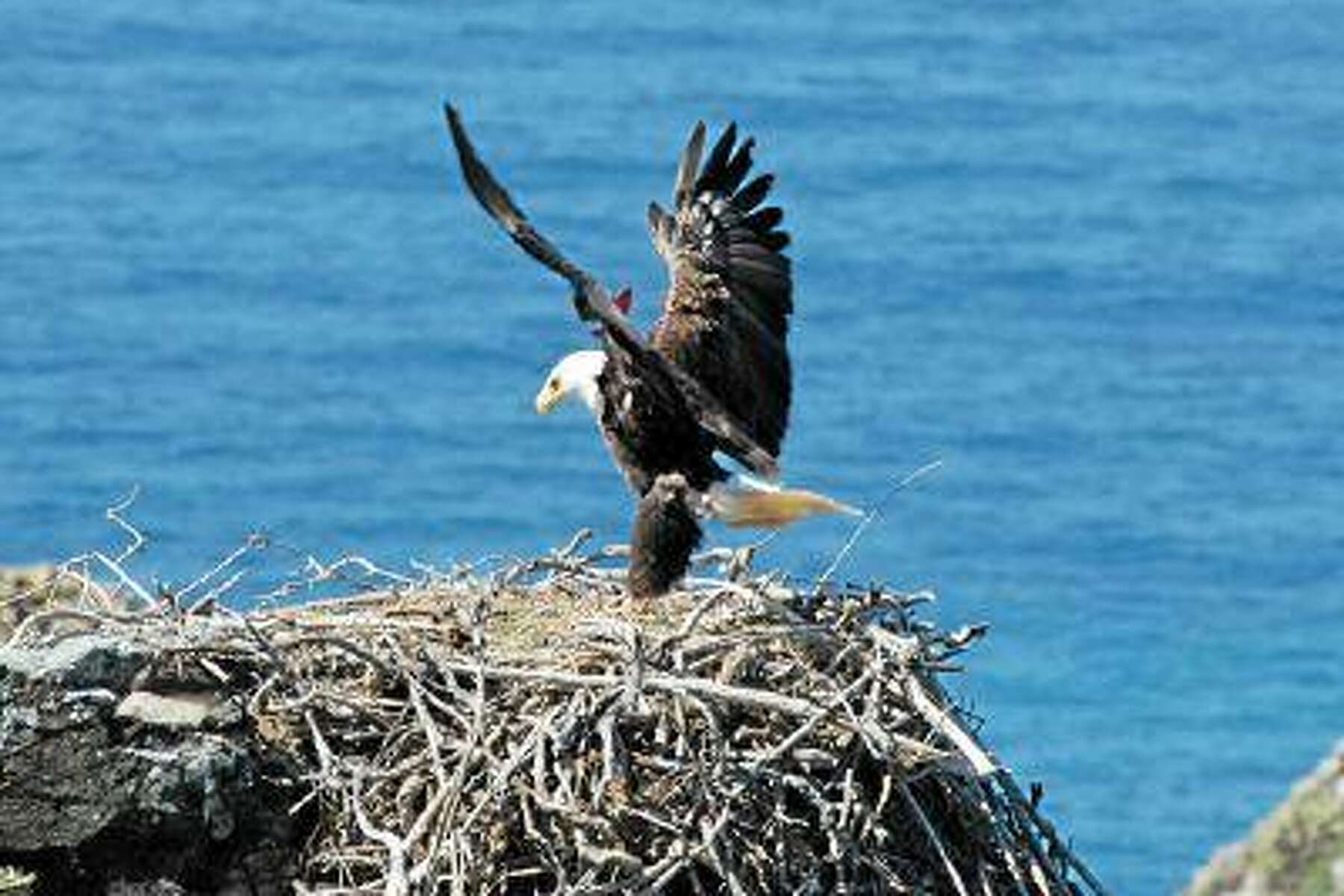 Biologists Save a Baby Eagle On Catalina Island
Unlike the cuddly commercials seen on TV or animal shows narrated by well-known British people whom folks can never remember their names, real nature is a mean, cold and callous environment. So, when a bird egg or hatchling falls out of a nest, 99 percent of the time it doesn't survive the fall. Those that do quickly die of shock and dehydration, and the ones that do survive are most likely eaten quickly by scavengers. This is where the phrase, "survival of the fittest," comes from.
In the case of one baby eagle, however, the intervention of human beings actually turned out to be a good thing. Earlier this month, an eaglet got an unceremonious boot out of its nest while sleeping and was unable to return on its own. Yet within a day, the eaglet was back in its nest safe and sound, thanks to the ad hoc efforts of a biologist rescue team. It didn't help matters that the nest was located in a remote part of Catalina Island, on a cliff.
Fate may have been involved long before anyone realized the fortune of the eaglet. As it turned out, two of the nests were being livestreamed onto the Internet for the public to watch. It was an offering made possible by the Institute for Wildlife Studies. As it turned out, when the eaglet took its premature flight from its nest, someone actually saw what happened and alerted folks. That gave the biologists involved time to react, get a team together, and save the eaglet before it dehydrated or was attacked by another predator.
For the Institute, the nests are invaluable. Currently, there are only eight working pairs of eagles on the Island, so the loss of even one eaglet would have been significant. Getting that hatchling back into its nest safe and sound instantly became a hot priority for the scientists, directly impacting their research on the species.
That said, the adventure wasn't easy. The location itself for the operation was an hour's hike off of any normal road, all by foot. Once the biologists got to the location, the first step was to check the eaglet and make sure it was not harmed or injured from the fall. When all checked out as well as possible in the field, the bird was picked up and returned back to the nest, hopefully to not repeat the head dive again until fully able to fly on its own.
The Institute's research is part of a bigger project that has spanned four decades trying to repopulate the Island with the eagles. To date, it's still a major challenge and, clearly, nature doesn't always want to cooperate. However, small successes count. Within hours of the eaglet being back in the nest, the parent returned and began caring for it again.
A Teen's Inspiring Journey to Morehouse College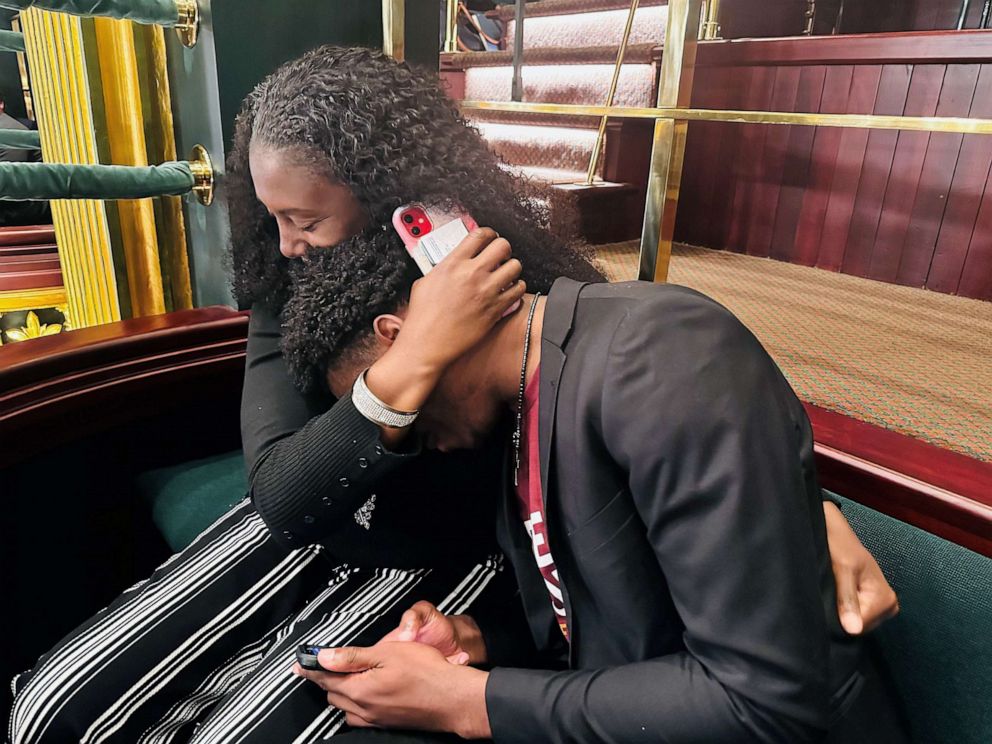 Imagine the feeling of accomplishing your dreams after years of hard work and dedication. That's exactly what happened to Amir Staten, a remarkable teenager whose video celebrating his acceptance into Morehouse College went viral. His infectious joy captured the hearts of people around the world, and it's not hard to see why.
Morehouse College, located in Atlanta, Georgia, has a long and prestigious history. Established in 1867, it is a historically black college and one of the oldest educational institutions for African Americans. The college was founded with a mission to provide a quality education and develop strong leaders who would go on to make a positive impact on society.
Amir's acceptance into Morehouse College is a testament to his perseverance and commitment to his studies. Not only did he receive an acceptance letter, but he was also granted a full ride scholarship. This scholarship covers the cost of tuition, which amounts to around $51,000 per year. This incredible opportunity has lifted a significant financial burden off Amir's shoulders, allowing him to focus on his education and future aspirations.
In addition to the full ride scholarship, Amir was named one of 15 Bonner Scholars. The Bonner Scholarship is a prestigious program that emphasizes the importance of community service. To maintain this scholarship, students must maintain a minimum GPA of 2.5 and contribute 10 hours of community service each week. It is a great honor for Amir to be chosen as one of these scholars, highlighting his dedication to making a positive difference in his community.
Amir's hard work throughout high school has been nothing short of exceptional. He consistently achieved honor roll grades, demonstrating his commitment to academic excellence. But his accomplishments didn't end there. Amir also took on leadership roles as the head of the Black Student Union, where he worked to promote inclusivity and raise awareness about important social issues. Additionally, he served as the captain of his school's basketball team, showcasing his discipline, teamwork, and determination.
Amir's accomplishments have not only made his family proud but have also inspired those around him. His mother expressed her admiration for his efforts, saying, "He has gone above and beyond what is expected of him." With his acceptance into Morehouse College, Amir can finally take a deep breath, knowing that his hard work has paid off.