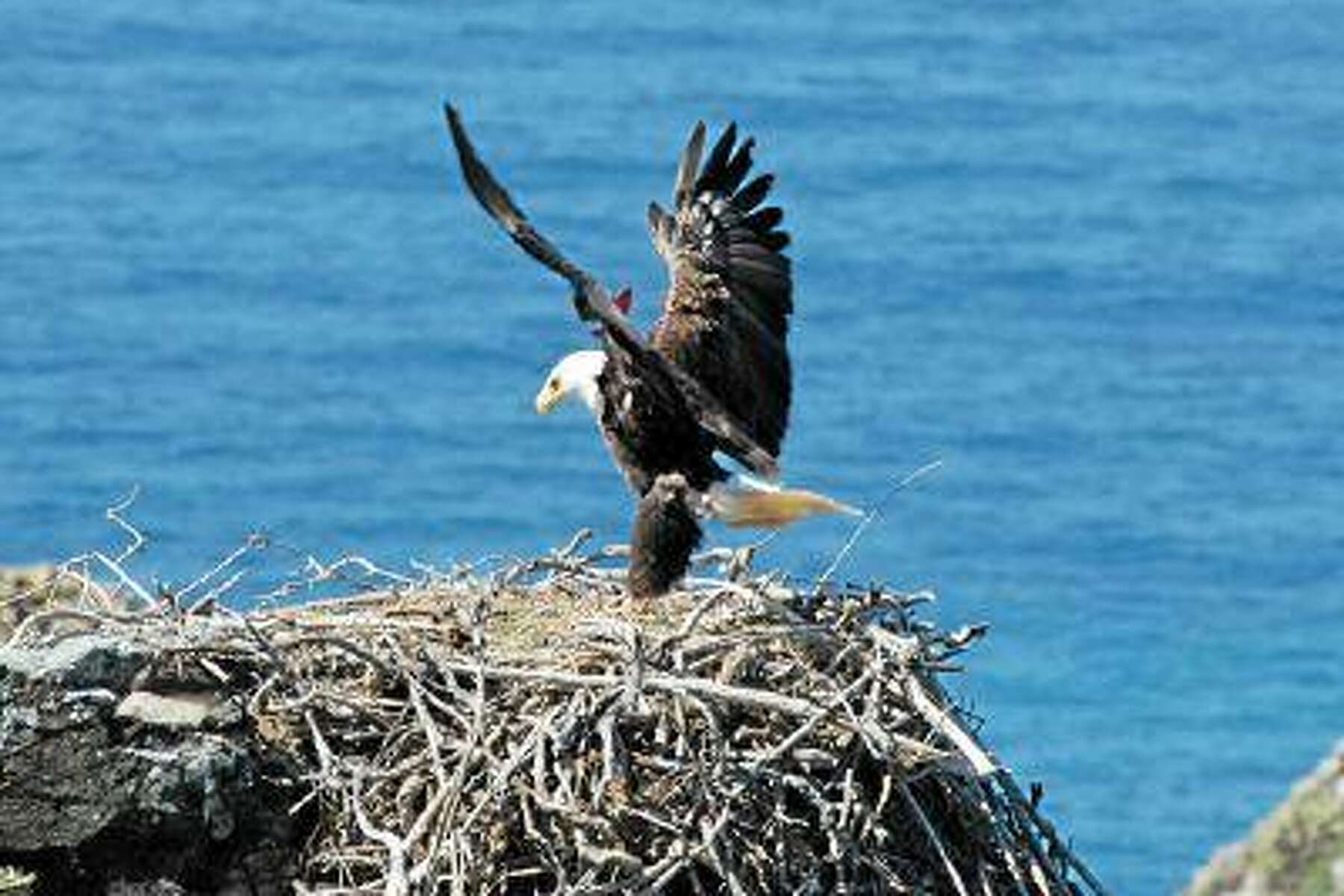 Biologists Save a Baby Eagle On Catalina Island
Unlike the cuddly commercials seen on TV or animal shows narrated by well-known British people whom folks can never remember their names, real nature is a mean, cold and callous environment. So, when a bird egg or hatchling falls out of a nest, 99 percent of the time it doesn't survive the fall. Those that do quickly die of shock and dehydration, and the ones that do survive are most likely eaten quickly by scavengers. This is where the phrase, "survival of the fittest," comes from.
In the case of one baby eagle, however, the intervention of human beings actually turned out to be a good thing. Earlier this month, an eaglet got an unceremonious boot out of its nest while sleeping and was unable to return on its own. Yet within a day, the eaglet was back in its nest safe and sound, thanks to the ad hoc efforts of a biologist rescue team. It didn't help matters that the nest was located in a remote part of Catalina Island, on a cliff.
Fate may have been involved long before anyone realized the fortune of the eaglet. As it turned out, two of the nests were being livestreamed onto the Internet for the public to watch. It was an offering made possible by the Institute for Wildlife Studies. As it turned out, when the eaglet took its premature flight from its nest, someone actually saw what happened and alerted folks. That gave the biologists involved time to react, get a team together, and save the eaglet before it dehydrated or was attacked by another predator.
For the Institute, the nests are invaluable. Currently, there are only eight working pairs of eagles on the Island, so the loss of even one eaglet would have been significant. Getting that hatchling back into its nest safe and sound instantly became a hot priority for the scientists, directly impacting their research on the species.
That said, the adventure wasn't easy. The location itself for the operation was an hour's hike off of any normal road, all by foot. Once the biologists got to the location, the first step was to check the eaglet and make sure it was not harmed or injured from the fall. When all checked out as well as possible in the field, the bird was picked up and returned back to the nest, hopefully to not repeat the head dive again until fully able to fly on its own.
The Institute's research is part of a bigger project that has spanned four decades trying to repopulate the Island with the eagles. To date, it's still a major challenge and, clearly, nature doesn't always want to cooperate. However, small successes count. Within hours of the eaglet being back in the nest, the parent returned and began caring for it again.
Safe Haven for Pets Who's Owners Enter Rehab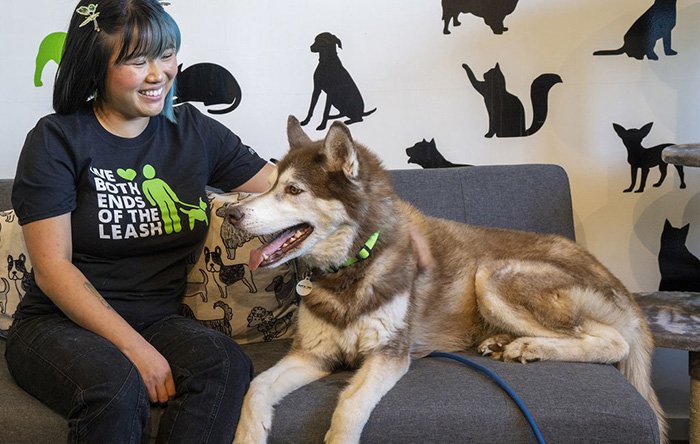 No pet owner likes to leave their pets for extended periods, no matter the reason for leaving. It's no different for people who may have drug or alcohol issues and might need to go for rehabilitation.
Not knowing who to leave the pet with or the level of care it will receive can lead to anxiety. However, there's a new resolve for people faced with that situation. Read on…
Bella was skeptical as she put her head up from inside the carrier she was being transported on to the boarding house.
A volunteer massaged the little black-and-white cat's hair to calm her fear of the dogs barking at the boarding facility's back.
The cat goes by the alias Bella since her owner, who's dealing with a tough time at home, wants to keep her cat's real name a secret. Pets in need of emergency shelter can stay with a foster family at Ruff Haven Crisis Sheltering, which provides short-term, no-cost accommodation for animals whose owners are homeless or fleeing domestic abuse.
Odyssey House, Utah's largest integrated addiction treatment center, and the foundation have just teamed up to offer three months of no-fee pet lodging to those who need it most.
"This is truly person-based, like person-led," said Beth Henry, Ruff Haven's foster coordinator. Pets are returned to their owners once treatment is complete and they have achieved a sense of security and well-being.
Enrollment and documenting of the owner's present status, followed by a brief examination of the pet (weight and overall health), immunizations, and ensuring that the animal is either fixed or is scheduled to be treated, are the first steps in the process of adoption.
The pet then gets connected with a foster home, and the owner receives weekly SMS updates on the progress of their animal. When a client and their pet are apart, Ruff Haven's fosters send videos and pictures of the pet to the client.
Several clients have the option of having their dogs dropped off for the Dogs All Day program by their foster parents, and their owners can come to meet them.
Henry stated, "It's a terrific confidence boost for them." In some cases, dogs are kept at the Dogs All Day center since their owners prefer to be able to visit them every day… It's rare for them to be greeted by their loved ones every single day. The stress of living with a cat is very hard on them.
In a press release, Adam Cohen, CEO of Odyssey, stated that pets can be a motivation for people to stay in difficult situations because they are worried about how their animals will be cared for if they are not there.
However, Ruff Haven Crisis Sheltering, which launched in June 2020, has already aided 320 families and almost hundreds of animals since then.
Owners often worry that they'll forget their pets during this time, but "the pets don't ever forget their owner," according to Kristina Pulsipher, the executive director at Ruff Havens. We do this for the reunions. And many of our former clients are now either volunteers or foster parents for us.