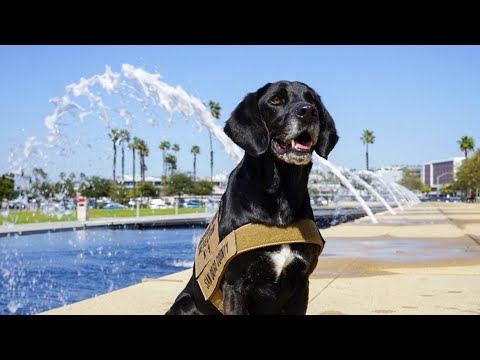 Big Retirement for an Agriculture Control Dog
Four years might seem like a short period of time, but for a dog it can be a lifetime of service. Service dogs don't stop; they are on 24/7 and in their short amount of time on Earth they are able to do a lot of amazing things. So, when it came time for Podder to retire, his career was due for some heavy acknowledgement before his last day of service.
Animals Partnering With Humans to Protect Communities
Podder worked as a detector dog for the San Diego County Agriculture, Weights & Measurements Department. In that role, his canine nose was a key instrument in searching for and finding problems, particularly with products or materials that needed to be stopped before they entered California, or those that represented a risk that could damage a market in the state. For example, an illegal chicken-fighting risk in the 2000s just about wiped out the chicken industry in California and the west when an outbreak of Newcastle Disease started spreading stateside. Animals like Podder work as a frontline defense in stopping such risks.
Get Ready to Party
The retirement party for Podder was a big affair, even if it seemed small in human terms. Congregating at the Waterfront, San Diego County employees and management along with a canine partner in the same program, Venus, attended to honor Podder's service, acknowledge the important work of the dog and give him a big send off in dog terms. Not to mention, Podder got to munch on a ton of dog treats as well as a thank you, which probably meant more to him than all the speeches and clapping. Forgetting the whole affair by that evening, Podder was probably wondering where he could get more of the same treats that night.
Shifting to Easier Pastures
Podder received a specific service award for his four years of dedicated work for the County, and there was also a certificate for the dog's program manager as well. As a mix between a beagle and a Labrador breed, Podder had an excellent mix for the work he was applied to, stopping agricultural goods from skipping quarantine controls as well as blocking goods that would have otherwise created serious problems for California agriculture.
At age six now, Podder is in his official senior phase per work requirements, and he has developed a medical condition as well that hampers his abilities. So, the dog will spend the rest of his days just being a normal canine in an adopted home. However, everyone suspects Podder will have his nose in every grocery bag that comes in the house door, including anything snuck in a backpack. So, those characters looking to sneak a Twinkie package or two to skip dinner probably need to think twice. Podder, as far as the dog is concerned, will probably still be on patrol regardless of his official send-off ceremony.
Jacksonville Man Spreads Love and Positivity at the Beach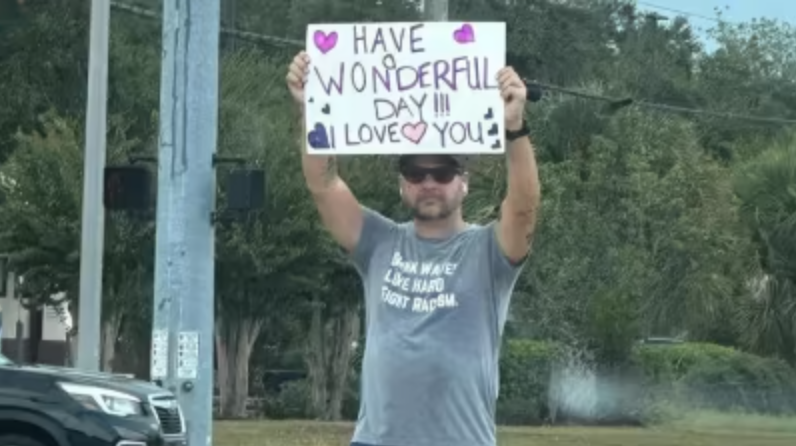 In Jacksonville, Florida, a man has been making waves of positivity and spreading kindness at the Beach Boulevard and San Pablo Road South intersection. With handmade signs that read, "Have a wonderful Day!! I Love You" and "You are Relevant," this man is on a mission to uplift the spirits of those who pass by. His heartwarming gestures have not gone unnoticed, and his actions are especially poignant during National Suicide Prevention Month.
Rika, a local resident, had a unique encounter with this compassionate individual. She was on her way to pick up her lunch when she saw a man standing in the median of the road, holding these uplifting signs. Most of us would just glance and continue on our way, but Rika decided to take a closer look. As she stopped at a red light, she took a few pictures to capture the moment. To her surprise, the man approached her car and handed her a sunflower.
"So picture this… you're out going to pick up your lunch, and there's this random guy walking by with a handmade sign," Rika recounted. "I'm sure like most of us, we'd glance and keep it moving, but I decided to read his sign since I was at a stop light. I snapped a few pictures because why not, but as I was doing this, he approached my car door to hand me a sunflower! Don't forget to appreciate the small things."
This simple act of kindness had a profound impact on Rika, as it has on many others who have encountered this man and his signs. His message of love and importance reminds us all to appreciate the small joys in life and to acknowledge our worth.
The man's efforts are not just a random act of kindness; they hold special significance during National Suicide Prevention Month. September is a time when people and organizations across the country work to raise awareness about mental health and suicide prevention. This Jacksonville man's compassionate actions align perfectly with the spirit of this month, as he strives to remind people that they matter and that there is goodness in the world.