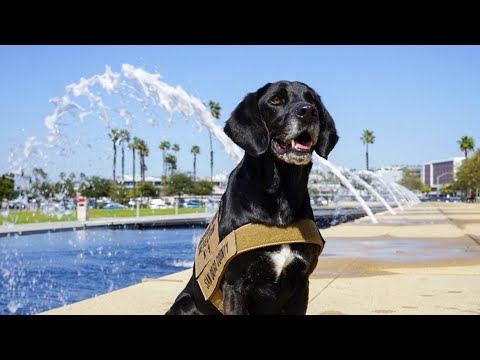 Big Retirement for an Agriculture Control Dog
Four years might seem like a short period of time, but for a dog it can be a lifetime of service. Service dogs don't stop; they are on 24/7 and in their short amount of time on Earth they are able to do a lot of amazing things. So, when it came time for Podder to retire, his career was due for some heavy acknowledgement before his last day of service.
Animals Partnering With Humans to Protect Communities
Podder worked as a detector dog for the San Diego County Agriculture, Weights & Measurements Department. In that role, his canine nose was a key instrument in searching for and finding problems, particularly with products or materials that needed to be stopped before they entered California, or those that represented a risk that could damage a market in the state. For example, an illegal chicken-fighting risk in the 2000s just about wiped out the chicken industry in California and the west when an outbreak of Newcastle Disease started spreading stateside. Animals like Podder work as a frontline defense in stopping such risks.
Get Ready to Party
The retirement party for Podder was a big affair, even if it seemed small in human terms. Congregating at the Waterfront, San Diego County employees and management along with a canine partner in the same program, Venus, attended to honor Podder's service, acknowledge the important work of the dog and give him a big send off in dog terms. Not to mention, Podder got to munch on a ton of dog treats as well as a thank you, which probably meant more to him than all the speeches and clapping. Forgetting the whole affair by that evening, Podder was probably wondering where he could get more of the same treats that night.
Shifting to Easier Pastures
Podder received a specific service award for his four years of dedicated work for the County, and there was also a certificate for the dog's program manager as well. As a mix between a beagle and a Labrador breed, Podder had an excellent mix for the work he was applied to, stopping agricultural goods from skipping quarantine controls as well as blocking goods that would have otherwise created serious problems for California agriculture.
At age six now, Podder is in his official senior phase per work requirements, and he has developed a medical condition as well that hampers his abilities. So, the dog will spend the rest of his days just being a normal canine in an adopted home. However, everyone suspects Podder will have his nose in every grocery bag that comes in the house door, including anything snuck in a backpack. So, those characters looking to sneak a Twinkie package or two to skip dinner probably need to think twice. Podder, as far as the dog is concerned, will probably still be on patrol regardless of his official send-off ceremony.
A Funny-Named Bat Gets Australian Top Honors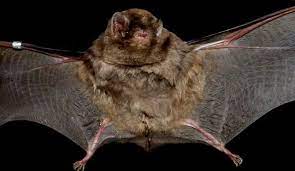 When winning an election, it helps be popular. That was the case for one particular mammal. Over the period of a month and a half, or six weeks, a massive voting event occurred. Some 50,000 animals were included on the ballot. And only one of them was going to be the winner. If selected, the particular animal would be voted as the Australian Mammal of the Year, and the 2022 selection would be the first one of the event in history, a pretty hefty title even if that particular mammal had no clue about its significance.
As it turned out, with a whole lot of voting and wondering and finally a selection, the winner turned out to be, hold tight, the Southern Bent-Wing Bat. Yes, a flying animal won the honors for being the inaugural mammal chosen for the title above.
The dingo was assumed to be a favorite, but that contender fell by the wayside pretty quickly in the early weeks. Day after day, week after week, the Bat just kept climbing the ranks and holding on, almost as if playing out a voting version of what it's been doing in nature, surviving as a microbat and an endangered species.
In real life, the Southern Bent-wing Bat doesn't live in such a glamorous hallway or venue as the voting podium online. Instead, it's a cave-dweller, making a home in the stretch between the southeast part of South Australia as well as Victoria. Sizewise, the Bat is extremely small too, only measuring some 5 centimeters in terms of body length. It's practically a feather in terms of weight.
Like other bats, the Southern Bent-wing Bat uses its ears and echo-location to find its way while flying, as well as to hunt. The Bat can definitely see, but all of its primary sensory work happens with ears and listening. It's also a long-distance flyer, usually traveling well over 70 kilometers at night to find insects for dinner.
While they are extremely proficient at using body heat and consolidation of numbers to create the perfect breeding and maternity environments in caves, easily boosting the humidity and heat for new pups, the Bat species in general has been significantly harmed by encroachment of development and the loss of viable cave systems for homes. The population is at serious risk of decline, with a 97 percent collapse expected over the next two or three decades without serious protection.
The goal of the contest is to boost awareness of the most endangered animals worldwide, an Australia has a significant share of them, found nowhere else and in short number where they are. As a result, by boosting people's awareness through the contest, the hope is that it will also increase conservation efforts for the species that are endangered, ideally reversing the trend if possible.