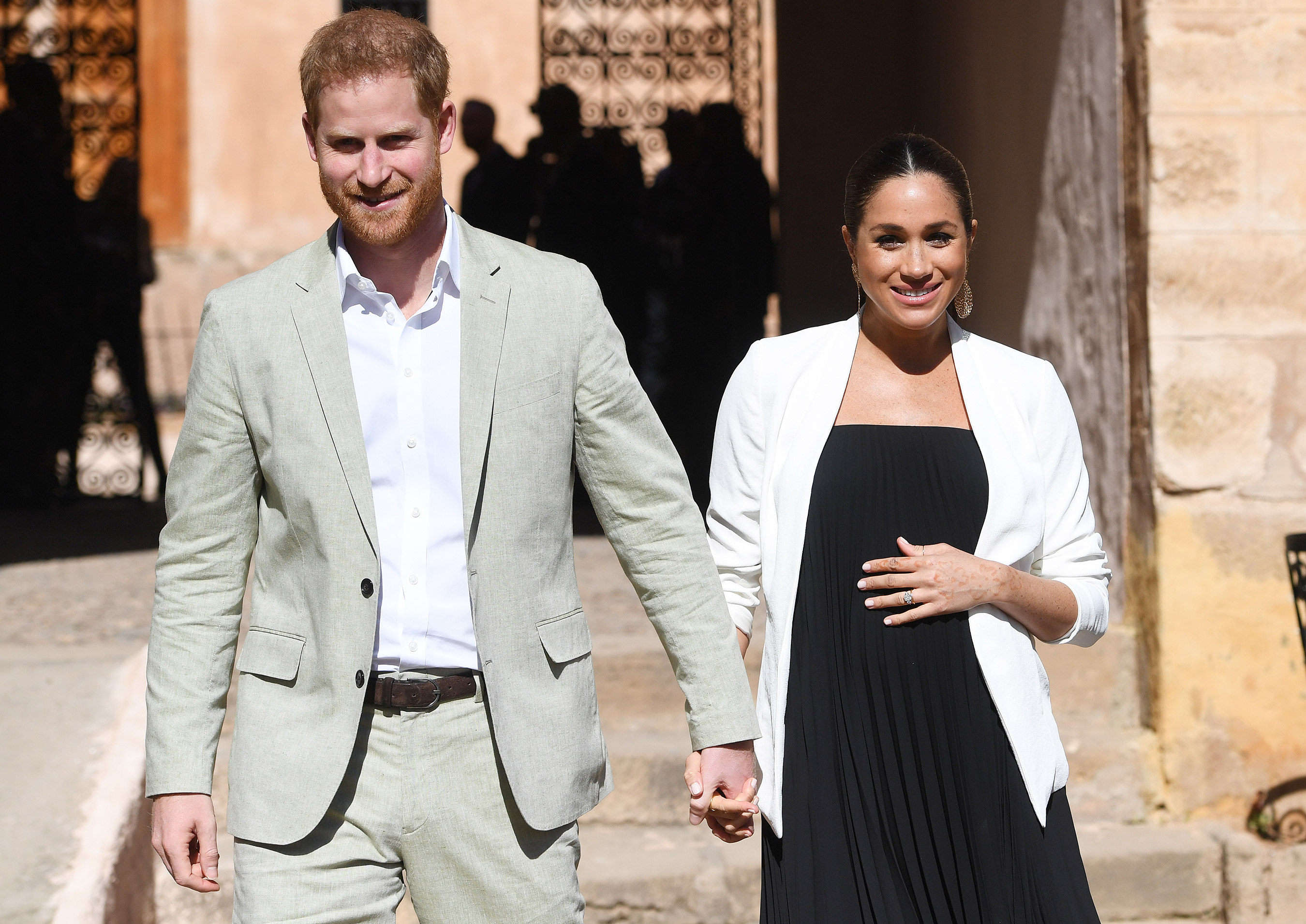 Bettors Put Money on Royal Baby's New Name!
To say that the Royal Family is a hot topic would be to put the concept to shame. The Duke and Duchess of Sussex are perpetually in the news, for reasons both good and bad. However, you won't believe why Prince Harry and Meghan managed to rack up headlines this time! In fact, the story has more to do with how we are fascinated by the Royal Family to an almost hilarious degree.
When it was revealed that Prince Harry and Meghan were expecting another addition to their family, the internet took the concept and ran. Any time a royal baby is born, the world seems to stand still — both here and across the pond. Beyond wishing for good health, the public has taken a fascinating interest in the name that the royal couple will choose for their child. In fact, people are starting to put SERIOUS money on the discussion.
While it has not been revealed whether the royal couple is expecting a boy or girl, betting websites are making sure to cover both sides of the coin. If you are willing to put some solid money down, you might just make a killing — depending on how creative Harry and Meghan choose to be when naming their child. According to the betting website Ladbrokes, Allegra is currently the sixth most likely girl name. We have no idea how they came upon that idea, but the odds are sitting at 12/1 after a furious round of bets flooded into the website.
According to researchers of the Royal Family, Allegra had been a favored name by the late Princess Diana. According to further research, Princess Diana had wanted to have her own baby girl named Allegra. Still, betting odds are currently rallying around the name Diana, and we don't blame them. Diana and Grace are the two most popular name choices with betting odds at 6/1. Right behind Diana and Grace are the names Arthur and Elizabeth, sitting at 8/1. If you want to get away from the rest of the pack in order to put down some long-shot bets on the new royal baby, you might want to dig a little deeper into the treasure trove of options. Right now Albert and Victoria are in the hunt at 16/1.
Alex Apati is a leader at Ladbrokes, and he has been vocal regarding how to figure out where betting interest is coming from. Apati admits that the company is a little baffled by the interest in Allegra. With that being said, Apati can't deny how fast the bets are coming in for the name. Allegra has rapidly become one of the most popular choices with punters over the past month or so. Perhaps all of this betting enthusiasm dates back to a single report in 2004 revolving around Princess Diana and her keen interest in having a child named Allegra. If that is all that there is to it, color us surprised.
Princess Diana had been desperately in love with her boyfriend, Hasnat Khan. The two had talked extensively about having a child and their dream was to get married and make a go of it. Allegra was Diana's favorite name and it was purportedly chosen by her friend, Lady Annabel Goldsmith. For his part, Prince Harry has gone on record as hoping that their child will be a girl. Though, we suppose, the royal couple will be happy with whatever royal baby they end up having. The question is this, are you ready to put your money on the line betting on the name that they choose?
Newly Discovered Flower Blooms Atop One of the World's RAREST Trees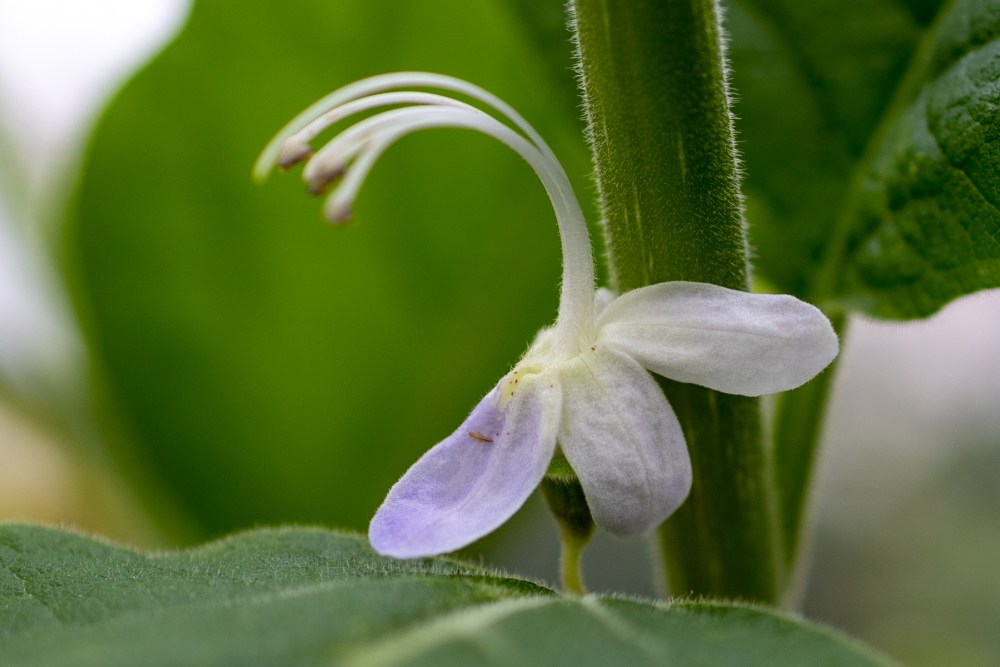 The Missouri Botanical Garden in St. Louis is known by locals for the intense work performed by the experts inside. When a small purple-and-white flower began to grow within their greenhouse, the team of experts at the Missouri Botanical Garden were confused. From their perspective, they were seeing something brand new – a completely fresh discovery.
Discovery on May 3rd
Justin Lee is a senior horticulturist at the Missouri Botanical Garden, and he was performing regular work on a Karomia Gigas sapling in the greenhouse when he first stumbled upon the rare purple-and-white flower. The Karomia Gigas is a tree from Africa with close relations to the mint plant. An endangered tree species in Africa, Justin was confused by the flower that had grown nearly an inch in length atop the tree.
Lee says of his discovery, "It's a bit odd for a mint flower. It seems flipped inside out."
The flower measured an inch in length with a strong halo of purple petals, sloping gently downward toward white stamens bearing pollen. According to Lee, the mint family likes to put out tube-styled flowers in an attempt to attract bees, butterflies, and moths. Lee also suggests that the tree can self-pollinate if necessary.
As the discovery made headlines around the city, the researchers at Missouri's Botanical Garden are preparing for more blooms in the future. Research has suggested that more Karomia Gigas flowers will grow at the greenhouse and it is then that their scientific research will really begin. Lee and his team are focused on successfully cultivating cross-pollination, thus improving the survivability of the plant in the world. At the time of this writing, only about two dozen of the Karomia Gigas trees can be found in the wilds throughout Tanzania.
The Wilds of Tanzania
At the time of this writing, the Karomia Gigas is considered so rare as to not even have a local Tanzanian nickname, nor is there an English one. What little is broadly known about the Karomia is that it can grow in straight stretches for up to 80 feet, limiting branch exposure until nearly halfway to its final height. As a result of its odd, stick-like growth, finding these unseen flower blooms has been harder than you might anticipate!
Roy Gereau is a program director for Tanzania at the Missouri Botanical Garden. Surprised but not shocked by the flower, Gereau was quick to admit that the bloom was new. Gereau said of the rare flower, "There certainly is no record of the flowers in scientific literature."
More important than discovering the flower, researchers in Missouri believe that they can maintain the health of the newly bloomed petals to prevent them from disappearing. Andrew Wyatt is the VP of Horticulture at the Missouri Botanical Garden, and he said, "We can make sure the species doesn't go extinct."
It has been a challenge to grow the plant in Missouri, as has been repeated by researchers at the facility. Seeds had been collected in 2018 from a series of Tanzanian field expeditions. These seeds were shipped to St. Louis where only around 100 were thought to be viable. To make things even more difficult, it was a task to match Tanzanian growing conditions within greenhouses in Missouri.
Despite the challenges that they had to face, it looks like the Karomia is finding solid footing within St. Louis. With some momentum and optimism on their side, what's next?
Andrew Wyatt said of the rare blooming flower and of his own future, "We were debating whether it would even flower in our careers."