Beautiful Three-Legged Puppy Learns to Go Down Stairs.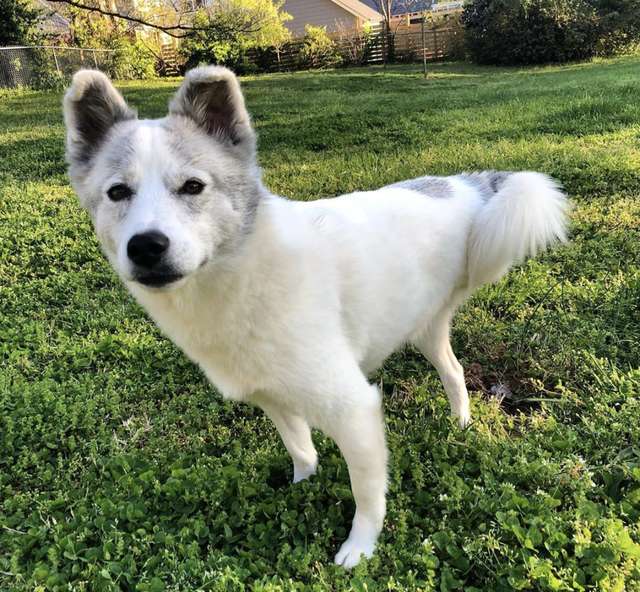 If you took one look at 2-year-old Bowie, you'd be shocked at how happy he was. Bowie recently rode the internet to international acclaim after his owner's social fundraiser ended up going viral. You see, the Alaskan Klee Kai mix had gone through a serious surgery when she was younger in order to save her life. Over the last six months, Bowie had to have a leg removed after having the limb injured due to shoddy landscaping. The surgery expenses would be more than her owner could bare, so the internet came to the rescue. With the finances out of the way, all that was left was for Bowie to learn how to walk again — on three legs. Despite how sad this story sounds, by the end of our discussion, we are SURE that you will be smiling.
After recovering from his surgery, Bowie was obviously going through an adjustment period. Dogs that have to learn how to walk on three-legs typically will struggle. Struggling to walk in this scenario is common but it can still impact the dog's overall health. As a result, Bowie learned to lean against objects while walking around the house. While this helped Bowie get from one point to another, it didn't help him get down the stairs. Instead, Bowie had to come up with his own unique technique in order to travel to other floors of the home. Can you guess what the crafty little pup decided to do?
In order to travel safely down the stairs, Bowie began to lean against the wall while hopping on his back legs. These little hopping motions were adorable and they were effective. Bowie would spend hours practicing going up and down the stairs until he locked in the physical motion. During his practice, Bowie was secretly being watched by his baby sister, a puppy named Zeppelin. As Bowie began to get more comfortable with his new way of moving, Zeppelin began to take cues from her older brother. Before long, Bowie and Zeppelin were always with one another! Despite Bowie's physical limitations, the two grew closer and closer with Zeppelin quickly outgrowing her older brother. Despite their size difference, Zeppelin always played gently with Bowie, as if she were aware of his struggles. In fact, Zeppelin admired Bowie so much that she soon began to copy some of his physical movements! This is where the story goes from cute to downright adorable.
As Bowie learned to hop down the stairs, Zeppelin seemed determined to follow suit. Zeppelin would soon begin to lean against the stairs in order to hop down them, just like her physically impaired older brother. Zeppelin, at just six months old, had mastered going up and down the stairs by copying her brother. How adorable is that? Zeppelin's owners have tried to get their young pup to just walk down the stairs with all four legs, but she refuses. Apparently, her bond with Bowie is just too strong. She wants to be like her big brother in every way possible. The owners of Zeppelin and Bowie say that the two are inseparable and that Zeppelin is always looking admiringly at her older brother in order to try to win his approval.
Didn't we tell you that you would be smiling?
'Chewy' Online Pet Store Offers Incredible Gesture to Grieving Pet Owner.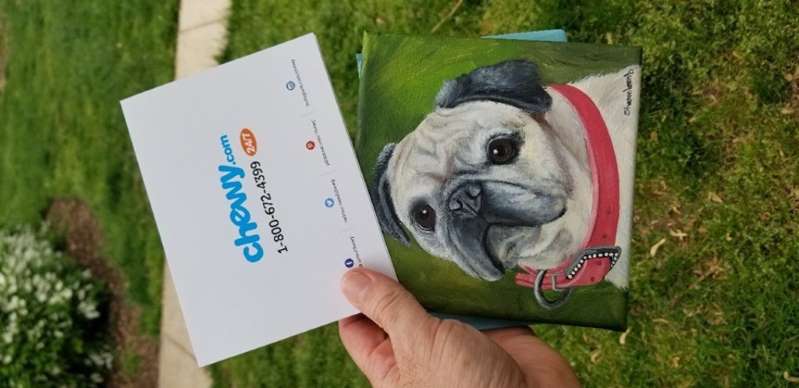 When you adopt a pet, you are bringing them into your family for life. When you lose a pet, it feels like you just lost a member of your family. While the grief that we feel over losing our beloved pets is not easy to forget, there are kindhearted souls out there that are doing their part to make it easier. Joseph Inabnet had to put down his 14-year-old pug, named Bailey, due to continual health problems that were not getting better. With a bag of prescription pet food that he could no longer use, Inabnet decided to contact the online pet retailer 'Chewy', in order to see if he could get a refund. What happened next would leave Inabnet crying bittersweet tears of happiness. Let's see if you can keep your tears from flowing!
According to Inabnet, Bailey had been struggling with health issues since her fifth birthday. In reality, Inabnet had assumed that he would have to let her go before she turned eight. However, Inabnet worked hard with Bailey's veterinarian, and they were able to extend her life for almost a full decade, thus allowing Inabnet and Bailey to share many moments of joy together. One of Bailey's favorite tricks was to sit on her backside in order to beg for treats. Inabnet loved to take pictures of Bailey when she performed this trick, and he sent one photo to Chewy along with his email, detailing the tragic loss of his best furry friend. Chewy told Inabnet to donate the pet food to a shelter and that they would send him a refund. Inabnet thought that this was the end of the story, but it was not.
Weeks later, Inabnet received a curious package in the mail from Chewy. Not sure what the object was, Inabnet slowly opened the package. As he unwrapped the package, weeks after saying goodbye to Bailey, his heart began to thud. What could be in here? What did Chewy send him? When he finally opened the package, he found a hand-painted portrait of Bailey doing her favorite trick. Inside of the package was a handwritten note from the owners of Chewy, sending love to Inabnet and a promise to support him if he ever needed anything. The painting captured Bailey in all of her silly joy and Inabnet was overcome with emotion. How could he not be? Inabnet was quick to share the lovely portrait on social media whereupon it was quicker to go viral. After being shared hundreds of thousands of times, Inabnet's story was soon all over the internet.
While Inabnet will never truly get over the loss of Bailey, he was afforded one of the kindest parting gifts that a pet owner could ever ask for. Inabnet praised the portrait a thousand times over before tearfully talking about his beloved pup. Bailey loved to always do her 'sit up' trick, and she had even been attempting to do it when he had to put her down due to her terminal illness. With one portrait and a lovely letter, Chewy was able to change Inabnet's last memories of his faithful, furry friend. Bailey was Inabnet's first pet, and he was quick to talk about how much she had changed his life. Inabnet went on to point out that he had never been closer to any animal and that he didn't know if he ever would be again. It's clear to see that Bailey left an impression on Inabnet, and we are happy to read that Chewy helped him to get through the grieving process.