Beautiful Three-Legged Puppy Learns to Go Down Stairs.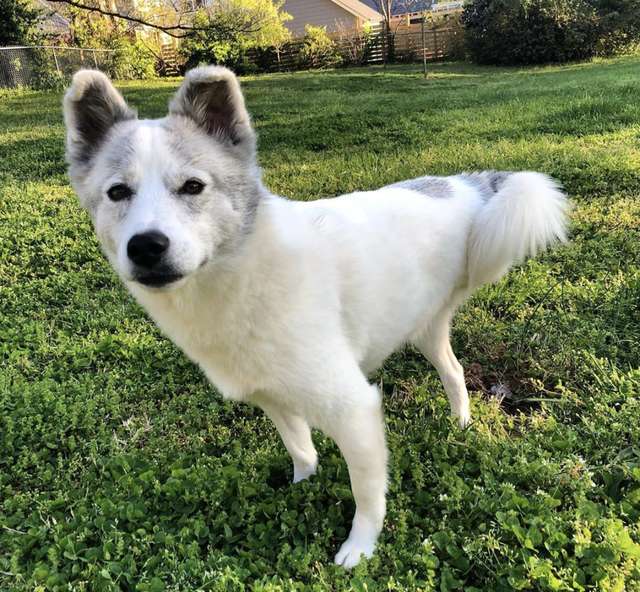 If you took one look at 2-year-old Bowie, you'd be shocked at how happy he was. Bowie recently rode the internet to international acclaim after his owner's social fundraiser ended up going viral. You see, the Alaskan Klee Kai mix had gone through a serious surgery when she was younger in order to save her life. Over the last six months, Bowie had to have a leg removed after having the limb injured due to shoddy landscaping. The surgery expenses would be more than her owner could bare, so the internet came to the rescue. With the finances out of the way, all that was left was for Bowie to learn how to walk again — on three legs. Despite how sad this story sounds, by the end of our discussion, we are SURE that you will be smiling.
After recovering from his surgery, Bowie was obviously going through an adjustment period. Dogs that have to learn how to walk on three-legs typically will struggle. Struggling to walk in this scenario is common but it can still impact the dog's overall health. As a result, Bowie learned to lean against objects while walking around the house. While this helped Bowie get from one point to another, it didn't help him get down the stairs. Instead, Bowie had to come up with his own unique technique in order to travel to other floors of the home. Can you guess what the crafty little pup decided to do?
In order to travel safely down the stairs, Bowie began to lean against the wall while hopping on his back legs. These little hopping motions were adorable and they were effective. Bowie would spend hours practicing going up and down the stairs until he locked in the physical motion. During his practice, Bowie was secretly being watched by his baby sister, a puppy named Zeppelin. As Bowie began to get more comfortable with his new way of moving, Zeppelin began to take cues from her older brother. Before long, Bowie and Zeppelin were always with one another! Despite Bowie's physical limitations, the two grew closer and closer with Zeppelin quickly outgrowing her older brother. Despite their size difference, Zeppelin always played gently with Bowie, as if she were aware of his struggles. In fact, Zeppelin admired Bowie so much that she soon began to copy some of his physical movements! This is where the story goes from cute to downright adorable.
As Bowie learned to hop down the stairs, Zeppelin seemed determined to follow suit. Zeppelin would soon begin to lean against the stairs in order to hop down them, just like her physically impaired older brother. Zeppelin, at just six months old, had mastered going up and down the stairs by copying her brother. How adorable is that? Zeppelin's owners have tried to get their young pup to just walk down the stairs with all four legs, but she refuses. Apparently, her bond with Bowie is just too strong. She wants to be like her big brother in every way possible. The owners of Zeppelin and Bowie say that the two are inseparable and that Zeppelin is always looking admiringly at her older brother in order to try to win his approval.
Didn't we tell you that you would be smiling?
Handicapped Puppy Befriends Flightless Pigeon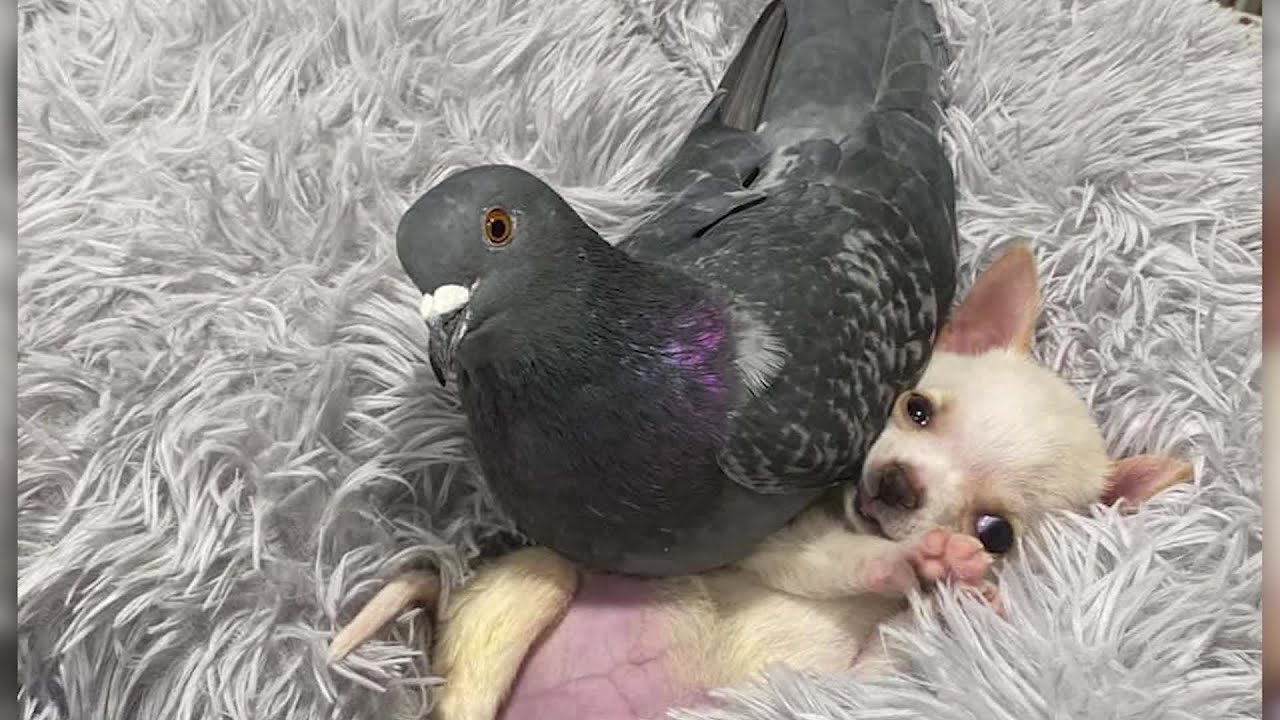 In Rochester, NY, Sue Rogers runs a non-profit called the Mia Foundation. The rescue organization rescues and rehabilitates animals who have birth defects or deformities and tries to find them a loving home. About a year ago, a pigeon was found unable to move in the parking lot of a car dealership. The pigeon was huddled and cowering on the ground. When a local wildlife rescue was called, they said the bird had neurological damage that caused him not to be able to fly. They thought that euthanization would be the best option for him.
Sue was having none of that. She stepped in and took the bird, who she named Herman, under her wing, so to speak. She made space for him in her shelter and kept him close where she could keep an eye on him. He liked to sit on a furry dog pillow and watch her work.
A couple months ago, a tiny Chihuahua was brought to the Mia Foundation. He was an infant, maybe a few months old, when his South Carolina breeders sent him to Sue. He's a teacup sized Chihuahua they named Little Lundy and he was born with spinal cord damage. Sue also determined that he was suffering from swimmers syndrome. Swimmers syndrome is a developmental deformity that causes the front and hind legs to be splayed out. This makes it almost impossible for Little Lundy to walk.
Although swimmers syndrome is thought to be untreatable, according to a few studies and an article in a veterinary journal, it can be treatable. With some physical therapy and at-home treatment, Little Lundy could live a long and happy life, which is exactly what Sue plans for him.
When Little Lundy arrived at the Mia Foundation he decided to get acquainted with his new surroundings and the other animals at the shelter. One particular encounter, created a friendship that has gone viral. Herman and Little Lundy, a puppy and a pigeon, are the unlikeliest of friends, but they have a lot in common. They both have trouble walking, or flying in Hermans case, and they were living in the same place. You could say, they were in the right place at the right time to become instant friends.
In the six weeks they have been together, Herman and Little Lundy have become inseparable. They do everything together, which is a lot of sleeping and snuggling. Mostly, with Herman sitting on top of Little Lundy, which doesn't bother him in the slightest. This friendship was so out of the ordinary that Sue had to document it. The viral sensation of the puppy and pigeon has brought attention to the Mia Foundation that was much needed. The rescue organization runs solely on donations to help cover the costs of taking care of the animals and for needed surgeries. So far, about $6000 was donated because of this unlikely friendship and over 100 adoption inquiries. Hopefully when they are adopted, they are able to stay together.