Beautiful Three-Legged Puppy Learns to Go Down Stairs.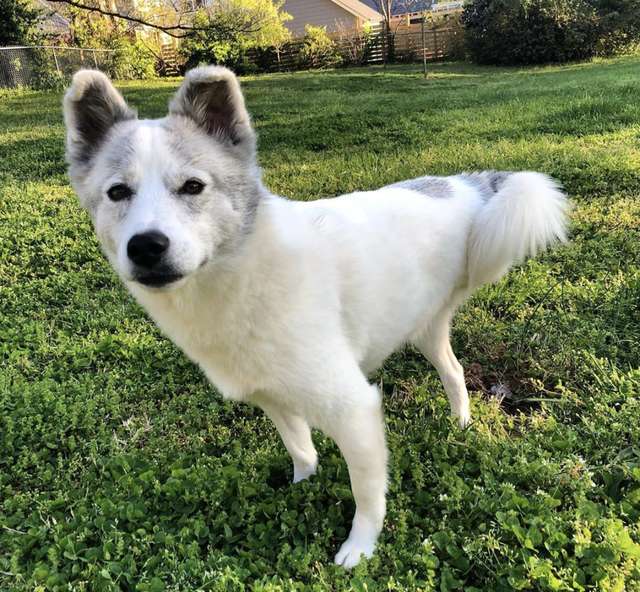 If you took one look at 2-year-old Bowie, you'd be shocked at how happy he was. Bowie recently rode the internet to international acclaim after his owner's social fundraiser ended up going viral. You see, the Alaskan Klee Kai mix had gone through a serious surgery when she was younger in order to save her life. Over the last six months, Bowie had to have a leg removed after having the limb injured due to shoddy landscaping. The surgery expenses would be more than her owner could bare, so the internet came to the rescue. With the finances out of the way, all that was left was for Bowie to learn how to walk again — on three legs. Despite how sad this story sounds, by the end of our discussion, we are SURE that you will be smiling.
After recovering from his surgery, Bowie was obviously going through an adjustment period. Dogs that have to learn how to walk on three-legs typically will struggle. Struggling to walk in this scenario is common but it can still impact the dog's overall health. As a result, Bowie learned to lean against objects while walking around the house. While this helped Bowie get from one point to another, it didn't help him get down the stairs. Instead, Bowie had to come up with his own unique technique in order to travel to other floors of the home. Can you guess what the crafty little pup decided to do?
In order to travel safely down the stairs, Bowie began to lean against the wall while hopping on his back legs. These little hopping motions were adorable and they were effective. Bowie would spend hours practicing going up and down the stairs until he locked in the physical motion. During his practice, Bowie was secretly being watched by his baby sister, a puppy named Zeppelin. As Bowie began to get more comfortable with his new way of moving, Zeppelin began to take cues from her older brother. Before long, Bowie and Zeppelin were always with one another! Despite Bowie's physical limitations, the two grew closer and closer with Zeppelin quickly outgrowing her older brother. Despite their size difference, Zeppelin always played gently with Bowie, as if she were aware of his struggles. In fact, Zeppelin admired Bowie so much that she soon began to copy some of his physical movements! This is where the story goes from cute to downright adorable.
As Bowie learned to hop down the stairs, Zeppelin seemed determined to follow suit. Zeppelin would soon begin to lean against the stairs in order to hop down them, just like her physically impaired older brother. Zeppelin, at just six months old, had mastered going up and down the stairs by copying her brother. How adorable is that? Zeppelin's owners have tried to get their young pup to just walk down the stairs with all four legs, but she refuses. Apparently, her bond with Bowie is just too strong. She wants to be like her big brother in every way possible. The owners of Zeppelin and Bowie say that the two are inseparable and that Zeppelin is always looking admiringly at her older brother in order to try to win his approval.
Didn't we tell you that you would be smiling?
Zookeepers Set Up Camera And Capture Pregnant Rhino Giving Birth Without Any Assistance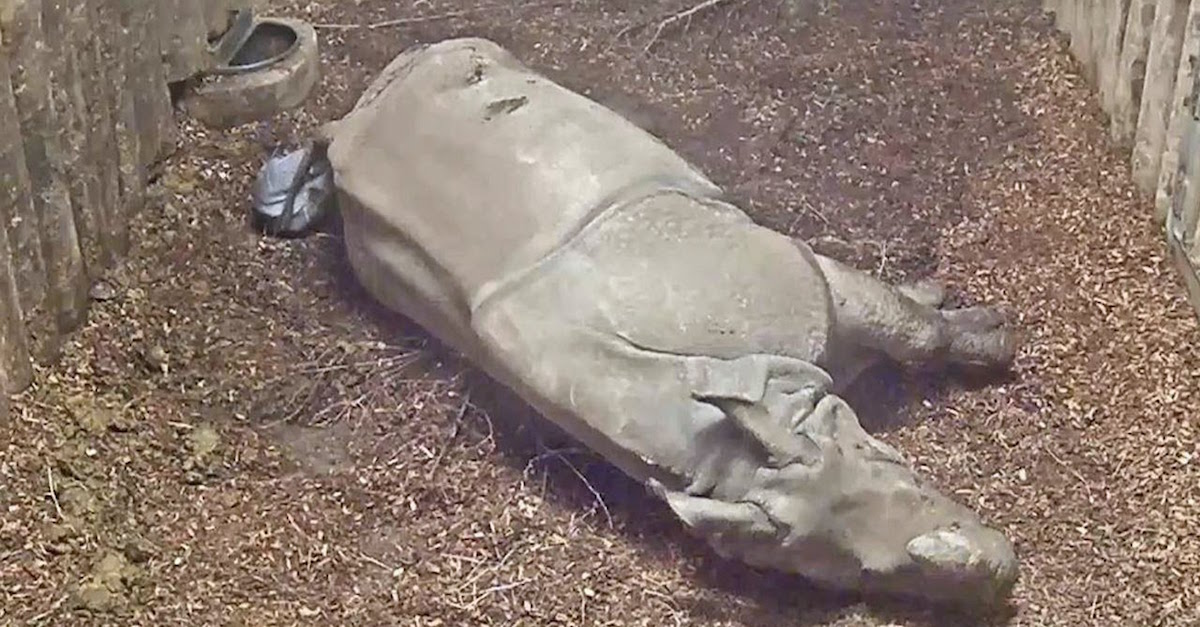 For a whopping sixteen months, Asha carried her baby in her womb. Asha, a rare greater one-horned rhinoceros, lives at the Chester Zoo in Cheshire, England. Luckily, her labor and delivery were much quicker than the gestational period was for her baby Rhino to come into the world.
After only about 20 minutes of labor, Asha successfully delivered a healthy male calf in the early morning hours on May 3, 2018, at her home at the Chester Zoo. The staff at the zoo were able to capture Asha's labor and delivery on video. The mama had an easy delivery on the floor of her enclosure and did not require assistance from the staff as she labored and brought her 132-pound baby boy. Once he is fully grown, Asha's son will balloon to an eye-popping two tons plus in weight!
Guests of the Chester Zoo were excited to visit the little rhino and his mama in their exhibit. Asha's baby is named Akeno which means "beautiful sunrise." Along with his birth, Akeno's first steps were also caught on tape along with snuggles with his 11-year-old mother Asha. They are a hit at the zoo and seem to be getting along well.
The staff at the well-visited zoo have been working towards keeping beautiful animals like Asha and baby Akeno together and better protected. One-horned rhinos are one-horned rhinos that are endangered at this point in a critical way and the staff is hoping the miraculous birth will not only attract visitors to the zoo but will draw attention to their work on this front. Animals like Asha and baby Akeno are the object of hunters who illegally poach them to be able to obtain their horns and sell them. There is a market for them as they are used in traditional Chinese medicine. A hunter can sell a single horn on the Asian black market for around $65,000 United States dollars. Even more offensive is the fact that wealthy hunters simply want the horns to hang on their walls and show off to friends as a status symbol of wealth and popularity.
According to a staff member of the Chester Zoo, not long ago there were less than 200 greater one-horned rhinoceros in the wild.
"They were hunted almost to extinction. Just in time steps were taken to protect them. Now there are about 2,600, but they still face threats in India and Nepal… it's important we do all we can to stop their numbers going down to critical levels again."
As the staff and many others work hard to fight against the illegally poaching of these beautiful animals, Asha and Akeno, who appears like he is dressed in a dark gray suit of armor, are enjoying their stay at the zoo and the many delighted visitors they come into contact with each day. The birth of Akeno on video has drawn more new visitors to the Chester Zoo and everyone seems to be happy with this new situation.