Beautiful Story Goes Viral as Educator Meets Two Wonderful Children at a New Orleans Saints Game.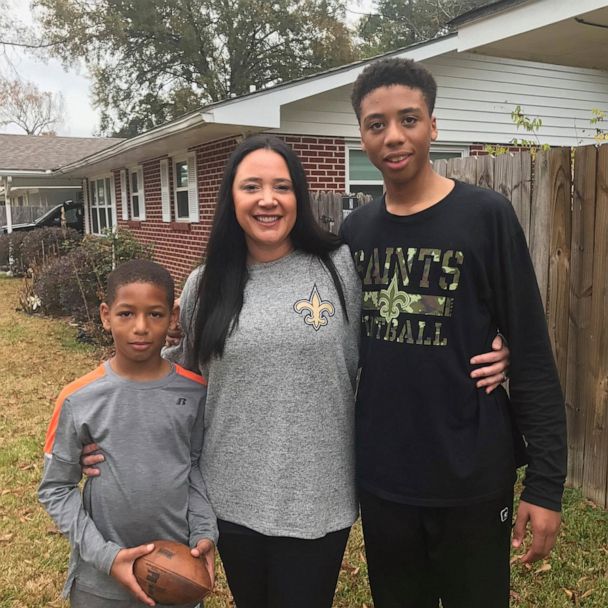 When Danielle and Dustin Trahan bought tickets for the Saints/Panthers game this season, they had no idea what they were getting into. In a world where we hear so much about how poorly people have behaved, it can be nice to have a little bit of a silver lining to admire. Danielle Trahan attended the New Orleans Saints versus the Carolina Panthers which was played in New Orleans. When she sat down at her seat beside her husband, she soon realized that she was seated next to a pair of young children. Quickly realizing that the two boys were without their parents, the Trahan's began to look out for the kids. What happened next was as delightful as it was inspiring!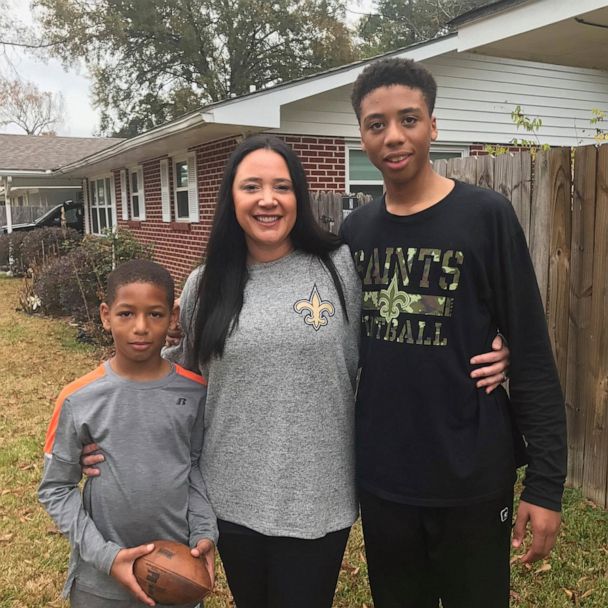 First and foremost, let's introduce you to Jairen Fisher and Terrion Shaffer, two brothers aged 8 and 14. Jairen and Terrion had been gifted a pair of tickets to the game by their father, Jonathan Shaffer. Unfortunately, the family could not afford to purchase enough tickets for everyone to attend. Knowing how much the game meant to Jairen and Terrion, their father decided to drop them off at the secured entry so that they could be escorted to their seats by the arena guards. Jonathan would wait at the gate after the game for his kids to be escorted back. Jonathan said, "When I sent them in and decided to send them by themselves, I was worried a little bit." Shaffer went on to expound, "But I wasn't worried a lot, because I know my kids. They can handle themselves, and I know they're respectable." As it turns out, Jonathan was more right than even he could have guessed!
During the game, Danielle and Dustin quickly struck up a friendship with the boys. Danielle noticed that Terrion would lift his brother onto his shoulders whenever the boy wanted a better view. The two kids would high five when the Saints made big plays, and they would groan in concert when something bad happened on the field. Through it all, both kids were respectful, polite, and utterly beaming with joy at the sight of the game going on below them. Trahan struck up a conversation with the kids and soon came to learn that they were from Baton Rouge and that young Jairen was only in 3rd grade and that this was the first football game that either boy had ever seen in person.
After the game ended with a Saints victory, the Trahan's made sure that the children made it back to their father who was waiting at the gate. Without thinking too much about it, Trahan would go home and share her story online. Danielle is a special ed paraeducator as well as a mother of four, and she was just blown away by how well-behaved and kind the children were. Danielle decided to share the photo they had taken with the boys just to share their stories. In the blink of an eye, Danielle's story was going viral. Thankfully this already sweet story has an even sweeter ending. After the story went viral, Jonathan and his sons were gifted tickets to a Monday Night Football game featuring the Saints and Colts. Guess what else? The boys wanted to see the game with Danielle! The two families managed to reconnect via the internet and have since become close friends.
In a world of anger and cynicism, isn't it nice to hear about two lovely families coming together to do something nice?
Man's Best Friend, Except When It's Time for the Weather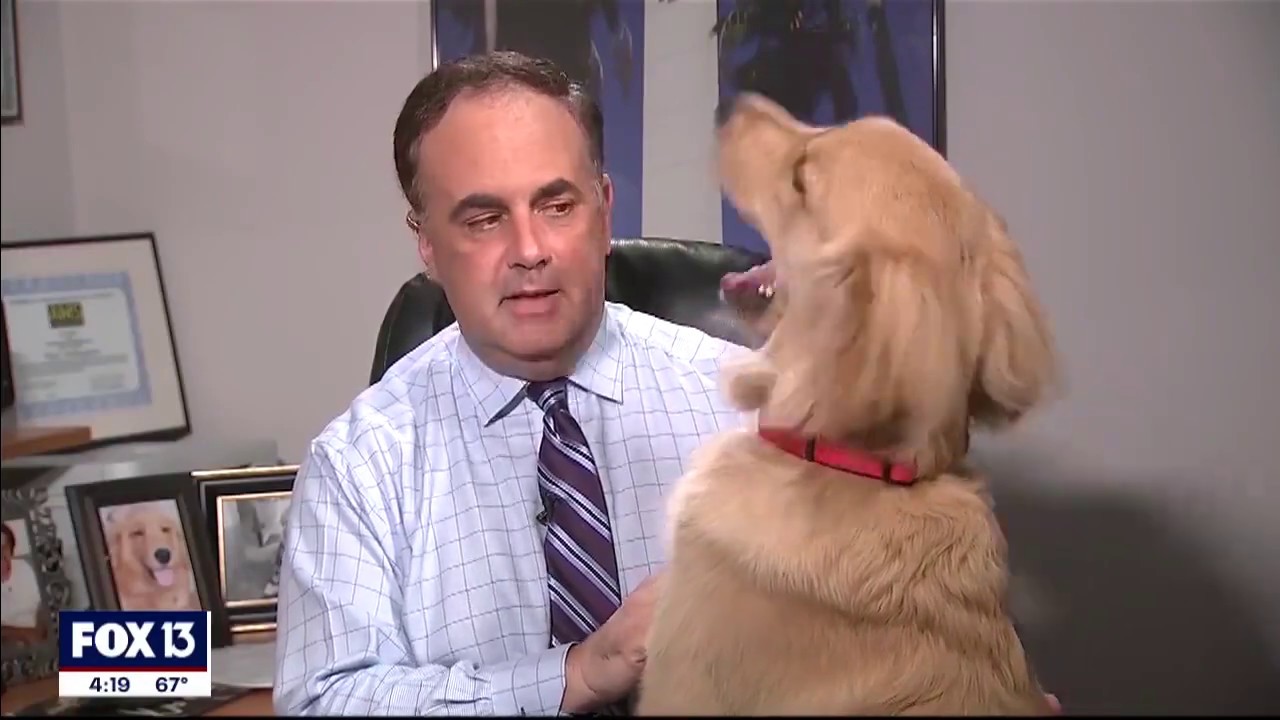 Working from home these days comes with a number of new challenges and risks that most never expected to deal with in their careers. But when the computer camera or conference video is placed in one's private accommodations, all sorts of issues can pop up that folks normally don't deal with in the office setting. Everything from what kind of photos, art or prints one has in the background to their furniture in a personal room to everything else the home is shared with becomes potentially exposed. And in the case of a particular weatherman trying to provide his meteorologist work online, man's best friend can be a notable interruption.
Paul Dellegato regularly works as meteorologist for Fox 13 based in Florida. However, like many others, Paul had to figure out in short notice how to relocate his work and his broadcast to his home to maintain social distance and health safety. While the access to his work networks and computer setups wasn't too hard, the readjustment to a home office and presentation place for his work took a bit of additional thinking. He had to pick a place in the house that would be free of distractions, walk-in surprises, problematic backgrounds, and not be invasive to his own home as well. What Paul didn't count on was that his own extended family might end up being the real disruption to Paul's broadcast.
In the clip provided, Paul is working as usual on his life TV broadcast and covering the weather for the day and the next few days' expectation. As he's going through the details and the changes in high and low pressures as well as the temperature predictions, someone doesn't want to let the weatherman continue. Paul's golden retriever, Brody, has decided to be a gate crasher and literally jump up in Paul's face and personal space. No matter how much Paul tries, his dog just keeps being persistent for his master's attention. Chances are the dog is probably hungry for dinner and is making a point about it. Doing so, however, Paul's dog is not only making a presence on the screen, the canine is goofing up the weather graphics on the nearby computer, making a ton of noise, and showing how useless it is for Paul to try to and stop the chaos. The audience loves it and Brody, and Paul's dog became the new digital mascot for Fox 13.
The weatherman's crisis resonates with all of us. We're all going through a big disruption, trying to reconstruct our professional work lives from home all over the country. So, to find a bit of humor in Paul's online dilemma with Brody provides a cathartic effect, helping us all find some humor and a bit of lightness in watching. Once you watch the show clip, you'll understand why Paul's situation went viral so fast.
Things didn't turn out bad for Paul. He earned big commendations for how patient he was able to stay under duress from Brody and the dog's insistent interruptions of his weather show. And it was clear Paul loves his furry buddy. So, the feeling now is the heck with the weather maps. How Brody behaves on camera will indicate if tomorrow will be a good weather day or otherwise.