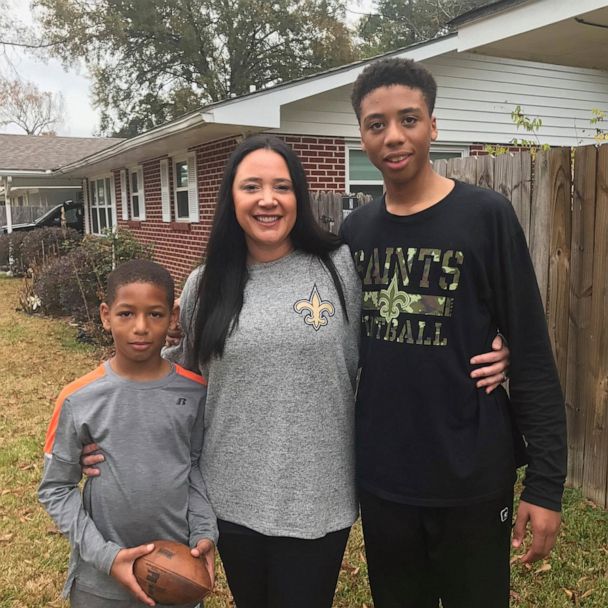 Beautiful Story Goes Viral as Educator Meets Two Wonderful Children at a New Orleans Saints Game.
When Danielle and Dustin Trahan bought tickets for the Saints/Panthers game this season, they had no idea what they were getting into. In a world where we hear so much about how poorly people have behaved, it can be nice to have a little bit of a silver lining to admire. Danielle Trahan attended the New Orleans Saints versus the Carolina Panthers which was played in New Orleans. When she sat down at her seat beside her husband, she soon realized that she was seated next to a pair of young children. Quickly realizing that the two boys were without their parents, the Trahan's began to look out for the kids. What happened next was as delightful as it was inspiring!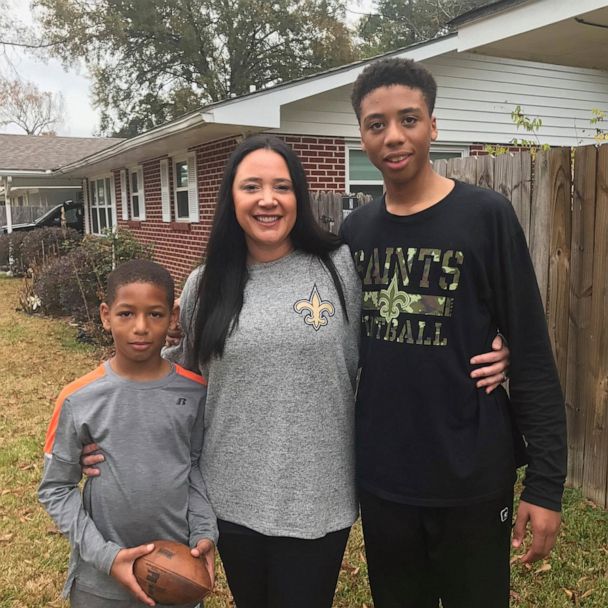 First and foremost, let's introduce you to Jairen Fisher and Terrion Shaffer, two brothers aged 8 and 14. Jairen and Terrion had been gifted a pair of tickets to the game by their father, Jonathan Shaffer. Unfortunately, the family could not afford to purchase enough tickets for everyone to attend. Knowing how much the game meant to Jairen and Terrion, their father decided to drop them off at the secured entry so that they could be escorted to their seats by the arena guards. Jonathan would wait at the gate after the game for his kids to be escorted back. Jonathan said, "When I sent them in and decided to send them by themselves, I was worried a little bit." Shaffer went on to expound, "But I wasn't worried a lot, because I know my kids. They can handle themselves, and I know they're respectable." As it turns out, Jonathan was more right than even he could have guessed!
During the game, Danielle and Dustin quickly struck up a friendship with the boys. Danielle noticed that Terrion would lift his brother onto his shoulders whenever the boy wanted a better view. The two kids would high five when the Saints made big plays, and they would groan in concert when something bad happened on the field. Through it all, both kids were respectful, polite, and utterly beaming with joy at the sight of the game going on below them. Trahan struck up a conversation with the kids and soon came to learn that they were from Baton Rouge and that young Jairen was only in 3rd grade and that this was the first football game that either boy had ever seen in person.
After the game ended with a Saints victory, the Trahan's made sure that the children made it back to their father who was waiting at the gate. Without thinking too much about it, Trahan would go home and share her story online. Danielle is a special ed paraeducator as well as a mother of four, and she was just blown away by how well-behaved and kind the children were. Danielle decided to share the photo they had taken with the boys just to share their stories. In the blink of an eye, Danielle's story was going viral. Thankfully this already sweet story has an even sweeter ending. After the story went viral, Jonathan and his sons were gifted tickets to a Monday Night Football game featuring the Saints and Colts. Guess what else? The boys wanted to see the game with Danielle! The two families managed to reconnect via the internet and have since become close friends.
In a world of anger and cynicism, isn't it nice to hear about two lovely families coming together to do something nice?
The Ockendon Solar Farm's Remarkable Transformation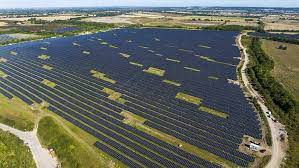 A once-neglected trash dump in England has undergone a breathtaking transformation into one of the United Kingdom's largest solar farms. The Ockendon solar farm, as it is now known, is set to provide electricity to an impressive 15,000 homes. With its 100,000 gleaming solar panels, it proudly stands as the third-largest solar farm in the entire UK.
This remarkable journey from waste ground to green energy oasis reflects the nation's growing commitment to renewable energy and sustainability. Frank Gordon, the director of policy at the Association for Renewable Energy and Clean Technology, highlighted the importance of projects like Ockendon solar farm in addressing the climate crisis. He told The Guardian, "We urgently need more solar in the UK to help meet our legally binding net-zero goals, and this summer's extraordinary global weather has further underlined the need for climate action."
The Ockendon solar farm is a shining example of the UK's transition to cleaner energy sources. Since 2020, nearly half of the nation's power has been sourced from a combination of wind, solar, bioenergy, and hydroelectric sources. This shift towards renewable energy not only reduces harmful emissions but also bolsters energy security and creates jobs in the burgeoning green energy sector.
The transformation of the Ockendon site is nothing short of inspirational. What was once a symbol of waste and environmental neglect has become a symbol of hope for a more sustainable future. As solar farms like Ockendon continue to sprout across the UK, they bring us one step closer to achieving our net-zero emissions goals and safeguarding the planet for generations to come.