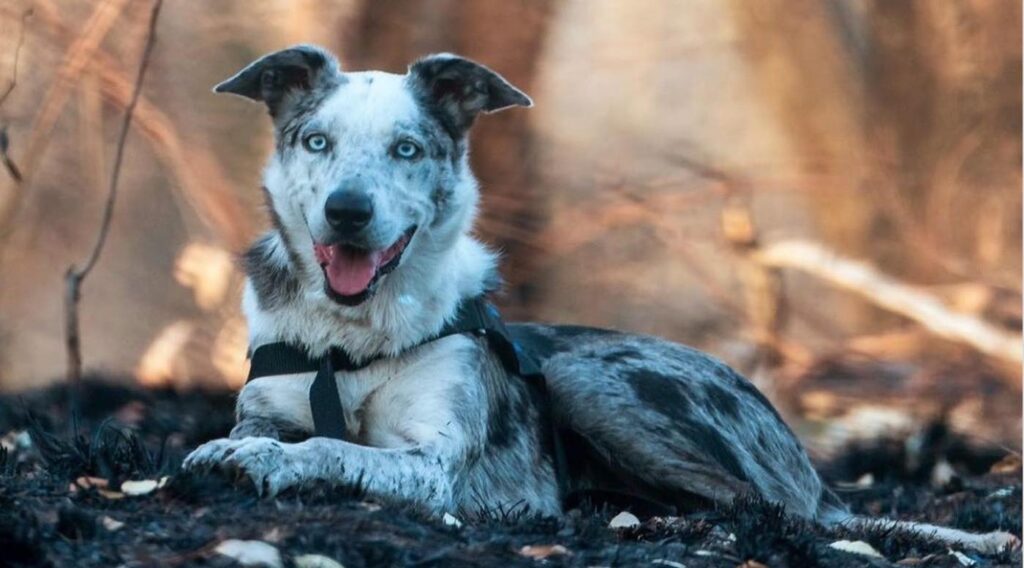 Bear, the Koala-Saving Rescue Dog Awarded!
Heroes come in all sizes and shapes, and some of them show up with tails and four legs as well. That was the case with one dog named Bear, who did his duty to save other animals that had been injured by Australia's ferocious bush fires in 2019-20.
The recognition was made public by the International Fund for Animal Welfare or IFAW, which wanted to provide public identification and recognition for the work that was done during the fire disasters in Australia, particularly for vulnerable wildlife in the region. In particular, the work done by Bear was tremendous, saving multiple endangered Koala bears, marsupials that tend to end up in extreme risk during fires because they move up in trees for safety and cannot travel on the ground fast.
While Bear was not able to attend the primary ceremony itself in the Australian House of Lords, the canine hero was represented digitally and honored for his selfless actions. Bear had been instrumental in the chaos of the fires, pinning down the location of endangered koalas so rescuers could remove them safely. In many cases, it was Bear's keen sense of smell that flushed out the marsupials trying to hide in the trees above the flames and heat or squirreled into tight locations to avoid being burned anymore.
Because of the dog's actions and hard work staying dedicated to finding koalas, Bear was given a major recognition and award by the IFAW as well as permanently honored in the organization's hall of fame. And when Bear is not out in the field trying to help searchers solve problems, he still gets plenty of attention and extra hugs from his handler, Dr. Romane Christescu, back at his home at the University of the Sunshine Coast.
The entire story is a huge turnaround for the dog. Only a few years earlier, Bear was in a rescue situation where he was not doing well with placement. Families that tried to adopt the dog couldn't handle his intense amount of energy and desire to almost constantly want to play. As it turned out, these were exactly the skills the dog needed for his true role in rescue, but no one had figured that out yet. However, once the dog had been identified by the University of the Sunshine Coast's team developing a program for disaster animal recovery, Bear found an ideal home. His exuberant nature was ideal for persistent work in the field, and Bear took to finding endangered animals easily, being a keen hunter and savvy canine sniffer even in the chaos of fire smells.
Just in one year alone in a very bad season, Bear was able to save over 100 different koalas either trapped by the fires or injured and needing help. All of the found animals survived thanks to Bear's tenacity and keen ability to hunt and locate the koala victims quickly in a wildfire situation. Instead of dying from their burns and dehydration, all of the koalas lived and were reintroduced to the wild again to thrive.
So, while Bear probably doesn't understand much about the IFAW award, his owners and search program are amazed at his performance and proud of the canine's recognition. It justifies all the work that was done training Bear and provides a great result from a story that started off worrisome about how Bear was going to find his way.
A Boy Expected to Never Write Shows the World What 12 Fingers Can Do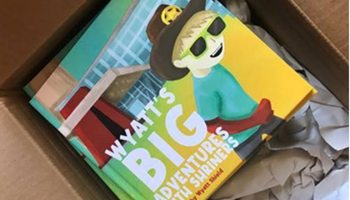 When Wyatt Shield was born, doctors immediately knew they had a developmental mutation case on their hands, no pun intended. The newborn boy was born with 12 fingers. Specifically, each hand came with an additional thumb. Technically known as thumb polydactyly, Wyatt was going to be able to live and function, but the use of hands for dexterity work like writing was going to be limited or none. Like many children with extra parts due to development mutations, Wyatt's extra thumbs were removed a year later thanks to the support and help of the Shriners Children's Hospital, located in St. Louis.
However, regardless of what the medical experts and doctors thought at the time, Wyatt wasn't keen on agreeing with their conclusion about his recovery. Instead, some five years later, Wyatt decided to become an author and write his first book. The story was about his experience at the Shriners' Hospital, from what he could remember, and what he was told about what occurred there to help him. Even more surprising, the book gained enough support to be published, and it's now in circulation.
The story of Wyatt's surgery trip covers all the different procedures he had to go through as well as his perspective of the doctors. It's a kid's view of the world clearly, and Wyatt wanted to show other kids not only could he prove medical experts wrong, but write a book doing so as well. His parents think Wyatt just rocks something huge. It's a classic outcome of what a child can pursue if he's not stopped first and prevented from achieving the "impossible."
The Shriner impact is a family thing for Wyatt and his parents as well. Wyatt's grandfather on his mother's side was a Shriner for a half century. Seeing the program give back personally to the family was a work effort coming full circle because of all the years of volunteering and support his grandfather provided Shriners before Wyatt was ever born. In the same vein, some of the profits from Wyatt's book sales will go right back to the Shriners, as Wyatt and his family wanted. It's a sense of paying forward for the next child that needs help like what Wyatt received for his hands.
And, as for Wyatt, he's off to his next adventure and challenge. His hands are doing just fine, and he's taking on new ideas for his next books as well.