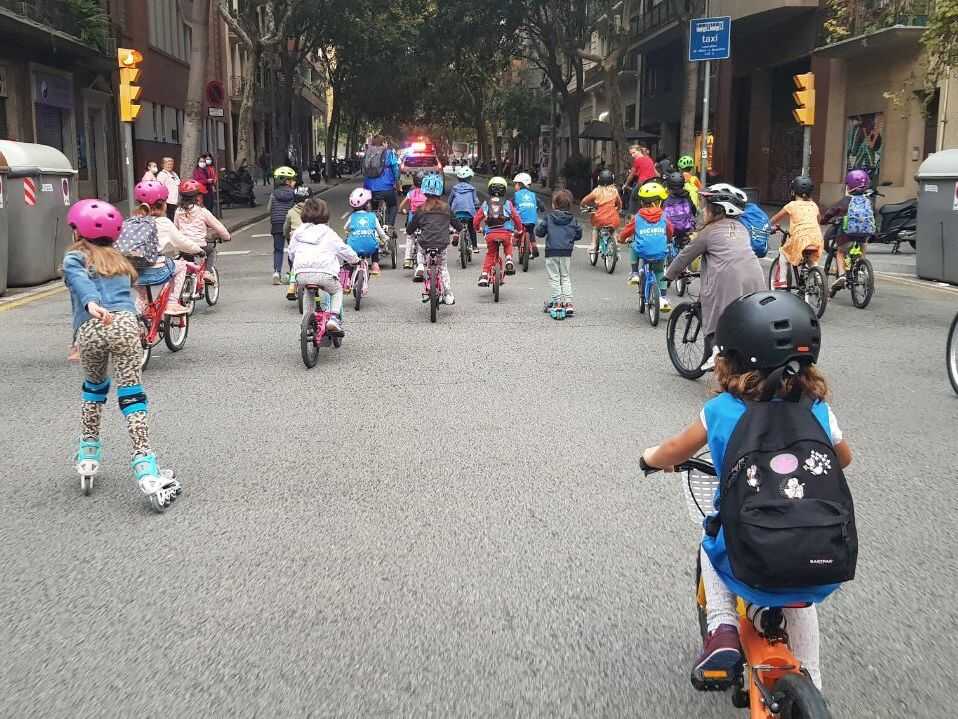 Barcelona's Bicibús: A Fun and Safe Ride to School
In the bustling city of Barcelona, where traffic moves swiftly, a clever idea called the bicibús is bringing joy and safety to the school commute. Imagine a group of about 60 parents and children, aged three to 11, all riding together in a pack of bikes and scooters, creating a lively and festive atmosphere on their way to school. This unique initiative, which started two years ago, has not only grown in popularity but has become a weekly highlight for the kids.
Every Friday, at Plaça Conxita Pérez, the bicibús gathers for the school run. With music playing and an air of excitement, it feels more like an outing than a typical journey to school. Genís Domínguez, one of the bicibús organizers, shares, "When we started out two years ago there were 20-30 people, now there are 60-70." This fun and safe commuting concept, known as the bicibús, originated locally in the Catalan town of Vic three years ago.
The idea is simple yet brilliant: parents and children ride together, creating a pack that moves through the city streets. To ensure safety, a police car follows at the rear, but the rest of the operation is run by parents through a WhatsApp group. It's a lively but surprisingly organized affair, with little conflict with motorists.
Mireia Boix, Domínguez's colleague, explains the early challenges, saying, "The police sent lots of units to begin with. In front, behind, at the sides. We didn't want two patrol cars and two motorbikes. We talked to them, always trying to find common ground, and settled on a single patrol car at the rear."
At each cross street, adult riders on the flanks block traffic to ensure the safety of everyone involved. The bicibús has become a positive and impactful part of the community, allowing kids to enjoy their ride to school while fostering a sense of camaraderie among them.
For the children, the bicibús is not just a means of transport; it's a highlight of their day. Alex Hurtado, 9, shares, "What I like best is chatting to my friends while we're on our bikes." Rita Camprubí, 7, adds, "For me, the best thing is we can put on music and we get to choose which songs we want." Even the younger riders, like four-year-old Lola Camprubí, appreciate the opportunity to meet new friends from other schools.
Jana Camprubí, 4, sums up the joy of the bicibús experience, saying, "What I like most is to ride at the front, like I'm the driver." In a city where traffic can be challenging, the bicibús not only provides a safe way for kids to get to school but also creates lasting memories and friendships on the way. It's a simple idea that's making a big difference in the lives of Barcelona's young commuters.
Zimbabwean Ranger's Heroic Effort to Save Unloved Painted Dogs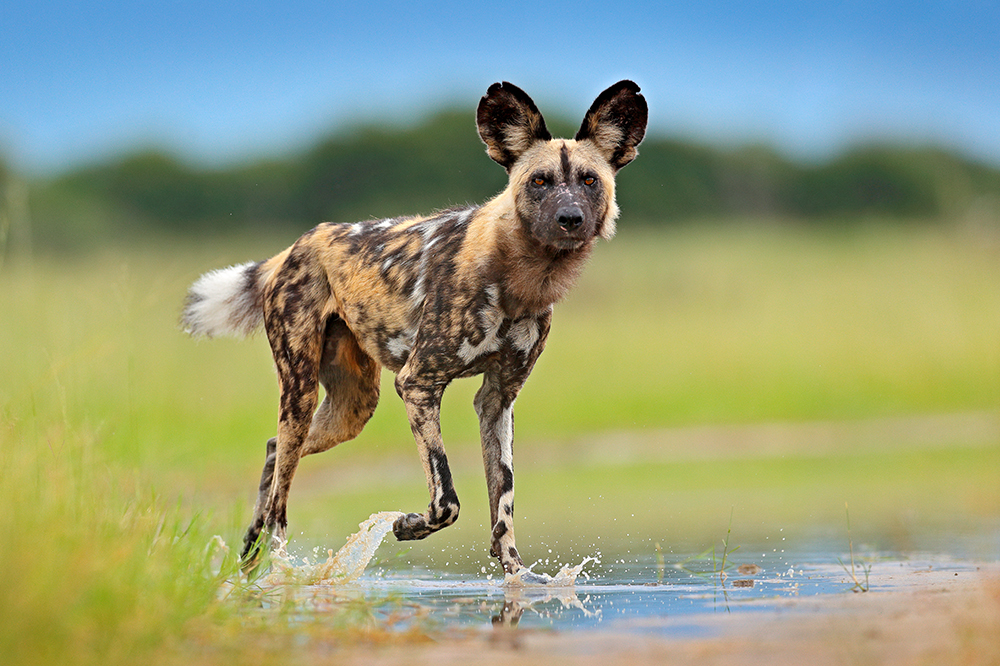 In the vast wilderness of Zimbabwe, where the African sun paints the landscape with its golden hues, a dedicated ranger named Jealous Mpofu has taken up the noble cause of rescuing and reviving the unloved African painted dogs. These striking and highly social animals, also known as African wild dogs, have faced numerous challenges, causing their population to plummet over the years.
African painted dogs are distinctive creatures, adorned with unique coat patterns that resemble a colorful mosaic. Unfortunately, they have been unjustly overlooked by both conservationists and tourists, contributing to a decline in interest and support for their preservation. Jealous Mpofu, however, has emerged as their champion, defying the misconceptions that have surrounded these animals.
Mpofu recalls the biased opinions of his father's bosses, who dismissed painted dogs as rough and undesirable creatures. "They said they didn't kill an animal; they grabbed the flesh. They said they were rough animals," Mpofu shared, shedding light on the unfounded prejudices that have plagued these beautiful canines.
Conservationists and tourists have shown little interest in painted dogs, leaving them vulnerable to various threats. Poachers, initially targeting antelopes, inadvertently ensnare these dogs in their traps. Cars pose another danger as they unwittingly run over these creatures, contributing to the challenges faced by the painted dog population.
Jealous Mpofu's journey with painted dogs began in 1997 when he first laid eyes on these fascinating animals. Growing up trekking barefoot to school and working as a casual laborer in Zimbabwe's national park system, Mpofu left his job when he witnessed the country's decline. His life took a positive turn when he crossed paths with Peter Blinston, a Briton who founded Painted Dog Conservation after being inspired by a Jane Goodall documentary at the age of eight.
Tragedy struck in 2006 when the alpha male in Hwange's last painted dog pack was killed, leading to the group's dispersal. Mpofu and his team played a pivotal role in rescuing the alpha female, bringing her into a rehabilitation enclosure. For six months, Hwange had no painted dogs in the wild, but the team persevered. They released the female and selected an alpha male from the enclosure. Over the years, the female raised as many as 30 puppies, a testament to Mpofu and his team's dedication.
Peter Blinston credits Mpofu with saving dozens of painted dogs' lives, recounting instances where he found and rescued dogs ensnared in traps. Last year alone, Mpofu rescued four dogs from one pack entangled together in snares.
In recognition of his extraordinary efforts, Jealous Mpofu has been named Tusk's Ranger of the Year, an honor bestowed upon him for his quarter-century-long commitment to bringing these unique animals back from the brink of extinction. He will receive the award, along with a grant of £30,000, in London, most likely from Prince William, who played a role in establishing the awards in 2013.
Mpofu, humble and surprised by the news of his award, plans to use the grant to support his family and community. "I share that with painted dogs," Mpofu emphasized, highlighting his commitment to not only these remarkable animals but also the well-being of those around him.
Painted dogs, known for their cooperative and sharing nature, have found an ally in Jealous Mpofu. Through his unwavering dedication, these once-unloved creatures are getting a second chance at life, and Mpofu's story serves as an inspiring testament to the impact one individual can have on the survival of a species.