Australian Couple Braves Serious Danger to Save Wild Sea Turtle Stuck in a Tree!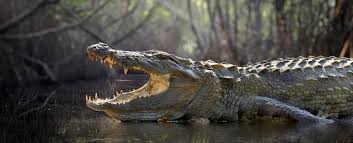 There are a few schools of thought when it comes to wild animals in distress. The first school of thought says this, simply walk away and let a professional take care of the problem. The second school of thought? Well, that's where this Australian couple found themselves upon finding a sea turtle distressed and trapped within a mangrove tree.
Our journey begins on a typical day in Port Alma, Australia. The unnamed couple had been boating on a river just outside of town when distressed sounds brought their attention to a mangrove tree. These small coastal trees grow near brackish water and can reach heights of 20 to 25 meters. Nestled between a branch hovering just above the water was a lopsided sea turtle that had found itself completely trapped. Now, we don't need to tell you about all of the horrific (but wonderful) animals that call Australia their home for you to know where this story was going.
The unnamed wife and husband duo had to make a decision for the poor turtle. Would they leave the creature snarled just above the surface of the water or would they try to help? If they were to leave the sea turtle, the majestic shelled animal would likely turn into a crocodile snack. Australia has two primary forms of crocodiles to be aware of, the Johnstone Crocodile (freshwater) and the Estuarine Crocodile (saltwater). Suffice to say, either croc would love to chow down on a turtle that had gotten itself trapped!
The likeliest sort of danger in this situation would come from the Johnstone Crocodile, known to locals as a freshie. These freshwater crocodiles are not typically man-eaters, though they will bite in self-defense or in situations of mistaken identity. Freshies can grow up to 9.8 feet in length while weighing in at around 200lbs. While these creatures are not considered a traditional human threat, they definitely possess a different reputation among the sea turtles of the world!
While the husband wanted to stay away from the animal lest a big crocodile arrive, the wife was all too insistent about freeing the poor trapped turtle. Guess who won this debate? In the amazing footage that has since gone viral, you can see the husband carefully navigate a large branch before balancing himself on the edge of his boat. After a few careful shakes from the tree, the husband was able to dislodge the turtle before allowing it to splash safely back into the water below. During this tense minute of footage, you can practically feel crocodilian eyes watching with interest from the murky depths below. The wrong slip from the turtle, man, or wife would have potentially led to a full belly for a crocodile.
How would you have reacted in this same situation? Would you have braved crocodilian predators below to save a poor little turtle that had gotten itself stuck in a tree? We are sure that there is no right answer to this question. In either situation, make sure you stay safe when boating in Australia!
You Want a Capybara as a Pet? Isn't it a Giant Rat?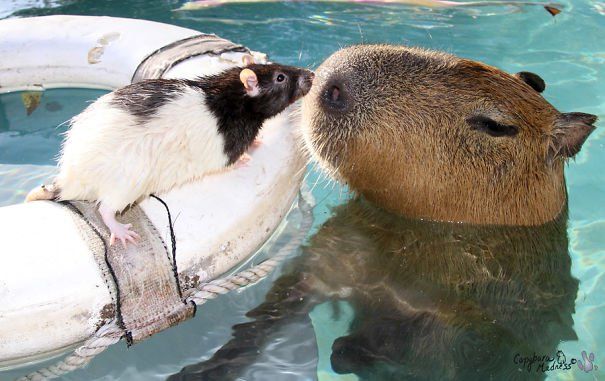 What in the world is a Capybara?
Take a small to medium size pig, turn it into a guinea pig with longer legs, give it clawed feet, and add in an absolutely loving attitude towards anything that pays it attention. Technically, the Capybara is a rodent, a very large rodent. These creatures can easily get up to 4 feet in length and up to two feet tall. They range in weight, with various specimens coming in anywhere from 70 lbs to as much as 150 lbs in size. Most folks first faced with one would likely back up from a Capybaras at first, but these creatures are absolutely affectionate regardless of what they are facing.
They Eat a Lot!
In terms of feed, the Capybara counts as an herbivore. It will easily consume up to eight pounds of food and they love to splash around in water, often leaving near creeks and rivers in the wild. And then they have this cuddling thing. They love to get up close with anything that pays them attention and doesn't try to eat them. The Capybara will do fine with dogs, cats, cattle and they even be seen giving a monkey a ride around the yard. They have a reputation for being used as a couch by a lot of other animals ranging from birds to other rodents, even when walking around.
The Party Hugger
Tame Capybaras will make friends will all kinds of animals most folks would never assume could hang out with these creatures. Rabbits are often seen snoozing with them when saddled in the same pen, and if there's a kiddie pool made available you can be these oversized rodents are going to play king of the mountain and park themselves right in the center of it. They not only have the ability to function as natural swimmers, a Capybara will frequently be found sleeping in water as well. It's not uncommon to see one slip underwater asleep and come back up in a splutter. They also have the ability to dive and stay under water up to 5 minutes long, easily getting away from danger on land if needed.
Natural Capabilities
Interestingly, Capybaras are no slow or easy to catch. They can run as fast as 35 kilometers per hour, easily keeping up with a typical horse. They tend to live in herds ranging from 10 to 20 in the wild, and at one point there was a concern they were going to become rare. However, domestic farm-raising of Capybaras solved the problem, and now there are plenty of the rodents available again.
It's not likely that a Capybara will be allowed as a pet in most jurisdictions in the U.S. Many states have laws barring the entry of non-native species to prevent them from causing environmental damage and wiping out a native species. However, if you ever get a chance, spend some time with these creatures in a tame setting. Their willingness to be friendly and inquisitive makes them absolutely interesting to watch, observe and interact with.