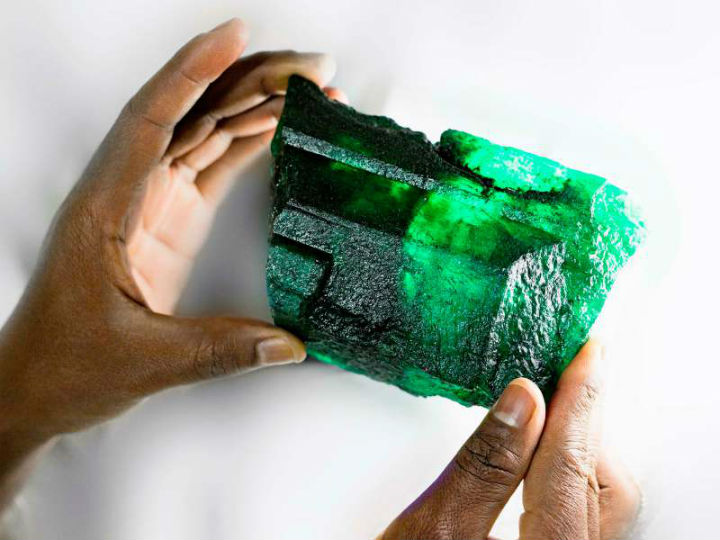 At an Unbelievable 5,655 Carats, This May Be One of The Largest Emeralds Ever Mined
The demand for colored gemstones from Zambia is constantly increasing. This has led to the discovery of emeralds that measure in at a whopping 5655 carats. Zambian emeralds are fast becoming some of the most popular in the world. Jewelers and consumers like it because it is beautiful with a distinct blue-green color. Their value is high but they are affordable. Zambia is now second only to Colombia when it comes to the production of emeralds.
Don't Let the Rocks Fool You
The geologist Debapriya and emerald miner Richard Kapeta discovered the large emeralds in October in a gem field mine. The rock is now popularly known as 'Inkalamu' which translates to 'Lion.' It is as big as the size of an arm and weighs over 1.1 kg. It has joined the competition against emeralds from Brazil and Columbia. The rock may be large but it is not the largest one to be found in Zambian gem fields. In 2010, a bigger rock was discovered. The 6225 karats rock was named 'The Elephant.' This rock measured in at 6225 carats. It is locally referred to as 'Insofu' which is Bemba for elephant. It got this name as a way to honor the World Land Trust's 'Wild Lands Elephant Corridor Project.'
The Lion
The Lion is a 5655-carat emerald known for its perfect golden green hue and clarity. It was discovered in Kagem mine which is the largest in the world. It was found in an area that is known to produce emerald that is impressive in terms of color, clarity, and size. It was named 'Inkalamu' which is Zambian Bemba language meaning Lion. It was given the name in honor of the Zambian Carnivore Program and the Niassa Carnivore Project in Mozambique. These conservation partners played an important role in the discovery of this gem. This emerald continues to be sought after all over the world especially in European countries.
The Value of the Inkalamu emerald
Unlike with diamonds, it may be difficult to estimate the price of such large emeralds. It is also difficult to estimate the exact number of individual gems that the Inkalamu emerald can produce. However, the emerald will certainly go into the history books as one of the most exceptional gemstones. It may produce hundreds of offcuts which will be used to make beads and smaller gems. The cuts will be plenty and fine-quality. Some buyers may choose to purchase it as an investment considering how rare it is. The good quality of the gem comes from the fact that it formed more than 450 million years ago from a combination of magma and in-situ minerals.
Zambian Emeralds
Zambian emeralds have been a major boost to the economy of the country. The strength of the precious stones is rated between 7.5and eight. This means that only diamonds and sapphires are harder. Their quality and beauty remain timeless making the great for all conditions. They are less brittle and porous than emeralds from other countries. Their green color makes them suitable for 20th and 30th anniversaries and as traditional gifts.
Mining in Zambia
Zambian emeralds are top quality regardless of the carats. If you happen to find them they may be of more value to you than bigger rocks from other parts of the world. Zambia has always had a long history of mining and the potential for more discoveries is great. It may benefit a lot not only from the mining of emeralds but also other minerals such as copper. The mining sector accounts for about 12% of the country's GDP.
Walk Along the Beach Turns Into Jurassic Experience For Shellfish Collector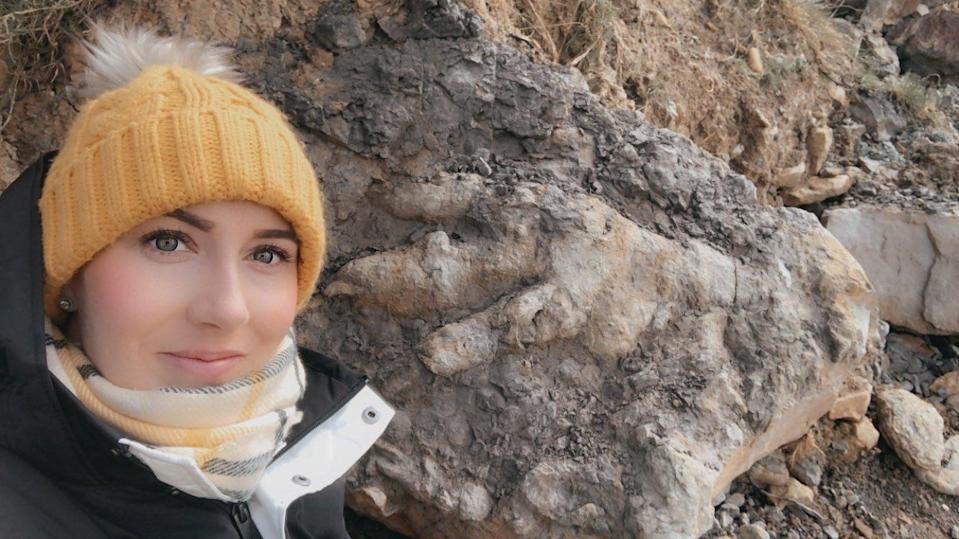 When was the last time that you were truly blown away by something? We don't mean impressed, we mean truly blown away. It's a tough state of mind to find ourselves in, but that doesn't mean that 29-year-old shellfish collector Marie Woods would have the same experiences! Woods had been foraging for shellfish along the Yorkshire Coast when she came across something quite remarkable. And when we say 'quite remarkable' what we really mean is 'a relic of time'.
Let's explore how a walk along the beach turned into a journey through time.
165 Million Years Ago…
Marie Woods was like many Yorkshire locals when she found herself walking along the coast, foraging for dinner. Woods had been looking for shellfish to incorporate into her meal when she came across something quite unique. In fact, what she found was something both out of time and out of place – an enormous footprint thought to be at least 165 million years old!
Now documented by experts, Marie was one of the first leaders in the field to examine the footprint. More than just a local shellfish enthusiast, Marie is also an archeologist. Upon finding the footprint, Marie would end up making international news. Marie said of her experience, "All I wanted was to grab some shellfish for my dinner." Marie would go on to add, "..and I ended up stumbling across this."
Woods wasn't the only expert to put a pair of eyes on the uncovered footprint as Dr. Dean Lomax of the University of Manchester was quick to chime in. Dr. Lomax believes that the discovered print is that of the Megalosaurus, an animal that would stand with hips over two meters high and a body longer than nine meters. Put more plainly, Dr. Lomax says, "This is the largest theropod footprint ever found in Yorkshire, at least made by a large meat-eating dinosaur."
The footprint is distinguishable at a glance, most notable due to its three-toed track and long shape. Dr. Lomax goes on to say that the shape of the footprint makes for a 'large theropod' or, as he likes to say, 'a real Jurassic giant'.
Learning About Megalosaurus
Also known as the Great Lizard, the Megalosaurus was a large meat-eating dinosaur from the theropod class, existing throughout the Middle Jurassic Period. Found throughout Southern England, the first-ever genus of this dinosaur was found in 1824. Originally mistaken by a researcher for a 66-foot long lizard, Megalosaurus would receive more significant and accurate coverage after its inclusion in Richard Owen's Dinosauria.
Described as bipedal with stout hind limbs, the Megalosaurus stood roughly 20 feet tall while weighing in at over 1,500 lbs. With short forelimbs and sharp teeth, the megalosaurus was quickly categorized as another meat eater for the time period. Unfortunately, we are still very short on further details as it has been beyond difficult for researchers to find a well-preserved fossilized skull for the Megalosaurus. Sans this information, it can be hard for researchers to get completely accurate details.
After discovering the fossilized footprint of Megalosaurus, Marie would contact other local experts where she would find out that her discovery was not completely new. Roughly a year ago, the footprint had been found by a local photographer named Rob Taylor. Though the image had been shared on social media, nothing had ever come of the discovery – at least not until Marie showed up.
Working with local experts, Marie and Rob are hopeful that their share discovery may find its way into a public display at the Rotunda Museum located in Scarborough.