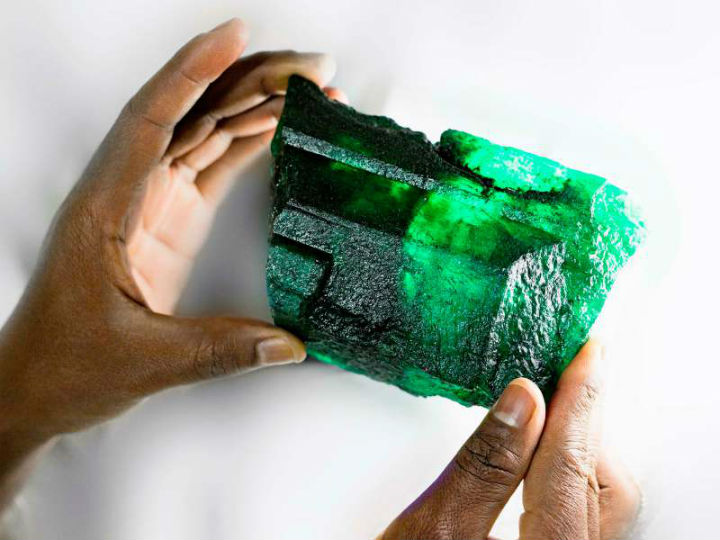 At an Unbelievable 5,655 Carats, This May Be One of The Largest Emeralds Ever Mined
The demand for colored gemstones from Zambia is constantly increasing. This has led to the discovery of emeralds that measure in at a whopping 5655 carats. Zambian emeralds are fast becoming some of the most popular in the world. Jewelers and consumers like it because it is beautiful with a distinct blue-green color. Their value is high but they are affordable. Zambia is now second only to Colombia when it comes to the production of emeralds.
Don't Let the Rocks Fool You
The geologist Debapriya and emerald miner Richard Kapeta discovered the large emeralds in October in a gem field mine. The rock is now popularly known as 'Inkalamu' which translates to 'Lion.' It is as big as the size of an arm and weighs over 1.1 kg. It has joined the competition against emeralds from Brazil and Columbia. The rock may be large but it is not the largest one to be found in Zambian gem fields. In 2010, a bigger rock was discovered. The 6225 karats rock was named 'The Elephant.' This rock measured in at 6225 carats. It is locally referred to as 'Insofu' which is Bemba for elephant. It got this name as a way to honor the World Land Trust's 'Wild Lands Elephant Corridor Project.'
The Lion
The Lion is a 5655-carat emerald known for its perfect golden green hue and clarity. It was discovered in Kagem mine which is the largest in the world. It was found in an area that is known to produce emerald that is impressive in terms of color, clarity, and size. It was named 'Inkalamu' which is Zambian Bemba language meaning Lion. It was given the name in honor of the Zambian Carnivore Program and the Niassa Carnivore Project in Mozambique. These conservation partners played an important role in the discovery of this gem. This emerald continues to be sought after all over the world especially in European countries.
The Value of the Inkalamu emerald
Unlike with diamonds, it may be difficult to estimate the price of such large emeralds. It is also difficult to estimate the exact number of individual gems that the Inkalamu emerald can produce. However, the emerald will certainly go into the history books as one of the most exceptional gemstones. It may produce hundreds of offcuts which will be used to make beads and smaller gems. The cuts will be plenty and fine-quality. Some buyers may choose to purchase it as an investment considering how rare it is. The good quality of the gem comes from the fact that it formed more than 450 million years ago from a combination of magma and in-situ minerals.
Zambian Emeralds
Zambian emeralds have been a major boost to the economy of the country. The strength of the precious stones is rated between 7.5and eight. This means that only diamonds and sapphires are harder. Their quality and beauty remain timeless making the great for all conditions. They are less brittle and porous than emeralds from other countries. Their green color makes them suitable for 20th and 30th anniversaries and as traditional gifts.
Mining in Zambia
Zambian emeralds are top quality regardless of the carats. If you happen to find them they may be of more value to you than bigger rocks from other parts of the world. Zambia has always had a long history of mining and the potential for more discoveries is great. It may benefit a lot not only from the mining of emeralds but also other minerals such as copper. The mining sector accounts for about 12% of the country's GDP.
500,000-Year-Old Wooden Structure Rewrites History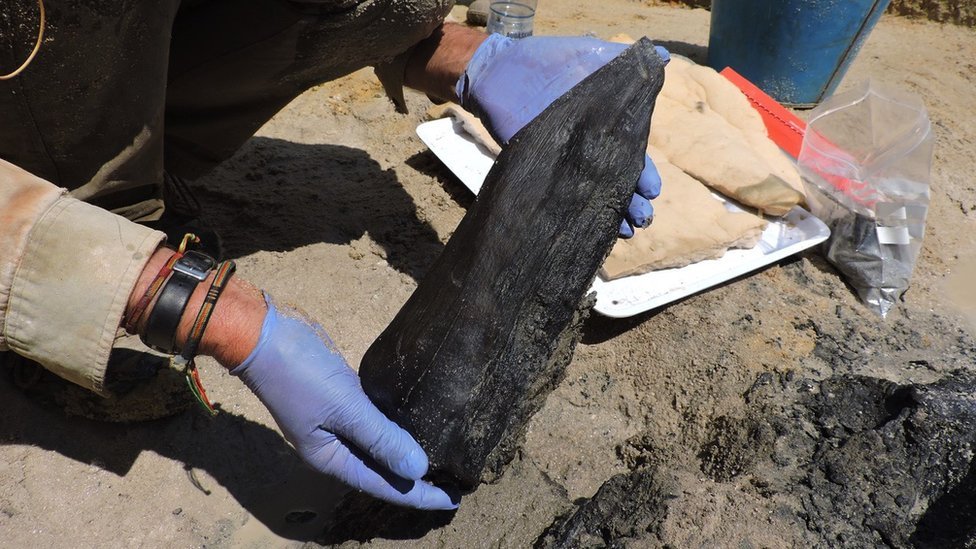 In an archaeological discovery, a wooden structure dating back an astonishing 500,000 years has been unearthed on the banks of a river in Zambia, challenging long-held beliefs about the capabilities of ancient humans. Researchers stumbled upon these ancient wooden logs, a revelation that has the potential to reshape our understanding of the lives of early humans.
The find, located on the riverbanks near Zambia's Kalambo Falls, provides compelling evidence that stone-age people may have constructed primitive shelters, forever altering our perception of their intelligence and resourcefulness. Archaeologist Prof Larry Barham, who led the research, was profoundly impacted by the discovery, stating, "This find has changed how I think about our early ancestors."
What makes this find truly remarkable is that it suggests ancient humans did more than merely survive; they thrived by creating something entirely new. These early humans exhibited intelligence, imagination, and craftsmanship by fashioning structures from wood, a material that had never before been transformed into such large and sophisticated objects.
The researchers also uncovered ancient tools, including digging sticks, but the most exciting find was two pieces of wood positioned at right angles to each other. "One is lying over the other, and both pieces of wood have notches cut into them," explained Geoff Duller, a professor of geography at the University of Aberystwyth and a member of the research team. "You can clearly see those notches have been cut by stone tools, making the two logs fit together to become structural objects."
Radiocarbon dating confirmed the wood's age, placing it at a staggering 476,000 years old. This revelation has ignited curiosity about the woodworking traditions of ancient societies, challenging the prevailing notion that early humans led simplistic, nomadic lives.
Perrice Nkombwe, a team member from the Livingstone Museum in Zambia, expressed her astonishment, saying, "I was amazed to know that woodworking was such a deep-rooted tradition. It dawned on me that we had uncovered something extraordinary."
The preservation of the wooden structure itself is a miracle. Typically, wood decays over time unless preserved under specific conditions. However, in the waterlogged environment along the Kalambo Falls, the wood remained intact, essentially pickled by the elements for millennia.
While the exact purpose of this ancient wooden structure remains a mystery, it has sparked numerous speculations. Prof. Duller suggests it might have been used as a place to sit beside the river and fish, although a complete understanding of its function remains elusive.
Moreover, the identity of the individuals who constructed this structure raises intriguing questions. "We don't know – it could have been Homo sapiens, and we just haven't discovered fossils from that age yet," Prof. Duller added. "But it could be a different species – [perhaps] Homo erectus or Homo naledi – there were a number of hominid species around at that time in southern Africa."
This discovery has the potential to enrich our understanding of ancient woodworking techniques, craftsmanship, and human interaction with the environment. As researchers continue their work at the Kalambo Falls site, the pages of history are being rewritten, and our appreciation for the ingenuity of our ancient ancestors grows ever deeper.