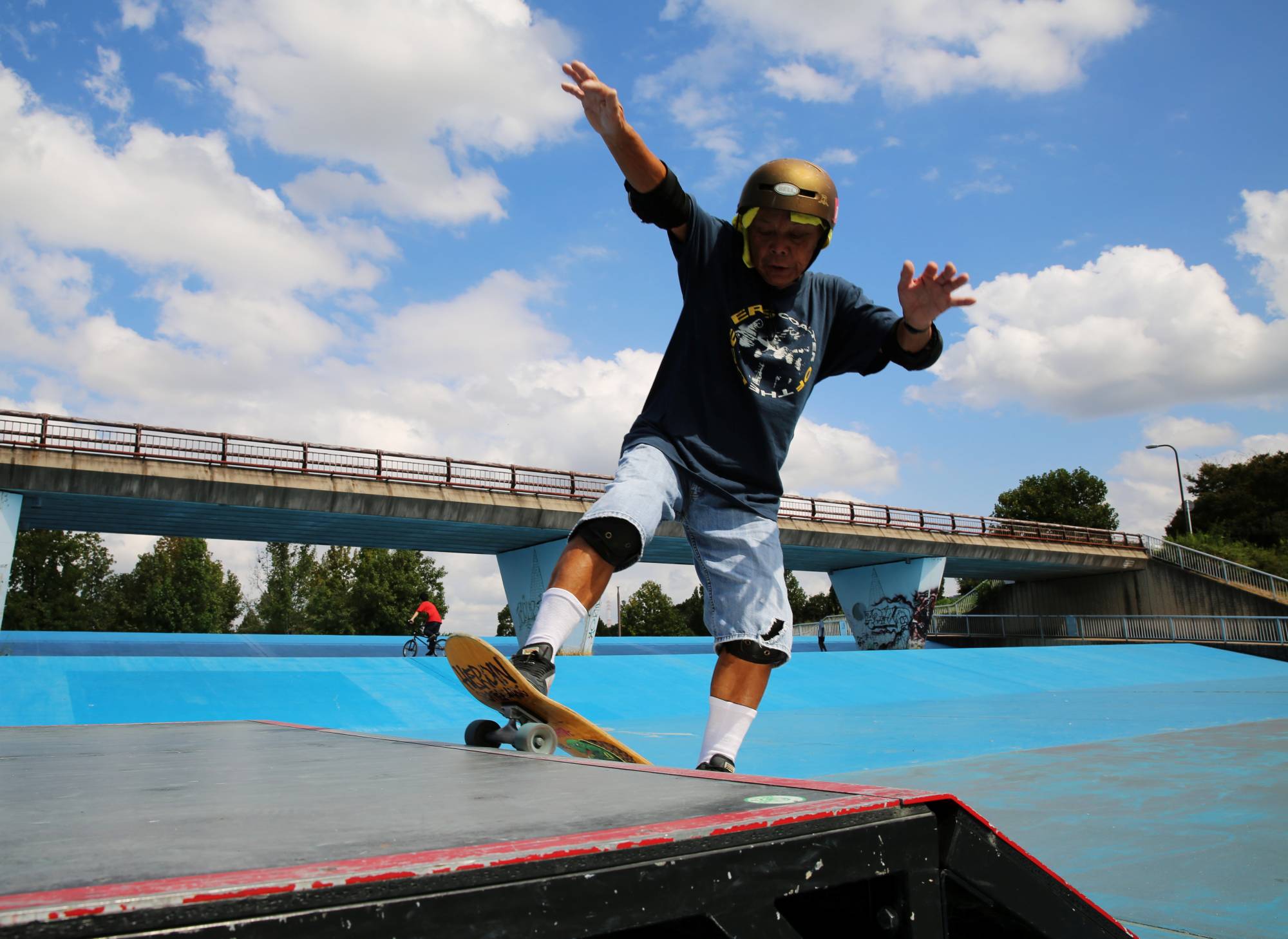 At 81 a Japanese Skateboarder Still Shreds
There's an old saying about old pets being unable to learn new things after a while. It's a phrase often applied to humans as well. At a certain point, people are assumed as being unable to learn, adjust, adapt and change. While there is truth that the brain slows down with age, and cannot learn things as quickly such as new languages, there is no rule or biological wall that stops learning altogether. Yoshio Kinoshita would be the first to argue that point in a very interesting way.
At 81 years of age, Kinoshita can arguably hold the title as one of the world's oldest skateboarders. And, as anyone knows with the cement-loving sport, skateboarding involves a ton of learning, adjusting, changing and learning. And he's not too proud to let a 10-year-old or a 13-year-old show him something new everyday at the Osaka skate park he enjoys visiting with friends daily. While most seniors Kinoshita's age would focus on walks, cooking, gardening and enjoying a bench in a park, the 81-year-old spend his mornings navigating skate ramps and staying on his board in motion without falling off or worse, down on the hard cement.
Many would assume that Kinoshita had been skateboarding for years, simply holding on irrationally to a sport he likely picked up in the 1970s with heavy American influence in Japan. The truth is, Kinoshita just started learning skateboarding only two years prior. He literally started learning a new, physical sport requiring mind, body and balance coordination in his late 70s. He saw his first skateboard, the one he still uses today, at a market selling second-hand goods people lost or left behind at the local train station.
Kinoshita doesn't skateboard in obscurity either. He's often targeted for local press stories or onlookers amazed at his versatility and capability at a senior age. Kinoshita takes it in strike. He often refers to his younger teachers as well for the senior's inspiration. And, Kinoshita also believes the 800 yen he spent on the skateboard as a sudden urge was one of the biggest changes in his life. Instead of being relegated to slowly moving to a chair or bed in old age, Kinoshita focuses on maintaining his strength, avoiding dementia, and staying flexible enough to keep skateboarding another day.
Kinoshita knows his learning process is very different from the kids zipping around him at the skate park, younger by anywhere from 60 to 90 years at least. Instead, his learning process for a new trick or movement is incremental, practiced, repeated and reinforced. Otherwise, it seems to slip quickly from memory at his age. So, Kinoshita makes a point to practice everything he has learned to date methodically, like a carpenter laying on another sheet of wood to a construct, getting stronger with each seemingly weak ply but together incredibly permanent and solid.
The senior skateboarder today enjoys a long family line, as well as grandkids, and he was among the audience watching skateboarding compete at the Olympics recently for the first time. It awed him with the contestant's ability to deny gravity. And, he admitted with a bit of comical ego, he didn't think he could quite compete with them either.
500,000-Year-Old Wooden Structure Rewrites History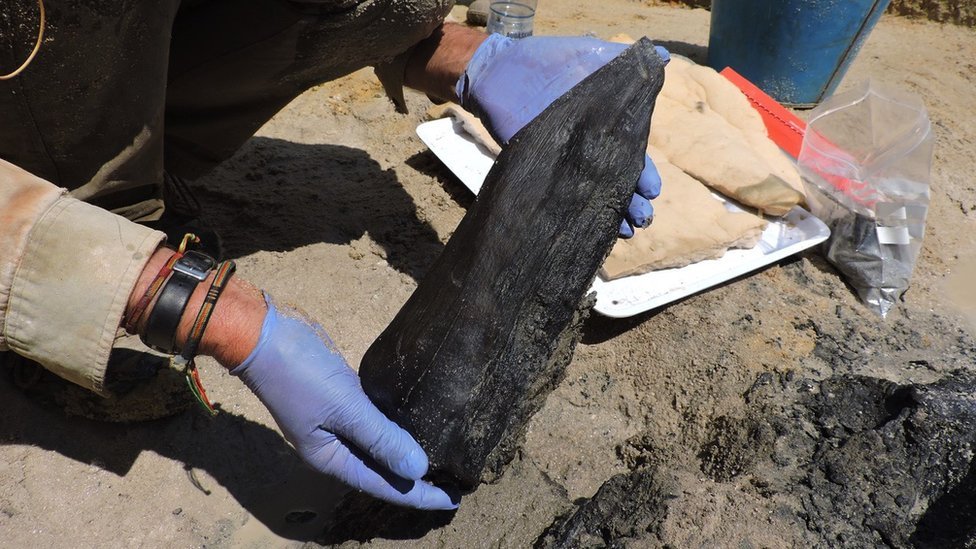 In an archaeological discovery, a wooden structure dating back an astonishing 500,000 years has been unearthed on the banks of a river in Zambia, challenging long-held beliefs about the capabilities of ancient humans. Researchers stumbled upon these ancient wooden logs, a revelation that has the potential to reshape our understanding of the lives of early humans.
The find, located on the riverbanks near Zambia's Kalambo Falls, provides compelling evidence that stone-age people may have constructed primitive shelters, forever altering our perception of their intelligence and resourcefulness. Archaeologist Prof Larry Barham, who led the research, was profoundly impacted by the discovery, stating, "This find has changed how I think about our early ancestors."
What makes this find truly remarkable is that it suggests ancient humans did more than merely survive; they thrived by creating something entirely new. These early humans exhibited intelligence, imagination, and craftsmanship by fashioning structures from wood, a material that had never before been transformed into such large and sophisticated objects.
The researchers also uncovered ancient tools, including digging sticks, but the most exciting find was two pieces of wood positioned at right angles to each other. "One is lying over the other, and both pieces of wood have notches cut into them," explained Geoff Duller, a professor of geography at the University of Aberystwyth and a member of the research team. "You can clearly see those notches have been cut by stone tools, making the two logs fit together to become structural objects."
Radiocarbon dating confirmed the wood's age, placing it at a staggering 476,000 years old. This revelation has ignited curiosity about the woodworking traditions of ancient societies, challenging the prevailing notion that early humans led simplistic, nomadic lives.
Perrice Nkombwe, a team member from the Livingstone Museum in Zambia, expressed her astonishment, saying, "I was amazed to know that woodworking was such a deep-rooted tradition. It dawned on me that we had uncovered something extraordinary."
The preservation of the wooden structure itself is a miracle. Typically, wood decays over time unless preserved under specific conditions. However, in the waterlogged environment along the Kalambo Falls, the wood remained intact, essentially pickled by the elements for millennia.
While the exact purpose of this ancient wooden structure remains a mystery, it has sparked numerous speculations. Prof. Duller suggests it might have been used as a place to sit beside the river and fish, although a complete understanding of its function remains elusive.
Moreover, the identity of the individuals who constructed this structure raises intriguing questions. "We don't know – it could have been Homo sapiens, and we just haven't discovered fossils from that age yet," Prof. Duller added. "But it could be a different species – [perhaps] Homo erectus or Homo naledi – there were a number of hominid species around at that time in southern Africa."
This discovery has the potential to enrich our understanding of ancient woodworking techniques, craftsmanship, and human interaction with the environment. As researchers continue their work at the Kalambo Falls site, the pages of history are being rewritten, and our appreciation for the ingenuity of our ancient ancestors grows ever deeper.