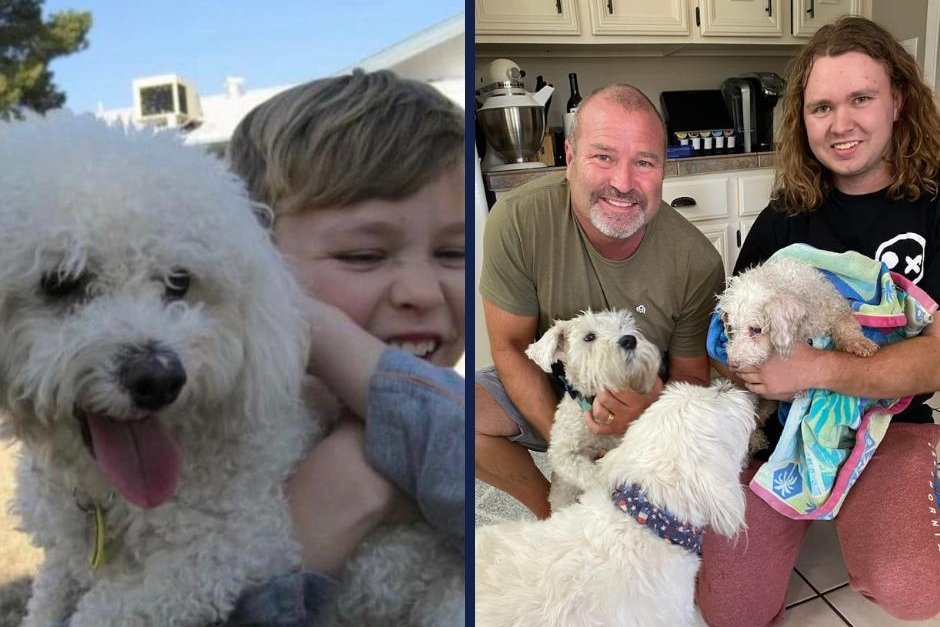 Arizona Family Finds Missing Dog After 12 Years
In the warm and sunny state of Arizona, a touching story of a lost dog named Minion recently unfolded. After an astonishing 12 years apart, Minion was finally reunited with his loving family thanks to the magic of a tiny microchip.
It all began when a compassionate officer from Maricopa County Animal Care and Control (MCACC) picked up a dog wandering the streets. The senior dog, with a demeanor that seemed a bit reserved and melancholic, had never wagged his tail during his time at the shelter. Little did they know that this seemingly lost and lonely dog held a remarkable secret.
Upon routine scanning of the dog's microchip, a heartwarming discovery was made. The microchip revealed the dog's name – Minion – and even more astonishingly, it provided a link to his family. The family had experienced the heartache of losing their beloved furry friend 12 long years ago, all because a maintenance worker had accidentally left the back gate open in 2011.
With the information obtained from the microchip, MCACC embarked on a mission to reunite Minion with his long-lost family. This heartwarming tale took a poignant turn as a field officer drove 15-year-old Minion back to his home. The officer took the time to explain to the owner that Minion had aged over the years and was no longer the sprightly pup they had known. However, the moment of reunion was sure to be a special one.
As the kennel door swung open and Minion laid eyes on his family, something extraordinary happened. Despite his age and the passage of time, Minion's tail began to wag furiously, and his eyes sparkled with unmistakable joy. It was clear that he recognized his family and was overjoyed to be back in their loving embrace.
While the details of where Minion had been for the past 12 years remain a mystery, this heartwarming reunion serves as a powerful reminder of the importance of microchipping our pets. Microchips are tiny devices implanted under a pet's skin that contain important identification information. In Minion's case, this small chip was the key to reuniting him with his family after more than a decade apart.
Jacksonville Man Spreads Love and Positivity at the Beach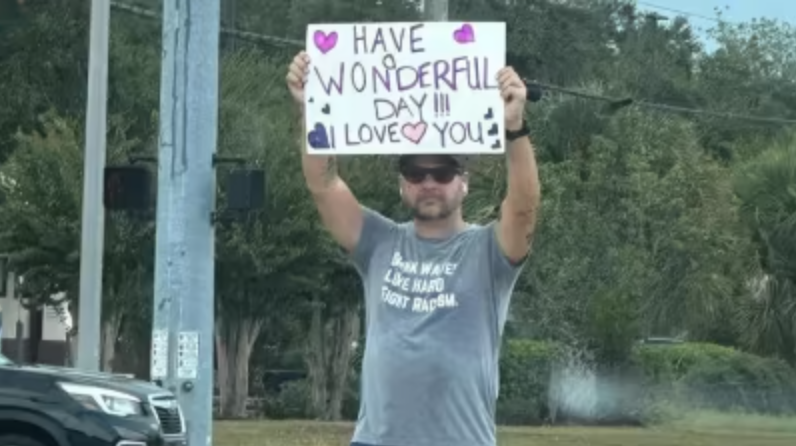 In Jacksonville, Florida, a man has been making waves of positivity and spreading kindness at the Beach Boulevard and San Pablo Road South intersection. With handmade signs that read, "Have a wonderful Day!! I Love You" and "You are Relevant," this man is on a mission to uplift the spirits of those who pass by. His heartwarming gestures have not gone unnoticed, and his actions are especially poignant during National Suicide Prevention Month.
Rika, a local resident, had a unique encounter with this compassionate individual. She was on her way to pick up her lunch when she saw a man standing in the median of the road, holding these uplifting signs. Most of us would just glance and continue on our way, but Rika decided to take a closer look. As she stopped at a red light, she took a few pictures to capture the moment. To her surprise, the man approached her car and handed her a sunflower.
"So picture this… you're out going to pick up your lunch, and there's this random guy walking by with a handmade sign," Rika recounted. "I'm sure like most of us, we'd glance and keep it moving, but I decided to read his sign since I was at a stop light. I snapped a few pictures because why not, but as I was doing this, he approached my car door to hand me a sunflower! Don't forget to appreciate the small things."
This simple act of kindness had a profound impact on Rika, as it has on many others who have encountered this man and his signs. His message of love and importance reminds us all to appreciate the small joys in life and to acknowledge our worth.
The man's efforts are not just a random act of kindness; they hold special significance during National Suicide Prevention Month. September is a time when people and organizations across the country work to raise awareness about mental health and suicide prevention. This Jacksonville man's compassionate actions align perfectly with the spirit of this month, as he strives to remind people that they matter and that there is goodness in the world.