Animal Shelter Volunteer Gets Surprise Proposal From Boyfriend Through A Note Attached To A Dog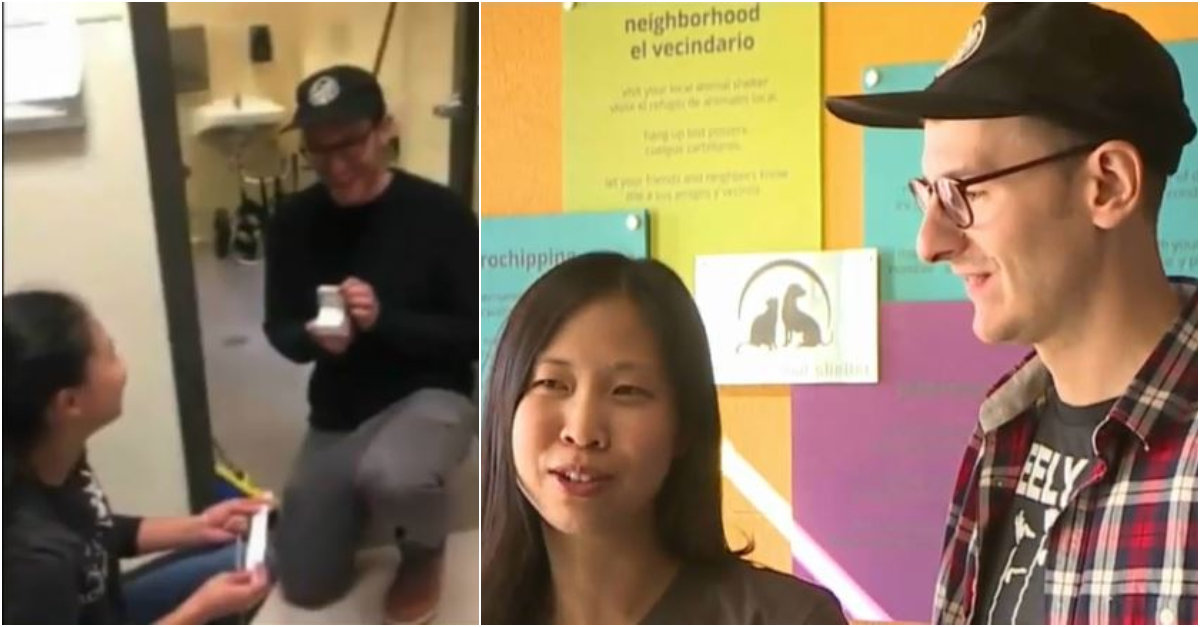 What better way to propose to the love of your life than through your best friend. One man did just that with his proposal for marriage, which came with a little help from his furry friend.
Teddy knew that he was in love with Theresa the moment that he laid eyes on her. "I knew that she was the one," he says. "Her compassion for humanity and the world at large really got my attention."
The two dated for several months before deciding to go steady. "Some of our friends thought that we were weird," Theresa admits. "I knew, though, that there was no one else out there for me beyond Teddy."
He knew that she had a heart of gold as evidenced through her volunteer work at the local animal shelter. "I thought, 'What better way to propose to her than through the thing that she loves the most?"
Teddy knew that Theresa loved animals, which gave him an idea. "Why not propose to her with a dog's note?" You read that right! Teddy attached a note to one of the dogs Theresa served in the shelter, which asked her to marry him.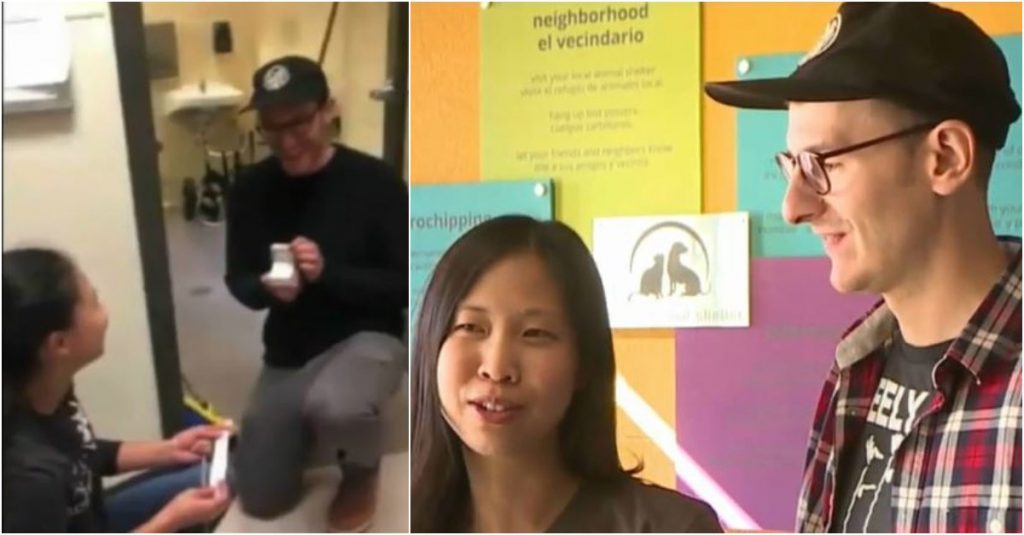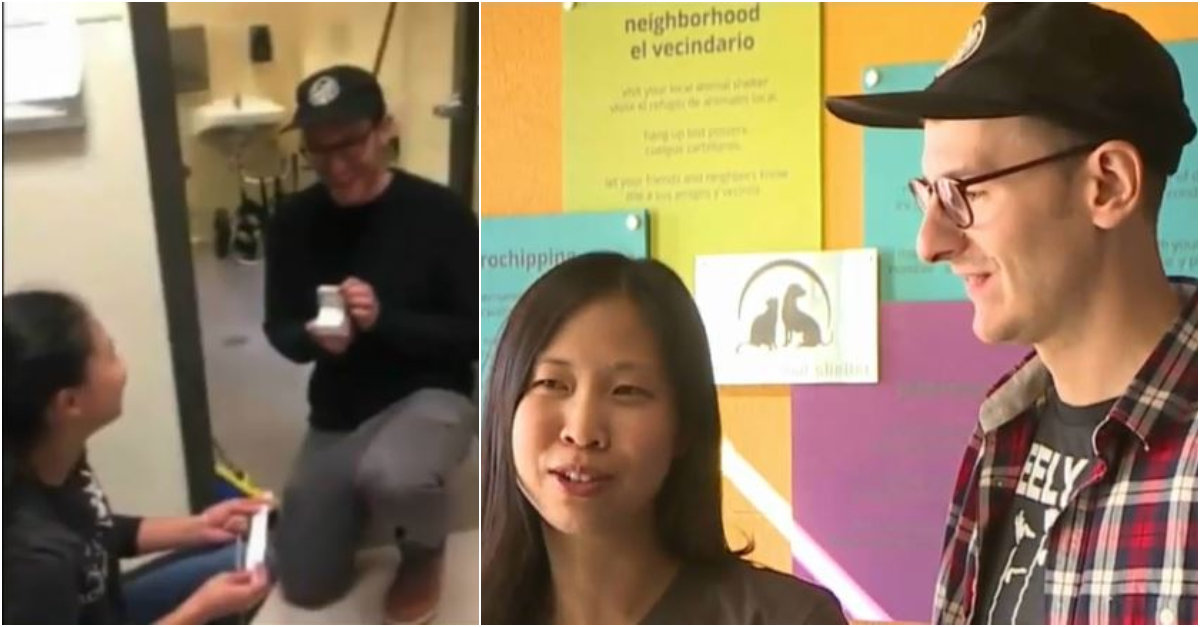 "I was really thinking the vet tech needed help with a dog that maybe somebody abandoned and left a note," Theresa shares. "The note said, 'Will you marry me? Teddy,' in parentheses, '(not this dog).'"
Theresa froze in motion for a second. Was the man of her dreams really asking her to be his wife? Was this really a thing? Yes, it was!
"Of course, I said yes," Theresa reveals. "What else was I going to say?"
There is more to pet life than what meets the eye, which is why Teddy and Theresa are planning to have a few dogs in their wedding. "We figure having a dog to bring us the rings would be a unique touch to things," Teddy says. "We may even write out our vows and let a canine bring us those, too," the husband-to-be gushes.
Will the loving couple have their wedding at the animal shelter where Theresa volunteers? "Oh, absolutely," she says. "For me, this shelter is a really special place … so it's nice that this has become an even bigger part of our history."
Ted and Theresa are all about the animals, but she plans to scale back a bit in the area of volunteering at the shelter once it's time to expand their family with human kids. "Everything has its place," she says. "I love the precious babies at the shelter," Theresa reveals. "I also love the idea of having kids of my own," she adds.
"She won't need to think about that during the first year of our marriage, though," Ted says. "We're just eager to enjoy one another."
Things are looking up for this viral couple. Kudos to them!
Dirt Biking Couple Reunites Stray Dog With His Family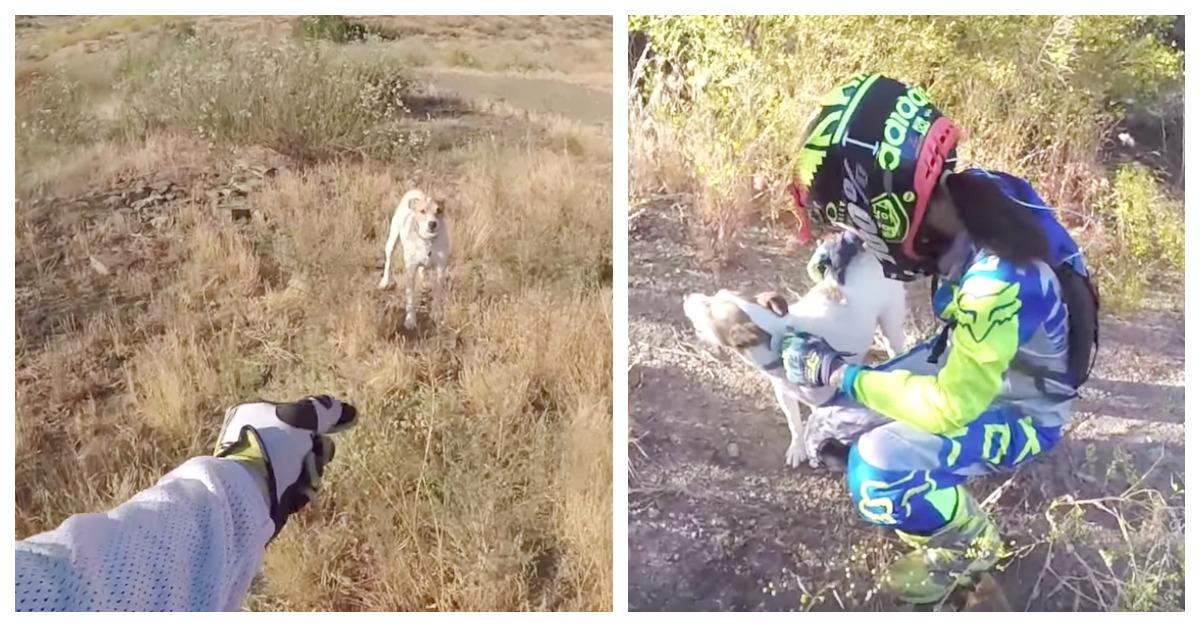 Southern California is a hotbed for people watching, But it is also a place where escaped dogs roam freely. One was reunited with his family thanks to the efforts of a couple out for a dirt bike ride. Gina and Dan were minding their own business, enjoying the Southern California weather. They took a video of their encounter with a dog that was out to have his own adventure.
When Gina and Dan first spotted the dog, they tried to approach him gently. Riding their dirt bikes, they began to trail behind the dog. Just as Dana was approaching him to grab him, he began to bark and promptly took off ahead of them. This didn't deter the couple, and they continued to trail him. When they eventually caught him, Dana read his dog tags to determine who his owner was.
Finding his name and a phone number on his tags, she promptly called it and left a voicemail message for the recipient. In the meantime, they took a seatbelt from their dirt bike and repurposed it to be a leash so that he couldn't run away from them again. They also gave Max some of their bottled water so the dog could keep cool and stay hydrated. The dog was so thirsty he drank the entire bottle, much to Gina's utter delight.
Gina and Dan looked after Max until his owner contacted them. Arrangements were then made for Max's owner to get him back. In the meantime, Max had made friends with Gina and Dan. Max liked them so much he promptly made the leap from the ground to the back of Gina's truck. Max is one dog with a strong intuition of his own, and that intuition told him when his owner was approaching Gina's truck to take Max back home.
This story illustrates how easy it is for people to bond with their dogs. It also shows that considerate people like Gina and Dan look out for others. With dogs getting away from their owners virtually every day, people are encouraged by stories such as this one. Anyone who has ever lost a dog knows how important it is to look out for others. Many stray dogs have been reunited with their owners due to the kindness of strangers. That kindness is something that dogs bring to the world, as dogs bring people together as nothing else can.
Max's story is an inspiring one with a happy ending. Seeing a lost dog reunited with his or her owner is something that everyone can appreciate. It tugs at the heartstrings of those who understand how important pets are to people. As members of the family, pets deserve to be looked after as much as anyone else does. People like Dan and Gina are invaluable in helping others reunite with the pets they love so much.