An Unlikely Pair Forms An Incredible Bond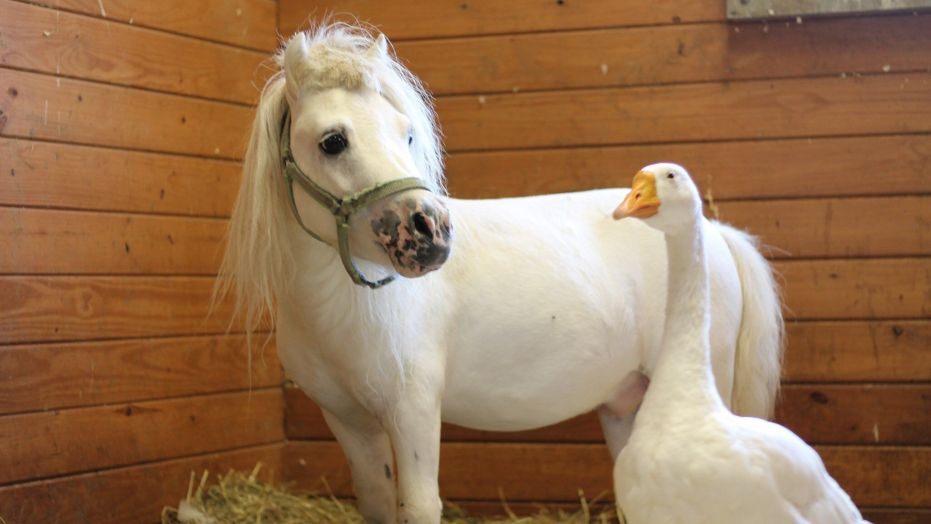 Have you ever had a really special friend? You know what I mean….that friend that you would ride to the ends of the earth with. The one you have cried with, laughed with, and shared a lot of experiences. When you think back, you do not have many memories without that friend. That is because since the moment you met, you have been inseparable. You have done pretty much everything together.
You might be completely different, and people on the outside wonder how the two of you became friends. It does not matter what they think, though. At some point, you two connected- you bonded over some shared joy, grief, or another emotion. The bond goes deeper than talking about crushes or fussing about your bosses.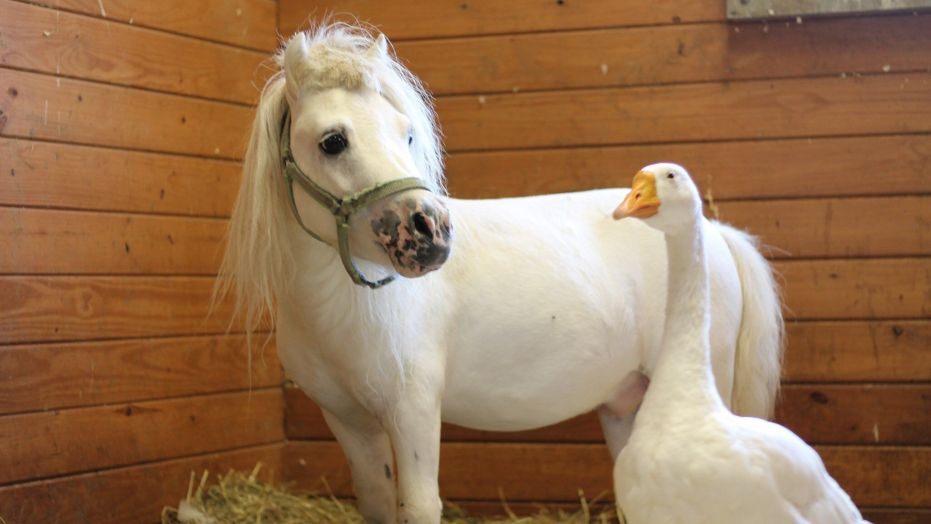 You might have connected over the shared grief of losing a loved one, maybe you have similar parenting struggles or self-esteem problems, or even financial distress. Whatever that connection is, it is real and it is deep. It is a true bond. And now, if someone separated the two of you, it would feel like you had been ripped apart.
True friendships are incredible things, but would you be surprised to know that bonds such as those are not just present in humans? That's right- our furry friends can form incredible bond, too. And that is exactly what happened here. Meet Waffles and Hemingway, two furever friends who were rescued from a very sad and unhealthy environment. Waffles is a beautiful miniature horse and his friend Hemingway is a goose. An unlikely pair? Sure, it may look that way, but it may not be as odd as you think.
Waffles and Hemingway both suffered neglect in their unsanitary Pennsylvania home. They seem to have formed an amazing bond during this time and became dependent on the presence of the other. When they were rescued together, the Bucks County SPCA saw this bond, and they refused to separate the pair. Waffles and Hemingway were put up for adoption, but they could only be adopted as a pair.
You can imagine that there were people thinking that those two would never be adopted. A miniature horse and a goose are not the first animals that come to mind when you think of adopting. As fate would have it, though, these besties did indeed get adopted together. A veterinarian office employee- one who happens to be well versed in the care of animals- decided to take the unlikely pair and keep them together. The family loaded Waffles and Hemingway up on the trailer for their journey to their new home.
We can feel confident that as long as they are side by side, they are going to be alright. Their journey may have started off rather bleak, but it soon became a happy one. What a beautiful story of love and devotion!

Handicapped Puppy Befriends Flightless Pigeon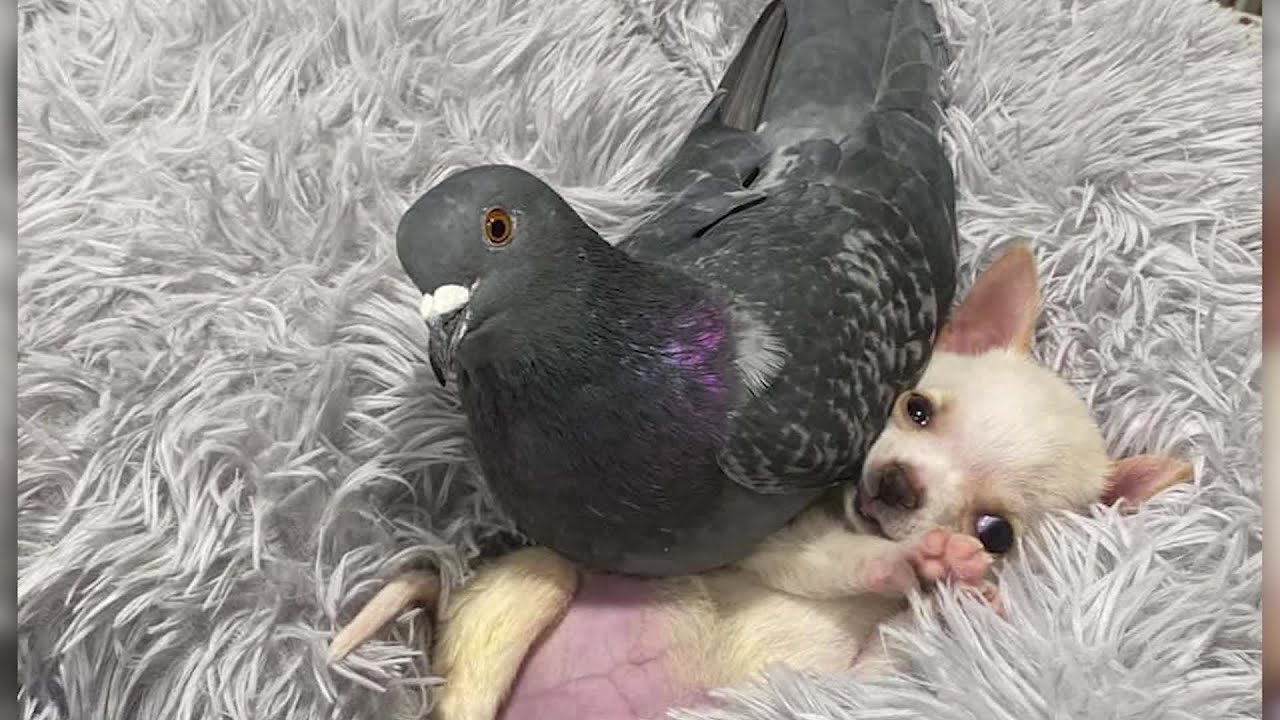 In Rochester, NY, Sue Rogers runs a non-profit called the Mia Foundation. The rescue organization rescues and rehabilitates animals who have birth defects or deformities and tries to find them a loving home. About a year ago, a pigeon was found unable to move in the parking lot of a car dealership. The pigeon was huddled and cowering on the ground. When a local wildlife rescue was called, they said the bird had neurological damage that caused him not to be able to fly. They thought that euthanization would be the best option for him.
Sue was having none of that. She stepped in and took the bird, who she named Herman, under her wing, so to speak. She made space for him in her shelter and kept him close where she could keep an eye on him. He liked to sit on a furry dog pillow and watch her work.
A couple months ago, a tiny Chihuahua was brought to the Mia Foundation. He was an infant, maybe a few months old, when his South Carolina breeders sent him to Sue. He's a teacup sized Chihuahua they named Little Lundy and he was born with spinal cord damage. Sue also determined that he was suffering from swimmers syndrome. Swimmers syndrome is a developmental deformity that causes the front and hind legs to be splayed out. This makes it almost impossible for Little Lundy to walk.
Although swimmers syndrome is thought to be untreatable, according to a few studies and an article in a veterinary journal, it can be treatable. With some physical therapy and at-home treatment, Little Lundy could live a long and happy life, which is exactly what Sue plans for him.
When Little Lundy arrived at the Mia Foundation he decided to get acquainted with his new surroundings and the other animals at the shelter. One particular encounter, created a friendship that has gone viral. Herman and Little Lundy, a puppy and a pigeon, are the unlikeliest of friends, but they have a lot in common. They both have trouble walking, or flying in Hermans case, and they were living in the same place. You could say, they were in the right place at the right time to become instant friends.
In the six weeks they have been together, Herman and Little Lundy have become inseparable. They do everything together, which is a lot of sleeping and snuggling. Mostly, with Herman sitting on top of Little Lundy, which doesn't bother him in the slightest. This friendship was so out of the ordinary that Sue had to document it. The viral sensation of the puppy and pigeon has brought attention to the Mia Foundation that was much needed. The rescue organization runs solely on donations to help cover the costs of taking care of the animals and for needed surgeries. So far, about $6000 was donated because of this unlikely friendship and over 100 adoption inquiries. Hopefully when they are adopted, they are able to stay together.