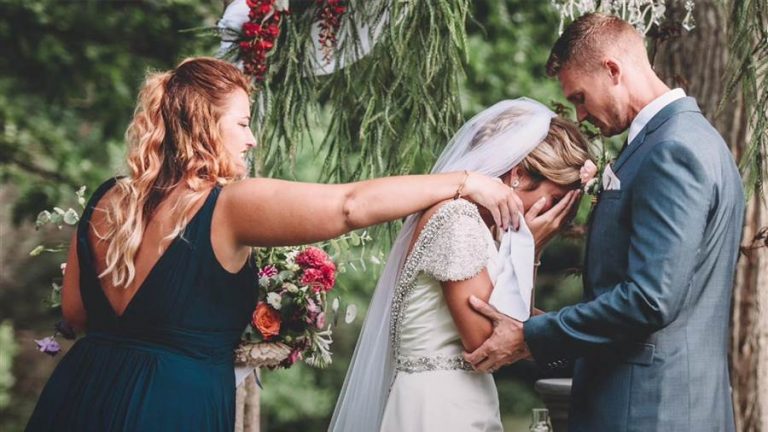 An Unbelievable Wedding Surprise Brings This Bride To Tears
Kimberly had always had a close relationship with her maternal grandfather, Reverend John Mayor. A relationship that revealed a deep connection and understanding that no one seemed to untie. Her grandfather was everything she needed during her best days and her low days and it was a dream come true to have him officiate at her wedding. Unfortunately, he passed away even before she tied the note which seemed to dim her desire and dreams she always had to achieve with him by her side.
Reverend John Mayor's physical presence on Kimberly's much-awaited wedding last Saturday may have been impossible and hard to deal with but her groom, Eddy Clarke, made sure that his bride would have a piece and feel the presence of her grandfather on the most anticipated and important day of her life-his voice.
When the preacher asked the congregation to bow their heads in prayer, unknown to Kimberly or anyone present, it was Reverend John Mayor's voice that was heard over the loudspeaker, praying over the newlyweds and declaring them husband and wife.
"It was a surprise and a mixture of so many emotions, I immediately recognized his voice and broke down to tears," Kimberly told the Huffington Post. "Different emotions were running through my head while at the same time trying to soak in hearing my grandpa's voice. You could not believe how weak I felt on my knees on the altar with Eddy holding my hand tight. I was chilled but despite all the tears, I was smiling inside of me and feeling so much joy. It was a happy confusion of mixed feelings." She said this in tears.
But what many who attended the occasion were not aware of was that the voice that took everyone by surprise was actually an audio recording from Kimberly's sister wedding, which the grandfather reverend also officiated.
"My brother, sister, and husband worked together along with a few others to make this an exciting reality. Except for the bridal party and those that were involved, no one was aware of the plan. Each of our guests, including myself, were weeping in joy and the love and emotions that flowed through our ceremony were truly touching and a real blessing in our important day."
The surprise was so unreal and undoubtedly powerful that the couple's own wedding photographer, Jane Irvin, couldn't help but be emotional. In an Instagram post that included a photograph capturing the moving scene, Jane wrote:
"In my entire career, I have photographed so many weddings and this was just the most incredible moments I have ever had the honor to be a part of. 'You may not be here on my wedding day but in my heart, you'll always remain to be cherished. '" she wrote.
Kimberly's wedding story has recently gone viral and touched many across all platforms garnering over 100,000 likes and attracting lots of discussion over the internet with many admiring and appreciating the couple.
The Library Cat of Port Austin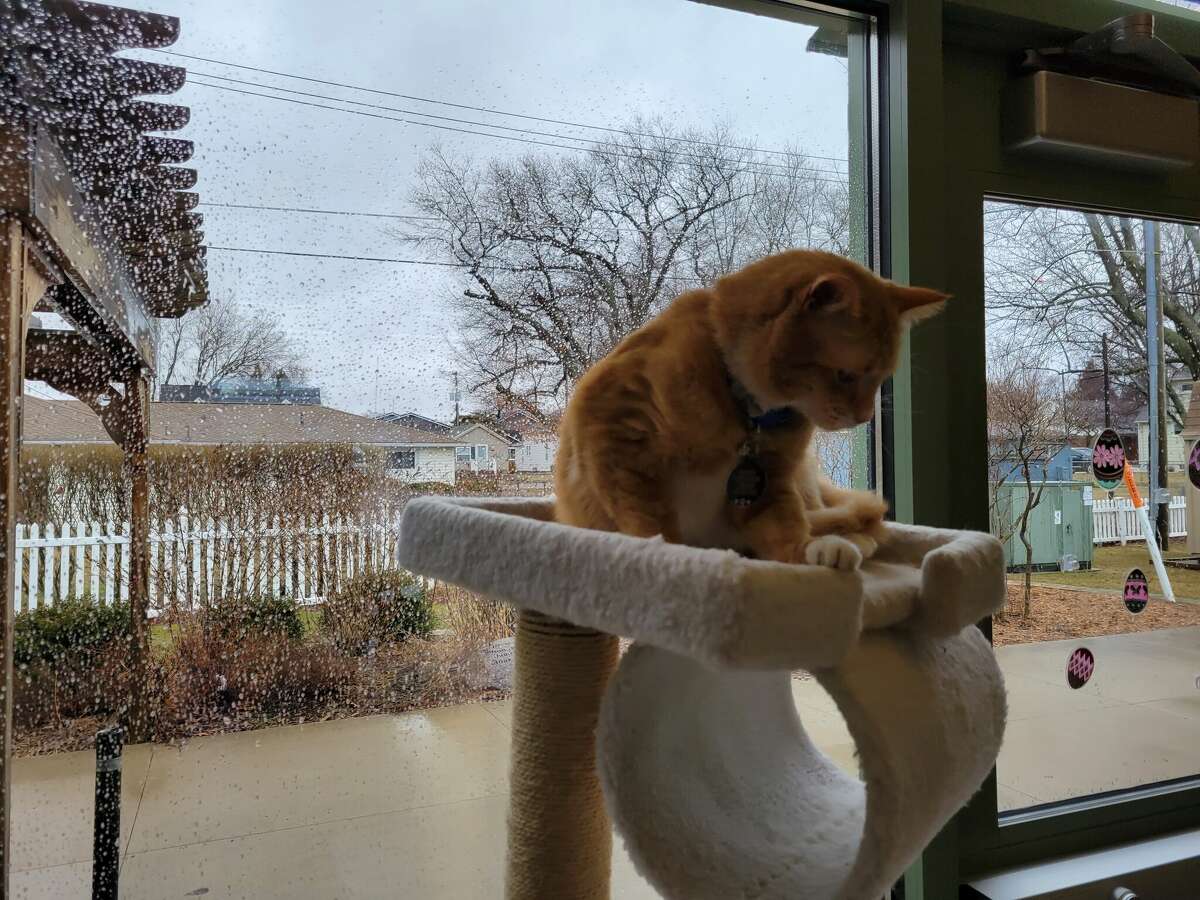 Library regulars expect to see books, computers, magazines, posters, notices, bulletin boards and even seminars at the local library building or community center adjacent to such facilities. However, they typically don't expect to see a dedicated house cat and standard equipment. However, for Port Austin, a feline accompaniment is exactly what's on order for book lovers and library fans in the local town.
Named Booker, which oddly seems to be similar to books, the orange feline wasn't a planned acquisition for the library. Instead, the cat decided to make the place home all on its own. It helped that once the cat became a regular, the patrons and staff made a point of taking care of the cat as well. Good things happen when you're regularly fed at the same location daily.
This September 2022 will be a solid three years since the cat showed up, and Booker isn't making any bones about leaving. Mary Jaworski was the original discoverer of Booker. She originally found the cat had somehow snuck into her garage at home, half-blind, and unable to eat on its own. Jaworski tried to find someone to take in the cat, but nobody was volunteering or available. As the library director for Port Austin, Jaworski ended up watching and caring for the orange feline both at home and at work. It helped that the library board was also fond of cats as well. So, as it turned out, Booker was charmed; the cat not only had a home to roam around, it had multiple fans to take care of the cat as well throughout the day.
As it turned out, the patrons liked the idea of a home cat lounging around and roaming the Port Austin library on a regular basis. It made the library homey and comfortable. That helped Booker's transition inside the library as well, after the cat was up to date on all his shots and safe around all of the patrons, including kids.
Booker wasn't lacking anything inside the library, and there was no worry he was going to start exercising his claws on the book inventory. Instead, the cat has its own cat tree, carpet for claws, appropriate amenities for personal business, and plenty of cat toys and areas to escape when it gets busy and the cat just wants to be left alone. Booker actually became so popular, he started to develop a collection of donated toys and cat food from the locals. And if he happened to be out of sight longer than normal, everybody would start asking where he was and if everything was alright with the animal.
Celebrity status probably wasn't in the cat's original plans, but Booker seems to have adapted quite fine to all the attention he gets on a regular basis. The kids play with the cat when he wants activity, and, in turn, Booker has been an attraction to bring more kids to the facility and into reading in general. And Booker is quite good at hamming it up for the crowd. He loves the petting, getting held, sitting next to patrons on the furniture and is not easily spooked by the human activity going on daily. In fact, Booker is probably one of the best behaved cats most people will meet.
Finally, Jaworski notes, Booker has a habit of wanting to sound out any new arrivals he hasn't seen or smelled before. If there are bags or belongings, he's all over the stuff before the patron realizes what's going on. That said, Booker isn't about to have a team under his leadership. One cat seems to be more than enough for the library and its customers for now. Ironically, Jaworski herself is allergic to cats, but she tolerates Booker. Ultimately, the cat earns his keep attracting more than the normal flow of patrons to the Port Austin library, easily justifying the operations and helping the library grow.