An Unbelievable Wedding Surprise Brings This Bride To Tears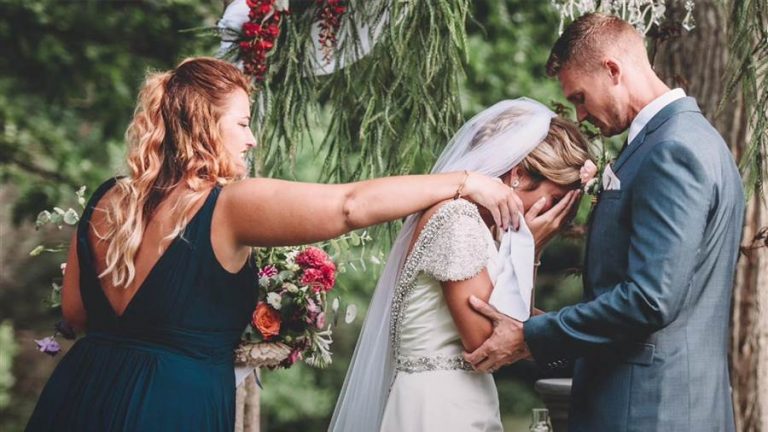 Kimberly had always had a close relationship with her maternal grandfather, Reverend John Mayor. A relationship that revealed a deep connection and understanding that no one seemed to untie. Her grandfather was everything she needed during her best days and her low days and it was a dream come true to have him officiate at her wedding. Unfortunately, he passed away even before she tied the note which seemed to dim her desire and dreams she always had to achieve with him by her side.
Reverend John Mayor's physical presence on Kimberly's much-awaited wedding last Saturday may have been impossible and hard to deal with but her groom, Eddy Clarke, made sure that his bride would have a piece and feel the presence of her grandfather on the most anticipated and important day of her life-his voice.
When the preacher asked the congregation to bow their heads in prayer, unknown to Kimberly or anyone present, it was Reverend John Mayor's voice that was heard over the loudspeaker, praying over the newlyweds and declaring them husband and wife.
"It was a surprise and a mixture of so many emotions, I immediately recognized his voice and broke down to tears," Kimberly told the Huffington Post. "Different emotions were running through my head while at the same time trying to soak in hearing my grandpa's voice. You could not believe how weak I felt on my knees on the altar with Eddy holding my hand tight. I was chilled but despite all the tears, I was smiling inside of me and feeling so much joy. It was a happy confusion of mixed feelings." She said this in tears.
But what many who attended the occasion were not aware of was that the voice that took everyone by surprise was actually an audio recording from Kimberly's sister wedding, which the grandfather reverend also officiated.
"My brother, sister, and husband worked together along with a few others to make this an exciting reality. Except for the bridal party and those that were involved, no one was aware of the plan. Each of our guests, including myself, were weeping in joy and the love and emotions that flowed through our ceremony were truly touching and a real blessing in our important day."
The surprise was so unreal and undoubtedly powerful that the couple's own wedding photographer, Jane Irvin, couldn't help but be emotional. In an Instagram post that included a photograph capturing the moving scene, Jane wrote:
"In my entire career, I have photographed so many weddings and this was just the most incredible moments I have ever had the honor to be a part of. 'You may not be here on my wedding day but in my heart, you'll always remain to be cherished. '" she wrote.
Kimberly's wedding story has recently gone viral and touched many across all platforms garnering over 100,000 likes and attracting lots of discussion over the internet with many admiring and appreciating the couple.
Giant Seal is Beached and Then has a Baby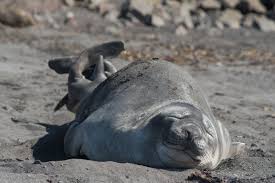 The exact moment when a mother sees her newborn baby for the first time is one of the most amazing sights in the world. The utter disbelief and joy on her face in combination with wonderment is one of the finest moments in any woman's life. It is the same feeling that animals have when they give birth and the look on their faces when they first see their babies is as equally magical.
Recently a tourist spotted a large female seal on the beach. She appeared to be in great pain because of the manner in which she was writhing around. The tourist shot a video of the seal. A few minutes later, the elephant seal appeared to have a spot beneath her tail. After some hard pushing, her calf was born. She quickly turned around and inspected her new baby to make certain that it was okay.
Elephant Seal Interesting Facts
Giant seals or elephant seals are the largest seals in the world. There are two types: the Northern elephant seal and the Southern elephant seal. The northern species are found in the coastal waters near Canada and Mexico and the southern species are found off the coast of South Africa, Argentina and New Zealand.
The adult bull or male seal has a proboscis that appears much like the trunk of an elephant, making it easy to distinguish males from females at a glance. The males roar through this appendage during the mating season to attract females. They also use it to fight with other males in order to win battles and claim females as their own.
The average adult southern male can weigh up to 6,600 pounds and reach a length of 16 feet in total. The female adults weigh about 2,000 pounds and measure around 10 feet long. Elephant seals may be light brown, dark brown, gray or rust colored.
Southern elephant seals can live to reach 22 years old and the northern species life span is only about 9 years.
Elephant Seal Reproduction
Elephant seals return to the coast for their breeding grounds in the winter. Female giant seals reach maturity between 3 and 6 years old and males mature slower between 5 and 6 years. Males battle each other to gain the alpha status that allows them to mate with the females. A male will mate with 30 to 100 females. A bit over 50 percent of first time breeding seals fail to produce a pup. A female elephant seal has one pup per year and the gestation period is 11 months. So, when females arrive at the breeding grounds in the winter, they are already pregnant. Females don't eat while nursing their pups for the first month of its life.
Don't Get Too Close to Wildlife
If you ever spot an animal of any kind that appears to be hurt, it's best not to get too close to them. In 2000, Homer, an elephant male seal terrorized Gisborne, a town in New Zealand. He attacked trash bins, cars, boat trailers, a tree and a power transformer in a rage. It isn't known what made him so mad, but it's best to keep your distance from all wildlife—thus the term of wild and life.