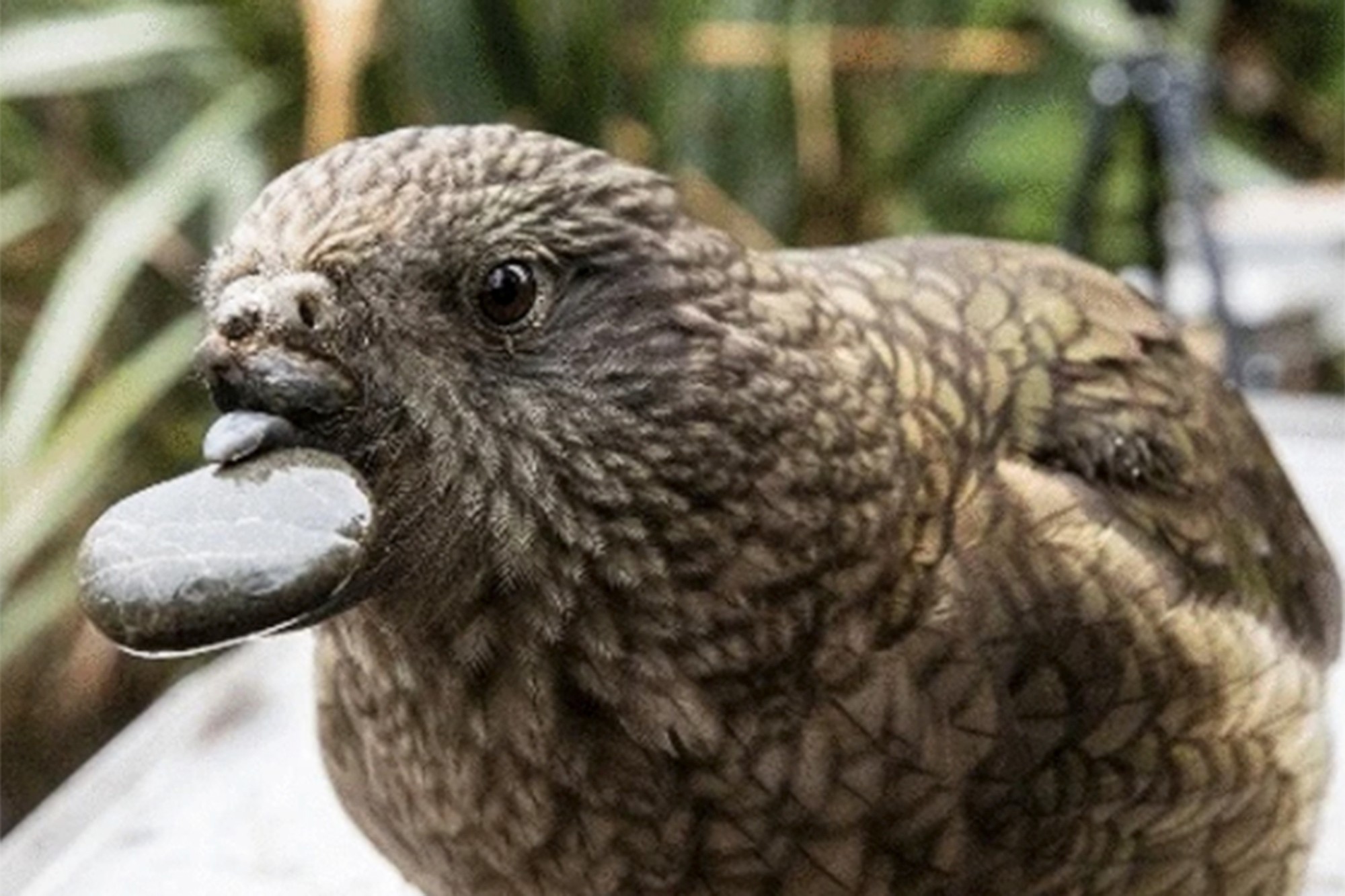 An Injured Parrot Figures Out How to Thrive
For a bird, losing its beak would normally be a death sentence. Especially for parrots, the loss of the beak literally means an inability to eat and survive. That was the case for one bird, it seemed, that had a broken beak and no means of repair. However, extremely interesting for the scientists studying it, the given parrot has figured out how to adapt.
Bruce, was found injured in 2013 with his top beak half missing. Taken to the Willowbank Wildlife Reserve, located in Christchurch, the young kea bird was cared for and brought back to normal health sans his functioning beak. However, instead of struggling to survive, Bruce has managed to not only survive but thrive with some very notable creativity on his own part.
The first example of Bruce's adaptivity was his cleaning efforts. Keas normally use their beak to clean their features and get rid of bird mites. Bruce wasn't so fortunate, so he decided to use pebbles instead. Figuring out how to hold the small stones, the bird preens his feathers effectively and continued to do the same behavior, extremely unique and never seen before in a kea parrot.
From a scientific and biological perspective, New Zealand's kea parrot is not known for outstanding natural creativity and tool use. Instead, they rely heavily on beaks and claws for 100 percent of their needs. Researchers have been absolutely fascinated with Bruce, not only because he is unique among his species, but also because the bird continues to keep coming up with new methods of functioning without his beak.
Bruce was studied directly for at least a week to two weeks, with heavy observation on his utilization of pebbles for cleaning. The bird had figured out a way to pick up a pebble with his tongue, press it against his lower beak and then move it around as needed for preening. Multiple videos were taken observing the behavior which both shocked and amazed scientists extremely familiar with the kea bird and what it would normally do. As usual in the research world, the immediate reaction would be that the bird's ability was an accident and not repeatable. However, as the repetition of Bruce's behavior became fully documented and known, the critics flittered away and even the hardest non-believers had to admit Bruce was original and unique in his ability.
Naturally, kea parrots are fairly intelligent. They have an inquisitive nature, they like to steal small things from humans, and they are regularly fascinated with car trim pieces and wipers. That said, tool use has not been in their repertoire of abilities until Bruce came along. Part of the difference may have very well been Bruce's traumatic juvenile period with the injury and being cared for by humans. The bird may very well have observed humans enough to see the world differently than his feathered peers, triggering a different brain wiring in how Bruce solves problems. No one is sure. And Bruce continues to surprise. He breaks down tougher foods by dragging or scraping it along a harder surface. Again, it's a behavior never seen before in other kea parrots.
And then there is Bruce.
The Mother Doberman and the Kitten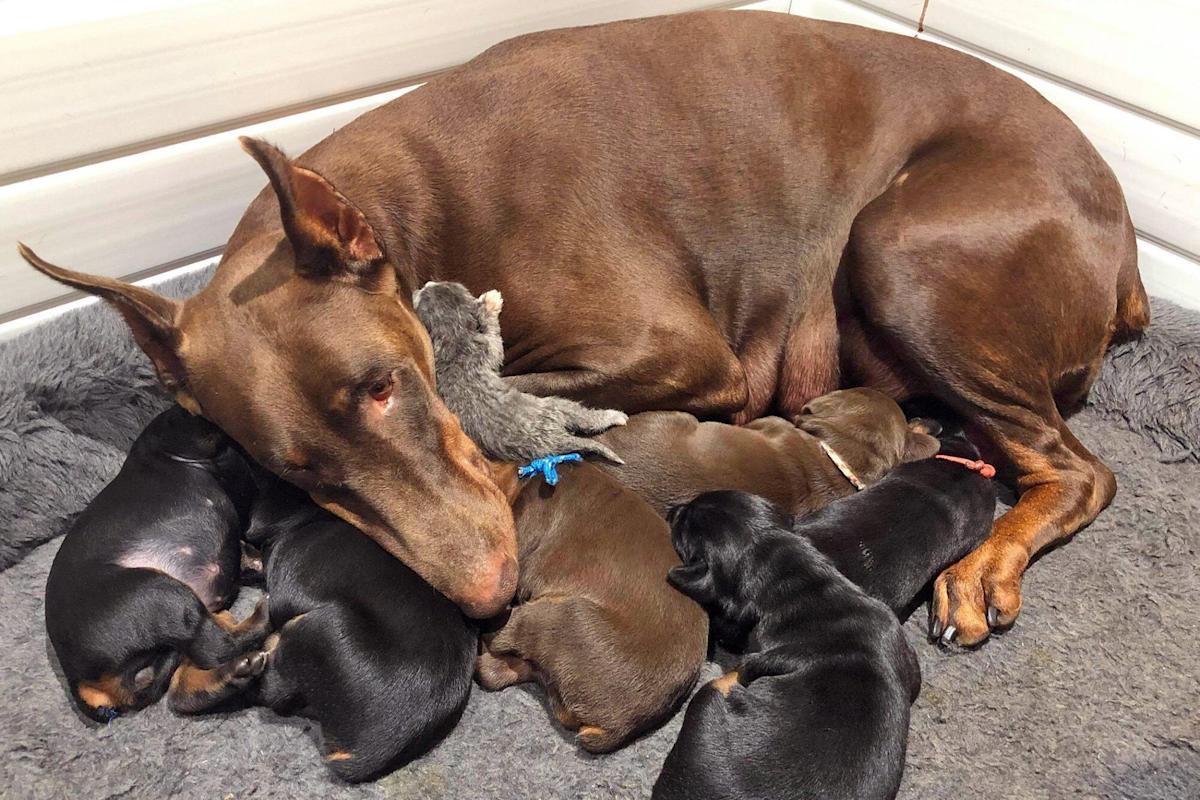 The idea of one animal raising a baby of a different species has long been part of human folklore. After all, the ancient myth of how Rome was created started with Romulus and Remus, twin babies, kept alive by a mother wolf. In far more modern times, Dr. Seuss books also took the same theme and reflected the story line with Horton the Elephant helping to hatch a baby bird. And then, of course, there is Dumbo the Elephant, Disney's version, flying after being raised and taught by crows.
Of course, in real life, cross-species care rarely happens. However, once in a while, animals do show empathy and go beyond their norms to help a young one in need. Koko the Gorilla, famous for learning sign language, raised a kitten. And a big-sized Doberman, Ruby, did the same with a little kitten she found herself with. Ruby was already in mother mode, which probably helped the situation; she had six puppies of her own nursing at the time, so the idea of a newborn kitten being added to the mix didn't seem that far-fetched, even to a big dog.
The human taking care of Ruby and her brood, Brittany Callan, normally manages the raising of Dobermans as her occupation. It helps that she lives on a farm, with plenty of room and facilities to manage animal husbandry. Given that background, when Callan happened to find a baby kitten without her mother and sure to end up passing away exposed, Callan immediately wondered whether Ruby could help. Ruby had just given birth to her own puppies just a few days before, so if anything, the dog would likely be in a prime maternal mood. It was worth a chance to save the cat.
It took a few minutes for Ruby to be comfortable with the new feline introduction, but once the nursing mother deemed the kitten no apparent threat, she was fine with taking care of one more baby in the melee of her puppies clamoring for food. Ruby was quite accommodating, actually, according to Callan. The Doberman was already used to being on the farm and surrounded by multiple species and sizes, so another kitten wasn't going to be much of a shock to her compared to how a city dog might act.
Is inter-species motherhood common? Not really, but it does happen. Russian ookeepers trying to save two tiger cubs were able to depend on the help of a Shar-Pei that nursed the two cubs long enough that they would survive. And in Ireland, a similar situation occurred with a cat raising three ducklings along with her regular kittens. In Callan's opinion and experience on the farm, the maternal instinct is so strong, it drives animals to become sympathetic to the plight of young ones needing care. And being around other animals regularly helps a lot with that trend of adoption.
As it turned out, Ruby's new kitten puppy, Ramblin' Rose, ended up doing just fine. The baby cat even got protective care from mom when the puppies started getting a bit too rough for the cat. The kitten ended up growing strong and taking on weight and will likely be just fine around dogs on the farm as a result of her rearing by Ruby.