An Incredible Community Gives Hospital Kids a View To Remember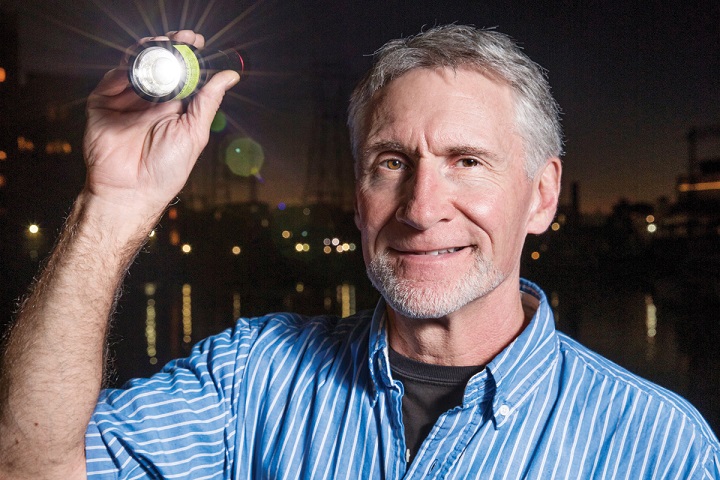 It is almost impracticable for a child who is bound to a hospital bed to find a reason to enjoy life. However, some little bit of creativity and finding ways to provide such to a child can make the difference in his or her healing process. That is exactly what the hospital and a few well-hearted individuals decided to do for the children in this local children's hospital in their community.
It all started as a simple goodbye
Steven Brosnihan, a seasoned cartoonist, decided to transform the lives of sick children at the Hasbro Children's Hospital in Providence with a simple gesture that turned out to be a life-changing discovery. Brosnihan is currently regarded as a hero in the Rhode Island community. Although he is not a trained doctor, he decided to find a way of volunteering at the local hospital in 2010.
When he was cheering up some of the sick kids in the hospital, he noticed something ordinary about his bus stop yet relevant: patients from most of the hospital rooms could see the bus stop from their windows. He told the children he was visiting that he will make a point of flashing his bicycle's lights to wish them goodnight every night when he leaves work at 8:30 p.m. It started like a simple goodnight gesture and turned into something poignant that changed the entire community's schedule.
An emotive gesture
When Brosnihan realized that the kind gesture delighted the children at the hospital, he decided to encourage more people to join him in the nightly ritual. Slowly, Brosnihan reached out to local businesspeople that operated from the opposite side of the hospital to join him in executing the tradition every night. Some of the notable individuals to who agreed to participate in the ritual include Alex Gagne and Richard W. Dionne, Jr.
More people decided to join Brosnihan when word went around about his gratifying mission to flash their lights and say goodnight to the patients at the hospital every night. More and more people from the community across the river decided to join the tradition. Within a few days, the sick children were delighted to see police cruisers, bars, restaurants, and libraries join hands flashing lights and saying goodnight to them.
A breathtaking sight
Today, every night at 8:30 p.m. patients get overwhelmed with delight as the "minute of magic" ensues. Patients get to witness twinkling lights that fill the sky all with an effort to give them a moment of happiness before they retire to bed. The ritual has lightened up the incredible worth of these patients in marvelous ways.
The magical gesture, which is now popularly referred to as "The Good Night Lights" has helped the sick children by making them feel special and loved by the entire community. People who witness the Good Night Lights for the first time experience merry surprise. Although the community doesn't ask anything from the Hasbro hospital, the parents of the children have also made it their duty to thank their efforts by flashing their own lights back.
These Hermit Crabs Will Blow Your Mind With Stunning Natural Ritual.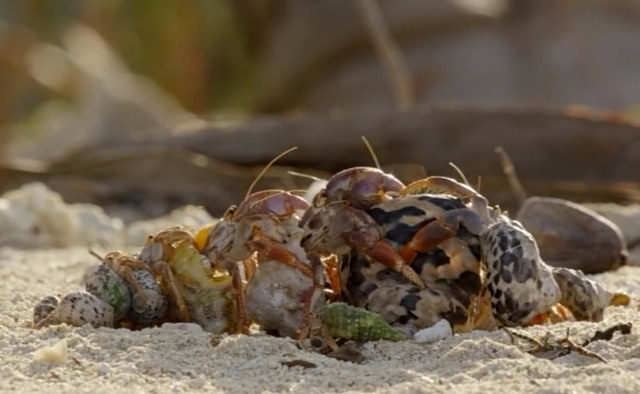 If you are like most people then you are likely fascinated with the ocean and all the creatures inside it. While we can talk forever about massive whales, scuttling squids, and scary sharks, we'd rather highlight a cute little crustacean known as the hermit crab. Now, you've likely heard of the hermit crab and, perhaps, you even know what it looks like. As a member of the superfamily known as the Paguroidea, hermit crabs manage to stand out all on their own. In fact, after learning about this natural ritual that hermit crabs complete, you might even want one of your own!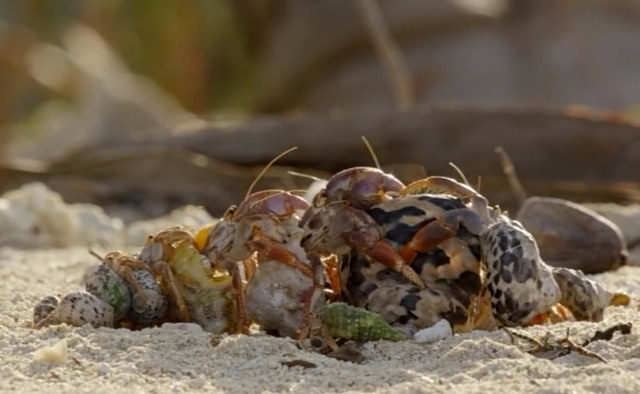 In a post shared on Facebook by a user named Melody Flowers, it was revealed that hermit crabs are always looking for bigger shells to live in. While you probably knew this already, what you didn't realize about this ritual is far more fascinating. According to the post, which has since been backed up by other scientific journals, hermit crabs like to line up next to shells that happen to be too big for them. Hermit crabs can wait for up to eight hours for another crab to come along and try the shell out. Why do these crabs wait next to shells that are too large for them? As it turns out, the first hermit crab is simply waiting for the second crab in line to discard its shell.
So we outlined a natural ritual that hermit crabs undertake when finding a new home. Why is this so fascinating? While you may have summoned up an image of two hermit crabs swapping shells, that isn't entirely accurate. As the second crab lines up behind the shell, more will come to follow. Before long, observers would be able to watch as dozens of hermit crabs all trade shells with one another to ensure that everyone has a comfortable home to live in. The smallest shell of the bunch gets left behind while the shell that started the queue will go to the largest hermit crab of the lot. That's pretty amazing, isn't it? The coordination and cooperation that these hermit crabs have to deploy is nothing short of impressive. If only humans could get along so well when it comes to making to sure everyone is comfortable and safe within their home.
Even though hermit crabs will work together in order to find homes, they are still a competitive species. Gastropod shells can become a limited resource due to a variety of natural and unnatural factors, such as climate change and pollution. When hermit crabs are of a similar size, they are more competitive and violent with one another. When hermit crabs vary dramatically in size, there are more resources available for every member of the group. Hermit crabs are a fascinating sort of creature because they can come in varying sizes with a lifespan ranging between 12 and 70 years. The next time that you see a hermit crab, make sure it has the perfect shell to call home. Maybe it will remember you a couple of decades later!