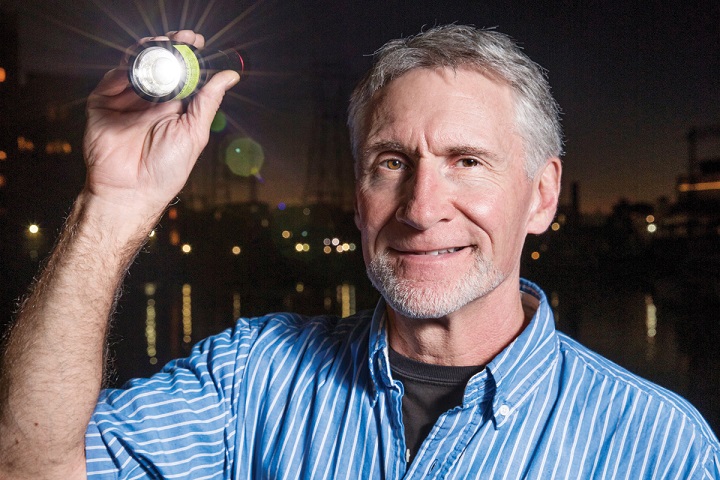 An Incredible Community Gives Hospital Kids a View To Remember
It is almost impracticable for a child who is bound to a hospital bed to find a reason to enjoy life. However, some little bit of creativity and finding ways to provide such to a child can make the difference in his or her healing process. That is exactly what the hospital and a few well-hearted individuals decided to do for the children in this local children's hospital in their community.
It all started as a simple goodbye
Steven Brosnihan, a seasoned cartoonist, decided to transform the lives of sick children at the Hasbro Children's Hospital in Providence with a simple gesture that turned out to be a life-changing discovery. Brosnihan is currently regarded as a hero in the Rhode Island community. Although he is not a trained doctor, he decided to find a way of volunteering at the local hospital in 2010.
When he was cheering up some of the sick kids in the hospital, he noticed something ordinary about his bus stop yet relevant: patients from most of the hospital rooms could see the bus stop from their windows. He told the children he was visiting that he will make a point of flashing his bicycle's lights to wish them goodnight every night when he leaves work at 8:30 p.m. It started like a simple goodnight gesture and turned into something poignant that changed the entire community's schedule.
An emotive gesture
When Brosnihan realized that the kind gesture delighted the children at the hospital, he decided to encourage more people to join him in the nightly ritual. Slowly, Brosnihan reached out to local businesspeople that operated from the opposite side of the hospital to join him in executing the tradition every night. Some of the notable individuals to who agreed to participate in the ritual include Alex Gagne and Richard W. Dionne, Jr.
More people decided to join Brosnihan when word went around about his gratifying mission to flash their lights and say goodnight to the patients at the hospital every night. More and more people from the community across the river decided to join the tradition. Within a few days, the sick children were delighted to see police cruisers, bars, restaurants, and libraries join hands flashing lights and saying goodnight to them.
A breathtaking sight
Today, every night at 8:30 p.m. patients get overwhelmed with delight as the "minute of magic" ensues. Patients get to witness twinkling lights that fill the sky all with an effort to give them a moment of happiness before they retire to bed. The ritual has lightened up the incredible worth of these patients in marvelous ways.
The magical gesture, which is now popularly referred to as "The Good Night Lights" has helped the sick children by making them feel special and loved by the entire community. People who witness the Good Night Lights for the first time experience merry surprise. Although the community doesn't ask anything from the Hasbro hospital, the parents of the children have also made it their duty to thank their efforts by flashing their own lights back.
'Trail Angel' Leaves Behind Good Deeds For Other Hikers to Find
A marked route stretching between the Eastern United States and into Maine, the Appalachian Trail offers hikers the chance to experience the longest hiking-only trail on the planet. As a one-of-a-kind destination, the Appalachian Trail brings in more than 2 million visitors every single year. Reaching heights of 6,643 feet and extending for more than 2,200 total miles, the Appalachian Trail is as challenging as it is inviting, a testament both to nature and those willing to overcome it.
Due to the intensity of the trail and its large coverage area, Trail Angels have begun to leave behind little gifts to help others follow in their path. Michele Staudenmaier had been hiking on the Appalachian Trail (A.T.) in March alongside her son, Zach. While walking the trail, Zach and Michele got to talking about gifts left behind for the hikers. Apparently, the hiking community has always appreciated donated gifts and drinks alongside trail markers, lovingly referring to these individuals as Trail Angels.
Understanding how important food and drink can be to a wilderness hike that ranges from easy to strenuous, Michel decided that she would become a Trail Angel herself alongside her husband, Dave.
Becoming a Trail Angel
When Michel and Zach had their discussion regarding trail angels, they were in the middle of a fun family trip. Michel's husband, Dave, had already booked several Airbnb's along their route through the A.T., with booked stops in Georgia, Tennessee, Vermont, Maine, West Virginia, and Pennsylvania. The trip was scheduled to take roughly six months, crossing through many significantly remote and rural places. Some of these rural areas end up featuring a small oasis of hikers, and finding these areas is known as stumbling upon Trail Magic.
Michel and her family ran into a group of Trail Angels during their work. Michele said, "I realized there was a massive community of volunteers that spend their time and money to support A.T. hikers." Michele went on to say, "I had no idea!"
While an average hike will knock out nearly 600 calories per hour, it can be hard to normalize this average. Many hikers will carry packs weighing upwards of 30 to 50lbs, adding a tremendous amount of stress to their physical efforts. To help keep these folks fed and energized, Michele would cook and pack foods like hot dogs, chips, sweet treats, Gatorade, and even sodas. One such Trail Magic event saw Michele arrive with several buckets of Kentucky Fried Chicken, leading to more than 30 hikers eating well and sharing their stories.
One event showed Michele the true stakes pertaining to Trail Angels as well as the importance of her own work. Michele had fueled a trail marker with food when a hiker arrived. After talking to the weakened hiker, he revealed that he had run out of food completely. Had he not found Michele and her food, there is no telling what could have happened.
According to Michele and many of the hiking enthusiasts that she has met, it is rare to have any food leftover after a long hike. For that reason, unexpected hot meals waiting in the middle of the A.T. will always be seen and enjoyed as a magical moment!