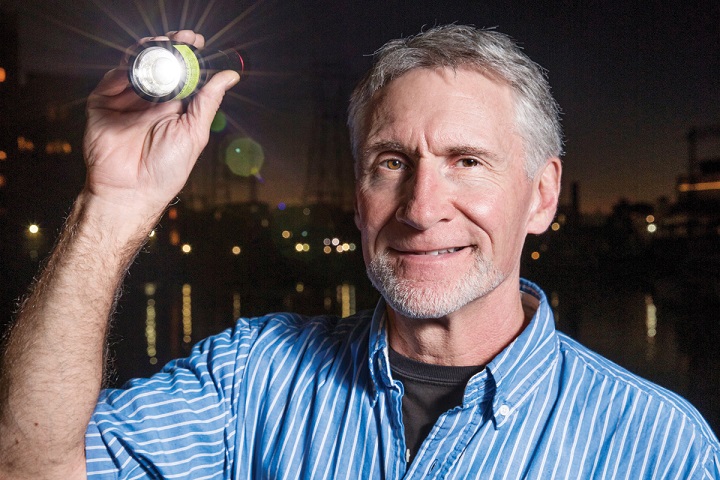 An Incredible Community Gives Hospital Kids a View To Remember
It is almost impracticable for a child who is bound to a hospital bed to find a reason to enjoy life. However, some little bit of creativity and finding ways to provide such to a child can make the difference in his or her healing process. That is exactly what the hospital and a few well-hearted individuals decided to do for the children in this local children's hospital in their community.
It all started as a simple goodbye
Steven Brosnihan, a seasoned cartoonist, decided to transform the lives of sick children at the Hasbro Children's Hospital in Providence with a simple gesture that turned out to be a life-changing discovery. Brosnihan is currently regarded as a hero in the Rhode Island community. Although he is not a trained doctor, he decided to find a way of volunteering at the local hospital in 2010.
When he was cheering up some of the sick kids in the hospital, he noticed something ordinary about his bus stop yet relevant: patients from most of the hospital rooms could see the bus stop from their windows. He told the children he was visiting that he will make a point of flashing his bicycle's lights to wish them goodnight every night when he leaves work at 8:30 p.m. It started like a simple goodnight gesture and turned into something poignant that changed the entire community's schedule.
An emotive gesture
When Brosnihan realized that the kind gesture delighted the children at the hospital, he decided to encourage more people to join him in the nightly ritual. Slowly, Brosnihan reached out to local businesspeople that operated from the opposite side of the hospital to join him in executing the tradition every night. Some of the notable individuals to who agreed to participate in the ritual include Alex Gagne and Richard W. Dionne, Jr.
More people decided to join Brosnihan when word went around about his gratifying mission to flash their lights and say goodnight to the patients at the hospital every night. More and more people from the community across the river decided to join the tradition. Within a few days, the sick children were delighted to see police cruisers, bars, restaurants, and libraries join hands flashing lights and saying goodnight to them.
A breathtaking sight
Today, every night at 8:30 p.m. patients get overwhelmed with delight as the "minute of magic" ensues. Patients get to witness twinkling lights that fill the sky all with an effort to give them a moment of happiness before they retire to bed. The ritual has lightened up the incredible worth of these patients in marvelous ways.
The magical gesture, which is now popularly referred to as "The Good Night Lights" has helped the sick children by making them feel special and loved by the entire community. People who witness the Good Night Lights for the first time experience merry surprise. Although the community doesn't ask anything from the Hasbro hospital, the parents of the children have also made it their duty to thank their efforts by flashing their own lights back.
Jacksonville Man Spreads Love and Positivity at the Beach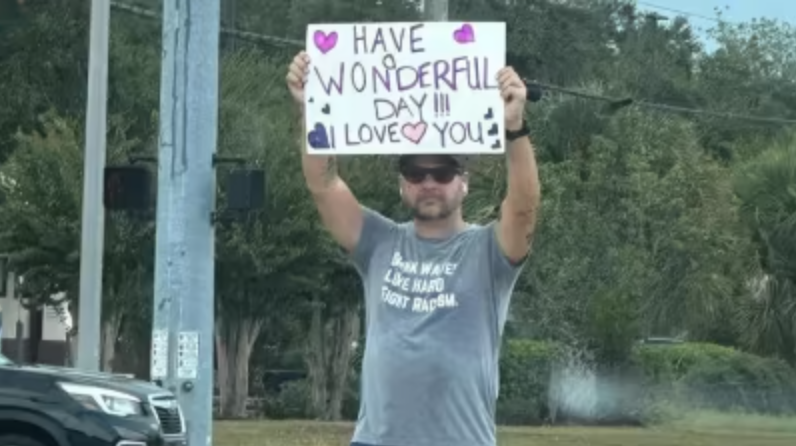 In Jacksonville, Florida, a man has been making waves of positivity and spreading kindness at the Beach Boulevard and San Pablo Road South intersection. With handmade signs that read, "Have a wonderful Day!! I Love You" and "You are Relevant," this man is on a mission to uplift the spirits of those who pass by. His heartwarming gestures have not gone unnoticed, and his actions are especially poignant during National Suicide Prevention Month.
Rika, a local resident, had a unique encounter with this compassionate individual. She was on her way to pick up her lunch when she saw a man standing in the median of the road, holding these uplifting signs. Most of us would just glance and continue on our way, but Rika decided to take a closer look. As she stopped at a red light, she took a few pictures to capture the moment. To her surprise, the man approached her car and handed her a sunflower.
"So picture this… you're out going to pick up your lunch, and there's this random guy walking by with a handmade sign," Rika recounted. "I'm sure like most of us, we'd glance and keep it moving, but I decided to read his sign since I was at a stop light. I snapped a few pictures because why not, but as I was doing this, he approached my car door to hand me a sunflower! Don't forget to appreciate the small things."
This simple act of kindness had a profound impact on Rika, as it has on many others who have encountered this man and his signs. His message of love and importance reminds us all to appreciate the small joys in life and to acknowledge our worth.
The man's efforts are not just a random act of kindness; they hold special significance during National Suicide Prevention Month. September is a time when people and organizations across the country work to raise awareness about mental health and suicide prevention. This Jacksonville man's compassionate actions align perfectly with the spirit of this month, as he strives to remind people that they matter and that there is goodness in the world.