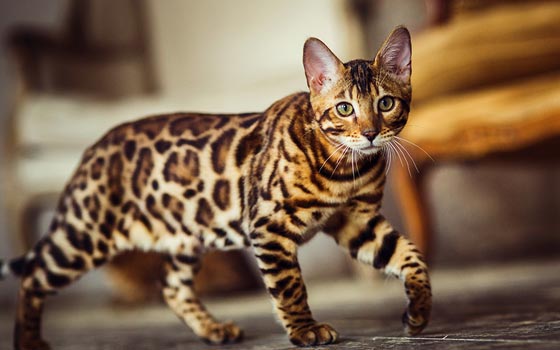 An In-depth Look At The Exciting And Inquisitive Bengal Cats
Many people enjoy cats because they have a reputation for being independent and low maintenance compared to other types of animals. However, one possible exception to the rule is Bengal cats. Not only are Bengal cats known for their unique complexion, they also have an infectious personality that is basically unmatched in the domestic cat world. Bengal cats are considered a combination of Asian leopard cats and traditional house cats.
Origins
Bengals cats are hybrid breeds. Doctors at Loyola University created the hybrids because they wanted a cat with an exotic look but the energetic personality of a domestic cat. The doctors mixed African leopard cats with Egyptian cats. According to the International Cat Association, most Bengal cats are now bred from their own species. This wasn't the case initially, as the first generation of male Bengal cats were unable to reproduce. Bengals are now recognized as an official breed by several organizations around the World, including the Canadian Cat Association and The Cat Fancier's Association.
Appearance
Bengal cats are known for their striking appearance. They have spotted or marbled markings. Most of the patterns are black or silver. Bengal cats have multiple coat colors, including seal sepia, seal lynx, brown tabby, and black silver tabby. Most Bengal cats have white background fur on their chin, chest, legs, and abdomen.
Maintenance
Bengal cats are now seen as large house cats. If you would like to add one to your home, make sure that you groom your cat every week. That will remove excess hair and dead hair. Keep your cat's nails trimmed and always ensure that your Bengal cat is using a clean litter box.
Initially, Bengal cats were seen as too wild potentially out of control to be good pets. However, the cats have learned to channel their energy. So it is important that they get plenty of exercise and physical stimulation throughout the day. Make sure that you have a scratching post nearby and a tree for them to climb.
Bengal cats are very intelligent and inquisitive, so try to find an area around your home for them to explore. Bengal cats love interactive and engaging toys. In general, it's just important to spend as much quality time as possible. Bengal cats are very fond of water, so look out for them trying to jump in the bathtub with you. While Bengals primarily get along with most animals, you should try to keep them in confined spaces. Bengal cats have been known to prey on hamsters and gerbils.
Managing Their Health
Most Bengal cats have a life expectancy of 10-16 years. Make sure that your cat stays up to date on all of its treatments and immunizations to avoid catching diseases such as leukemia. In some cases, Bengal cats may suffer from blindness. They are especially at risk during their younger years. Try avoiding all foods that contain grains when preparing your Bengal cats' diet.
If you would like to adopt a Bengal cat, you can try avenues such as Petfinder. You should have a lot of fun learning and growing with your Bengal cat.
Dog Trainer and Dog Groomer Get Married Accompanied By Their Best Friends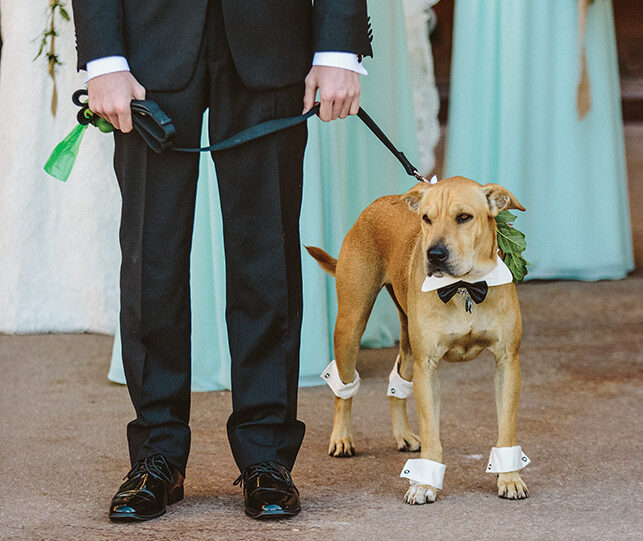 Weddings Are for Sharing With Loved Ones
When people get married, they spend one perfect day with their most loved friends and family. While many people only think about their human friends and family, there are a lot of people who could never imagine starting this important new chapter in their lives without their beloved pets. In fact, many people might have to admit, if they were being honest, that they loved their pets more than some of the relatives who came to the wedding, especially if they felt obligated to invite some relatives they rarely see and barely know.
Some People Already Spend Their Lives With Pets
Anyone who works full-time as a dog trainer or groomer already spends most of their working days with animals. They see dogs all day long, and they make the choice to do so because of many reasons. Working with pets is rewarding on many levels. Especially if you see the same dogs again and again, you form a close bond. Communicating with pets is therapeutic and generally far less stressful than dealing with humans. The people who work with dogs don't get sick of dogs and try to go home to a quiet house; they tend to have larger pet families than average.
A Dog Trainer and a Dog Groomer Tie the Knot
Paul and Annette Anthony are typical in that they work with dogs as a profession, and they have a large pet family. On the day they got married, their family consisted of 2 humans and 9 canines. Both Paul and Annette admitted that their pets were more to them than just fun — their beloved dogs also helped them get through rough times in their lives, including personal tragedies. Annette's German Shepherd Pesci is even an emotional support animal, helping her to deal with severe anxiety and depression. There was no way that their pets were going to be left out of the most important day of their lives going forward.
Canine Best Man
Paul's service dog Finn has earned his retirement. Finn has competed in over 40 events, earning titles and even setting records. He was also there for Paul when Paul developed PTSD after being at the scene of the deadliest plane crash in Pennsylvania's history. Finn was the one who helped with the proposal, giving Annette the ring with a note asking her to marry his dad. It was only fitting that Finn ended up being one of the best men at the wedding too.
A Family Affair
All 9 dogs walked down the aisle and stayed throughout the ceremony. Annette's dog Pesci even came to comfort her during the ceremony when she started to cry from happiness because he wanted to make sure his momma was all right. Whether you want to use your dogs in the ceremony as ring bearers, best men, or flower girls, or if you just want them to be present, it makes sense to have your pets help you celebrate such an important day in your life.