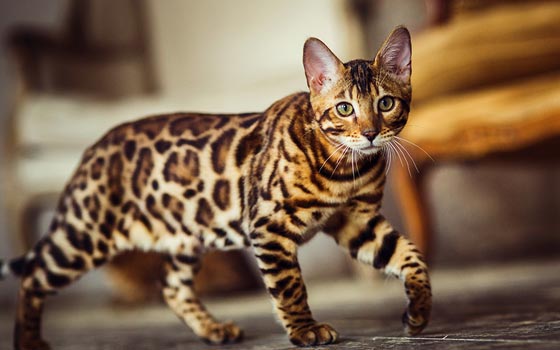 An In-depth Look At The Exciting And Inquisitive Bengal Cats
Many people enjoy cats because they have a reputation for being independent and low maintenance compared to other types of animals. However, one possible exception to the rule is Bengal cats. Not only are Bengal cats known for their unique complexion, they also have an infectious personality that is basically unmatched in the domestic cat world. Bengal cats are considered a combination of Asian leopard cats and traditional house cats.
Origins
Bengals cats are hybrid breeds. Doctors at Loyola University created the hybrids because they wanted a cat with an exotic look but the energetic personality of a domestic cat. The doctors mixed African leopard cats with Egyptian cats. According to the International Cat Association, most Bengal cats are now bred from their own species. This wasn't the case initially, as the first generation of male Bengal cats were unable to reproduce. Bengals are now recognized as an official breed by several organizations around the World, including the Canadian Cat Association and The Cat Fancier's Association.
Appearance
Bengal cats are known for their striking appearance. They have spotted or marbled markings. Most of the patterns are black or silver. Bengal cats have multiple coat colors, including seal sepia, seal lynx, brown tabby, and black silver tabby. Most Bengal cats have white background fur on their chin, chest, legs, and abdomen.
Maintenance
Bengal cats are now seen as large house cats. If you would like to add one to your home, make sure that you groom your cat every week. That will remove excess hair and dead hair. Keep your cat's nails trimmed and always ensure that your Bengal cat is using a clean litter box.
Initially, Bengal cats were seen as too wild potentially out of control to be good pets. However, the cats have learned to channel their energy. So it is important that they get plenty of exercise and physical stimulation throughout the day. Make sure that you have a scratching post nearby and a tree for them to climb.
Bengal cats are very intelligent and inquisitive, so try to find an area around your home for them to explore. Bengal cats love interactive and engaging toys. In general, it's just important to spend as much quality time as possible. Bengal cats are very fond of water, so look out for them trying to jump in the bathtub with you. While Bengals primarily get along with most animals, you should try to keep them in confined spaces. Bengal cats have been known to prey on hamsters and gerbils.
Managing Their Health
Most Bengal cats have a life expectancy of 10-16 years. Make sure that your cat stays up to date on all of its treatments and immunizations to avoid catching diseases such as leukemia. In some cases, Bengal cats may suffer from blindness. They are especially at risk during their younger years. Try avoiding all foods that contain grains when preparing your Bengal cats' diet.
If you would like to adopt a Bengal cat, you can try avenues such as Petfinder. You should have a lot of fun learning and growing with your Bengal cat.
Pets Elected As Mayors, Earn Town Money For Project Development
Fundraisers are a dime a dozen, but great or unique fundraisers, on the other hand, are not so common.
Desperate times call for desperate measures or thinking outside of the box, and that's exactly what officials at a town in the state of Vermont did.
Instead of moping about the pandemic's impact on their city, they decided to go back to the drawing table and come up with a plan to develop a proper playground for the children in the town and its environs.
So what did they come up with? The election of two animals, a dog, and a goat, as mayors. That fundraiser may probably be one of the greatest of all times, (goat) or just doggone smooth, but either way, the plan has been working.
The fundraiser began in 2018 in the Vermont town of Fair Haven, where they elected a goat named Lincoln to hold the position as their honorary mayor.
The project aimed to raise funds to remodel a park that has been in a state of disrepair after serving the community for more than thirty years.
Once Lincoln completed his term as honorary mayor, he was succeeded by Murphee, a dog who still handles the special mayoral duties to garner funds for the project.
Both Lincoln and Murphee make frequent appearances at events, and people have been spending their money to catch a glimpse of them.
Murphee is a King Charles Spaniel, and his owner was ready from the onset of being approached to use her dog for the fundraiser.
Little did she know that it would become a significant undertaking attracting thousands of people and raising thousands of dollars.
The city aims to raise a hundred thousand dollars, and so far, the animals have helped to warn approximately thirty thousand of the amount.
The town has added another twenty thousand dollars to the amount raised, putting them at half the amount needed.
With the honorary mayors gaining national prominence, it is expected that they'll make the full amount needed for the redevelopment project at the park and more.
The federal Land and Water Conservation Fund has given a grant amounting to the other half required for the development, to Fair Bank.
Therefore, any additional earnings will go to other things needed in the community.
Residents are genuinely appreciative of the show put on by both Lincoln and Murphee in refined style and plan to begin the park renovation project in the spring.
Everyone is looking forward to the transformation of the park, which will enhance the aesthetics of the town.
It is not yet clear if the honorary mayors will be popularly featured at the park or if they'll be participating in the ribbon-cutting ceremony.
However, it turns out; this is undoubtedly going to be spoken about for many years to come. It will be a great story to tell the future generation about how the funds were raised to build the fantastic Park that they now enjoy.