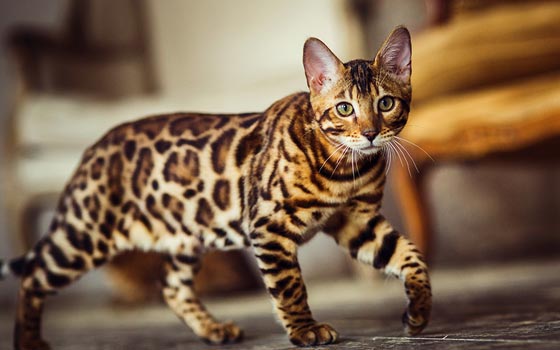 An In-depth Look At The Exciting And Inquisitive Bengal Cats
Many people enjoy cats because they have a reputation for being independent and low maintenance compared to other types of animals. However, one possible exception to the rule is Bengal cats. Not only are Bengal cats known for their unique complexion, they also have an infectious personality that is basically unmatched in the domestic cat world. Bengal cats are considered a combination of Asian leopard cats and traditional house cats.
Origins
Bengals cats are hybrid breeds. Doctors at Loyola University created the hybrids because they wanted a cat with an exotic look but the energetic personality of a domestic cat. The doctors mixed African leopard cats with Egyptian cats. According to the International Cat Association, most Bengal cats are now bred from their own species. This wasn't the case initially, as the first generation of male Bengal cats were unable to reproduce. Bengals are now recognized as an official breed by several organizations around the World, including the Canadian Cat Association and The Cat Fancier's Association.
Appearance
Bengal cats are known for their striking appearance. They have spotted or marbled markings. Most of the patterns are black or silver. Bengal cats have multiple coat colors, including seal sepia, seal lynx, brown tabby, and black silver tabby. Most Bengal cats have white background fur on their chin, chest, legs, and abdomen.
Maintenance
Bengal cats are now seen as large house cats. If you would like to add one to your home, make sure that you groom your cat every week. That will remove excess hair and dead hair. Keep your cat's nails trimmed and always ensure that your Bengal cat is using a clean litter box.
Initially, Bengal cats were seen as too wild potentially out of control to be good pets. However, the cats have learned to channel their energy. So it is important that they get plenty of exercise and physical stimulation throughout the day. Make sure that you have a scratching post nearby and a tree for them to climb.
Bengal cats are very intelligent and inquisitive, so try to find an area around your home for them to explore. Bengal cats love interactive and engaging toys. In general, it's just important to spend as much quality time as possible. Bengal cats are very fond of water, so look out for them trying to jump in the bathtub with you. While Bengals primarily get along with most animals, you should try to keep them in confined spaces. Bengal cats have been known to prey on hamsters and gerbils.
Managing Their Health
Most Bengal cats have a life expectancy of 10-16 years. Make sure that your cat stays up to date on all of its treatments and immunizations to avoid catching diseases such as leukemia. In some cases, Bengal cats may suffer from blindness. They are especially at risk during their younger years. Try avoiding all foods that contain grains when preparing your Bengal cats' diet.
If you would like to adopt a Bengal cat, you can try avenues such as Petfinder. You should have a lot of fun learning and growing with your Bengal cat.
Young Boy Keeps Toy He Was Measured Against As A Premature Baby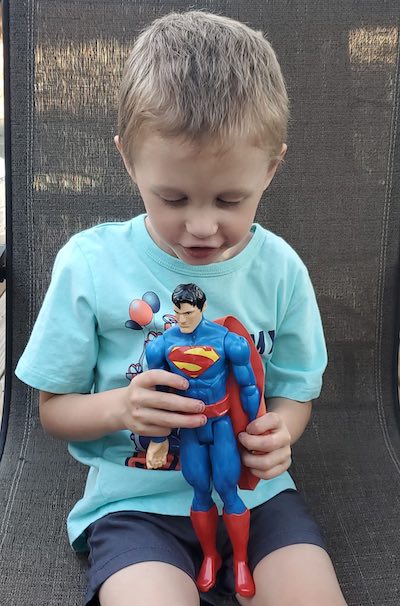 Doctors sent home a woman and her husband to prepare for a miscarriage, but the defiant parents stayed put and now have the tale of a lifetime to tell.
So does their four-year-old son Logan Ray, born less than six months of pregnancy, has a Superman action-figure as proof of how small he was at birth. He was only 12 inches in length and weighed a pound and a half. He and the action figure his parents Rob and Val placed beside him shortly after his birth, are now inseparable.
How did this fascinating and heartwarming story come about?
Nearly five years ago, when Val was pregnant with their son, doctors wiped the smiles off their faces by announcing that the baby would not make it to full term. The Physician claims the baby would not survive at all, and they should brace themselves for any eventuality.
The reason for the bad news was that Val had been diagnosed with a cervix problem. The doctors said examinations showed her Cervix was incompetent. That situation usually transpires when unstable cervical tissue induces or contributes to premature delivery or the loss of pregnancy even though the gestation is, on the other hand, healthy.
Val and Rob blocked out the bad news they received, and we're adamant that they would remain in the hospital to see the pregnancy through. The baby was a fighter too and stayed put for all of twenty-three weeks. Val helped out by keeping her feet elevated and staying in bed for three weeks without getting up to do anything that could further jeopardize the pregnancy.
She gave birth to a child now known as the "Superman Baby" for dual reasons. He was mighty strong and put up a fight to survive, and he was the size of a Superman toy. The toy idea came about when the nurses suggested to the mom that she should use something like a keepsake to measure the baby alongside. When she ran the idea by her husband, he was very supportive and they agreed on the Superman novelty.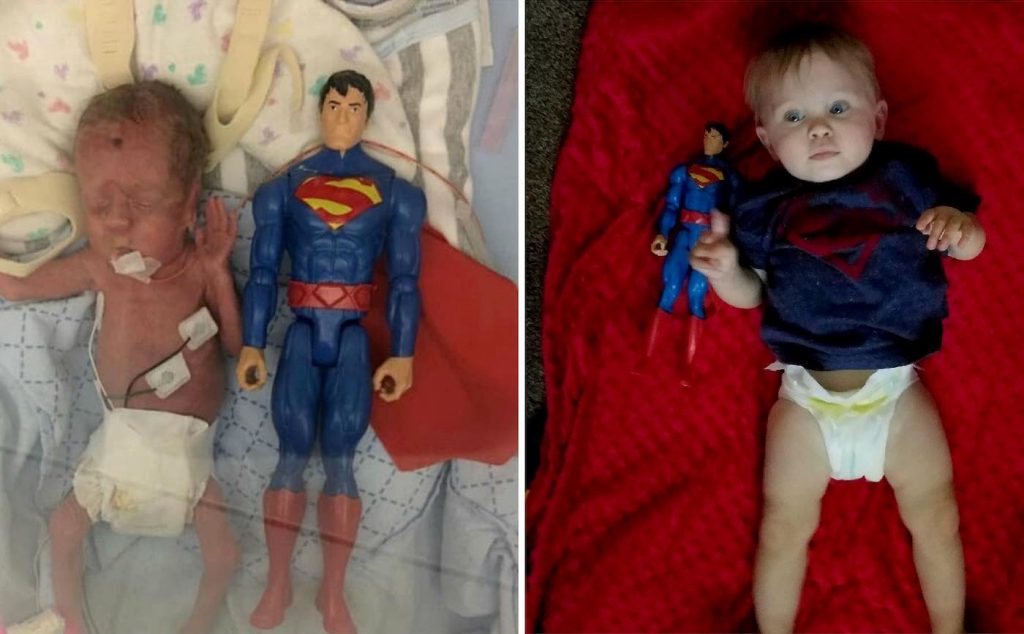 The doll was sanitized and placed beside Logan. For fifteen weeks, he remained in an incubator at the Randall Children's Hospital in Portland, Oregon fighting a myriad of complications that many feared would hinder the survival of Logan, but he pulled through like a champ. It was after those four months that he was finally able to leave with his parents.
From the hospital days to now, four years later, Val has been taking a multitude of photos with Logan carrying around his action figure. The doll is an indicator of Logan's successful development after a traumatic experience in the first few months of his life.
According to the happy and grateful parents, they communicate with the doctor who wants a regular update on Logan, who he refers to as " tough."
Many people consider not just Logan's survival but the fact that he has no further complications a miracle. Just like his action figure, Logan is healthy and strong as any regular child his age. His parents say they will never get rid of the Superman tog as memorabilia is not just for them, but for Logan when he becomes an adult.
He will have a tear-jerking story to tell years from now if or when he becomes a parent as well.