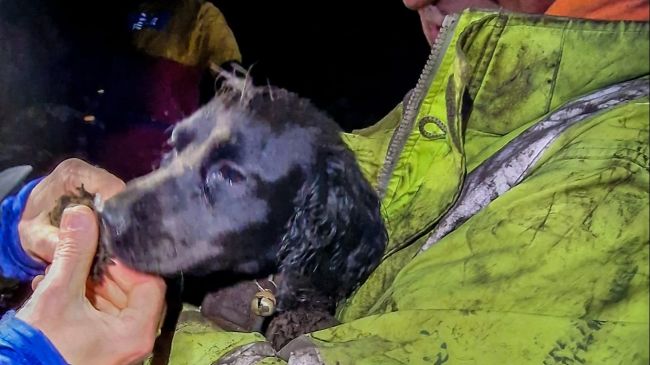 After Seven Hours Trapped in a Quarry, a Dog Was Rescued by Dartmoor Firefighters
A dog named Jess became stuck in an old quarry in Dartmoor – an upland area in England – after she ran down a hole and several granite boulders collapsed over it. Firefighters and police joined members of the Devon Cave Rescue Organization (DCRO) to help reunify her with her owner shortly after 23:30 BST on Thursday.
The DCRO is a voluntary organization that specializes in rescuing animals from difficult situations. The organization is known for their delicate and complicated rescues, as was the case with Jess.
Tara Beacroft, from the DCRO, described the operation as being "like trying to deconstruct a Jenga tower without toppling it over".
"We had to carefully remove sections of soil and rubble, as well as larger boulders one at a time," she explained. "We needed to know exactly where each boulder was placed before we could move it without endangering Jess further. It took several hours – we worked slowly and carefully to avoid any mistakes."
Ms Beacroft stated that after rescuers removed enough rubble, they had hit a "turning point" where they could then see her.
Rescuers continued to dig around the hole, surrounding it and sustaining the pooch with chicken treats.
With the final rocks finally gone, owner Shane Darwood's pet was successfully extracted from the hole by her harness.
"She was wagging her little tail so rapidly," Ms. Beacroft said. "She had a reunion with her owner after being pulled to safety."
She said she was grateful that Jess escaped unharmed.
"Although we stayed confident throughout the process, it was tense knowing that a fall could mean dropping boulders on top of her. With no visual reference points to help us gauge where things were located, we had to rely on our instincts and skill set."
Dartmoor National Park is in Devon, England. It is known for its rugged beauty, moorland landscapes and granite tors. The park covers an area of 954 square kilometers (368 square miles). It also has a number of old mines and quarries, which have been abandoned for centuries. Many of these are now used as hiking trails or for other recreational activities.
A Teen's Inspiring Journey to Morehouse College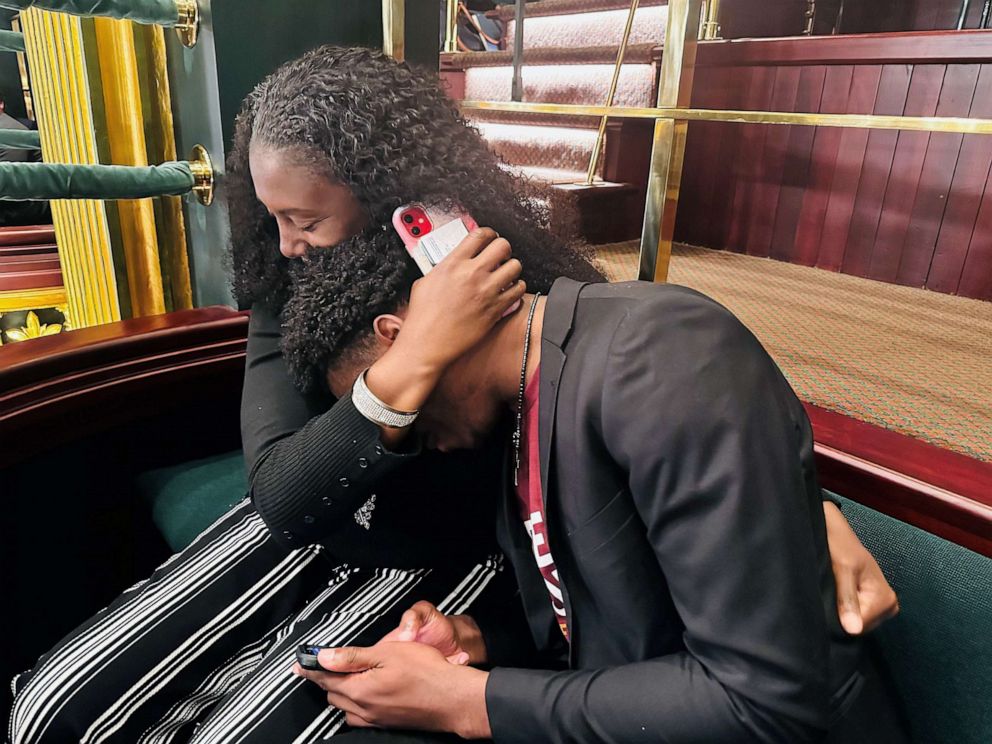 Imagine the feeling of accomplishing your dreams after years of hard work and dedication. That's exactly what happened to Amir Staten, a remarkable teenager whose video celebrating his acceptance into Morehouse College went viral. His infectious joy captured the hearts of people around the world, and it's not hard to see why.
Morehouse College, located in Atlanta, Georgia, has a long and prestigious history. Established in 1867, it is a historically black college and one of the oldest educational institutions for African Americans. The college was founded with a mission to provide a quality education and develop strong leaders who would go on to make a positive impact on society.
Amir's acceptance into Morehouse College is a testament to his perseverance and commitment to his studies. Not only did he receive an acceptance letter, but he was also granted a full ride scholarship. This scholarship covers the cost of tuition, which amounts to around $51,000 per year. This incredible opportunity has lifted a significant financial burden off Amir's shoulders, allowing him to focus on his education and future aspirations.
In addition to the full ride scholarship, Amir was named one of 15 Bonner Scholars. The Bonner Scholarship is a prestigious program that emphasizes the importance of community service. To maintain this scholarship, students must maintain a minimum GPA of 2.5 and contribute 10 hours of community service each week. It is a great honor for Amir to be chosen as one of these scholars, highlighting his dedication to making a positive difference in his community.
Amir's hard work throughout high school has been nothing short of exceptional. He consistently achieved honor roll grades, demonstrating his commitment to academic excellence. But his accomplishments didn't end there. Amir also took on leadership roles as the head of the Black Student Union, where he worked to promote inclusivity and raise awareness about important social issues. Additionally, he served as the captain of his school's basketball team, showcasing his discipline, teamwork, and determination.
Amir's accomplishments have not only made his family proud but have also inspired those around him. His mother expressed her admiration for his efforts, saying, "He has gone above and beyond what is expected of him." With his acceptance into Morehouse College, Amir can finally take a deep breath, knowing that his hard work has paid off.