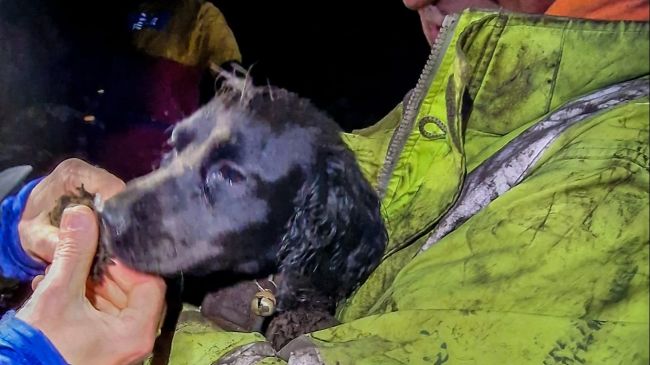 After Seven Hours Trapped in a Quarry, a Dog Was Rescued by Dartmoor Firefighters
A dog named Jess became stuck in an old quarry in Dartmoor – an upland area in England – after she ran down a hole and several granite boulders collapsed over it. Firefighters and police joined members of the Devon Cave Rescue Organization (DCRO) to help reunify her with her owner shortly after 23:30 BST on Thursday.
The DCRO is a voluntary organization that specializes in rescuing animals from difficult situations. The organization is known for their delicate and complicated rescues, as was the case with Jess.
Tara Beacroft, from the DCRO, described the operation as being "like trying to deconstruct a Jenga tower without toppling it over".
"We had to carefully remove sections of soil and rubble, as well as larger boulders one at a time," she explained. "We needed to know exactly where each boulder was placed before we could move it without endangering Jess further. It took several hours – we worked slowly and carefully to avoid any mistakes."
Ms Beacroft stated that after rescuers removed enough rubble, they had hit a "turning point" where they could then see her.
Rescuers continued to dig around the hole, surrounding it and sustaining the pooch with chicken treats.
With the final rocks finally gone, owner Shane Darwood's pet was successfully extracted from the hole by her harness.
"She was wagging her little tail so rapidly," Ms. Beacroft said. "She had a reunion with her owner after being pulled to safety."
She said she was grateful that Jess escaped unharmed.
"Although we stayed confident throughout the process, it was tense knowing that a fall could mean dropping boulders on top of her. With no visual reference points to help us gauge where things were located, we had to rely on our instincts and skill set."
Dartmoor National Park is in Devon, England. It is known for its rugged beauty, moorland landscapes and granite tors. The park covers an area of 954 square kilometers (368 square miles). It also has a number of old mines and quarries, which have been abandoned for centuries. Many of these are now used as hiking trails or for other recreational activities.
AI, Childhood Images and a Holocaust Survivor Finding Her History Again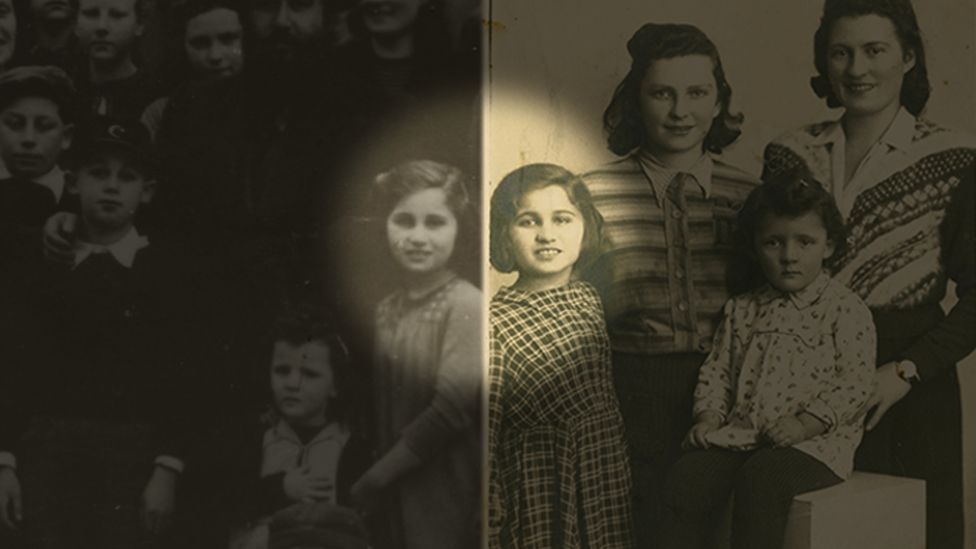 The first half the 20th century was not a good one for Blanche Fixler. As a Jew, she was a target for the Nazis, who succeeded in killing at least 6 million of her countrymen. They were so close to Fixler, at one point she was hiding underneath a bed trying not to breathe. Had she made a noise, the Nazi troops searching the room she was in would have grabbed her in an instant. Through luck, fear, feistiness and perseverance, Fixler survived the Holocaust.
Now, almost some 80 years later, Blanche Fixler is relieving history thanks to artificial intelligence, or AI. A program written by Daniel Pratt, also known as a engineer at Google, has become extremely effective at matching people's faces to their parts in history. In fact, it was so effective, it had a direct impact on Fixler; the software found her face in a historical image from the war period that no one previously knew was Blanche at all. She was just another face of thousands lost until she wasn't.
Dubbed "Numbers to Names," Pratt's program relies on the technology of facial recognition to do its work. While a person's appearance might change over time, their facial structure doesn't. And that makes for a comparable identification when the details are run through the thousands of calculations per second via the software.
In some respects, the software works with the logic of connecting dots. As it makes connections, it builds on that library and makes more connections. Many photos may have one or even two connections, but they still have five or a dozen more than are unknown. By constantly running and making new connections, the software persistently whittles away at the challenge. As it turned out, one of those successes was Blanche Fixler.
Blanche Fixler today is at the ripe age of 86. She is a world away from Germany and Poland and the nightmare she lived through, ensconced in the urban distance of New York. However, thanks to Pratt's program, Fixler has now been identified as a child in two historical photos. Pratt's software did the hard work and connected the dots.
Among the many who were grabbed, rounded up and killed in Poland, Fixler's entire family were victims of the Nazis. At the time, Blanche's name was Bronia to her family, but that was left in the past as she survived the war. Her luck was made possible by an aunt who hid Fixler from the soldiers regularly looking for Jews in hiding. When Fixler saw the photos that had her in them, she also identified her aunt as well as other relatives. That in turn creates more connections that Pratt and those using the software can benefit from in their ongoing work of identification.
The work has been partnered with the U.S. Holocaust Memorial Museum, and it continues to be worked on to provide closure and dignity for the thousands of families related to the victims of the Holocaust. By personalizing the faces of the 6 million, they gain a confirmed history versus being nameless and unknown among the masses lost.